Heart, Soul, Scenery and Food at these Special Cape Town Markets
Markets by the seaside, the suburbs and the township
Last Updated: 7 October 2019
There's nothing better than a market on a weekend. Or Friday evening after the workweek or Thursday at lunch or into the night. Markets are everywhere in Cape Town: indoors, outdoors, in your local mall, all year and every day of the week. We've highlighted 20 so that each and every one of you can find something really special that matters to you. You might love the one that only sells SASSI-approved seafood, or ones with roaring fireplaces in winter. Or the one that ploughs its profits back into the community. Most welcome dogs and love your children so much that they offer magic shows, pony rides and petting zoos.
We've also curated outstanding and out of town markets worth travelling for.
IT'S NAMED AFTER A DOG AND HAS THE BEST VIEW
The setting of Just Nuisance Market, named after the only dog to be enlisted in the Royal Navy, is part of its attraction. The market in Simon's Town is set over the navy town's pretty harbour and market goers can browse African wares such as soap-stone carvings from Zimbabwe with a gorgeous view in the background. There's also food, clothing, plants, pottery, jewellery, books, CDs, freshly baked breads, snacks, and live music. Dogs on leashes are welcome. Bring cash; some traders have SnapScan.
Insider info: Stock up on food and head to a beach nearby – all you need do is drive along the road in either direction.
Tip: Seating is rustic – crates and metal trestle tables – so bring what might make you more comfortable
When: Year-round, weather permitting, once a month on the second Saturday of the month, 9.30 am–3pm. If the weather is bad, the market is postponed, with permission from the Jettymaster.


St. Georges Street, Jubilee Square, Simon's Town, debby@cybersmart.co.za +27(0)84 337 8114, website
AFRICAN LITERATURE AND RASTAFARIAN FOOD
The Inxwala Slow Market pop-up happens indoors and out, depending on the weather, but often it's at Guga S'thebe. You'll find shweshwe-print clothing, fabric-covered journals, natural organic hair and body products, African literature. Tables and chairs are set out for traditional African food and Rastafarian options, and umqombothi or craft beer. Depending on the venue, dogs are allowed. Cash is preferred.
Insider info: Look out for Sizwe Shumane of Skhalo Roots Production's fun rings and other jewellery made out of recycled materials.
Tip: For children, there's a mobile library, and they can also paint and draw.
When: The first or second Sunday of the month 2pm–6pm


Don't yet have a permanent address, but often at Guga S'thebe, Corner Washington and Church Streets, Langa, inxwala@gmail.com, +27(0)67 242 3763, website
FOR VEGAN, GLUTEN-FREE FOODS AND ZERO-WASTE PRODUCTS
Explore the garden, lawn, trees, jungle gym, and field with soccer posts at the outdoor Vegan Goods Market at The Source Yoga Studio in Constantia. Tuck into "sausage" rolls, soy "chicken" skewers, gluten-free burgers, bakes, fresh fruit and veg, fermented foods. Goods include zero-waste body products, jewellery, clothing, and balance boards. With an additional new venue, attendees can also venture into the little Italian-style courtyard or lounge in the cosy and warm space in Woodstock.
What few people know: The market was founded by 19-year old Sarah Lee Beckett.
Tip: As there are rabbits, keep your dog on a leash. Bring your own soccer ball and reusable containers as there are vendors who offer zero-waste options.
When: 10am–3pm every first Saturday of the month in Woodstock and every third Sunday of the month in Constantia.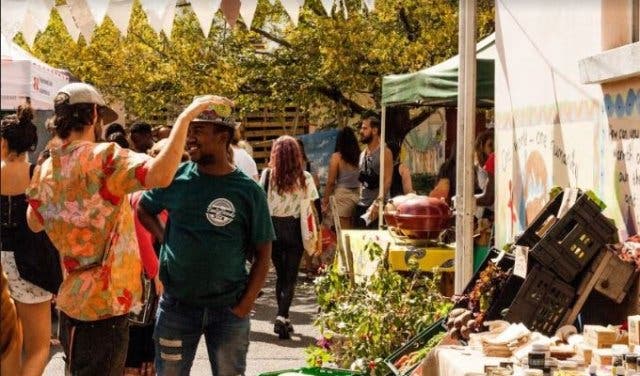 The Source Yoga Studio,1 Townsend Avenue, Constantia, vgmsouthafrica@gmail.com, +27(0)63 214 6880, website
THIS IS A BARGAIN-HUNTER'S PARADISE
Hunt for treasure and bargains for hours at the 22-year-old Milnerton Flea Market. Traders offer antiques, collectables, art, clothes, bric-a-brac, food, gemstones, tools, hardware, and more – it's a great place to find second-hand kitchenware. The market was created to allow people who weren't employed in the formal trading sector a platform to trade. Traders accept cash and some offer other payment methods.
What few people know: The market accommodates the differently-abled. There are disabled parking bays at the patrolled parking on-site and a wheelchair is available.
Tip: Wear a wind-proof outfit and bring a hair tie – it can get gusty in Milnerton.
When: Saturdays 8am–2pm, Sundays 8am–3pm, and most public holidays, weather permitting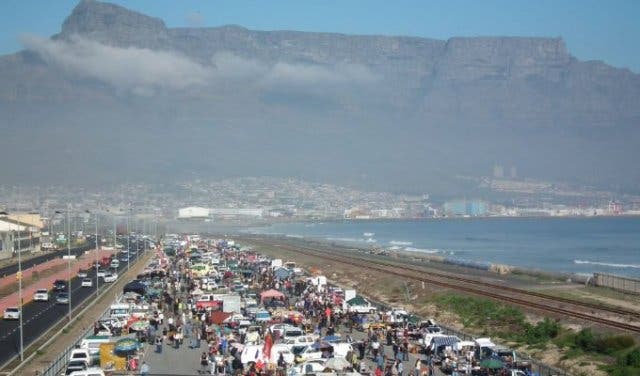 Milnerton/Paarden Island, info@milnertonfleamarket.co.za, website
ORANJEZICHT MARKET LAUNCHING WEEKLY EVENT AT THE V&A
With views of the Atlantic and Table Mountain, there is seating for over 500 guests at Oranjezicht City Farm Market at the V&A Waterfront. Traders offer locally sourced, ethically farmed produce, SASSI-approved seafood, bakes, pantry essentials, ciders, beers, plants, flowers, and ready-to-eat or made-while-you-wait foods. There are ATMs on-site and stalls accept cash, card, and Snapscap.
What makes it special: Food is fresher and tastier. Like the farm-grown oysters and mussels, sourced with no damage to the aquatic system. They're kept better and get to market quicker.
What few people know: Six DJs (lawyers, therapists, business people, who work all week) play music and rotate every weekend and play for five hours in return for a box of veggies.
Tip: Bring your own shopping bags because they are not provided
When: Saturdays 8:15am–2pm; Sundays 9am–3pm, and Wednesdays 4pm–8pm (November–March), rain or shine


Cnr Beach Road and Haul Road, Granger Bay, V&A Waterfront, +27(0)83 628 3426, market@ozcf.co.za, website
EVERYTHING FROM TAZERS TO MASSAGES BY THE BEACH
The Muizenberg Market is set just off Sunrise Beach outdoors and offers a massive variety of goods for sale, from calamari and fish and chips to boerie rolls, to tasers and massages and beauty treatments. In the summer, there's often entertainment for the kids. Buskers provide the soundtrack. Bring cash.
What few people know: It's largely undiscovered by city slickers
Tip: Look out for the stall selling carrot and pineapple jam or lemon atchar by Aasiya's Konfyt & Atchars
When: Sundays 9am–5pm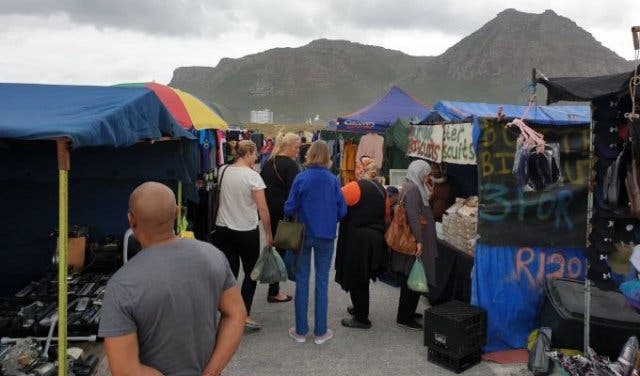 Sunrise Circle, Royal Road, Muizenberg, yusufiaadams52@gmail.com, +27(0)760370862, +27(0)213716249
THE SPIRIT OF UBUNTU IN HOUT BAY
All profits from the Hout Bay Lions Craft Market are ploughed back into the community to fund Lions Club Hout Bay's various projects. The Lions Club, a community service organisation, brings sets of tables and chairs for the area next to the music and food (from Asian and vegan to waffles and ice cream). Activities for children include pony rides, sand art, water balloons, face painting and catch a fish game. Cash is best, some traders accept credit card and Snapscan.
What few people know: It supports the communities of Hangberg, Imizamo Yethu, and Hout Bay at large through bursaries, food, creches, seniors bingo and frail care.
Tip: Put on your comfy shoes and enjoy a family day out
When: Sundays 10am–3pm, weather permitting. It was closed over winter 2019 and is re-opening on Sunday 1 September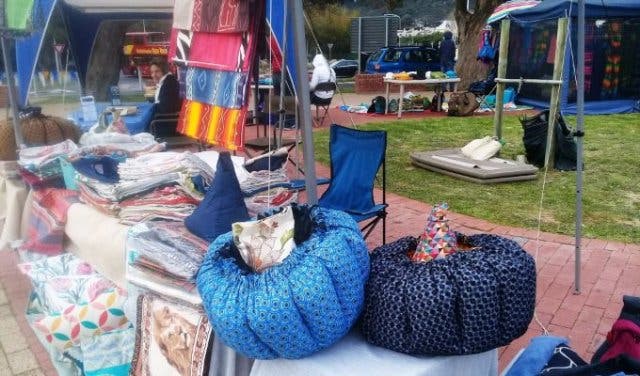 3255 Main Road, Hout Bay, +27(0)828509752, +27(0)823383175, houtbay.lionscraftmarket@gmail.com, website
PARADISE FOR DOG LOVERS AND CHARITY GROUPS
The outdoor Durbanville Craft Market is one of the last remaining craft markets operating on the original structure of a flea market. All goods sold have to be handmade, except in the charity stalls. Most visitors are animal lovers and microchipping and animal charities are always present. Food stalls are available and on sunny days the Tea Garden opens. The market operates mostly in cash.
What few people know: They accommodate all registered charities at no charge
Tip: Once a year, there's a night market on the first Friday in December. There's usually entertainment such as drumming circles and dancers. Children's entertainment is mostly on special annual events.
When: Every first Saturday of the month 9am–2pm and an annual night market every first Friday night in December 5pm–9:30pm, weather dependent.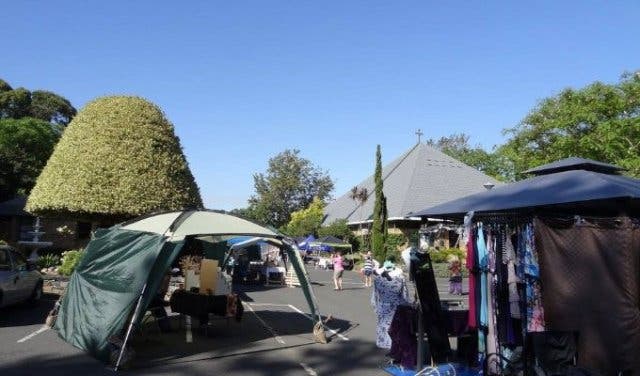 Presbyterian Church, 5 Louw street (cnr Louw and Hafele) behind the police station and next to the fire station in Durbanville, durbanvillecraftmarket@gmail.com +27(0)83 331 8658, website
A SECRET GIN BAR IN MUIZENBERG
This community-driven market that cares about its traders offers good vibes all round. Gather over burgers, steaks, ribs, pizzas, wraps, vegan lasagnas, salads, falafel, cakes, brownies, fudge and more at the Blue Bird Garage Market. There are plenty of tables with chairs and benches at the indoor market and small partially covered outside area. There's a jungle gym area with activities for kids. Traders accept various payment methods.
What few people know: There is a secret gin bar in the back.
Tip: The market gets pretty busy so if you are wanting to sit down for the evening, come early.
When: Fridays 4pm–10pm; and every first Sunday of the month 11am–4pm. Rain or shine


39 Albertyn Road, Muizenberg, bluebirdgarage@gmail.com, +27(0)82 920 4285, website
AFTER A BUSY WEEK, CHILL IN TOKAI
The name, Chilled Market at The Range, says it all. Sit back, maybe in the log cabin (with fireplace in winter) or sit outside beneath a Bedouin tent. Fill up on potjies, Mexican, Greek, Chinese, Indian, pizza or seafood. Visit a chocolatier, try Belgian waffles or home-made liqueurs. There's the Kids Zone and wide open spaces and a jungle gym. Traders accept cash, card and Snapscan. Leave your dog at home.
What few people know: Previously a Friday night market, it's extending to Sundays
Tip: Come early, and bring jackets in winter.
When: Year-round, Fridays, 4:30pm–9:30pm and Sundays 10am–4pm.


Orpen Road, Tokai, +27 (0)21 713 2340, chilledmarket@therange.co.za, website
AN ALL-WEATHER OPTION (+ IT HAS A FIREPLACE)
The Bay Harbour Market is indoors, set up in an abandoned fish factory. It offers a wide range of Eastern and Western foods, and communal tables. There are many stalls with a range of clothes and crafts and look out for the stylish gear teens will love. Live local bands play every Friday evening 7pm–8:30pm, and Saturday and Sunday between 1pm and 3pm. In winter, there's a roaring fire. No pets allowed and all modes of payment accepted.
What few people know: Eight years ago the weekend the market was open, wet and freezing but still had 3000 visitors through the doors. And now the market has an average of 310 000 visitors per year.
Tip: It's a place to hang out any time of the year, so take a taxi so you can relax and enjoy a few drinks.
When: Fridays 5pm–9pm and Saturday–Sunday 9:30am – 4pm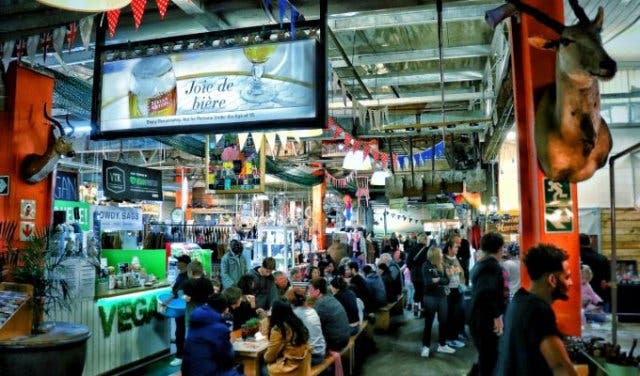 31 Harbour Rd, Hout Bay, Cape Town, +27(0)72 858 7763, info@bayharbour.co.za, website
UNDER THE TREES IN THE SOUTHERN SUBURBS
Rondebosch Park Market, an outdoor market under the trees, is a lovely day out for the whole family. Browse handcrafted goods and choose from halaal eats, pancakes, burgers, boerie rolls, bacon, eggs, vetkoek at the reasonably priced food stalls. There are jungle gyms in the park, and, depending on who is trading, sand art and swingball. Traders accept cash and some have Snapscan or Yoco machines.
What few people know: The Piggy Bank Market is for those up to 16 years old to sell handmade items from 10am until 12 noon
Tip: There's a large gazebo for those who don't want to be in the sun. Look out for new traders every month
When: Once a month on the second Saturday of the month, 9am–2pm, with a few extra markets in December.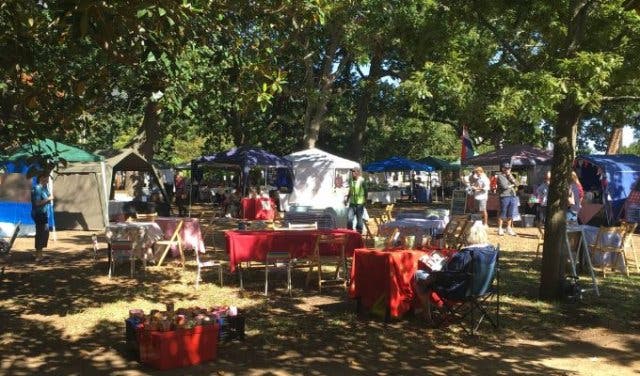 Rondebosch Park, cnr Campground/Sandown Road Rondebosch, rondeboschmarket@gmail.com, +27(0)83 493 9695, website
CAPE TOWN'S TRENDIEST MARKET
Operating every single Saturday since 2008, the Neighbourgoods Market has grown from being an organic farmers market to a platform for some of the best local designers and street food traders. Spanning almost the entire Old Biscuit Mill with indoor, outdoor, tented sections with many seating areas (standing and sitting tables, as well as grass patches for picnics), you're welcome to bring your dog on a leash to this market.
What few people know: Children can participate in the annual Easter egg hunt during Easter weekend
Tip: Traders take cash, Snapscan, and card, but there are also 4 ATMs
When: Saturdays 9am–2pm (June – August), 9am–3pm (September–May)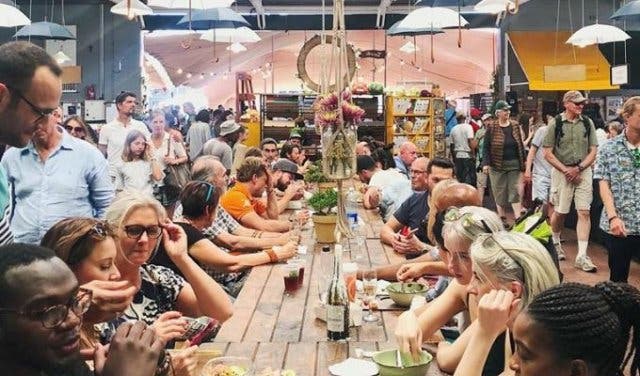 Old Biscuit Mill, 375 Albert Road Woodstock, muamr@neighbourgoodsmarket.co.za, website
AN AWESOME LUNCH BREAK FROM THE OFFICE
St George's Market is where the area's office workers, judges and lawyers from the courts get their lunch. Along the tree-lined St George's Mall, you can choose from dim sum, bratwurst, seaweed wraps, Mexican, Greek and so much more. There are also some jewellery traders and crafts. Traders mainly accept cash and Snapscan.
What few people know: There is a piece of the Berlin Wall near the seating area of the market
Tip: Try to get there before 1pm to avoid the lunchtime rush
When: Thursdays 11am–3pm, unless raining hard and consistently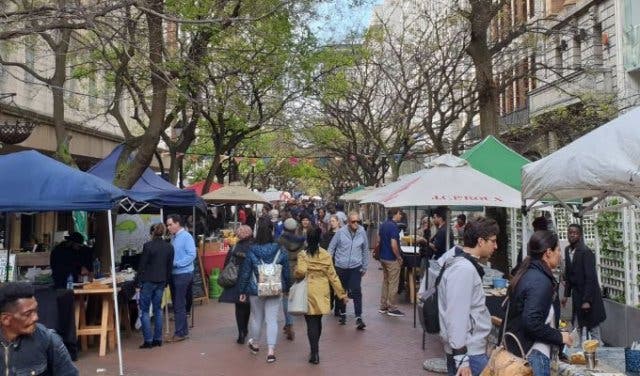 St George's Mall, between Wale and Church Streets, jacquisimpson21@icloud.com
A CITY VINEYARD MARKET WITH INCREDIBLE VIEWS
Enjoy the beautiful lakeside setting overlooking scenic vineyards, Noordhoek's mountain range and sunset over the Atlantic Ocean and soak up the community market atmosphere at the Cape Point Vineyards Community Market. The market is indoors and outdoors. A variety of food and food trucks offer options for Thursday evening dinner, and sprawling lawns and a jungle gym offer entertainment for kids. Traders accept cash, card, and Snapscan.
What few people know: They are green: Traders use mostly compostable packaging or vendors have plates that can be returned after the meal
Tip: No dogs are allowed, come early and feel free to bring a picnic blanket in summer
When: Thursdays 4:30pm– 8:30pm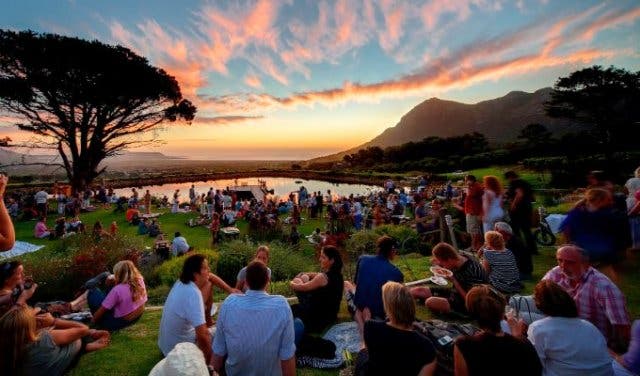 Cape Point Vineyards Silvermine Rd, Noordhoek, +27(0)21 789 0900, marketing@cape-point.com, website
EVERY DAY'S MARKET DAY (+ LIVE MUSIC + 100 BEERS ON TAP)
Enjoy live music every night of the week at the Mojo Market in Sea Point. Food-wise, there's plenty to choose from: bubbly and oysters, pizza, mussels, chicken wings, Asian and Burmese foods, sushi, salad, ice creams and more. There are also stalls selling jewellery and products at the indoor Mojo Market. The market provides drinking water bowls for dogs. Traders accept various payment methods.
Insider info: The market boasts the biggest tapped bar in the country – 100 beers on tap.
Tip: Combine your market visit with a stroll along the beautiful Sea Point promenade.
When: 365 days a year 8am–11pm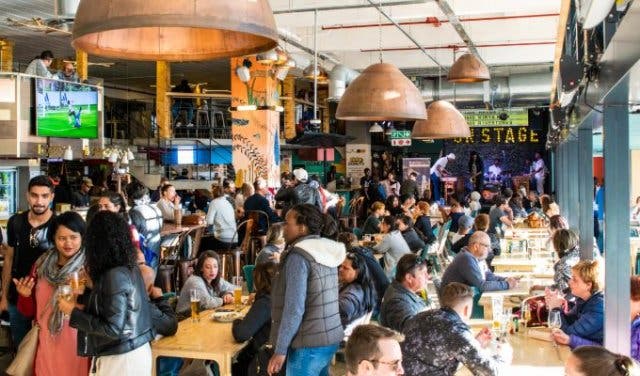 30 Regent Road, Sea Point, manager@mojomarket.co.za, +27 (0)87 940 7474, +27(0)21 422 4888, website
GOOD OPTION FOR RAINY DAYS (WITH GREAT VIEWS)
It's the industrial, double-volume space of the historic Power Station building (the oldest building in the harbour), and the mix of people from across the world make the V&A Food Market fun. There's inside seating inside and picnic benches outside, live music every weekend, on public holidays and the last Wednesday of the month. Guide dogs are welcome. Cash, card and Snapscan are accepted.
What few people know: The market attracts 2.2 million visitors per year, averaging 6 000 patrons a day.
Tip: For crafts, decor, fashion, art visit the Watershed market behind the food market
When: Seven days a week, Sunday–Thursday 10am–7pm; Friday–Saturday 10am–8pm, not weather dependent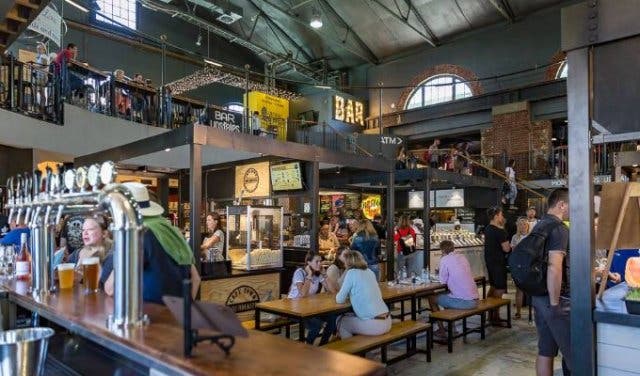 Building 19, Dock Road, Pierhead Waterfront / contact, info@waterfrontmarket.co.za, +27(0)21 418 1605, website
A MIDWEEK DINING OPTION FOR THE SOUTHERN 'BURBS
Market at the Boon is in Plumstead and midweek it livens up the burb with its food trucks, easy-listening music, seating and a secure play area for kids with a jumping castle. The food trucks rotate. It sometimes has themed nights, such as Gindulge or Surf 'n' Turf, during which vendors will offer related dishes. Cash, Card and Snapscan.
What few people know: Follow on social media to enter giveaways to win, for example, bar tabs,
Tip: It's outdoors and in the event of heavy rain the market will be postponed. Keep an eye on the Facebook page for postponements on the day of the market.
When: Seasonal, Wednesdays 4pm to 9pm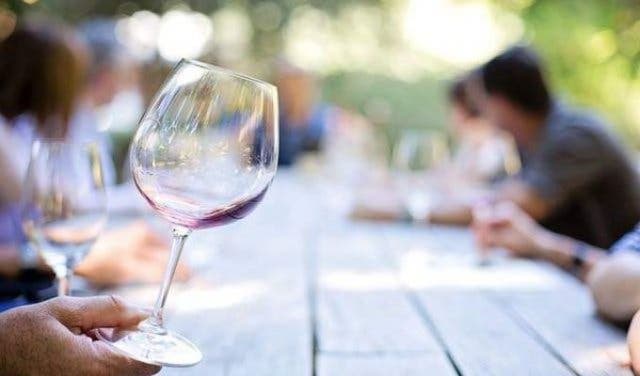 Cape Town Cricket Club in Victoria Rd, Plumstead, marketattheboon@gmail.com or fresheventscapetown@outlook.com, +27(0)62 084 1152, website
ETHICAL PRODUCTS AT THIS TOKAI MARKET
People are super friendly at the Earth Fair Food Market, which has a great community vibe. There are plenty of seating areas at this indoor market, plus an outdoor area with a Bedouin tent. Much of the food is ethically sourced and free-range. Bring cash but Snapscan is available.
What few people know: On Wednesday evening when the bar stays open till 9 pm, is a great weeknight soirée for the locals.
Tip: There's a small kids area inside the market, but you can also drop off the kids at The PlayStation indoor play park next door.
When: Wednesdays 4pm–9pm, Saturdays 8:30am–2pm; Fridays coming soon.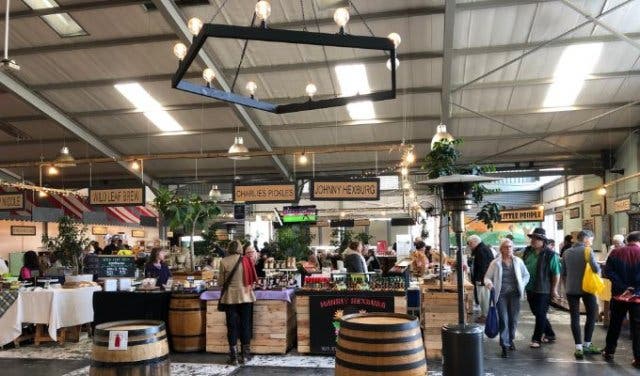 333 Main Road, Tokai, South Palms Centre, Block B, Unit 9 + 10, (Near Builders Warehouse), info@earthfairmarket.co.za, website
MARKET IN A MALL? WHY NOT
A shopping centre and market traders work together to create a weekly excuse to indulge. Shop food, fresh produce, goods and crafts at the Slow Market Willowbridge. Situated in a shopping centre, the market has become a weekend institution with a lot of loyal customers and locals every week. There's live music in the centre as well as children's playgrounds. There are ATMs on-site and traders accept cash, cards and app payments.
What few people know: The market takes place year-round and is not weather dependent.
Tip: Dogs on leashes are welcome in the shopping centre on market days
When: Saturdays 9am–3pm, Sundays 9am–2pm, and some public holidays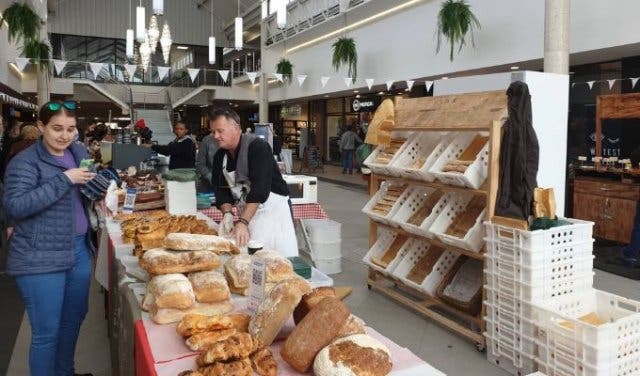 Willowbridge Slow Market, Willowbridge Shopping Centre, Carl Cronje Drive, opposite Tyger Valley, Bellville, accounts@slowmarket.co.za, +27(0)81 831 3011, website
---
Which is your favourite Cape Town market? Please let us know all the details and we'll share with the rest of Cape Town.
For pop-up markets and seasonal markets, check out our events section and join our newsletter for an up-to-date overview of what's happening in the city, suburbs and dorpies.
* Information correct at time of publishing
---
Pitch your tent beneath a canopy of stars at any of these camping sites.
Road trip to Darling to experience a country market with a down-to-earth and relaxed vibe at the Groote Post Country Market.
Bag a bargain and get rid of old sh*t… for a good cause at the Goodwood Thrift Market.
Family vibes in the winelands at The Saturday Market at Bloemendal Wine Estate.
Don't break the bank with these free and cheap things to do with kids. So many things that the whole family can enjoy with our list of things to do with kids.
Picnic on the lawns to the sounds of jazz at the Kirstenbosch Craft & Food market.
Everything you need to know about a plant-based lifestyle at the Vegan Lifestyle Festival.
Explore Chinese food, culture and heritage at the annual Chinese Spring Food Fair.

Get out and about this weekend with the Cathedral Market.
Vinyl, clothing, books and more: get antiques and hidden gems at this vintage market.
Vintage, antiques and collectables: treasure hunt at the mall for free at the Vintage Fair.
Stay in the heart of Greenmarket Square at the ONOMO Hotel Cape Town. Check out their Friday lunch taco special and everyday dinner specials.
Discover the magic of this hidden market in Constantia – the Secret Garden Market.
Think you have a green thumb? Take your pick from thousands of plants at the Kirstenbosch Plant Fair.
Pick up skate and surfer gear for a bargain at the Cheap As Chips Market.
Yoco are rocking it for small businesses around the country. Read more about their credit card machines.
11 Days of Christmas gifts at the Fab Ideas Christmas Gift Fair.
---
Use our events section for an up-to-date overview of what's happening in the city, suburbs and dorpies. Join our newsletter and add us to your mobile home screen for the ultimate guide to discoveries in Cape Town.
Follow and like us on Twitter ❤ Facebook ❤ LinkedIn ❤ Instagram ❤ Pinterest for updates.