A Vibrant City Getaway Right on Greenmarket Square
A comfy stay inside a national heritage site at ONOMO Hotel in Cape Town
For the history buffs, this hotel is housed in one of the city's oldest buildings and located next to one of the longest-running markets in the city. At this national heritage site, you also get a great view of the 140-year-old Central Methodist Mission's steeple from the rooftop.

With eight floors, 165 fully-equipped luxury rooms, 24-hour room service, a rooftop swimming pool, sauna, fully-kitted out fitness room, in-house restaurant and the Cobble & Stone pub, the ONOMO Hotel Cape Town – Inn On The Square offers a swanky quintessential Cape Town experience.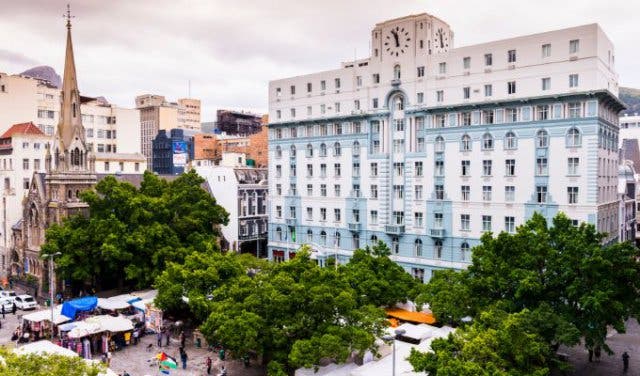 STEEPED IN HISTORY
The building ONOMO Hotel calls home was first built in 1696, in a space that has observed over 300 years of urban transformation. The building was initially a slave trade site, and was later changed to an outdoor market, where farmers could buy and sell fresh produce.
It seems that atmosphere stuck because the bustling, and wildly popular, cobble-stoned European-styled Greenmarket Square is still operating in the area today.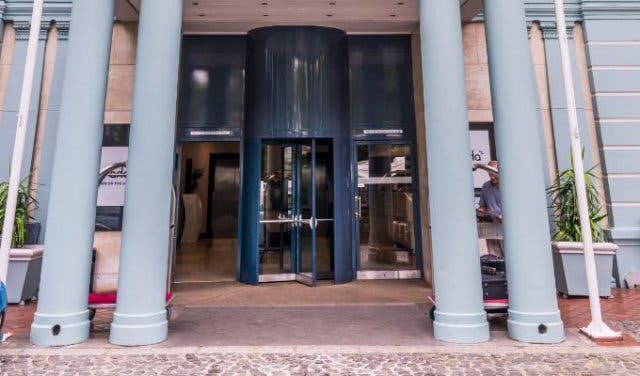 You'll find the lively area jam-packed with vendors hawking carefully carved figurines, intricate beadwork, upcycled township-inspired treasures, brilliant cloth paintings and more.
ONOMO weaves seamlessly into the vibrancy of the area and is committed to becoming the reference point for hospitality. "With all the planned upgrades, this hotel is and will continue to be one of the top three-star properties in Cape Town, guaranteed," says hotel general manager Mynhardt de Jongh.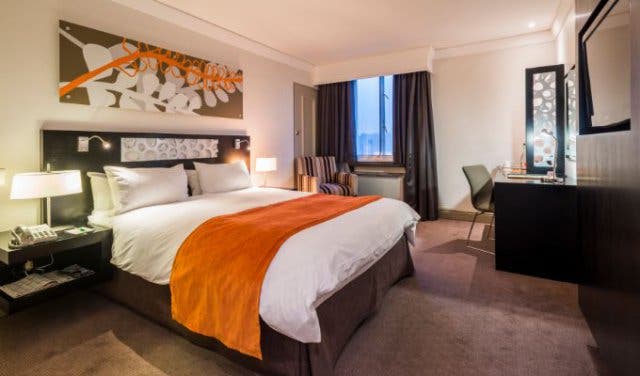 OLD-WORLD CHARM MEETS MODERN WORLDLINESS
The old building, with its iconic clock face that still ticks today, towers above the cobblestoned Greenmarket Square. The interior, though, is chic and contemporary.
The three-star hotel is polished, stylish and elegantly playful. Take the elevator all the way to the top and head for the pool, where you can take in the view of the city centre. If you're itching for a workout, the gym includes weights, bicycles and a treadmill. When you're done, you can sweat it out in the sauna.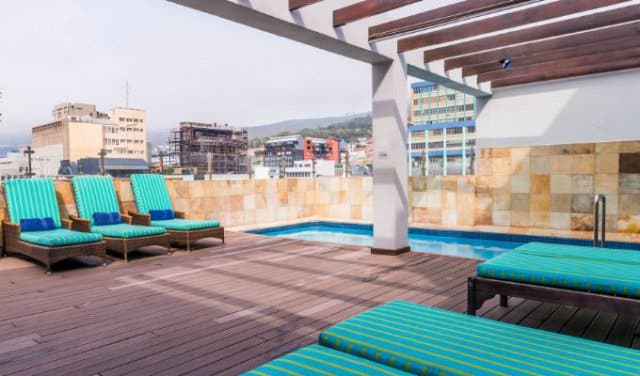 Besides their shuttle service, ONOMO will also assist you with your travel plans. "The staff at the concierge desk are all trained to facilitate a standard day tour, such as visiting Table Mountain, the peninsula, Winelands, townships and Robben Island," says De Jongh. "If guests prefer to change the route according to their unique needs and wants, we are able to customise the trips for them."
If you just want to pop out for a bit, Long Street, Kloof Street and Bree Street are a stone's throw away; where you'll find a plethora of party spots and a banquet of cute bistros and eateries. You're also a hop skip and a jump from the Cape Town International Convention Centre (only 900m away).


PROPER SOUTH AFRICAN CUISINE
What's more, ONOMO O'taste is the in-house restaurant that offers up a taste of South Africa in a relaxed, family-style setting. You can expect a smorgasbord of scrumptious local fare, which can be enjoyed in the restaurant, Cobble & Stone pub or al fresco on the terrace. Anything from peri-peri or BBQ blackened pork ribs to beer battered hake and fries.
The restaurant is open to the public for breakfast, lunch and dinner, and caters for gluten-free customers. There's a breakfast buffet (hot and cold) every morning, and on Sundays, they serve a good old-fashioned roast for lunch.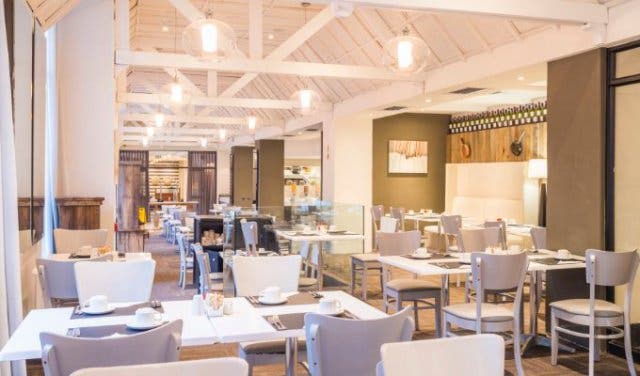 If the game is on, pop down to the hotel-owned Cobble & Stone and enjoy it with a beer, cocktail or a glass of wine.
Read about ONOMO's Friday lunch taco special and everyday dinner specials.
Tip: The hotel has several options for venue hire and can accommodate up to 150 people.
By Daryn Wood
---
Here's our list of accommodation specials in Cape Town.

As it's just around the corner, this is what you can discover on Bree Street.


Whether it's lunch or accommodation, check out these winter specials in Cape Town.

Hosting an event? Take a look at these function venues.


---
Use our events section for an up-to-date overview of what's happening in the city, suburbs and dorpies. Join our newsletter and add us to your mobile home screen for the ultimate guide to discoveries in Cape Town.

Follow and like us on Twitter ❤ Facebook ❤ LinkedIn ❤ Instagram ❤ Pinterest for updates.