Things To Do With Kids That Parents Will Enjoy Too
Indoor, outdoor, dry or rainy, with animals, adults and other kids – in the city or in the suburbs
Last updated: 4 February 2020
A casual Nerf battle with friends is an exhilarating way to kick back after school or at a party. Did you know that children can learn a lot by making a mess with paint? (It's a bonus when you don't have to clean up afterwards.) Ever thought of the benefits of letting a professional chef teach your child to cook a family meal? Here is your guide to unusual and fun activities for every type of kid that can benefit the whole family.
Plus: see their faces light up and keep your pocket full with these free and cheap things to do with kids.


FUN WEEKEND FESTIVAL FOR THE KIDS (AND PARENTS, TOO)
This children-focused event is an entertaining camping weekend for the entire family along the Olifants River. There will be live music accompanied by pop-up theatres, an animal garden, craft activities, and canoeing. You can also expect guided hikes, family yoga, and bonfire stories at the Wolfie Familie Weekend.
Price: From R350

Keerom Street, Citrusdal | +27 (0)76 017 4905 | howl@wolfie.co.za
FAMILY-FRIENDLY GLAMPING
Escape the city for a while and take them glamping (with all the comforts of home). Pick your favourite camp in any of 11 beautiful family-friendly locations in South Africa. You definitely want to take your kids to AfriCamps at Kam'Bati in Swellendam, essentially a family resort with three pools and waterslides. There's also putt putt, a scavenger hunt and a river with a swing rope. At Oakhurst in Wilderness, the little ones can discover a secluded waterfall, cycle the pipe track, explore the farm on horseback or watch the cows being milked in the mornings. The whole family will love a glamping experience with AfriCamps.
Price: From R1190 a night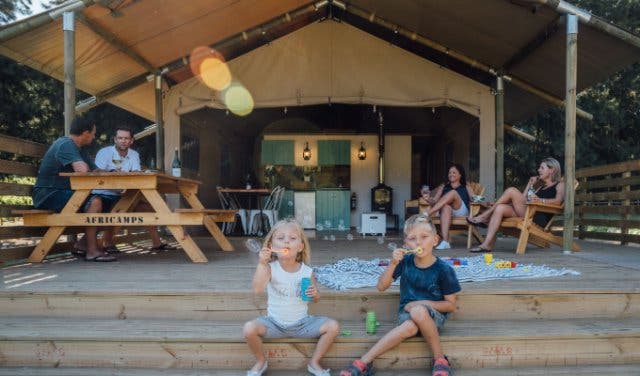 11 locations | +27 (0)21 300 5694 | hello@africamps.com
STOP GETTING ON MY NERFS!
A Nerf battle, using toy guns that shoot foam darts, is a great way to get the kids outdoors to have a (literal) blast. Kids between 4 and 14 can play, under the guidance of a trained marshall. Strategic games are available such as King of the hill, Capture the flag, Elimination, and Sniper shootout. The ideal group size is 8–15, but groups of 4–35 are accommodated with Scout Smart Ideas.
Price: R99–R199 per child
Hours: Weekends 10am–4pm, and after-school battles during the week.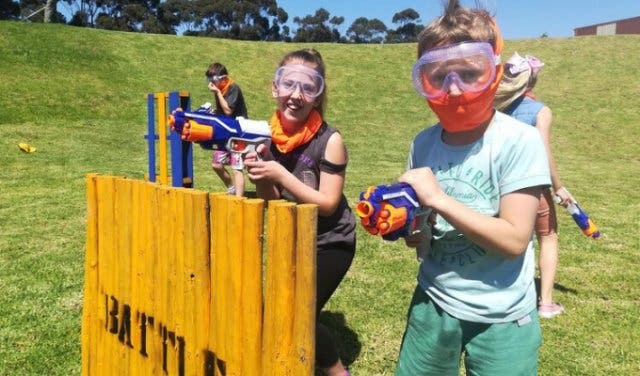 Your address of choice, scoutsmartideas@gmail.com, +27(0)63 434 4239, book online
DISCOVERIES FOR THE WHOLE FAMILY AT A REVAMPED WINERY
Kanu Wines has just relaunched with a brand new look and feel. It is situated between the Stellenbosch mountains and the rolling Polkadraai Hills, and is a great option for families with kids of all ages. Sample some award-winning wines in the tasting room while your kids enjoy a game of putt-putt.
Price: Putt-putt R30 per person; wine tasting R60 for 5 wines of your choice
Hours: Tuesday – Friday: 9am – 4pm; Saturdays and Sundays: 9am – 5pm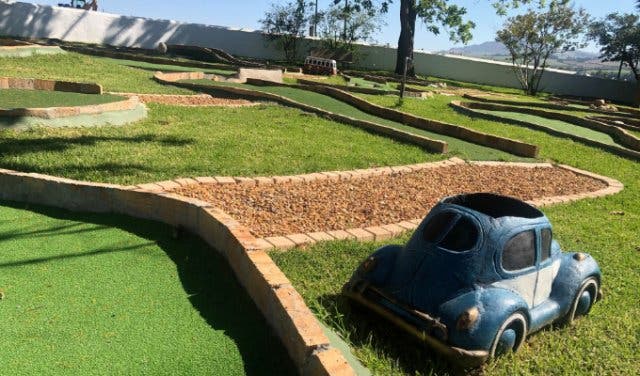 R304, Stellenbosch, info@kanu.co.za, +27 (0)21 865 2488, website
TEACH THE KIDS TO COOK FAMILY DINNERS
In the summer and winter school holidays, African Relish culinary school adapts its award-winning cooking experiences to include children. Book a holiday there and your kids can learn how to make sourdough pizza bases with a classic tomato smoor and fresh toppings prepared from scratch and fired in a wood-fired oven, or opt for a cookie-decorating workshop. Resident Chef Alexa and the cooking-class kitchen can accommodate up to 12 guests at African Relish cooking school.
Price: R450–R895
Times: Mornings or afternoons, winter and summer school holidays
Age: Under 12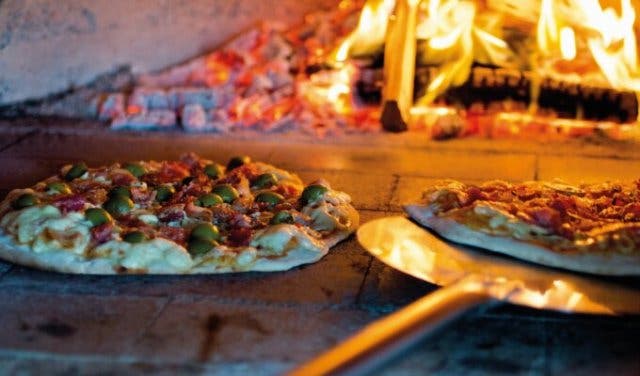 34 Church Street, Prince Albert, +27 (0)23 541 1381, +27 (0)72 582 8749, foodies@africanrelish.com
LET THEM PLAY
"We've seen city children learn to play like kids again out here," says Richard Cherry, creator of a unique family camping experience in Elgin – the Western Cape's apple country. Expect ultra-cosy tents with real beds, luxury linen and armchairs. Each tent also has a warm lounge with a deck and fireplace, as well as hammocks and plenty of room to play – with friendly zebra and springbuck right inside the camp at Cherry Glamping near Cape Town.
Price: From R2000 for the first night
Hours: Overnight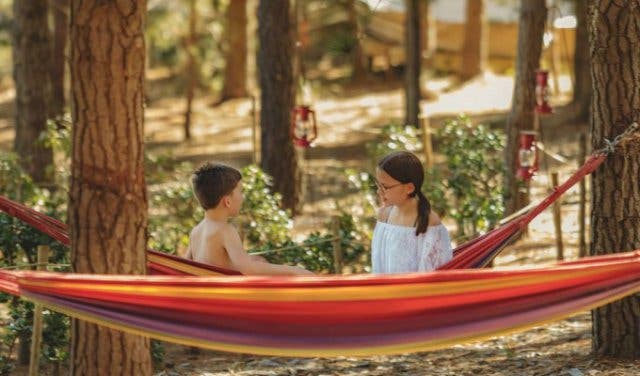 Groenrug Estate, N2, Grabouw, info@cherryglamping.co.za, +27 (0)82 788 983, website
BABIES LEARNING THROUGH MAKING A MESS
Water, paint, clay and playdough are the best ways to get grubby, and children love it; they can actually benefit from getting messy. Art Jamming offers two types of hour-long classes for children from eight months to four years. The Messy Play class allows infants and toddlers to explore the materials, textures and smells. They can ask questions and experiment with the materials to find answers, build self-esteem, develop concentration, solve problems and plan. The Art, Music & Movement classes help develop children's cognitive, social, emotional, and physical skills. They'll learn about art, colours, shapes, and sounds, and create their own masterpieces to take home.
Price: R1080–R1200 per eight classes
Hours: According to schedule; booking essential

Waterfront or Willowbridge Centre, messy@artjamming.co.za, info@artjamming.co.za, website
FURRY FRIENDS, BIG CATS AND A TRACTOR-BACK GAME DRIVE
Expect thrilling (but safe) farmyard animal encounters, huge play areas, tractor rides and fun for the whole family at the big cats park and one-of-a-kind game drive experience at Vredenheim Animal Farm.
Price: Free and from R45
Hours: Animal farm: Sat–Sun: 10am–4pm + school holiday hours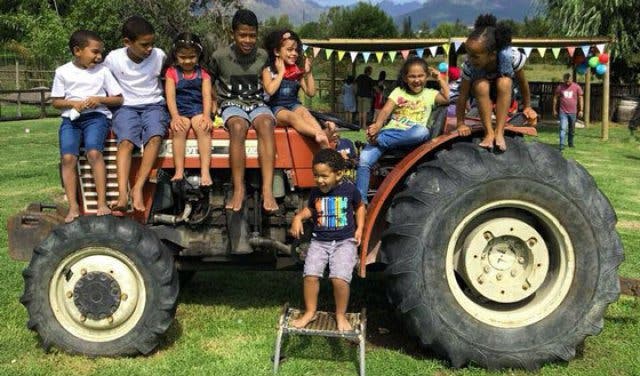 Vredenheim Farm, Baden Powell Drive, Stellenbosch, Cape Town, carli@vredenheimanimalfarm.co.za, +27(0)83 391 5510, website
PRE-TEEN SEGWAY ADVENTURE
Cruising through the picturesque Spier vineyards in Stellenbosch on a Segway adventure. Before setting off on the tour, you'll do a training session to get used to your new wheels. The Segway moves in response to your bodyweight and balancing is easy. Appreciate the magnificent views of the Stellenbosch Mountain Range while learning interesting facts about biodynamic farming during your tour.
Price: R375–R700
Hours: 9am–3:30pm

Spier Wine Farm, R310 Lynedoch Road, Stellenbosch, contactspier@segwaytours.co.za, + 27(0)21 809 1157, website
GLOW-IN-THE-DARK MINI-GOLF
At Glowing Rooms, there's a neon 3D course, UV lights, 3D murals, disco lights, and an event room available for private functions. Come experience the illusions at Glowing Rooms SA. Find out about the 2019/2020 School Holiday special.
Price: From R130pp
Hours: Tuesday–Thursday: 10am–7pm (for confirmed bookings); Fridays: 1pm–8pm; Saturdays: 10am–8pm; Sundays: 10am–4pm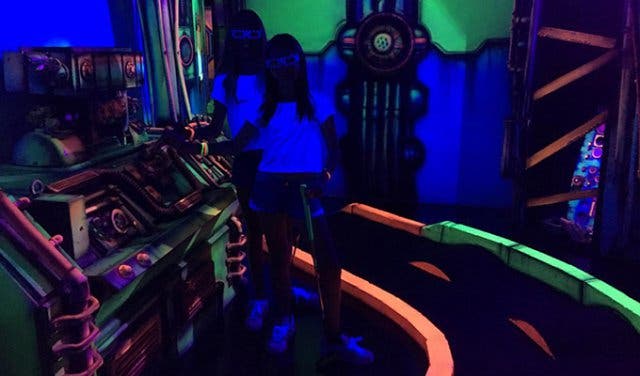 Shop 16, The Gallery, Milnerton, info@glowingrooms.co.za, +27(0)21 551 22 44, website
RUN AWAY TO THE CIRCUS IN THE HOLIDAYS
Wrapping yourself up in the metres of silk fabric hanging from the rig and learning to hoist yourself up into the air is fun and challenging activity. The Silk Workshop is an aerial dance performing arts school that offers various classes and workshops where you can increase flexibility, develop balance and coordination, and boost self-confidence. Weekly classes are available as well as a circus holiday program where children aged six to 13 can try various circus activities from building human pyramids to flying through the air.
Price: From R100
Hours: Various

The Silk Workshop, Unit 11 Prema Park 12 Engine Road, Montague Gardens, thesilkworkshop@gmail.com, +27(0)73 273 3538, website
BOND AND SEE MARINE LIFE UP-CLOSE
Sea kayaking is an exciting adventure activity that gives you the chance to see dolphins, sunfish, whales, seals, and penguins at close range. Because everyone wears a buoyancy aid and there are two people per kayak, you can pair the child with an adult. Children from the age of six years can try this adventure. Depending on the child, and on special request, younger children can also kayak with Kaskazi Kayaks.
Price: R400 per person
Hours: Monday–Sunday: The trip times change due to seasons and sun, so contact via email if there is no answer by phone.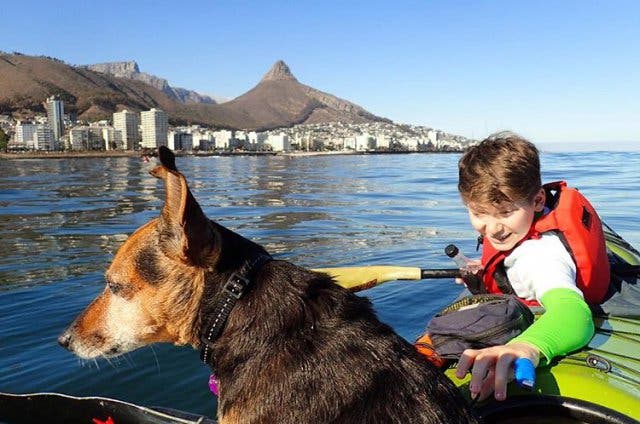 179 Beach Road, Mouille Point (next to the Shell garage), +27(0)83 346 1146, info@kayak.co.za
ROCK OUT
From playing games and participating in interactive musical activities to learning chords, School of Rock uses classic rock songs to teach rhythm, song structure, and melody to anyone from the age of three years. The music teachers are accomplished musicians who guide students to boost confidence and social skills.
Price: Various
Hours: Monday–Thursday: 9am–8pm; Friday: 9am–5:30pm; Saturday: 9am–3pm

Suite 202,Floor 2, Standard Bank Galleria 120 Main Road, Claremont, claremont@schoolofrock.com, +27(0)1 671 9580, website
WATER PARK WITH A DRY PLAY ZONE
Toddlers, young children and pre-teens won't be short of entertainment here. There are five waterslides, including safe play areas for under-6s as well as other attractions such as putt-putt, a jungle gym, zip slide, obstacle course and shaded cafe. The park is the perfect spot for a birthday celebration. You will be allocated a picnic table to set-up the party, and you can bring your own party packs and cake if you want to. The park is only open for summer and operates from a well point at Waterworld in Strand.
Price: From R45 for toddlers
Hours: September–April: School and public holidays: 9am–6pm, Monday–Sunday; Term weekends: 9am–6pm; Term weekdays: 1pm–6pm


Beach Road, Strand, info@waterslides.co.za, +27 (0) 21 584 4702, website
HANG TEN HOLIDAY SURF CAMP
It might be a natural instinct to want to learn to surf, especially in the hippie corner of Cape Town, Muizenberg. Founded by South African surfing champion Roxy Davis, Surf Emporium offers surfing and SUP lessons and equipment rental. Classes run throughout the year and the three-day holiday surf camps offer an all-inclusive crash course in surfing.
Price: Various prices
Hours: According to schedule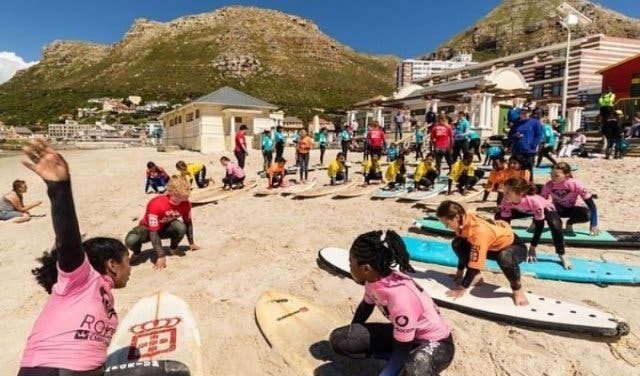 Phase 4 Empire Building Beach Road, Muizenberg Beachfront, info@surfemporium.co.za, +27(0)21 788 8687, +27(0)82 562 8687, website
UNDER THE SEA ALL YEAR LONG
All ages can appreciate the diverse marine life found off the southern African coast at the Two Oceans Aquarium. See animals that call the cold waters of the Atlantic Ocean their home and the brightly coloured ones that live in the warm Indian Ocean. Discover fascinating microscopic life, have a tactile experience at the touch pool, or come face to face with wondrous marine life in the aquarium's three large-scale exhibits at the Two Oceans Aquarium.
Hours: Daily 9:30am–6pm
Price: Free and from R90 and South Africans can enjoy free entry on birthdays.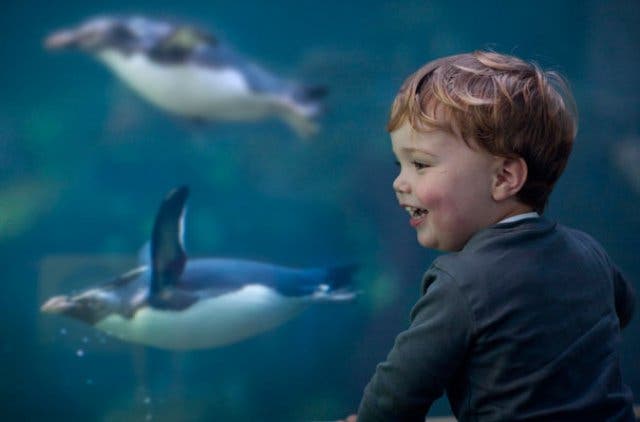 V&A Waterfront, Cape Town, aquarium@aquarium.co.za, +27 (0)21 418 3823, website
MEET THE DANCING OWLS
Eagle Encounters is a wildlife rehabilitation, conservation, education, and eco-tourism centre based at the Spier Wine Farm. Experienced handlers facilitate personal encounters at the touching gallery and owl nursery where you can cuddle Fagen the barn owl, speak to the wood owls and invite a spotted eagle owl to perch on your head. You can also meet eagles, learn about vultures, or hold a bearded dragon.
Price: From R65
Hours: Monday – Sunday: 9:30am–5pm; closed 25 December

Eagle Encounters, Spier Wine Farm, Baden Powell Drive (R310), Lynedoch, Stellenbosch, info@eagle-encounters.co.za, +27 (0) 84 037 5523, website
SUMMER HOLIDAY MOVIE FUN FOR KIDS
Treat the family to a magical night under the stars at Cape Town's favourite open-air cinema. With an array of kid-friendly films showing during the school holidays, it's the perfect opportunity to enjoy some fresh air and outdoor fun together. Try your hand at the giant lawn games or grab a bite to eat from the artisanal mini-market. Once the sun sets, snuggle up for the start of the movie at The Galileo Open Air Cinema.
Hours: Gates open: 6pm on weekdays, 5pm on Saturdays and 4pm on Sundays
Price: From R109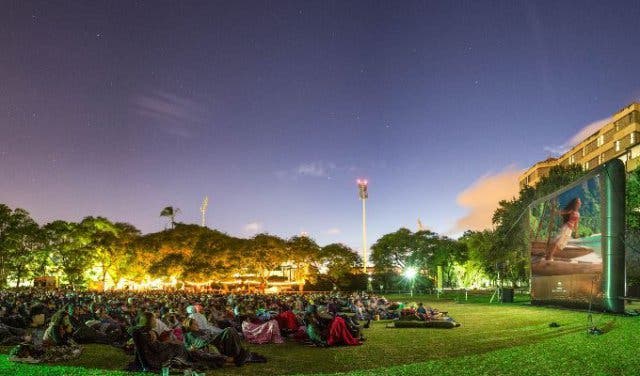 Various locations, hello@thegalileo.co.za, +27(0)71 471 8728, website
FROM TODDLER TO RUGBY STAR
Fun, structured play sessions with energetic coaches teach kids aged two to seven how to pass, catch, kick, run with the ball, and play as part of a team. At Rugby Tots, they'll run, dodge obstacles, and protect the ball, all to simulate the game.
Price: R85 per session
Hours: According to schedule

Various locations, info@rugbytots.co.za, +27(0)79 410 1728, website
MOUNTAIN OR CITY DOWNHILLS ON A SCOOTER
It's fun for the whole family on Scootours' non-motorised, eco-friendly vehicles. Swiss-designed to traverse the terrain of the Alps, they are first of their kind in South Africa. The family adventure gurus at Scootours have added Knysna and Stellenbosch to their list of routes. Plus, you can now book additional adventurous activities from paragliding and abseiling to kayaking and swimming with seals. Kids aged 10 and older (with passengers ages four to nine) can freewheel down the slopes of Signal Hill and Table Mountain for unparalleled views with Scootours Cape Town.
Hours: Three daily tour slots; 9am, 12pm and 3pm and the duration of the tours are between 90 minutes to two hours.
Price: From R290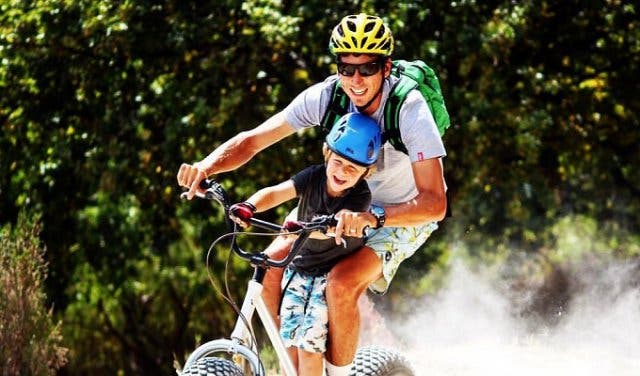 La Couronne Wine Estate, Robertsvlei Road, Franschhoek, +27 (0) 82 776 0557
Jonkershoek Nature Reserve Parking area, Stellenbosch, +27 (0) 82 776 0557
TAKE A RIDE NAMED AFTER A GHOST SHIP|
Cape Point National Park (part of Table Mountain National Park) offers spectacular views from cliffs towering over the sea and a park rich in biodiversity. You can take the Flying Dutchman Funicular up the hill to see the lighthouse and enjoy the panoramic views. The Flying Dutchman takes its name from the local legend of the Flying Dutchman ghost ship. The funicular leaves from the lower station every three minutes, accommodating up to 40 passengers.
Price: From R70 to ride the Cape Point Funicular (From R40 to enter Cape Point National Park)
Hours: 9am–5:30pm

Cape Point, info@capepoint.co.za, +27(0)21 780 9010, website
WALL-TO-WALL TRAMPOLINES FOR TODDLERS
Perfect for teens, Rush offers 1700 square metres of interconnected wall-to-wall trampolines, dodgeball courts, basketball slam dunk lanes, long trampoline lanes perfect for doing flips, a battle beam (a ledge on which two participants battle it out over the foam pit), and a climbing wall. Toddler Time is specially for little ones under the age of four to explore movement, with exclusive access to the park together with a guardian.
Price: From R115
Hours: Toddler Time: Friday and Sunday 9am–10am; regular hours: Monday–Thursday 1pm–9pm; Friday–Saturday 9am–10pm; Sunday 9am–7pm

5th Floor (access from Parade Area), 109 on Main, Main Road, Claremont, infoct@rushsa.co.za, +27(0)21 683 3841, website
TEENS HANGING IN THERE TO CONQUER LIMITATIONS
Ziplining is a safe and exhilarating activity for all ages, sizes, and fitness levels. Cape Canopy Tours have hosted all ages from five years and it's particularly suitable for pre-teens and teens to experience nature as well as the thrill of conquering fears and limitations.There are even tandem rides for those who are nervous.
Price: From R895
Hours: Available upon booking

Cape Canopy Tour, Elgin Valley, Grabouw and other locations, zipline@capecanopytour.co.za, +27 (0)21 3000 501, website
IF YOU LOVE SCIENCE
The Cape Town Science Centre keeps minds from as young as three years engaged, with cool experiments and exhibitions. Explore daily workshops during the school holidays and winter science camps. Take on the challenge of building a house in the Building Site, pick your brain with puzzles and riddles in Puzzling Things, experience the feeling of weightlessness by getting strapped into the Human Gyroscope, control the ball with your brain waves when you play Mindball, and hear and see science in the Audio Kinetic Sculpture.
Price: R75
Hours: Monday – Saturday: 9am–4:30; Sundays and public holidays 10am–4:30pm

370B Main Road, Observatory, info@ctsc.org.za, +27(0)21 300 3200, website
FUN AND FITNESS
The Kids Gym is exactly that: a gym for kids with a focus on fun while providing a way to get fit. Children aged 18 months to 15 years are welcomed in a safe, fun, and clean environment. Structured fitness programmes include cardio exercises and games that teach strength, flexibility, balance, and coordination to prepare children for all sports while boosting self-confidence and social skills. All sessions are under the supervision of qualified trainers.
Price: Walk-ins from R60 for the Playzone, classes from R150 and various membership options
Hours: According to schedule

Sable Square, Corner Bosmansdam and Ratanga Road, Century City, Cape Town, admin@thekidsgym.co.za, +27(0)21 110 5574, website
CHILDHOOD AS IT SHOULD BE – OUTDOORS
Swing from tree to tree in a lush green forest during a treetop adventure obstacle course where kids are tucked into harnesses and hooked into secure lines to keep them safe. Various routes are marked for kids, and reasonably fit teens and adults. Obstacles include high ropes and precarious crossings with tunnels, ladders, bridges, and walkways.
Price: From R140
Hours: Wednesday–Sunday, school holidays and public holidays: 9am–5pm

Cape Town and Garden Route, bookings@acrobranch.co.za, +27(0)86 999 0369, website
---
Sweet spots for an epic Easter egg hunt.
Enjoy a sun-filled Saturday at the Hucksters Food Market.
Host your kid's birthday party at Spur.
Light and bright oasis to relax and learn art skills in the city at The Ladder On 136 Bree Street gallery.
See what you can do for free on your birthday.
Get the kids interested in books and reading with free storytime at the Book Lounge.
Outstanding and out of town: markets worth travelling tor at these Western Cape Village markets, or experience heart, soul, scenery and food at these special Cape Town markets.
Each location's natural fauna, flora and scenery makes the visit even more worthwhile at these tidal pools in Cape Town plus, you can discover the fauna and flora of each area at these natural pools in the Cape.
There's no shortage of pools with world-class facilities at public pools in Cape Town but when a pool just isn't enough, there's a lot more to private pools and water parks at pools open to the public in Cape Town.
Soak up the sun at beaches in unexpected places, in national parks, and all along the coast at some of the most beautiful Cape beaches.
---
Use our events section for an up-to-date overview of what's happening in the city, 'burbs and dorpies. Join our newsletter and get quick access on the go by adding us to your mobile home screen for the ultimate guide to discoveries in Cape Town.

Follow and like us on Twitter ❤ Facebook ❤ LinkedIn ❤ Instagram ❤ Pinterest for updates.