Unique Yoga Studios in Cape Town & Surrounds
Get your downward dog on with this comprehensive list of Cape Town's best yoga studios.
Last Updated: 18 December 2019
Yoga is the art of stretching, breathing and connecting the physical form with the spiritual form. Practices of the ancient exercise date back thousands of years.
The Mother City boasts numerous world-class yoga studios and if you're a newbie looking to join the world of yogis or an established yoga guru looking for a new place to unroll your mat, we're certain our list of Cape Town's top yoga studios will have something to offer you. Happy stretching and Namaste!
YOGA WHEN, WHERE, AND HOW YOU WANT IT
The beauty of yoga is that you can do it almost anywhere, with minimal equipment: the beach, your backyard, or even a quiet space in your office. The Om Revolution offers a regular schedule of affordable group yoga classes in beautiful outdoor locations with qualified instructors. You can also take the practice to your workplace as a convenient and effective way to relieve stress and tension. You can also customise private yoga classes and experiences. Classes start at R50 with The Om Revolution for their weekly yoga schedule.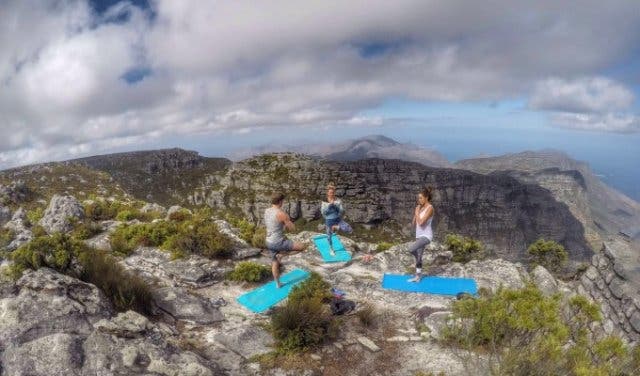 Clifton 3rd Beach, yoga@theomrevolution.co.za, +27(0)63 868 0899, website
HOLDING SPACE CAPE TOWN
Holding Space is a new yoga studio with a difference in Woodstock. Situated just outside the city bowl on Victoria Road.
Holding Space is what yoga instructor, Kafui Awoonor, calls "the first black-owned and run yoga studio in Cape Town". And that's important to her, because, as some might know, Kafui was very vocal recently around making yoga more outwardly open and inviting to all Capetonians.
Different types of yoga and wellbeing practices are available. From vinyasa, hatha and kundalini to movement therapy.
You can also look forward to sound journey experiences, womens' circles and monthly new moon or full moon gatherings. Read more about Holding Space Cape Town.

(They're very well priced however still ask them if they have specials for CapeTownMagazine.com readers at present).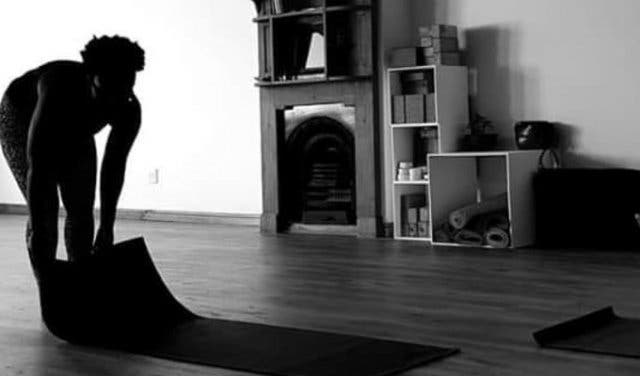 196 Victoria Road, Woodstock | holdingspace2019@gmail.com
UNRAVELED YOGA
This inner city yoga getaway is edgy, young, fun and unique. Located on the ever popular Bree Street, this yoga studio is a little different when it comes to the traditional interior design you'd expect from a yoga studio. The walls are covered in stunning graffiti murals done by Cape Town's own Falko One. It is fully equipped with all the bells and whistles and you can bring your own mat and towel or rent theirs for just R40. They offer classes that range from absolute beginner to seasoned professional. They specialise in vinyasa with an unraveled twist, which means they teach vinyasa flow accompanied by sweet beats.

107 Bree Street | 1st Floor (above La Parada) | Cape Town | +27 (0)21 422 1304
YO YOGA
With a relaxed studio, happy vibes and healthy atmosphere, Yo Yoga is sure to give you all the inner-peace and tranquillity you need. It is a space where you can be yourself while unwinding, exercising your body and relaxing your mind. Yo Yoga offers Bikram, Yo Bikram, Ashtanga, Vinyasa flow yoga and much more to get you into serenity. Their aim is to help you improve both your physical and mental wellbeing through the regular practice of yoga.

Cavendish Close | Warwick Street | Cape Town | +27 (0)21 671 0888
HOT DOG YOGA
Hot Dog Yoga Studios has two yoga rooms – one used for hot yoga and the other at regular temperature for Vinyasa, Iyengar, kids and pregnancy yoga training. The studio offers a range of experienced and inspiring trainers who teach yoga to all interested souls.

202 Main Rd | Cape Town | +27 (0)21 439 4888
REUNION YOGA AND MEDITATION
The ReUnion Yoga and Meditation studio is open to everyone. They offer a wide range of yoga asana classes and meditation. It is here where you can reconnect, refocus and replenish your reserves under the guidance of experienced yoga teachers. This is also the only studio that teaches moon sequence as well as beginner classes which focus on synergy and meditation. The yoga classes are kept deliberately small to ensure a low teacher-to-student ratio, which in turn gives you a high-quality class and the best possible practice.

29 Sir Lowry Rd | Woodstock | Cape Town | +27 (0)79 587 2281
YOGALIFE
Focussing on Vinyasa and Power Yoga, Dave Porter's addition to Cape Town's bendy scene offers 'yoga for everyone'. With love, dedication and a good sense of humour your teachers will help you to find your appropriate level and there are even free classes for beginners.

127 Waterkant Street | De Waterkant | Cape Town | +27 (0)21 418 2884
AFRICAN SOUL SURFER BACKPACKERS
With the double-storey lodging literally on the beach, it comes as no surprise that African Soul Surfer boasts Cape Town's only sea-facing yoga studio. What's more zen than looking out onto the calming ocean while perfecting your breathing and poses, right? The backpackers hosts yoga classes seven days a week and drop-in classed range from R80p/p - R100p/p, and R600p/p - R750p/p for a 10-class card. Of course, if you want to contrast the calming effects of yoga with an adrenaline rush, the vibrant hostel integrates surf culture into its look and also offers surf lessons and as well as board and wetsuit hire.

Surfer's Circle | Muizenberg | Cape Town | +27 (0)21 788 1771
ASHTANGA YOGA CAPE TOWN
This studio specialises in Ashtanga yoga taught by Krishnamacharya and Sri K. Breathing exercises and meditation are top of the curriculum and international yoga trainers regularly visit the studio in Cape Town to share their wisdom. They are conveniently located on Roeland Street for those of you who live in the city and are looking for something accessible and close by. Their onsite shop will satisfy all your yoga needs and they also offer workshops.

Temple House | Corner Buitenkant & Roeland St | Cape Town | +27 (0)84 358 9863
GURURAMDAS YOGA STUDIO
Find your inner voice and the perfect balance between inner and outer beauty with guidance from the GuruRamDas Yoga Studio. Kundalini, Ashtanga, Vinyasa, as well as dance and meditation are practised here as well as yoga instructor training courses.

6 Park Road | Gardens | Cape Town | +27 (0)21 424 6610
THE SHALA YOGA STUDIO
Explore yoga with the help of experienced and dedicated teachers in a bright studio with wooden floors. Each yoga class has a maximum of fourteen participants in order to guarantee individual attention. After the course, you can have some food and enjoy a refreshing drink in the Cook Shop, or treat yourself to a massage. The studio offers courses for beginners, teacher training, synergy courses and workshops.

117 Hatfield Street | Gardens | Cape Town | +27 (0)82 642 5256
ADI SHAKTI YOGA CENTRE
Yoga instructors Claire and Dorly specialise in pranayama (breathing exercises), asana (physical exercises), savasana (relaxation) and meditation. Practised on the wooden roof between palm trees and overlooking the ocean this studio really is the perfect spot to relax and offers Kundalini, flowing Hatha, balancing Senior Yoga, caring pre and post-natal yoga, loving Mom and Baby Yoga or a restoring Meditation and Yoga Nidra class
.

1 Shanklin Crescent | Camps Bay | Cape Town | +27 (0)78 936 7615
---
Want to know more about Cape Town? The Mother City is fast developing so to keep you clued up; we've rounded up some of the hottest latest additions to Cape Town in our New Restaurants and Hot Spots overview. Discover it.
---
Up your hula hooping game over a weekend in nature at Spiritfest.

Become your best self in 2020 with Unfold Women.

Catch gnarly waves at Cape Town's best surf spots.
Free yoga and acroyoga at the launch of Yogagarden in Cape Town.
Drink rosé, find inner peace and celebrate Women's Day at this seminar and brunch.
Discover yoga and help raise funds so that underprivileged schools can have it too on International Day Of Yoga.
Come to the V&A Waterfront's new Battery Park precinct and experience open-air sunset and sunrise free yoga.
Perfect your oms by the ocean with this yoga session by the sea.
Have you ever done yoga in an inflatable heated igloo? The first Cape Town Hotpod Yoga has arrived in Salt River. Find out more about Hotpod Yoga.
---
Use our events section for an up-to-date overview of what's happening in the city, suburbs and dorpies. Join our newsletter and add us to your mobile home screen for the ultimate guide to discoveries in Cape Town.
Follow and like us on Twitter ❤ Facebook ❤ LinkedIn ❤ Instagram ❤ Pinterest for updates.