New: Cape Town's First Hotpod Yoga in Salt River
This yoga in a purple cocoon-like pod is an otherworldly experience
Hotpod Yoga is an inflatable heated studio where up to 20 people can join a guided yoga class in a unique space.
WHY YOGA IN A HOT POD?
Why not, we say. This dimly-lit seven by nine-metre purple pod heats up to 37 degrees Celsius, and is beautifully scented with a blend of essential oils such as bergamot and orange. Added to that is the sound of urban-chill beats. All this creates an ambience for body and mind relaxation.
A session in this otherworldly cocoon is a little break from reality – a true escape from the city.
The pods are designed to be portable. You'll find this semi-permanent yoga studio in Salt River, close to offices, stores and restaurants. It's inside the Salt Orchard creative space, an accessible and secure spot to pop in, not just before or after work, but even during your lunch break.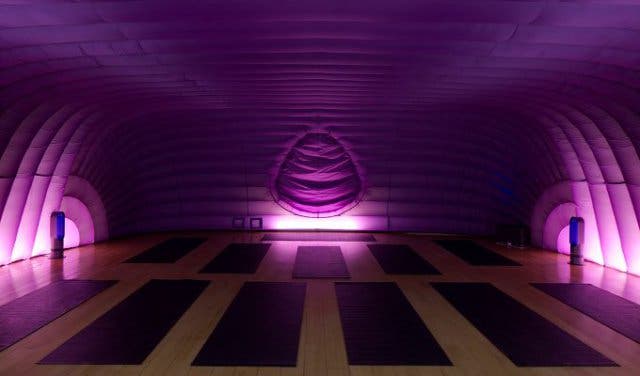 PERFECT FOR CAPE TOWN
Hotpod Yoga comes from the UK, and launched in Johannesburg in 2015. Hotpod Yoga Cape Town (the first in the city) founder André Hugo says that for him, the appeal is the heat combined with the pod, which offers him both a physical challenge and an opportunity to clear your thoughts.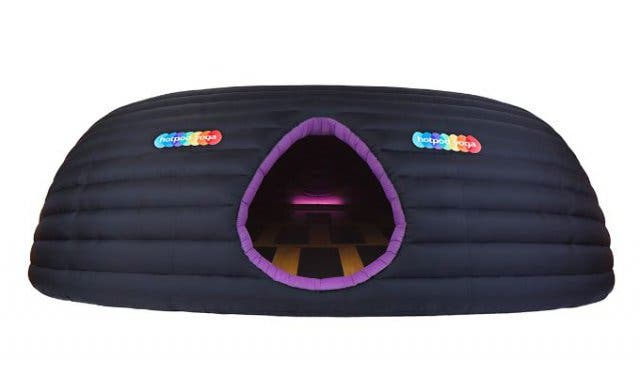 Experienced local yoga teachers are helping André bring "yoga designed for real life" to the city. The classes of active and passive vinyasa style yoga postures are suitable for all abilities, from beginners to advanced practitioners. You only need to bring water and a towel. Go and attend to see why Hotpod Yoga is hot in over 40 locations around the globe.
TRY IT – THE INTRO SPECIAL IS INCREDIBLE!

You can attend as many times as you like every day for 10 days for only R200. Visit Hotpod Yoga for more details.
WATCH WHAT HOTPOD YOGA FEELS LIKE
Free yoga and acroyoga at the launch of Yogagarden in Cape Town.
Have you heard about the hottest new workout at Drenched heated boxing gym?
And we always have something new for YOU to try out every week in our overview of new and unique experiences to try out and share.
Customise private yoga classes or ask an instructor to come to your workplace with The Om Revolution yoga. The group classes are weather dependent and you can get the latest schedule online for outdoor yoga in Cape Town.
---
ABOUT #CapeTownMagNew:
#CapeTownMagNew discovers exciting new places in and around Cape Town and the Western Cape. CapeTownMagazine.com celebrates entrepreneurship by telling the unique story of your business. Follow #CapeTownMagNew on Twitter and Facebook to stay up to date on new places and experiences or read more here about new places in Cape Town.
---
Use our events section for an up-to-date overview of what's happening in the city, 'burbs and dorpies. Join our newsletter and get quick access on the go by adding us to your mobile home screen for the ultimate guide to discoveries in Cape Town.

Follow and like us on Twitter ❤ Facebook ❤ LinkedIn ❤ Instagram ❤ Pinterest for updates.