A Romantic Restaurant For Every Mood (And Budget)
Fine dining with flair, canteen-style curries, and even a spot that'll serve your dog
Last update: 24 January 2020

Whether you're out on a first date or celebrating your 50th wedding anniversary, few things beat settling in for a meal together. But it can't just be anywhere: date night requires a truly special spot. We've put together a selection of restaurants, serving everything from top-of-the-range fine dining to wallet-friendly casual meals, where excellent food meets the perfect ambience.

BELUGA SERVES ROMANCE ON A PLATTER
Beluga Restaurant is a South African-Asian fusion restaurant that's a must for date-night. Treat your significant other to the aphrodisiacal joys of fresh oysters while you sip on a glass of wine. Other treats at Beluga include fresh seafoods like prawns, sushi and calamari, as well as soups, salads, curries, and meat dishes. Or try the set menu: you can do a two-course lunch for R225 or a three-course lunch/dinner for R265. Sit back and enjoy your special evening with your special someone at Beluga.
Price Range: Starters typically range between R65 and R135, whereas main meals start at R125 and desserts are between R75 and R160
Opening Hours: Daily 12pm–10pm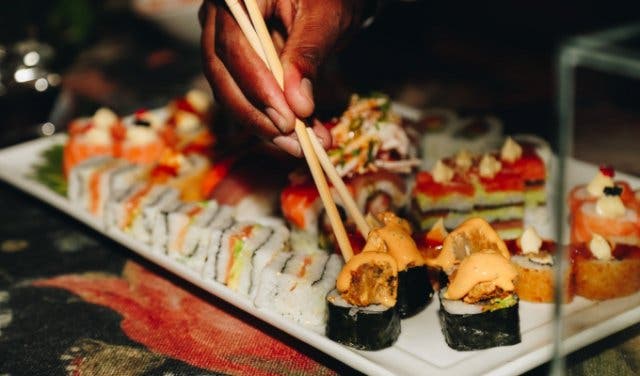 70 Prestwich Street | De Waterkant | Cape Town | +27 (0)21 418 2948

DINING WITH PORTUGUESE FLAIR
If your ideal date involves dressing up to the nines for a stylish night out, Pigalle should be at the top of your list. Enjoy live entertainment (there's live jazz every night from 7:30pm) while you dine on fresh seafood or Chalmar steak and sip wine from the extensive selection. Once you're seated, you'll agree that every detail speaks of style and professionalism, down to the silverware. To avoid long waits and disappointment, book ahead of time for your special evening.
Price Range: Typically you'll pay R80–R355 for a starter, R210–R570 for a main and R60–R170 for a dessert
Opening Hours: Monday–Saturday: 12pm–2:30pm and 6:30pm–10:30pm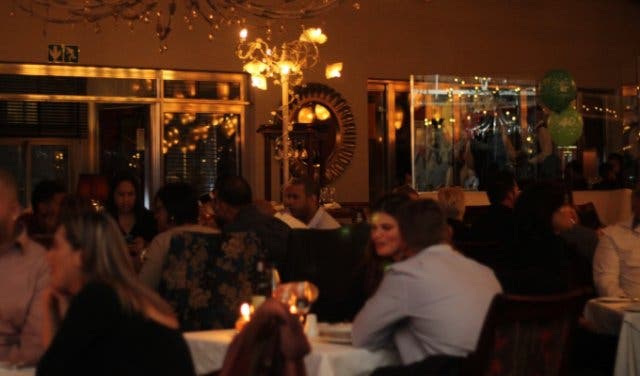 51A Somerset Road | Green Point | Cape Town | capetown@pigallerestaurants.co.za | +27 (0)21 421 4848

MAKE YOUR DATE EVEN MORE INSTA-WORTHY
Take your date out for an intimate dining experience that comes with a view of the De Grendel vineyards and Table Mountain. You can sit inside or outside, dependent on the weather and availability: watching the sunset from the patio is a special experience. Expect generous portions of seasonal, modern South African cuisine and Instagram-worthy plating. And with an organic vegetable garden on the premises, diners are assured even more freshness on their plates at De Grendel Restaurant.
Price Range: Set menus: R415–R455 per person; when dining a la carte, expect to pay between R130 and R195 for a starter, R180 and R240 for a main and R85 and R205 for dessert
Opening Hours: Tuesday–Sunday (lunch): 12pm–2:30pm; Tuesday–Saturday (dinner): 6:30pm–9:30pm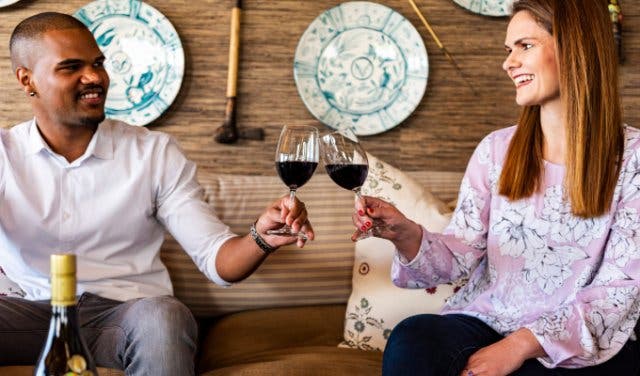 De Grendel Wine Estate | Panorama | restaurant@degrendel.co.za | +27 (0)21 558 7035

ROMANCE IT UP AT SA'S TOP RESTAURANT
Spend your special night in the care of La Colombe and executive chef, James Gaag, who has worked in kitchens like Jardine, Terroir, and Nobu. According to James, your experience at La Colombe will include "the finest ingredients, with each meal being seasonal, immediately delicious and not overworked or overcomplicated". And its spot high in the mountains on Silvermist Estate has definitely helped in making it one of the country's most sought-after restaurants. In 2019, La Colombe won the Eat Out Award for Best Restaurant in South Africa, having been in the top 10 since 2016.
Price Range: The menus at La Colombe are all set, and you can expect to pay between R1,100 and R1,650 (drinks excluded) for lunch and R1,450 and R1,650 (drinks excluded) for dinner
Opening Hours: Daily: 12pm–1:30pm and 6:30pm–8:30pm
Please note: Because La Colombe strives for a certain atmosphere, they ask that you kindly leave children under ten at home


Silvermist Wine Estate | Constantia | +27 (0)21 794 23

OPULENCE, LUXURY, AND KILLER VIEWS
Enjoy one of the best views Cape Town has to offer at Chef's Warehouse at Beau Constantia, situated at the top of the Constantia Valley. The restaurant keeps things fresh and fun for guests by regularly switching up the menu, creating dishes based on what is seasonally available. The most popular option for couples is the restaurant's signature experience: the tapas platter for two. For those sunny South African days, management at the restaurant may opt to open the outside dining area, and patrons may choose to enjoy their meals overlooking the valley (this is weather-dependent). Or, for the ultimate experience, head to the glass box dining area above the main restaurant. It offers panoramic views of the Constantia Valley.
Price Range: The tapas for two option starts at R1,000
Opening Hours: Monday–Saturday: Lunch: 12pm–2pm; dinner: 5:30pm–8pm; Sunday: Lunch: 12pm–2pm
Please note: When making a reservation, a deposit of R250 per person is payable to confirm the booking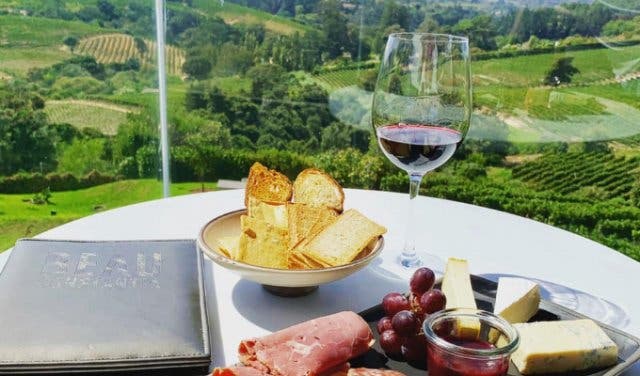 1043 Constania Main Road | Constantia | +27 (0)21 794 8632 | cw@beauconstantia.com

BREAKFAST, LUNCH, AND DINNER BY THE SEA
Thorfynn's Restaurant at Monkey Valley in Noordhoek boasts impressive inside and outside dining areas where couples can celebrate a special night or just enjoy each others' company. Sit outside and enjoy unbridled ocean views surrounded by milkwood trees (which block the even the strongest of southeasters), or, when it's cold, sit inside and dine by candlelight. The wood-fired pizzas are a popular choice, or start off with the salmon parfait. There's also a variety of seafoods, tacos, and pastas like linguini umbria, penne pollo and ravioli. The venue periodically hosts live music on the deck when weather permits.
Price Range: Daily:7am–10pm
Opening Hours: For starters and desserts, you'll pay R60–R150 and R45–R65 respectively, and a main costs between R70 and R320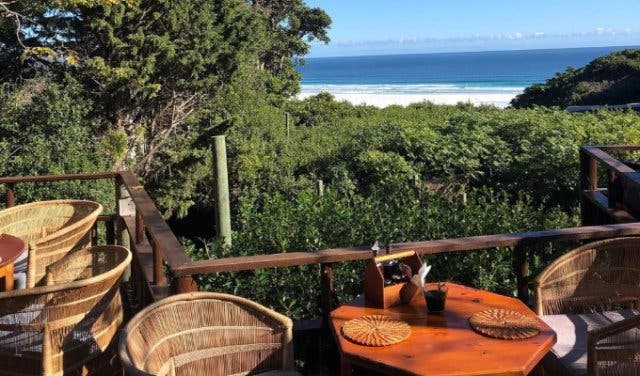 Monkey Valley Resort | Mountain Road | Noordhoek | reservations1@monkeyvalleyrestort.com | + 27 (0)21 789 1391 | +27 (0)21 789 8000

GET YOUR ZEN ON WITH TRADITIONAL JAPANESE FOOD
Kyoto Garden Sushi is a shrine to Japanese cuisine, offering more than just sushi and sashimi. You'll find your mouth watering at the sight of freshly prepared seafood like Mozambican conch, eel, sea urchin, and even Alaskan king crab. Even the cocktail menu stays inline with traditional Japanese favourites, boasting flavours like Green Tea Destiny and a Ginger Mizuwari infusion. Plus, Kyoto stocks a selection of Japanese beer, sake, and single malt whiskies. Enjoy a meal with your loved one in a minimalist setting, where the décor exudes Japanese zen.
Price Range: A meal will cost you anywhere between R60 and R560
Opening Hours: Tuesday–Saturday: 5:30pm–11pm


11 Kloof Nek Road | Gardens | Cape Town City Centre | +27 (0)21 422 2001

UNCONVENTIONAL ROMANCE THAT'S WALLET-FRIENDLY
The Eastern Food Bazaar is a firm favourite amongst Cape Town locals and tourists alike. Why not take your date to this thriving locale for an outing that's a little different? The Eastern Food Bazaar occupies a corridor that runs from Longmarket Street to Darling Street, filled with the scent of spices and sizzling meat. You can get a takeaway and enjoy your meal in the Company's Gardens (a ten minute walk away) or sit down on-site and enjoy the chatter of locals. You're sure to enjoy a "get down-and-dirty" type of date at the Eastern Food Bazaar.
Price Range: There's a multitude of choices at the Eastern Food Bazaar, but on average, you'll pay about R45 to R65 for a meal
Opening Hours: Monday–Thursday: 11am–10pm; Friday and Saturday: 11am–10:30pm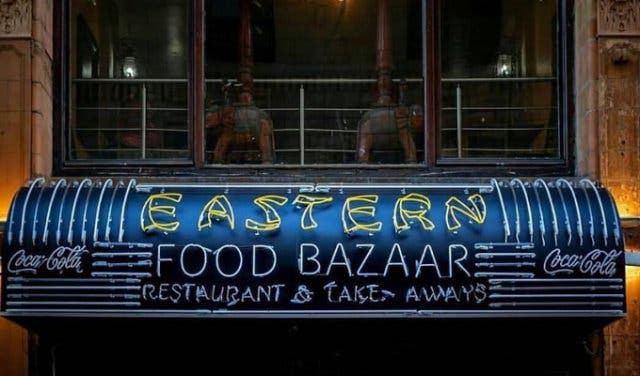 96 Longmarket Street | Cape Town City Centre | +27 (0)21 461 2458 | info@easternfoodbazaar.co.za

DRESS UP FOR CONTEMPORARY OPULENCE
Enjoy a classy night out at Azure Restaurant, perfect for watching the sun sink into the ocean while you dine on international cuisine prepared by chef Christo Pretorius. Pro tip: don't miss out on Bea's double-baked cheesecake for dessert (it's just that good). The restaurant focuses on delivering dishes made with top quality, seasonal ingredients in order to enhance the diner experience. If you find yourself without a date, the adjacent Leopard Bar has an entire gourmet menu for pets; you never have to dine alone. Make a staycation of it and enjoy the hotel and spa too at Azure Restaurant at The Twelve Apostle Hotel.
Price Range: Mains go for R165–R305, starters are between R120 and R170, and desserts start at R90
Opening Hours: Daily: Breakfast: 7am–10:30am; lunch: 12:30pm–3:30pm; dinner: 6pm–10pm


Twelve Apostles Hotel and Spa | Victoria Road | Camps Bay | +27 (0)21 437 9029

DATE-NIGHT SOUTHERN SUBURBS-STYLE
Indulge in authentic Italian cuisine with your significant other at Bardelli's in Kenilworth. Pizza, pasta, and an Italian-sized love of food is the order of the day at this local, eatery. It has been around for a long time (since 1992, to be specific) and is much loved by locals. Enjoy a meal in the cosy, intimate courtyard, and complement your meal with wine from their carefully crafted selection (that also won't break the bank). If you're not feeling the sit-down-dinner-thing, why not opt for a takeaway? Order your food from the Bardelli's Facebook page, pick it up and you're all set for a romantic night in.
Price Range: Depending on how extravagant you're going, expect to pay between R39 and R89 for a starter, between R109 and
R179 for a pasta dish or a main, R69 to R169 for a pizza (they do two sizes) and between R30 and R65 for dessert
Opening Hours: Monday–Saturday: 5:30pm–late (kitchen closes at 10:30pm); Sunday: 12pm–9pm


51 Kenilworth Road | Kenilworth | +27 (0)21 683 1423 | kenilworth@bardellis.com

A PROPER ITALIAN FAMILY EXPERIENCE
Join the Posticino family (the owner regularly spends the night with guests, chatting and enjoying the evening) for your next romantic excursion. Posticino is an Italian restaurant and pizzeria on bustling Main Road in Sea Point, with a cosy inside and outside seating area. It has an authentic Italian feel with attention to detail: the murals inside, the tablecloths, and the delicious food will make you say, "bellissimo".
Price Range: Starters cost R39–R89, with pasta, pizza and mains costing R69–R179 and dessert is R30–R65
Opening Hours: Daily: 12:30pm–10pm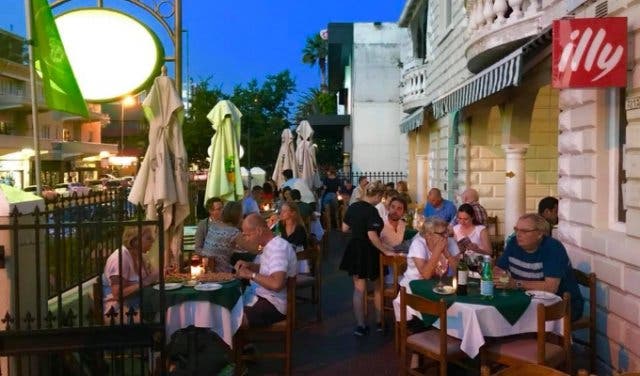 323 Main Road | Sea Point | Cape Town | +27 (0)21 439 4014 | +27 (0)21 439 3974

PIZZA IN THE VINEYARDS
Spend your special evening under a canopy of oak trees, overlooking vineyards and a beautiful dam surrounded by grasslands and grazing cattle. Under Oaks Wine Estate is located about an 11-minute drive outside Paarl, towards Wellington. Be met by friendly, dedicated staff; enjoy your pizza and wine in the intimate, art-lined cellar-turned-restaurant, or sit in the cobblestone front courtyard on warmer days. You can make a weekend out of it, too, by staying at the on-site guest house, or go for a wine tasting. It's all about homely, farm-style luxury at Under Oaks.
Price Range: For pizzas and pasta dishes, expect to pay between R70 and R150; desserts cost between R35 and R65
Opening Hours: September–March: Tuesday–Saturday: 11:30am–10pm (kitchen closes at 8:30pm); Sunday: 12pm–3:30pm (kitchen closes at 3p,); April–August: Wednesday–Saturday: 11:30pm–9:30pm (kitchen closes at 8pm); Sunday: 12pm–3:30pm (kitchen closes at 3pm)


Under Oaks Wine Estate | Noord Agter Paarl Road | Paarl | +27 (0)21 869 8962 | pizzaoaks@telkomsa.net

A TRADITIONAL "KOMBUIS" WITH FLAIR
Head to the heart of historic Stellenbosch for old, beloved classics like bobotie, chicken pie and "tamatie bredie" - with a luxurious twist that's Insta-worthy. De Volkskombuis has returned to the Stellenbosch family after being closed for a span, and has again garnered a lot of attention for its hearty, homely food. The restaurant is quiet, with modern-meets-traditional décor and indoor and outdoor seating. There's a fireplace for those cold winter nights, giving De Volkskombuis an extra romance boost.
Price Range: Try traditional "boerekos" for R150–R175, or steak, pizza and other delicious treats for R75–R260. Dessert costs between R55 and R200
Opening Hours: Monday–Saturday: Lunch: 11:30am–3pm; dinner: 6pm–10pm; Sunday: Lunch: 11:30am–4pm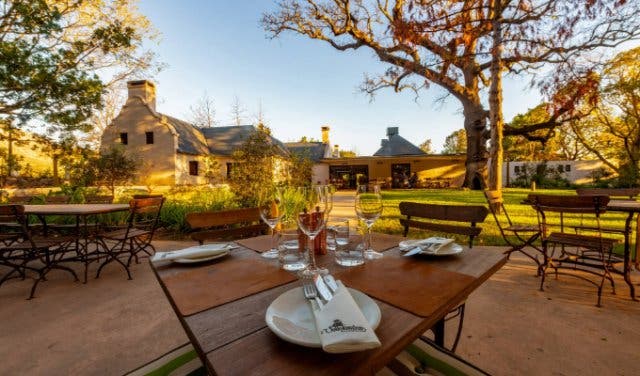 1876 Ou Strandpad Road | Stellenbosch Central | +27 (0)21 741 0980 | +27 (0)21 882 6119 | info@devolkskombuis.co.za

HERITAGE-INSPIRED CUISINE IN FRANSCHHOEK
In celebration of South Africa's culinary heritage, Pierneef à La Motte treats guests to a sophisticated à la carte menu surrounded by tranquil gardens. You'll feel the elegant ambience when you enter the space, which is filled with natural light and wood accents. Chef Eric Bulpitt recommends starting your dining experience with shared dishes that tell the story of South Africa's rich culinary heritage: a variety of breads, spreads, salads and meats. After that, Bulpitt makes whatever main you choose as appealing to the eye as it is delicious at Pierneef à La Motte.
Price Range: Two-course menu with a shared starter: R355 per person (wine excluded); desserts are an additional R95
Opening Hours: Tuesday–Sunday (à la carte lunch): 12pm–3pm


La Motte Wine Estate | R45 | Franschhoek | +27 (0)21 876 8800 | pierneef@la-motte.co.za

AN ETHIOPIAN TASTE ADVENTURE
Indulge in some culinary globetrotting with Madam Taitou in Cape Town. Think wacky, African decor and Ethiopian food that'll have you dreaming of an Ethiopian adventure. The walls are lined with beautiful art, while animal skins cover the furniture and tribal statues accentuate the space. The restaurant is situated on trendy Long Street, making it the perfect locale for a late night - there are plenty of clubs walking distance away. They don't serve any alcohol, but you're welcome to bring your own wine, which comes with the added bonus of a more affordable bill. It's a great sharing experience, with plenty of vegetarian and non-vegetarian options.
Price Range: Main meals can cost between R20 and R375, whereas desserts are R23–R35
Opening Hours: Monday–Sunday: 11am–10pm


77 Long Street | Cape Town City Centre | +27 (0)72 704 6182

A STEAK DINNER FOR TWO
In the heart of Harfield Village, you'll find the intimate, 30-seater Rare Grill. It's the type of place where the chef knows regulars by their names, making it a home away from home - the perfect place for celebrate with a loved one. There's beer on-tap, too. They are also highly commended by Eatout Magazine, and reputedly serve some of the best steaks in town. The restaurant is child-friendly and has secure parking. Plus, your night won't be interrupted when there's loadshedding.
Price Range: You'll pay between R42 and R80 for a starter, and R98 and R170 for a main. Corkage for the first bottle of wine is free, thereafter R30 per bottle
Opening Hours: Monday–Saturday: 6pm–10pm


166 2nd Avenue | Kenilworth | +27 (0)76 460 0423 | greg@raregrill.co.za
---
Enjoy award-winning steaks and wines at The Hussar Grill. Also check out their daily lunchtime special.
This is what you should be getting up to on Valentine's Day.
Find new experiences in Cape Town.
Keeping your figure in mind? Not to worry; check out these healthy eateries.
Plan the ultimate date.
Get some fresh and new ideas to propose to your significant other.
Discover a fusion of flavours at The Melting Pot.
Coming late 2019: La Colombe's Indian-inspired eatery, Epice Franschhoek.
The new restaurant with a sense of theatrics at Shakespeare's in Durbanville.
See private art collections and meet the world-famous Pigcasso at Art Franschhoek.
It's all-day, Mediterranean-inspired dining at Sotano on Bree. Check out the 2-for-1 lamb burger special every Wednesday and half-price sushi and bubbly every Monday.
Enjoy delicious Mediterranean dishes with a Lebanese twist at Sotano in Mouille Point. Check out their 2-for-1 lamb burger special on Wednesdays and their Monday Sirloin & Sauvignon special.
It's all about sushi, seafood and sunsets at Blowfish. Check out their weekly sushi specials and their weekly calamari and prawn special.
They are known for their very big steaks, but they also serve tapas at Dale's Black Angus. Check out their everyday lunch menu and Sunday roast and carvery
Sample masterful braaivleis, in a stunning natural setting with an amazing view at the Bo Kaap Braai Chicken Tikka.
The pre-drinks (or date night) spot that's livening up Sea Point at Chicha.
Does dinner by the fireplace sound like a cosy winter evening to you? Discover these restaurants with fireplaces.
Enjoy authentic South-Indian flavours at Sundoo in Sea Point. It's a good place for a business lunch or to get together for dinner.
Get a taste of Ethiopia in the city centre at Addis in Cape.
Experience the magic of each of the Madame Zingara restaurants in Cape Town. Plus, check out their everyday drink specials.

You can get giant 1kg beef ribs from the brand new smokehouse in Zonnebloem, Holy Smoke Cape Town.
Fine dining, views and indulgent spa at a luxurious new guest house called Purple Rayn.
A new home-style authentic Italian restaurant in Woodstock where you can indulge with your family on the finest seasonal Italian food at Scarpetta.
Give your partner a romantic experience they'll never forget with Tigger 2 charters Special Occasion package

Dinner and dancing on Heritage Square at HQ Friday Feels.
Friends, family or date night Italian supper? Check out the all-you-can-eat pasta Wednesday dinner special at RBG Grill & Bar in the Foreshore.
Khayelitsha's New Upmarket 3-Story Venue: The Milk Restaurant & Bar.
Looking for ideas for a romantic rendezvous? Consult our overview of top dating ideas in Cape Town.

Get SA food with an international flair at The 41 in Camps Bay. And they have live music every Thursday.
AC Hotel Cape Town has live music every Thursday and a weekly Sunday roast.
One of Stellenbosch's most peaceful, pretty escapes. Have you been to Jordan Wine Estate?
---
Supercharge your event? Our Events Support Programme gets results. Contact support@capetownmagazine.com or +27 (0)21 565 0415.

Use our events section for an up-to-date overview of what's happening in the city, suburbs and dorpies. Join our newsletter and add us to your mobile home screen for the ultimate guide to discoveries in Cape Town.

Follow and like us on Twitter ❤ Facebook ❤ LinkedIn ❤ Instagram ❤ Pinterest for updates.