Perfect Imperfection at Under Oaks Wine Estate
Savour award-winning wine in the shade of ancient oak trees
The Paarl Winelands is home to some of South Africa's top wine estates and one that can most certainly lay claim to that title is Under Oaks. Situated in the picturesque town of Paarl, this historic wine estate aims to exceed guests' expectations with memorable experiences and that all-important personal touch.
A HANDS-ON HARVEST
Grapes at Under Oaks are handpicked and made into award-winning wine under the watchful eye of winemaker Bertus Fourie who has been with the estate since 2002. The Paarl wine region is renowned for its rich, full-bodied, spicy reds and crisp white wines, of which Under Oaks has more than a few in its cellar.
You are sure to find something to suit your palate in the Under Oaks range of boutique-style wines that includes fresh, crisp white wines to full-bodied, velvety reds. Under Oaks' wines are available for purchase on the estate only so best make sure to stock up while you're there. You can also order it online via their website or simply email their cellar at wine@underoaks.co.za to have the wines delivered to your door.
WINE TASTING FOR EVERYDAY WINE LOVERS
Wine tastings can be stuffy affairs accompanied by pretentious twirling of glasses and high-brow terminology. Luckily, that is not the case at Under Oaks where a helpful cellar door assistant will guide you through the tasting with valuable information and the odd anecdote to add even more colour to the experience.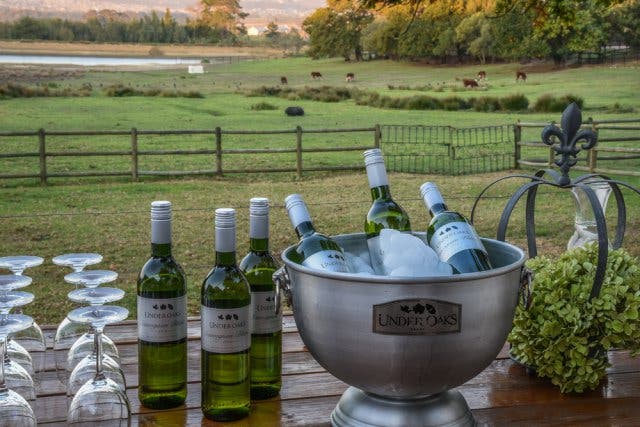 FOUR-STAR TRANQUILITY
The accommodation suites at Under Oaks are intimate spaces, tastefully designed with fittings and furniture that speak to the homeliness of the estate. They have premium deluxe, luxury, and standard rooms fittingly named after red and white wines. The rooms are en-suite with spaciously modern bathrooms. The three leaves in the Under Oaks logo – one from an oak tree, another from a cork oak tree and a third from a vine – symbolise the estate's wine and giant trees, two of which will soon boast their very own GPS coordinates thereby putting one of the Paarl's premier wine estate's even more prominently on the map, and leaving you with no excuse not to visit this winelands gem!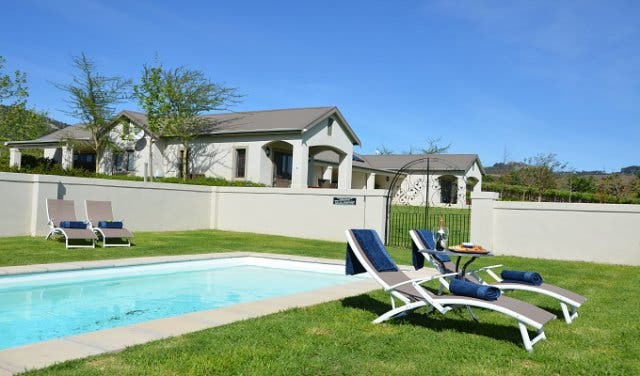 Tip: According to sources, they have a once-off wine called 'The Secret'. The wine is shrouded in mystery with the winemaker withholding all and any information on its contents. The wine is, however, available in the taste room but be sure to ask for it.
Read more about top wine estates in the Cape Winelands like La Motte, Warwick, Leopard's Leap.
---
Use our events section for an up-to-date overview of happenings in Cape Town. Also, don't forget to subscribe to our newsletter and if you have a smartphone, add m.capetownmagazine.com to your home screen for quick access on the go!
Follow us on Twitter, like us on Facebook, join our Google+ circle, connect with us on LinkedIn, check out our photos on Instagram and follow our Pinterest boards for updates on what's happening in and around the Mother City.