Blowfish: It's All About Sushi, Seafood and Sunsets
There's half-price sushi two days a week and a prawns and calamari special
This beachfront family-friendly eatery, perched just beyond the dunes of Dolphin Beach, is where people fill up after a surf, settle in for a romantic night, toast to dusk with good friends or break bread with the family at Blowfish in Blouberg.


SUNSETS AND SUNDOWNERS
From nearly every seat in the restaurant, guests can drink in a picture-perfect snapshot of Table Mountain stretched out in all its glory. During the day, a swarm of colourful kitesurfers decorate the skies, and at night, the darkened waters of Table Bay and the glittering city lights create a beautiful backdrop to dinner.
Best of all though, those who come during the lull between afternoon and evening can watch molten sunsets explode over the bay. It's the kind of easy indulgence that goes best with a drink in hand, and Blowfish has everything from cocktails and local beer to French bubbly and Cape Winelands' reds and whites.
For something a little different, sip on the Hennessey Julep (VSOP Hennessy, lime and mint mixed with syrup and served on the rocks) or Apple Jack pie (Jack Daniel's Fire mixed with Monin Green Apple puree).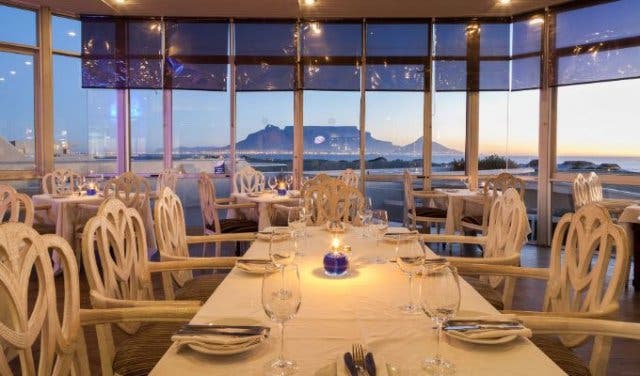 SEAFOOD, STEAKS AND SPECIALS
There's also something really special about smelling the sea breeze and staring out over a shimmering ocean while tucking into shellfish, calamari or line fish plucked fresh from those very waters. And three days of the week you can take advantage of Blowfish's specials, like half-price sushi on Wednesdays and Sundays, and the Thursday prawns and calamari combo special.
The restaurant's famous fish counter stocks specialities like jumbo prawns, langoustines, and crayfish. Seafood lovers can build their own platter or simply have the fishmonger cut a piece of hake, yellowtail or more to order (charged on a pay-per-weight system). And it's not all seafood. There's juicy steaks, comforting pastas and a damn fine pork belly skewer.
Plus, because Blowfish wants to feed the whole family, there's a kids' colouring menu with child-friendly food like chicken strips, calamari strips and fish 'n' chips. There's also biscuit decorating, baby seats and children's books in the designated family area.
SUSHI AND SUSHI-MAKING
This warm and welcoming West Coast joint has been serving up top-notch sushi for years. From a conveyor belt-style station in the centre of the eatery, guests choose their own sashimi, nigiri, maki and more. There's also a made-to-order menu featuring sushi with a little extra flair, like the crunchy Mountain Top Nouveau: eight pieces of spicy, minced tuna and avocado rolled up tight and topped with a tempura-style prawn, mayo and Chinese chilli paste.
To further instil a love of the Japanese speciality, the restaurant offers sushi-making courses with its long-serving sushi chefs. The classes cater to groups of eight to 25 and make for a great girls' night out, team-building exercises and birthday parties.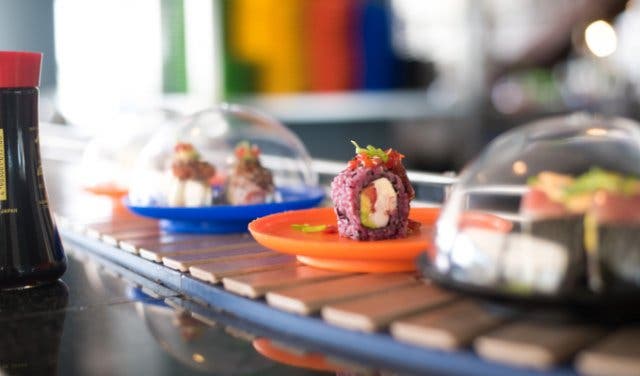 PLUS: HOST YOUR FUNCTION OR WEDDING RECEPTION AT BLOWFISH
Blowfish is the ideal setting for a variety of functions and special events. Whether you require an intimate gathering for up to 24 people in their private dining cellar upstairs (where they offer wine and whiskey tastings) or a grand-scale celebration for up to 160 guests, you'll be taken care of by their events team.
Note: Blowfish is certified by the Southern African Sustainable Seafood Initiative (SASSI).
---
Off-the-radar beaches: Rocky coves, hidden hamlets, isolated enclaves at these beaches in the Cape.
Head to Blowfish for half-price sushi on Wednesdays and Sundays, and the Thursday prawns and calamari combo special.
This is where else you can get sushi in Cape Town.
These places serve the best cocktails.
Find a spot to host your event at one of these function venues.
---
Use our events section for an up-to-date overview of what's happening in the city, suburbs and dorpies. Join our newsletter and add us to your mobile home screen for the ultimate guide to discoveries in Cape Town.
Follow and like us on Twitter ❤ Facebook ❤ LinkedIn ❤ Instagram ❤ Pinterest for updates.