A Bevy Of Buffets, All-You-Can-Eat Feasts and Harvest Tables
A bounty of breakfast and lunch buffet – from country cooking and sushi to Italian and halaal
Last update: 9 January 2020
Eat a buffet breakfast on surfboard tables where you can sit with your feet dangling in the shallow pool below you, or have lunch in a historic barn on one of the first farms in Hout Bay. We've rounded up some incredible buffet options in and around Cape Town.
ALL-YOU-CAN-EAT BREAKFAST AND BRUNCH
Weekend morning brunch spreads are one of life's great pleasures, and Cafe Extrablatt is the place to go for just that. Think omelettes prepared while you wait with a choice of toppings, cereals, fruit salad, yoghurt, artisan cheeses, muffins, pancakes, flapjacks, freshly baked bread and croissants, in addition to the regular menu. On Sundays, there are extra dishes added in the hot-food section such as beef curry, chicken curry, a pasta dish or beef stew, so you can make it a lunch date if you want to. Enjoy a wholesome weekend brunch with the buffet at Cafe Extrablatt.
Buffet hours: Saturdays 8am–12 noon; Sundays and public holidays 9am–2pm
Price: Saturdays: R119.90; Sundays and public holidays: R139.90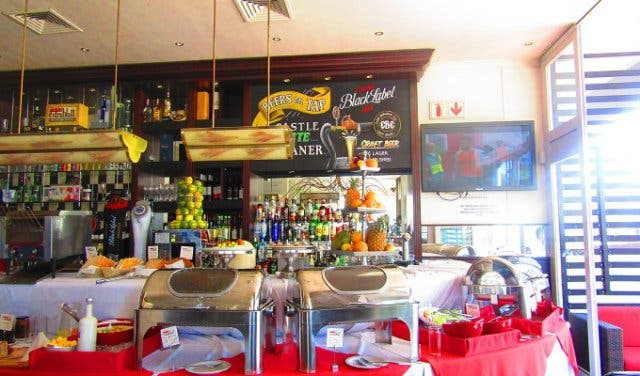 Exhibition Building, Green Point, Cape Town, info@cafe-extrablatt.co.za, +27(0)21 434 3759, website
NEVER-ENDING SUSHI IN THE NORTHERN SUBURBS
Asami's in Tygervalley has a sushi belt manned by four sushi chefs, who're constantly refreshing it with California rolls, nigiri, inside-out rolls, maki and more. The belt is the source of the all-you-can-eat-sushi buffet and includes Chinese snack plates such as spring rolls, tempura prawns and dim sum. There are six other Asami branches, all of which offer the sushi buffet, with the exception of the Knysna branch. Keep in mind that you get two hours of free parking on the upper deck when eating at Asami's Tygervalley.
Buffet hours: Mon–Sat: 11am–10pm; Sun: 11am–9pm
Price: R179 per person (R115 for kids u/8)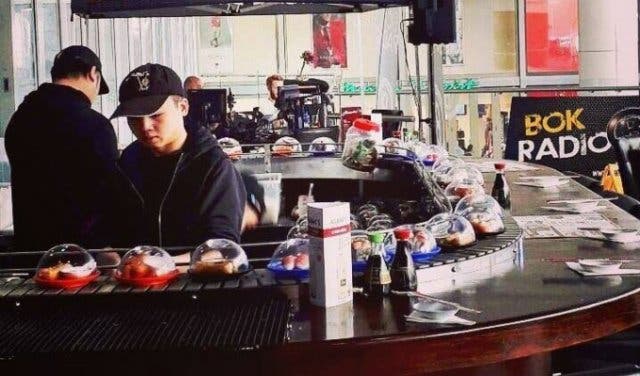 Tygervalley Centre Service Road | Bellville Park | (0)76 219 9417
FILL YOUR PLATE WITH COUNTRY-STYLE CUISINE
There's another good reason for a road trip to Swellendam. Rotterdam Boutique Hotel has revamped their restaurant and it's headed by chef Josh Conradie (2014 finalist in kykNET's popular cooking show Kokkedoor). At the buffet, you could start with butternut soup infused with Asian spices and coconut cream followed by rump roasted with fresh herbs and spices, served with rosemary jus and smoked paprika chicken glazed with honey and lemon plus veggies and rice, then end off sweetly with self-saucing baked chocolate pudding with fresh cream. Get all this an more at the Rotterdam Restaurant.
Buffet hours: Every Sunday 12 noon–3pm (unless the venue is booked for a private function)
Price: R155 adults/kids under 12 half-price; eat as much as you like


Olivedale Road, Buffeljags River, Swellendam | +27 (0)76 738 4664, info@therotterdam.co.za
A BREAKFAST BUFFET ABOVE THE BUSTLE
With a view of the bustling market in the historic Greenmarket Square, enjoy a well-balanced breakfast in a relaxed setting at ONOMO Hotel. There is a variety of cereals, fruit, yoghurt, cold meats, cheeses and artisanal bread and pastries. The hot buffet includes bacon and sausages and there's an egg station, where you can choose how you'd like your eggs done and select omlette fillings of your choice. The hotel's restaurant is open to the public and caters for gluten-free customers. If it's too late for breakfast, check out the Friday lunch taco special and everyday dinner specials at ONOMO Hotel Cape Town.
Buffet hours: 6:30am–10:30am
Price: R120–R185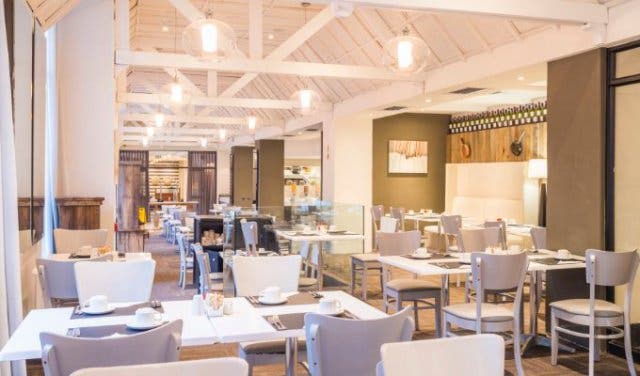 10 Greenmarket Square | City Centre | +27 (0)21 423 2050
HEALTHY HARVEST TABLE IN THE SOUTHERN SUBURBS
Serving wholesome, healthy, delicious food, Wild Sprout is a restaurant where everything from the nut-milk to the hummus is made from scratch. The entire cafe is gluten and sugar-free and keeps dairy use down to a minimum. The daily harvest table offers seasonal salads, warm bakes, and meals that are either vegan or vegetarian, with beef, chicken, or fish as an optional extra. Monday is always meatless and they switch things up to cater to various diets such as Banting.
Buffet hours: Monday–Friday from 12 PM
Price: R75–R85 per plate


278 Main Road, Kenilworth, Cape Town | info@wild-sprout.co.za |+27 (0)21 007 3333
BREAKFAST WITH YOUR FEET IN THE WATER
Just 30 mins from town, overlooking Big Bay and Table Mountain, moyo Eden on the Bay is a relaxed locale. At the Saturday and Sunday morning breakfast buffets, there's bottomless tea or coffee, eggs of all sorts, breakfast meats, pastries, fruit, cereals and more all in moyo's vibrant urban African style. On Saturday and Sunday there are live DJs in the afternoon. Sit at the surfboard tables where your feet dangle in the shallow pool below you at moyo Eden on the Bay.
Buffet hours: Sat and Sun 8:30am–10:30am
Price: R160 per person with bottomless coffee (R140 without); R75 for kids u/12; free for children u/5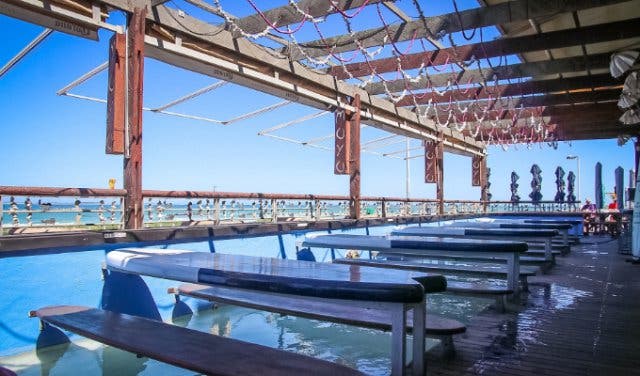 Eden On The Bay Mall | Otto Du Plessis Dr | Big Bay/Blouberg | blouberg@moyo.com | +27 (0)21 286 0662
VEGELICIOUS FEAST
Mary-Ann's Emporium & Eatery in Gordons Bay and in Mouille Point serves a plant-based lunch buffet. The menu, of natural, organic, whole food and gluten-free meals, changes daily. Try the rice noodles and Thai vegetable stir-fry, potato rösti with a curried creamy tomato and leek sauce and gluten-free pizza. The environment is first priority for the owners of Mary-Ann's Emporium & Eatery.
Buffet hours: Lunch: Mon–Fri: 12 noon–4pm; Breakfast: Sat–Sun: 9am–12 noon
Price: R140 all-you-can-eat full-size plate or R70 per side plate or R50 for soup and bread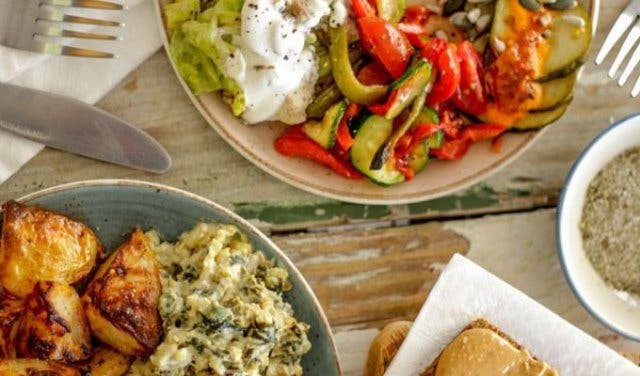 Mouille Point: 3 Park Street | Mouille Point | +27 (0)21 433 0166, info@naturalway.co.za
Gordon's Bay: 74 Mountainside Boulevard | Gordon's Bay | +27 (0)21 856 2500
TAKE ME BACK TO THE WEST COAST
Die Strandloper is a casual, informal and relaxed seafood restaurant right on the beach an hour away from Cape Town. At the lunch or dinner buffet, you can eat as much as you like from mussels and braaied snoek to half a kreef and Weskus Harders – there are about 10 courses along with moerkoffie, koeksisters, and fresh roosterkoek with farm butter. They have a cash bar but you may bring your own wine or beer (no corkage fee) and don't forget ice to keep it cool. Bring along your musical instrument and bat and ball for some fun on the coast.
Buffet hours: Lunch or dinner; times vary depending on the season. Always phone or email to check but plan to arrive at 12 noon for lunch or 6pm for dinner. Allow three to four hours to enjoy the feast
Price: R335 p/p for teens and adults; R60 for children aged 5–11 (excluding the crayfish); free for children under 5. They do not have card facilities.

Jan Olfsen Street, Leentjiesklip, Langebaan | +27(0)22 7722490 or +27(0)832277195, info@strandloper.com | website
HOMELY HISTORY IN HOUT BAY
Oakhurst Barn restaurant, at a historic barn on one of the first farms in Hout Bay, cooks a three-course contemporary Cape country lunch buffet. It features home-style wood-fired meats, whole roast duck, fillets of line fish, plenty of veggies and salads. Make yourself at home at the oversized dining table decked in white linen beneath head-high giant chandeliers in the dining hall for a meal to be remembered.
Buffet hours: Sundays 12:30pm–2:30pm
Price: R395 per adult; R125 per child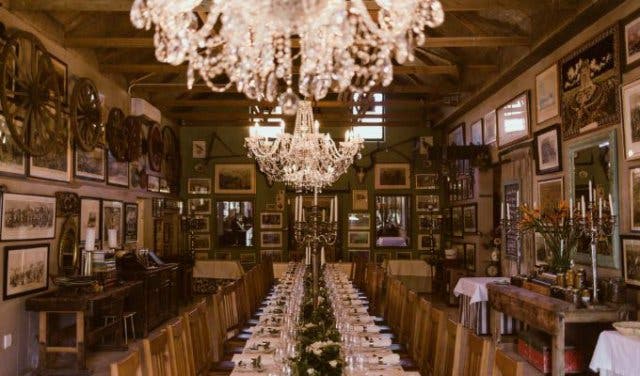 Dorman Way | Hout Bay | +27(0)21 790 4888, bookings@oakhurstbarn.com
A FAMILY AFFAIR IN THE WINELANDS
Enjoy a leisurely rotisserie and harvest table-style lunch overlooking the sweeping grounds of Leopard's Leap vineyard. Curate your plate with a choice of four free-range meat options (such as crispy pork belly, tender lamb neck, and chicken). Top up with home-baked bread, freshly roasted veggies, and seasonal salads sourced from the farm's veg and herb garden. Dessert can be cake lollies, mini cheesecakes and baby meringues. Sip wine cocktails on the veranda while the kids tussle on the grand lawns and jungle gym at Leopard's Leap.
Buffet hours: Wed–Sun: 11:30 am–3:30 pm
Price: Rotisserie meat is priced per portion but the sides and salads are per weight.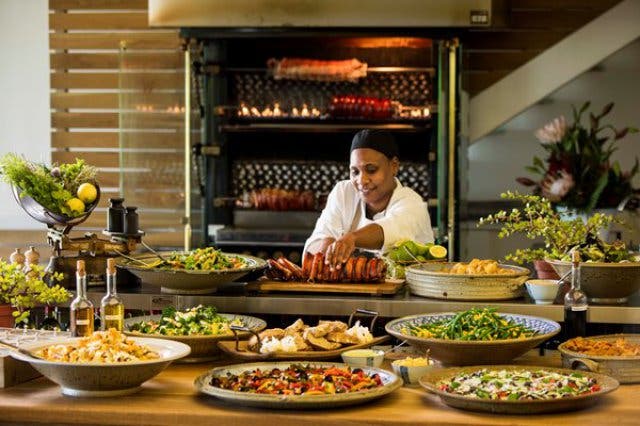 Main Road, Franschhoek Valley | +27 (0)21 876 8002, info@leopardsleap.co.za, or book online

ALL-YOU-CAN-EAT ASIAN BUFFET IN MOWBRAY
Roseberry Asian Cuisine is the type of place that locals love and keep returning to for the fresh and affordable Asian cuisine and sushi. The all-you-can-eat buffet includes miso soup, sweet corn soup, veggie spring rolls, sweet and sour chicken or pork, egg-fried rice, chow mein, chop suey, sushi, and bow ties for dessert.
Buffet hours: Daily 11am–9pm
Price: R159 per adult
View this post on Instagram
Roseberry Asian Cuisine | Shop 75 Durban Road Mowbray | +27(0)21 685 4084
CONVENIENT COMFORT FOOD
Ian Gersowsky is the easy-going, sociable and helpful host at La Cuccina. They prepare everything from scratch using seasonal ingredients. This upmarket eatery offers a simple harvest table breakfast and a selection of hot and cold home-cooked lunches, which include vegetarian and vegan options like chickpea spinach curry, lentil butternut bobotie, Tuscan spinach mushroom pie, sweet potato mushroom nut curry and mushroom cauliflower rice skillet.
Buffet hours: Breakfast: 7:30am–11:30am; Lunch: 12pm–3pm
Price: R235 per kg


Victoria Mall | Corner of Victoria and Empire roads | Hout Bay | +27 (0)21 790 8008, orders@lacuccina.co.za
AS CLOSE TO THE SEA AS YOU CAN GET
In summer, your seat on the terrace places you as close to the sea as it is possible at Tobago's Restaurant and Terrace, where you get striking views of the marina and the Atlantic Ocean. Enjoy a diverse hot and cold Sunday lunch buffet with a variety of meats, Yorkshire pudding, salads, veggies, cheeses and desserts. The jewel-coloured cocktails are refreshing and the wine list offers a superb collection of South Africa's best. Read more about Tobago's.
Buffet hours: Sunday 12:30pm–3:30pm
Price: R425 per person (inlcudes welcoming drink); children 5–12 years half-price; children under 5 eat for free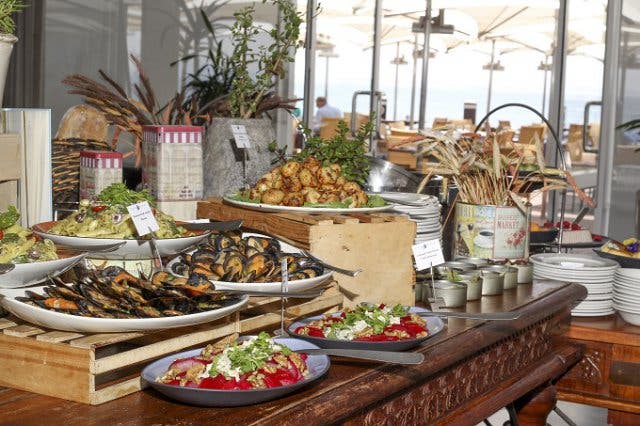 Radisson Blu Hotel Waterfront | Beach Road | capetown.foodandbeverage@radissonblu.com, +27 (0)21 441 3000, +27(0)21 441 3414
A SWEET SUNDAY ROAST
Suikerbossie Restaurant is flanked on the west by Llandudno beach, with Table Mountain forming the backdrop. Every Sunday you can tuck into banana and cream pancakes and more at the breakfast buffet, or stay for the Sunday roast buffet with all the trimmings. As an added bonus, there's no corkage on wine or bubbly on a Sunday. Bookings are essential.
Buffet hours: Sundays: Breakfast buffet: 9am–11:30am; Lunch buffet: 1pm–3:30pm
Price: Breakfast: R189, children u/12: R90; Sunday Roast: R349; children u/12 R120.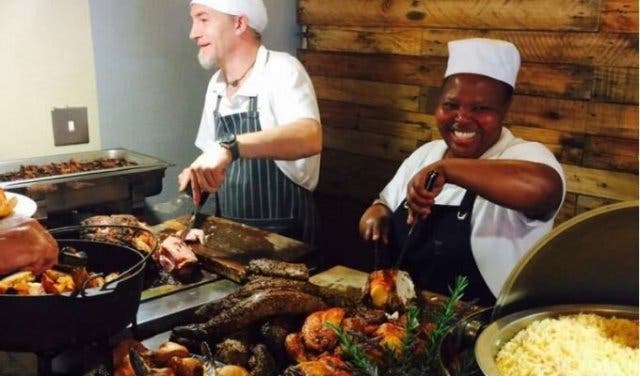 Victoria Drive | Hout Bay | +27(0)21 790 1450, dave@suikerbossie.co.za
HALAAL HEAVEN AT THE VILLAGE BUFFET
If you can't get enough of butter chicken or dhal, the Village Buffet offers an all-you-can-eat strictly-halaal buffet with bottomless soft drinks and desserts. It's so popular that there is a two-hour maximum sitting time. Also try sister-restaurant, Food Inn at 156 Long Street for on-the-go cafeteria-style dining. There are some great options for halaal restaurants in Cape Town.
Buffet hours: Open 7 days a week from 11am–11pm
Price: R180 per person on weekdays, R200 per person on weekends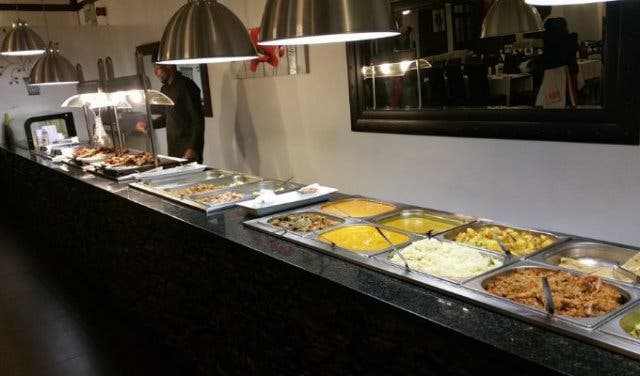 102 Long street | Cape Town | +27(0)84 737 1567, +27(0)21 422 2419, thevillagebuffet@gmail.com
A WILD BUFFET SUNDAY LUNCH IN LANGEBAAN
Thali Thali Game Lodge's Sunday buffet is open to day visitors, where guests eat while gazing over the fynbos-covered landscape as the kids play in the splash pool or jungle gyms. The freshly-baked bread, potjie, curries, traditional roast, venison pie, crunchy vegetables with cheese sauce, pumpkin fritters or sweet potatoes are followed by a lavish dessert. Thali Thali releases the ever-changing menu every Monday on their Facebook page. While you're there consider booking a game drive at Thali Thali Lodge.
Buffet hours: Sunday lunch 12 noon–3pm
Price: ±R190 for adults, half-price for children aged 5–12; kids u/5 eat for free.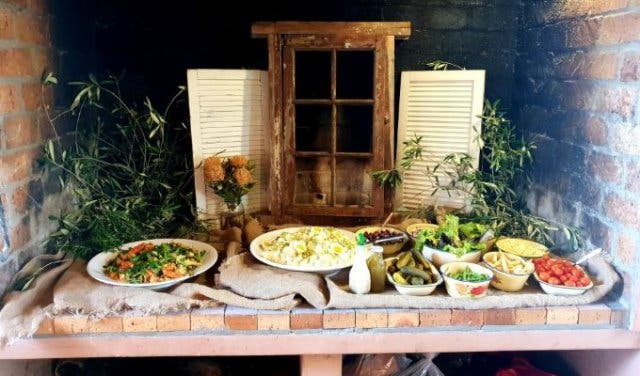 Just off R27 across Langebaan entrance | Langebaan | +27 (0) 82 372 8637, bookings@thalithali.co.za
FIRST SUNDAYS ITALIAN
The Ristorante Club Italiano, based at Italian Club of Cape Town in the Northern Suburbs, has an Italian lunch buffet on the first Sunday of every month. You can expect a selection of cold meats, cheese, olives, breads, pastas, lamb on the spit, a pork loin overnight roast and roasted potatoes. Bookings are required. The atmosphere is warm and relaxed at this family-friendly restaurant.
Buffet hours: Buffet lunch on the first Sunday of every month
Price: Members: R140, non-members R200, Kids u/12: R90


16 Donegal Street, Milnerton | +27 (0)21 511 5956, info@fratpal.co.za, +27(0)21 511 5757
DISH, WEIGH, AND PAY
Mr and Mrs Badroodien started Lady Bee food emporium in 1982 to serve home-cooked halaal meals at competitive pricing. Curries, biryani, masala steak or roast tandoori chicken work on a weigh-and-pay system at this sit-down restaurant. PS. Have you ever tried a Naanwich?
Buffet hours: Mon–Sat 9am–8pm; Sun: 9am–5pm (on Fridays they close 1pm–1:30pm)
Price: According to weight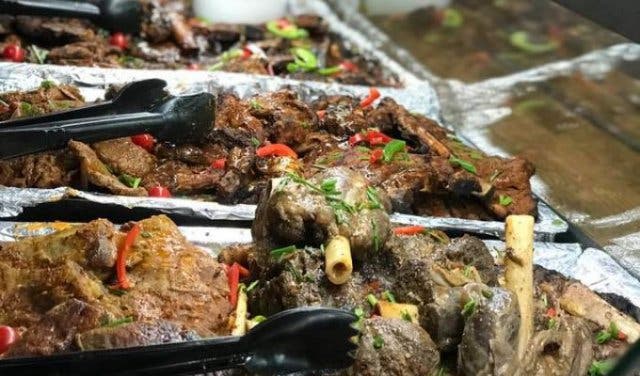 Branches in Observatory, Epping, Athlone, Mitchells Plain and Grassy Park | +27(0)21 534 1105, support@ladybee.co.za
CAPE MALAY FOOD AND CULTURE
The Rockwell Dinner Theatre in De Waterkant melds a traditional four-course Cape Malay feast with Kaapse Stories, a musical set in District Six about Cape Town's colourful history. Tuck into biryani or lemon-butter fish for mains, Malay samoosas and snoek pate as sides, and melktert and malva pudding for dessert. Your ticket includes the four-course meal, a welcome drink and the show. Enjoy your meal with a side of culture with Kaapse Stories at the Rockwell.
Buffet hours: 7:30pm–10pm 2–6 shows per week depending on demand
Price: R550pp; children u/12, half-price; children, u/5 free; ask about pensioner/student discounts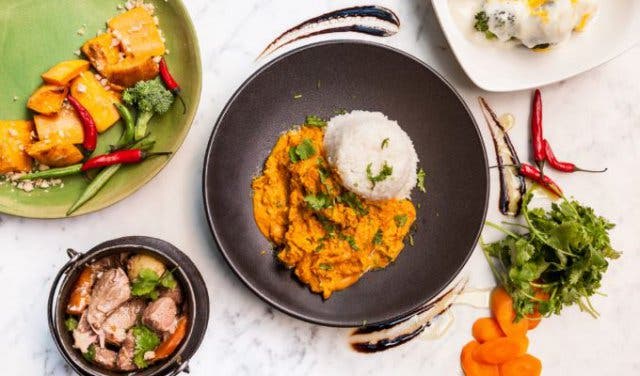 32 Prestwich Street | De Waterkant | bookings@rockwelldinnertheatre.co.za, +27(0)76 144 4809
---
If we have missed out any of your favourite buffet options, please let us know the details.
---
They are known for their very big steaks, but they also serve tapas at Dale's Black Angus. Check out their everyday lunch menu and Sunday roast and carvery
Get Japanese dining experiences to feed belly and soul at Tjing Tjing House. Ever had a Japenese pancake? Discover that fluffy goodness on Pancake Tuesdays.

Discover unique watersports and wine-tastings by the lake at Lakeside Lodge & Spa.
Sample masterful braaivleis, in a stunning natural setting with an amazing view at the Bo Kaap Braai Chicken Tikka.
There are four hot pools, accommodation for all budgets and various entertainment options at Goudini Spa. Also, check out their weekly Sunday buffet.
Country-style nose-to-tail dining at Viande.
Breakfast is the most important meal of the day so make it count with one of these breakfast spots.
Healthy lunch? Check new concept warm bowls and salad bar TOSSD in Gardens.
If money is tight, check out our selection of budget restaurants in Cape Town. Sushi lovers won't go hungry with all the sushi specials.
We are spoilt for choice with all the wonderful restaurants in Cape Town.
Observing food requirements is easy with these Halaal restaurants.
---
Use our events section for an up-to-date overview of what's happening in the city, 'burbs and dorpies. Join our newsletter and get quick access on the go by adding us to your mobile home screen for the ultimate guide to discoveries in Cape Town.

Follow and like us on Twitter ❤ Facebook ❤ LinkedIn ❤ Instagram ❤ Pinterest for updates.