Thali Thali Safari Lodge and Game Reserve
The down-to-earth West Coast wildlife reserve that offers affordable accommodation for the whole clan
The rural scene that fans out from the restaurant deck at Thali Thali Game Lodge is steeped in such stillness, it just about washes all memories of modern life from my mind. Only one hour earlier, I was battling an onslaught of shouts and hoots and flashes of light, and now, just 60 minutes later, as I recline on the terrace of this unassuming West Coast reserve; I'm faced with nothing but the hush of nature and the spectacle of vast fynbos plains rolling towards the horizon under a sky that's set aflame with streaks of cerise and amber.
"Once you turn down the dirt road and come over that hill, everything just disappears behind you," says Thys van Niekerk, the owner of the lodge, as he examines the darkening landscape through a set of binoculars from his seat next to me. "People can drive 20 minutes from Langebaan or an hour from Cape Town and feel like they're all the way up in Limpopo."
He and his wife, Amalia, actually bought the farm back in 2013 for precisely this reason: it's near enough to urban centres for their little ones to attend school but (seemingly) far enough away from city life to indulge their love for the great outdoors. And while the remoteness of Thali Thali is also one of the key draws for visitors, the owners themselves, in fact, have a lot to do with the appeal of the place too.
Set on offering a generous dose of warm West Coast hospitality, the couple welcomes guests as if they're long-lost friends. The polite pair really go above and beyond to craft the sort of homely, down-to-earth overnight experience that hard-working folk, from the Mother City and beyond who need to refuel, de-stress and reconnect with their loved ones, can appreciate. Essentially the owners' main guiding principle is to make the affordable three-star reserve the kind of destination that they would be glad to visit with their own family.
Speaking of families, the lodge is set up perfectly to accommodate those with kids, so I'm not surprised to find that the only sound breaking the early-evening silence, as I walk past the property's swimming pool and playground on the way to my luxury tent after sunset, is the jingle of children's laughter.
The fully furnished en-suite canvas glamping tent where I'm spending the night is one of five such lodgings that channel the rustic feel of the bushveld but also still appeal to those who, as Thys says, "don't like having sand on their feet". It boasts all the trappings of a self-catering suite, like a kitchenette, a double bed with white percale linen, a warm shower, a sleeper couch for the kids, heating and air-conditioning and an outdoor patio braai, and yet guests can still take joy in the comforting sound of rain tap dancing against tarp at night – a natural 'add-on' that soon became the highlight of my Thali Thali visit.
If you're the sort that prefers something a little more solid over your head though, the reserve is also home to a number of one- bedroom and two-bedroom self-catering chalets that were transformed from workers' cottages. These comfortable abodes come complete with flat-screen televisions, fireplaces, fully equipped kitchens and more. Not to mention, when Thys and Amalia took ownership of the land, they turned the old four-bedroom farmhouse into accommodation for up to nine people, so this lodging is now an ideal option for big family or friend groups.
Aside from the various modern conveniences, the accommodation's charm also lies in the wide, open spaces between the units and the fact that there's no fence separating them from the rest of the reserve and the wildlife that calls it home.
"The camp isn't enclosed so the animals roam free and walk right by your tent or chalet," says Thys excitedly over breakfast the following morning. "It means that you can do game viewing from your bed."
Of course, a more controlled way to see Thali Thali's creatures is by embarking on a guided game drive, and once I'm done with my creamy mix of muesli and yoghurt, I get to experience one of these outdoor excursions. The farm is much larger than I ever imagined (1460 hectares) and our journey over koppies and down dusty paths brings us face to face with both the park's smaller residents – an angulate tortoise and striped mouse, for example – and its larger ones: buffalo, sable antelope, springbok, kudu, zebra, eland, black wildebeest, ostrich, giraffe and even a lone dromedary (camel).
Apart from joining in on these safari adventures, day visitors and overnighters can also keep themselves busy with an archery lesson from Thys (he's a champion archer) or a 3D animal bow-and-arrow hunt. Not to mention, if you venture just beyond the borders of the reserve, you'll find both Langebaan and the West Coast National Park, where there's everything from horse riding and golfing to swimming, kitesurfing and kayaking on the go (yes, the beach lies only minutes from the bush).
Eating is also quite a serious activity at the farm, and the on-site restaurant and bar dishes up jaw-droppingly massive portions of game-focussed meals and arguably some of the tastiest spare ribs south of the Orange River.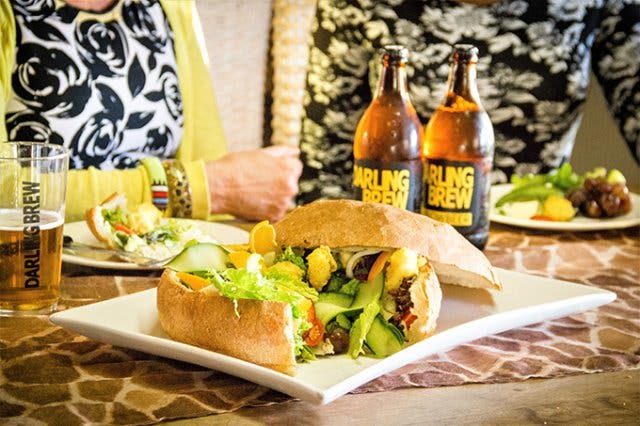 It also serves up the serene bushveld views that first met me on my arrival here. Needless to say, it's a perfect spot to start and end a family escape at the West Coast haven where city stress gives way to rural rest and relaxation.
Tip: It's possible to host your function at Thali Thali Game Lodge: there are a boma and braai area for smaller events and a dedicated hall for larger functions, like weddings and conferences. Phone Amalia for more information about possible options. Also, ask about Archery Lessons. Thys has a story to tell about why he's good in giving archery lessons at Thali Thali.
The Bill: Rates are incredibly affordable at Thali Thali, especially for a game lodge stay. A night in a luxury tent or chalet (that comes with breakfast) costs R1200pp if you're staying on your own, R800pp if you're coming with more people. Accommodation is R400pp for kids between 5 and 12 years for accommodation only. (children under 5 stay for free in both cases).
A night in the old farmhouse, on the other hand, costs R4200pp if you're wanting to stay on your own. R700pp for groups and R350pp sharing for kids for accommodation and breakfast. The maximum group size for the farmhouse is nine guests.
Booking a night at Thali Thali: Reservations can be made online via Thali Thali's website (Thalithali.co.za) or by phoning +27 (0) 82 372 8637 or emailing info@thalithali.co.za.
---
Use our events section for an up-to-date overview of happenings in Cape Town. Also, don't forget to subscribe to our newsletter.
Follow us on Twitter, like us on Facebook, connect with us on LinkedIn, check out our photos on Instagram and follow our Pinterest boards for updates on what's happening in and around the Mother City!