Tobago's Restaurant and Bar – an Eatery at the Ocean's Edge
Life is so much better by the sea
Location, location, location, right? You'd be forgiven for imagining this to be the mantra of Tobago's restaurant at the 177-room, five-star Radisson Blu Hotel Waterfront Cape Town.
Perfectly positioned at the very edge of the ocean, with Robben Island visible across the marvellously moody Atlantic, it's one of Cape Town's finest seaside locations. If the dolphins are not showing off their synchronised swimming skills in the water, you'll be mesmerised by the rolling waves and antics of the seagulls as they swoop across the sky and bob about in the sea.
Established in 1998, Tobago's has a long reputation for their deliciously diverse buffets, which are served at breakfast, lunch and dinner. If you're a buffet buff, you'll be thrilled by the variety and quality of the spread before you. What's more, it's available almost all day long.
Tobago's seamlessly fuse traditional flavours of the region with international culinary trends to create a unique dining experience for both locals and tourists. The use of fresh, seasonal ingredients results in a range of contemporary dishes, beautifully plated to look as good they taste. Modern dietary requirements like Banting, veganism and gluten-intolerance are also factored into the diverse menu.
If you plan to order off the a la carte menu, whet your appetite by starting with celeriac and pumpkin soup that comes with carrot crisps and pumpkin croutons. That, or a twist on a classic; mini peri-peri chicken liver bunny chow, or a creamy mushroom and cashew nut curry with paneer cheese, lemon-scented basmati rice, vegetable atchar, poppadom and butter rotis.
Enjoy the vegan-friendly vegetable pot stickers. Think mushroom, cabbage, chilli and ginger filled parcels that come with chunky stir-fry vegetables as well as a soy, sesame and lime dipping sauce. Meat eaters can opt for the pork fillet dish, while the oven-baked line fish, which is accompanied by saffron risotto, white wine clams, seafood bisque and grilled pak choi, is available for seafood lovers. Be sure to save space for pudding though, especially since Earl Grey creme brulee, gluten-free almond chocolate cake, and pecan nut cake are on offer.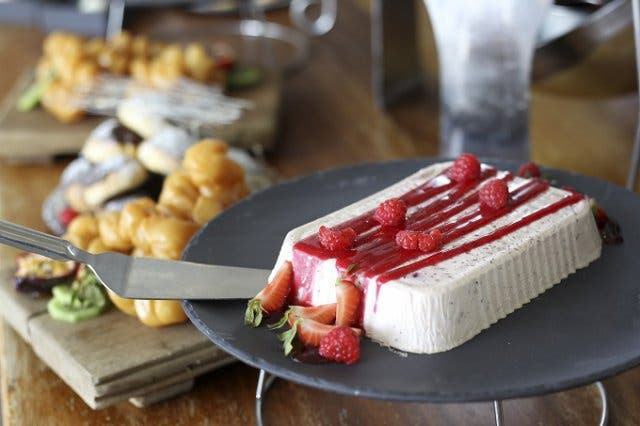 As usual at Tobago's, the scents, sounds and seaside scenery are complimentary and complementary!
With seating for 220 on the terrace or, if you prefer, sheltered behind glass doors that only marginally impede the view, Tobago's is a stylish yet unpretentious fine dining restaurant that is popular among a diversity of guests. On any given day, tables are occupied by seriously suited businessmen and women discussing strategies over lunch, wide-eyed, khaki-clad tourists tucking into springbok carpaccio and ostrich bobotie for the first time, creative types escaping the city centre to rekindle their inspiration as they enjoy innovative dishes like spinach and roasted red pepper chicken ballotine, family dinners celebrating birthdays, lovers gazing adoringly into each other's eyes, and groups of friends gathering for a good time at sunset as they sip drinks like pink grapefruit G&Ts, rose and litchi mojitos, and kiwi caipirinhas.
Tobago's boasts an inclusive and expansive food menu, and their cocktail menu and wine list emulates it. There are about 17 different cocktails on offer and 75 wines.
Tip: Radisson Blu Hotel Waterfront Cape Town is the ideal spot to host a function, whether it's a small birthday bash, a large conference or a grand wedding. Although it's a five-star establishment with all the bells and whistles, there's nothing stuffy or pompous about it. There are several spaces and rooms to choose from, including a spacious private terrace with gorgeous views across the sea, towards the V&A Waterfront and of Table Mountain. It is ideal for wedding parties.
The bill: Prices are inline with those of an upmarket establishment, which is stylish but unpretentious. Starters are available from R85 to R150 (the latter is for the octopus carpaccio). Mains cost from R175 to R285 (again, the highest price is for the oven-baked line fish), and desserts cost between R85 and R175 (for a generous cheese board).
---
Are you looking for dinner with a view? Here is our pick of some of the most picturesque restaurants with a sea view in the city,
Follow us on Twitter, like us on Facebook, join our Google+ circle, connect with us on LinkedIn, check out our photos on Instagram and follow our Pinterest boards for updates on what's happening in and around the Mother City!