Comforting Cape Malay Sago Pudding And An Egg-free Alternative
"In winter, on Sundays after lunch, we had warm sago pudding and as children, we loved it because it made us think of frogs' eggs …"
Latest update: 10 June 2019
"Sago pudding makes me think of winter, my grandmother and my childhood. It's comfort food," says Cass Abrahams who teaches a Cape Malay Cooking class with Cape Fusion Tours, a company offering food and wine tours in the Cape. "Normally on Sunday, after lunch, we had sago pudding. We loved it because the sago made us think of frogs' eggs." For Karen Fletcher and Patrick Knight from Green & Vegan Pop-up Dinners, sago pudding holds memories of school meals.
THE ORIGIN OF SAGO
Sago is a starch extracted from the pith of various palm stems, especially that of Metroxylon sagu. The pith is removed, crushed, washed and strained to extract the starch, which is processed into sago pearls. Sago comes from Southeast Asia, largely Thailand, Indonesia and Malaysia. Sago pearls appear similar to the pearled starches of cassava starch (tapioca) and potato starch, and they may sometimes be used interchangeably in recipes, but Abrahams advises that sago is a better option than tapioca for this pudding.
Sago pudding has both English and Malay roots. In Malaysia, sago gula melaka is a sago pudding made by boiling pearl sago in water and serving it with a coconut milk and palm sugar (gula melaka) syrup. In the UK, sago pudding is made by boiling pearl sago and sugar in milk and adding eggs or cornflour to thicken it and baking it in the oven.
Abrahams says: "Sago pudding is made throughout the world. I know sago is used extensively in many dishes in places like Indonesia and Malaysia." The folk at Green & Vegan Pop-up Dinners agree, and describe their sago pudding as "more of a baked custard with sago pearls."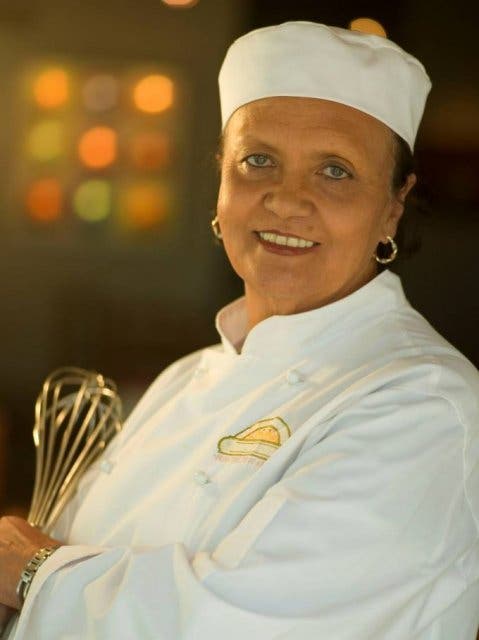 CASS ABRAHAMS' TRADITIONAL CAPE MALAY SAGO PUDDING
Ingredients
500ml milk
2 sticks cassia
4 cardamom pods
100g sago
60ml sugar
125g butter
2 eggs, separated
5ml rose water
Method:
1. Heat the milk, cassia and cardamom pods to boiling point.
2. Stir in the sago, sugar and 90g of the butter. Stir to remove any lumps and cook for 25 minutes, stirring often.
3. Remove the cassia and cardamom and pour into a large bowl.
4. Beat the egg yolks with rose water. Add to the sago with the rest of the butter.
5. Fold in the stiffly beaten egg whites.
6. Place the mixture into a buttered ovenproof dish and place in a bain-marie (a pan of hot water).
7. Bake at 180°C for an hour or until set. Serve warm.
You can meet Abrahams and learn Cape Malay cooking with her at her house in Retreat by booking a tour with Cape Fusion Tours. If you would particularly like to make the traditional Cape Malay sago pudding recipe, you may request it upfront.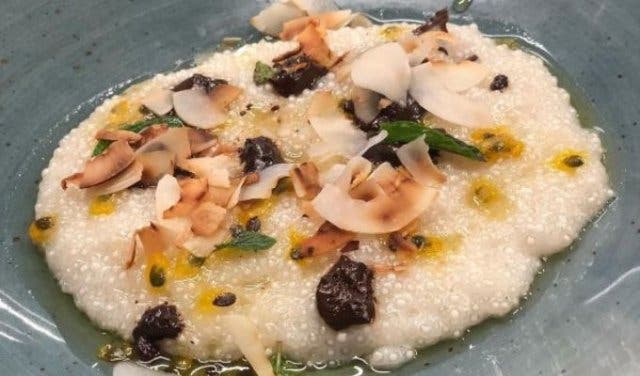 GREEN & VEGAN POP-UP DINNERS EGG-FREE BAKED VEGAN SAGO PUDDING
This recipe makes about 4 ramekins.
Ingredients:
½ cup sago pearls
1 ⅓ cup almond milk
2 or 3 cardamom pods, crushed
1 stick of cinnamon
1 small piece of nutmeg
1 ½ tablespoons organic brown sugar
1 tablespoon cornstarch
1 teaspoon vanilla essence
¼ teaspoon kala namak (Indian black salt)
2 tablespoons water
apricot jam (for topping)
ground cinnamon (for topping)
Method:
1. Soak the sago pearls in 1 cup of the almond milk for at least an hour
2. Drain the pearls. Keep the liquid and top it back up to 1 cup with almond milk
3. Put the milk with the spices in a pot and bring to the boil for a few moments. Once boiled, remove from heat and let the flavours draw for about an hour
4. Strain the spiced milk into another pot. Discard the spices
5. Mix the cornstarch and water
6. Bring the milk to the boil again and add the sugar, cornstarch mixture, kala namak and the drained sago
7. Reduce heat and cook for about 3 minutes, stirring continuously so it does not stick
8. Stir in the vanilla essence
9. Let the mixture cool a little – it will start firming up
10. Heat the oven to 180°C
11. Pour the mixture into 4 (maybe 5, depending on the size) ramekins and top with a little apricot jam and a slight dusting of cinnamon
12. Bake for 15 minutes until browned on top. Serve warm
Notes
1. Kala namak helps to add an "eggy" flavour. You can adjust the amount of this to suit your taste.
2. Add the vanilla essence as late as possible because it loses some flavour when heated.
If you would like to dine with the Fletchers at the Green & Vegan Pop-up Dinner, follow them and their regular events on Facebook and Instagram and it's possible to request a cooking demo of the vegan sago pudding too.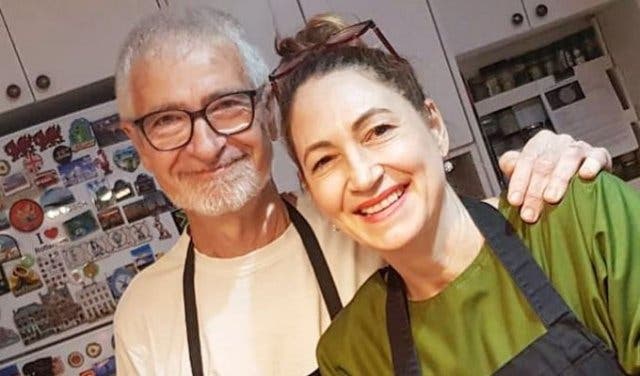 DO YOU SERVE SAGO PUDDING HOT OR COLD?
Abrahams is adamant: "It's a hot dish. You never eat it cold. Because of all the butter. It's better hot." The folk from Green & Vegan Pop-up Dinners say that warm to room temperature is best.
MAKING SAGO PUDDING IN THE MICROWAVE
According to the packaging of Paddy sago, which you can buy at supermarkets in SA, it's not recommended to cook sago pearls in the microwave as it will become lumpy. However, because you pre-cook the sago in milk on the stove before baking it, it is possible to use a microwave to make the pudding. Abrahams says: "You can make it in the microwave, however, it is an effort because you have to stop and open the microwave every few minutes to stir and then put it back until sago pearls are transparent." The stirring prevents it from setting the same way it would if you baked it in the oven, resulting in a runny consistency.
What's your favourite sago pudding recipe? What are your memories related to the pudding? Does it remind you of boarding school food or is it a family Sunday lunch dessert? Do you prefer your sago pudding hot, cold or lukewarm?
---
Get your chef on with our recipes, find out more about Cape Malay cooking or take a cooking class and if you're keen to explore, peruse our overview of day tours.
When last did you celebrate high tea? Have you tried any of the exciting new teas at Royaltea Cape Town? If these ideas have ticked your sweet tooth, check out these desserts.
Local is lekker with our recipes for malva pudding, Cape Malay breyani and pickled fish.
---
Use our events section for an up-to-date overview of what's happening in the city, 'burbs and dorpies. Join our newsletter and get quick access on the go by adding us to your mobile home screen for the ultimate guide to discoveries in Cape Town.

Follow and like us on Twitter ❤ Facebook ❤ LinkedIn ❤ Instagram ❤ Pinterest for updates.