Colourful and Creative Desserts in Cape Town
Who says you can't have your cake and eat it too?
Last updated: 17 May 2019
"Shall I bring you the dessert menu?" We've all been asked this question by an enthusiastic waiter while dining out. We've agonised over whether we can manage another morsel of food or if one bite might mean bursting out of our jeans. Since life is too short to deny yourself little pleasures, we've provided you with a small smorgasboard of irresistible desserts to try. You'll feel like a kid in a candy store because we're bringing you everything from ice cream cake and chocolate fondant to bubble waffles and vegan-friendly Snickers bars.
HAVE YOU TRIED CHEESE TEA?
It's an oolong tea base that's topped with their signature cream cheese-based topping with whipped cream cheese and sprinkled with matcha (an antioxidant-rich green powder). It's like drinking a slice of cheesecake, and drinking it at a 45-degree angle, without a straw – an important part of enjoying it as it balances the flavours and textures. It comes in different flavours such as Rose and Shine, Cherry Blossom, Sweet Osmanthus, Just Peachy, Royal Green and Lycheese. Come and experience your first of many cheese teas today at Royaltea in Cape Town.
Plus: Also discover Royaltea's weekly loose-leaf tea tastings and Tuesday tea special.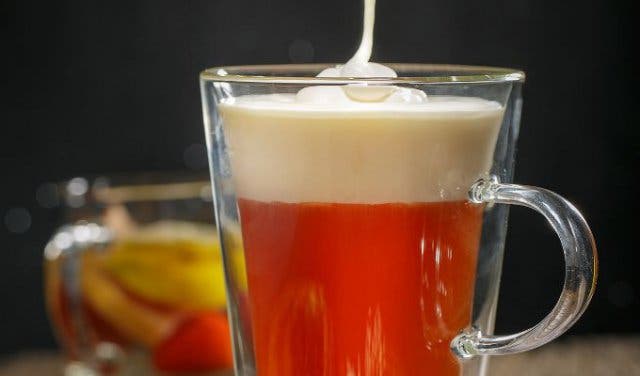 3 Locations: 50 Kloof Street | V&A Food Market | Old Biscuit Mill | +27 (0)71 406 9835 | info@royaltea-sa.com
FROZEN YOGHURT COOKIE SANDWICH PLUS TWO NEW DESSERT BY MARCEL'S
Already patron saints of the sugar cone and frozen yoghurt mix, Marcel's Frozen Yoghurt has now added three extra-special desserts. From the decadent chocolate chip cookie sandwich filled with your choice of frozen yoghurt; to the rich dark chocolate brownie topped with frozen yoghurt; and the classically delicious Belgian waffle. Along with their milkshakes, blizzards and smoothies, you now get even more options at Marcels Frozen Yoghurt.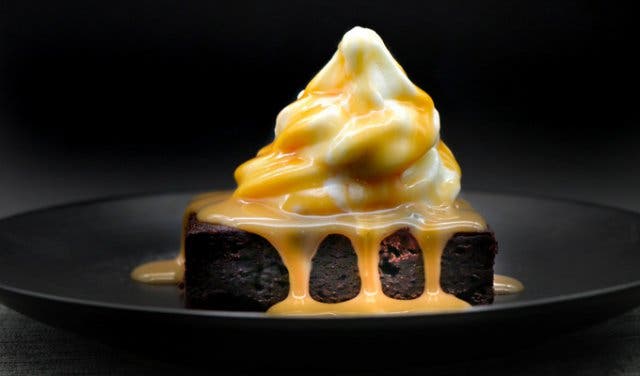 Marcels Frozen Yoghurt | Various stores around Cape Town | +27 (0)21 887 5803 | info@marcels.co.za
Chocolate and Banana Cigars at Manga
British comedian Jo Brand famously said, "Anything is good if it's made of chocolate," which should put the concerns of those apprehensive about trying this dessert at ease. The cheeky pudding Manga has created is like nothing you've tasted before. This charming Asian eatery plates chocolate, banana and ice cream for your palate's pleasure and the low calorie count means that you can indulge in more than one!
Corner Rothesay Street and Beach Road | Mouille Point | Cape Town | +27 (0)21 202 2702
Bubble Waffles at Cookies & Cream
Bubble waffle, egg waffle or Hong Kong cake; however you slice it, dice it or decorate it this dessert is exquisite. These fun and fantastic confectionaries are taking the world by storm and Terri Lockhart, owner of Cookies & Cream, is treating us to this sweet delight. "I show love through food," the dessert enthusiast shares, and we love everything about this pudding. Added to the waffle are two scoops of homemade ice cream, homemade sauce and delicious bits and bobs to create a mammoth dessert worthy of any sweet tooth. If you're want to go all-out on your sugar binge, Aunt Kathy's brownies – served with double cream ice cream – are a must!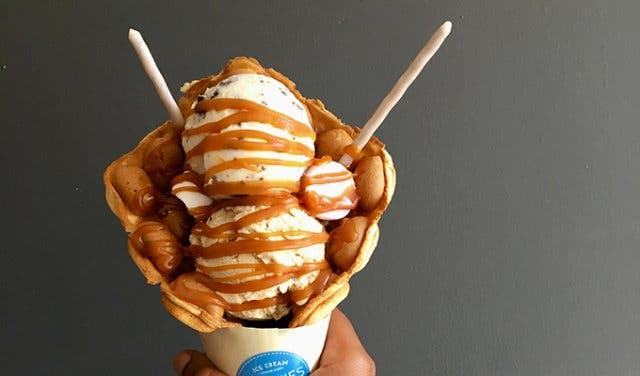 82 Buitengracht Street | Cape Town | +27 (0)21 422 0723
The Twix Bar from Scheckter's Raw
Who says vegans can't enjoy a decadent dessert? This pudding has all the richness and indulgence of a dairy-based sweet treat while being vegan friendly. The raw chocolate bar, crammed with crushed nuts and a gooey caramel sauce, is just as good as the British candy that inspired it, if not better. "I wanted to create a place that I would want to eat at," Toby Scheckter of Scheckter's Raw says. The well-travelled owner of this plant-based eatery has cultivated an open-door kitchen policy so you can peek into the kitchen and be assured that you're eating clean, green food that is both environmentally friendly and animal conscious.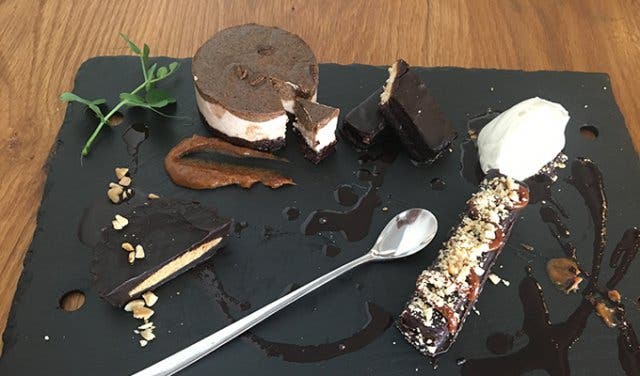 98 Regent Road | Sea Point | Cape Town | 27 (0)21 434 1364
An Apple Nougat Tart at The Sweetest Thing Patisserie
The zesty crispness of the apple is paired perfectly with the muted sweetness of nougat to create a surprisingly refreshing flavour combination. The varying textures of the smooth filling is a welcome contrast to the crunch of the crust. The Sweetest Thing Patisserie really is Simon's Town's answer to all things decadent and delicious, so you might as well try their comforting custard tarts and chocolate truffles while you're at it. Because both bros and broads like to brunch, this delightful deli serves breakfast until noon.
82 St George's Street | Simon's Town | Cape Town | +27 (0)21 786 4200
Banana Bread Bunny Chow at Honest Chocolate
You don't need a golden ticket or have to go through an eccentric candymaker to experience this chocolate hot spot. Based in the city center, why not sit in their quaint courtyard outside and tuck into their delicious, sweet twist on the much loved "bunny chow". A banana bread mini loaf, filled with chocolate spread, ice cream and spiced nuts on the side. This treat only costs R48 while the vegan option is R55. Pair that with a flat white and you're good to go!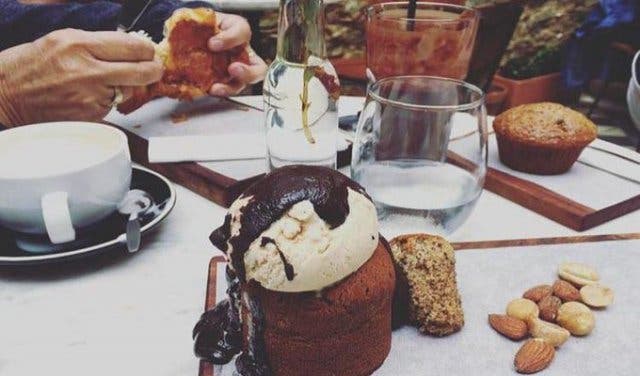 64A Wale Street | Cape Town | City Centre | +27(0)76 765 8306
ANYTHING at Unframed Ice Cream
We believe a balanced diet is achieved by making sure you have an ice cream cone in each hand! Found on the ever-popular Kloof street, Unframed Ice Cream has some weird and wonderful flavours to make sure you achieve the balance. If you can imagine it, Yunn Rey, owner and flavour creator, has made it. Thinking out the box, Unframed serves vegan-friendly ice cream flavours like turmeric latte and matcha tea, or dairy made flavours like dirty sea salt caramel, vanilla and more!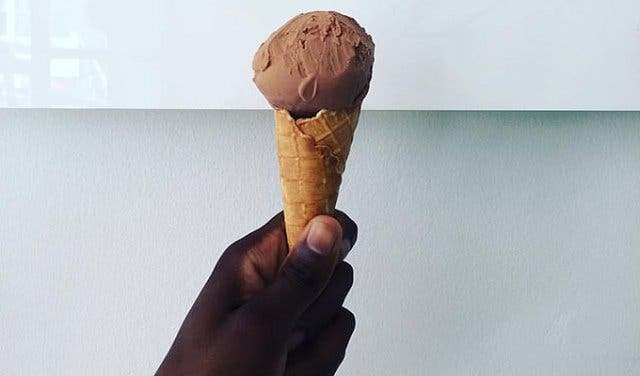 45c Kloof Street | Gardens | Cape Town | +27 (0)63 601 0287
Chocolate Vodka Martini at Hussar Grill
Flock to Hussar Grill for the intriguing dessert drink worthy of James Bond himself. With a tried and trusted recipe that dates back over a decade, diners at this steakhouse should make sure to save some space for this sweet finish. Warm melted chocolate is mixed with vodka and vermouth and topped with cream to create a unique pudding with a kick. Another must-do is the ice cream cake which combines marshmallows, nougat, honeycomb, peanut brittle and ice cream to create a rocky road inspired dessert.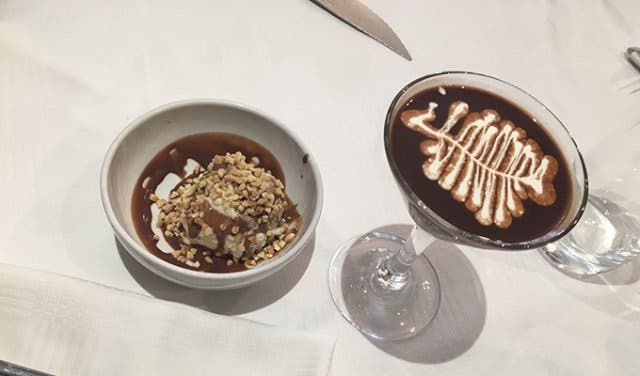 163 Beach Road | Mouille Point | Cape Town | +27 (0)21 433 2081
Chocolate Fondant at Hillcrest Berry Orchards
If you run your spoon through the peak of this pudding, dusted with icing sugar, and a warm, thick chocolate filling doesn't come oozing out, you haven't been served chocolate fondant. Lucking Hillcrest Berry Orchards executes this dessert beautifully. Accompanied by marmalade ice cream, preserved ginger, chocolate cremeux and sesame brittle, this sweet treat is a medley of tastes and textures. This quaint eatery and food shop, found 9kms out of Stellenbosch, is surrounded by lush gardens, rolling hills and a magnificent mountain range so you can enjoy your good food within the great scenery.
R310 Banhoek Valley | Stellenbosch | +27 (0)21 885 1629
---
Words by Inga Sibiya
---
Cook your steak and eat it, too at Foodie Night School.
Enjoy decadent treats without compromising your health at Sea Point's newest spot – Guiltless Protein Bakery.
Learn to make Cape Malay sago pudding and an egg-free alternative with this sago pudding recipe.
As the weather warms, we'll all be looking for ways to cool down. Before you scream, or I scream, why not have a look at the best ice cream parlours in the city? Or enjoy a meal with a view by checking out our list of the most beautiful outdoor restaurants with a sea view.
---
Use our events section for an up-to-date overview of happenings in Cape Town. Also, don't forget to subscribe to our newsletter and if you have a smartphone, add capetownmagazine.com to your home screen for quick access on the go!
Follow us on Twitter, like us on Facebook, connect with us on LinkedIn, check out our photos on Instagram and follow our Pinterest boards for updates on what's happening in and around the Mother City!