Top Food and Craft Markets Outside Cape Town
Take a day trip to these out-of-town markets and discover treasures further afield
For the latest updates:
Heart, soul, scenery and food at these special Cape Town markets.
Outstanding and out of town: markets worth travelling tor at these Western Cape Village markets.
---
Cape Town's surrounds are for nature lovers, adrenaline junkies, history lovers and hard workers in need of a countryside respite. However, what you may not know is that they're also home to some amazing food and craft markets, with goods unique to the area. You'll find plenty of markets in historic harbours, quaint villages, valleys and close to stunning lakes. They are hives of activity, bustling with live entertainment and more mouth-watering delicacies, breakfasts and lunches than you can fit in your picnic basket. Well worth a day trip or part of your weekend getaway, if you ask us.
TOP FOOD AND CRAFT MARKETS OUTSIDE CAPE TOWN
OVERBERG
Lemm's Corner Market
Basking in the sunshine of the historic old harbour complex you'll find colourful arts, crafts and slow food stalls to peruse with the sound of live bands in the background. This market on the Whale Coast happens every Sunday between 10am and 3pm.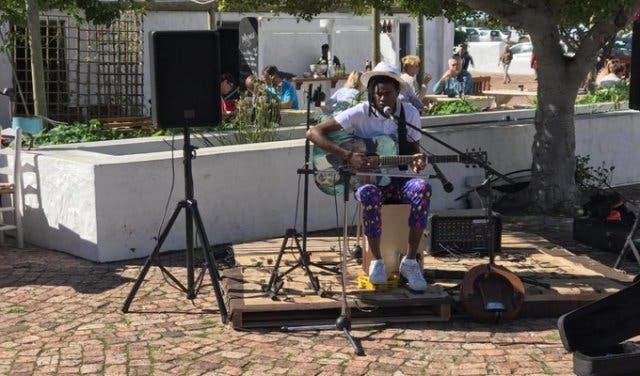 Cnr. Harbour Bay and Main Road | Hermanus | +27 (0)82 078 8686
Hermanus Country Market
With over 70 permanent quality traders in attendance every weekend, this family market is the ideal spot to shop for fresh organic produce, local beers, artisan breads, happy hen eggs and country cheeses, as well as a whole assortment of non-edible crafts and other goods. Shop, relax and listen to live band music with the sociable market community, your children and your dogs from 8am to 12pm every Saturday.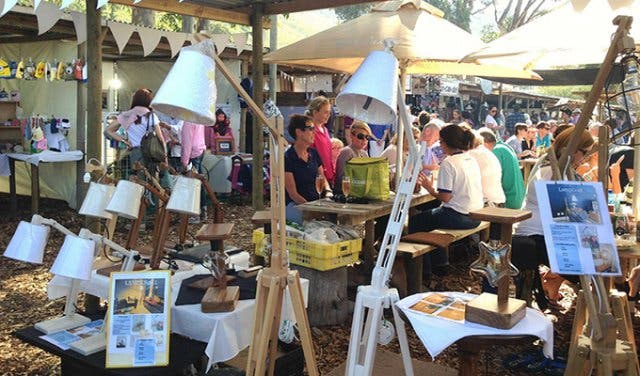 Hermanus Cricket Grounds | Cnr. Fairways Avenue & Jose Burman Drive | Hermanus |+27 (0)72 883 3894
Stanford Junktique Market
One person's trash is another person's treasure at this market of second-hand goods, antiques, trinkets and collectables. You can come and have a rummage every first Saturday of the month during the warmer seasons, between between 9am and 12pm. The market is closed during winter months, opening again late in September. Keep an eye on Stanford Tourism & Business's Facebook page for posts about the Junktique Market.

Stanford Tourism Courtyard | Queen Victoria Street | Stanford | +27 (0)28 341 0340
GARDEN ROUTE
Knysna Friday Supper and Craft Market
Head to Narnia Village every Friday between 4pm and 8:30pm to start the weekend with the family and friends at this outdoor market. Look forward to an eating of fine feasting and lots of fun, with bonfires, live music and comfortable seating areas to complete the warm ambience. The market hibernates for a few months during wintertime, closing near the end of May and opening again in early September.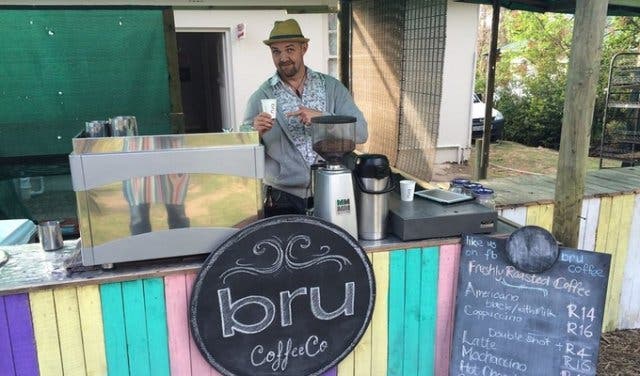 No. 4 Narnia Village | Welbedacht Lane | Knysna | +27 (0)44 382 5316
Wild Oats Community Farmers Market
Head to this market in Sedgefield, Africa's first 'Slow Town' where sustainable, high-quality ways of living are fully in place and the fast-lane lifestyle has been ditched for good. Naturally, the food at Wild Oats food fair is organic, free range, non-GMO and all those things that make food eco-friendly and extra tasty! You'll find over 70 stalls of farm produce, homemade goodies, plants, breakfasts, a fantastic variety of world music and much more. Spend the day under the trees every Saturday between 8am and 12pm and support Sedgefield's farms.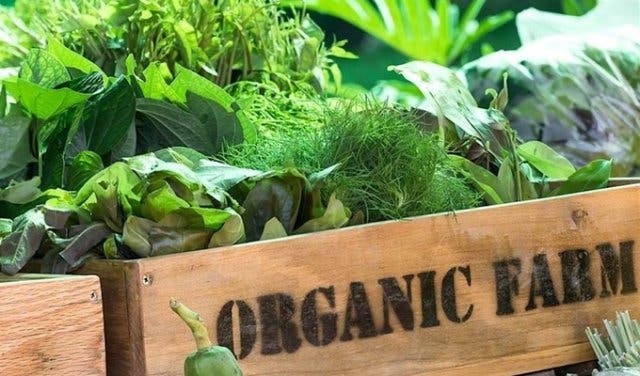 N2 | Sedgefield | +27 (0)82 376 5020
KAROO | SWARTLAND
Prince Albert Farmers Market
Get a slice of wholesome country living with homemade goodies, seasonal produce, fresh vegetables, cheese, bison and, of course, famous Karoo lamb every Saturday morning. Between May and September, the market is on Saturdays from 8am to 1pm at Prince Albert's City Hall; between July and August, it is on Wednesdays from 8am to 1pm open on Central Avenue. Open seasons may be subject to change so check out the market's website or Facebook page.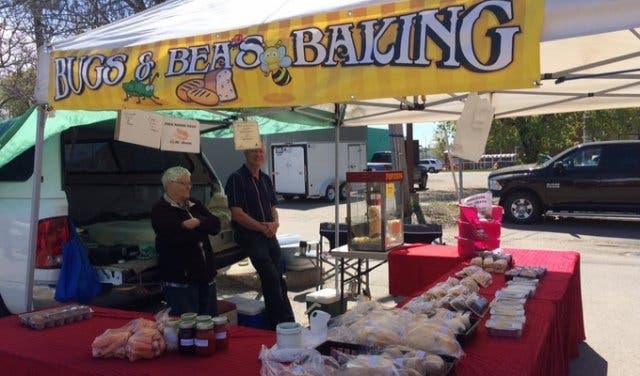 Saturday market: City Hall parking lot (cnr 10th Street and 1st Avenue) | Prince Albert
Wednesday market: Central Avenue | Cnr Central Avenue & 11th St | Prince Albert
The Village Market in Allesverloren Riebeek West
Head to this charity market held at Riebeek West wine estate, Allesverloren – a lovely venue with even lovelier countryside views. The quaint little town of Riebeek West is clearly a foodie hotspot. Stock up on fresh farm produce and delicious wholesome foods, as well as handcrafted items, at this market on the first Saturday of every month. Opening hours are from 9am to 1pm. Look out on The Village Market's Facebook page for the dates of every month's market.

Allesverloren Wine Estate | R311 off The R46, between Riebeek Kasteel And Riebeek West | Swartland
WEST COAST
Groote Post Country Market
This food and crafts fair in Darling is barely an hour's drive out of Cape Town and yet feels a world away! Step out to the wild and lovely West Coast for a break from the city and indulge in the local wares. Fresh farm mushrooms, homemade breads and artisan cheeses are just some of the edibles you can find here. There's also lovely homeware, arts and crafts, and decor to take home with you. Browse, eat and relax with wine from 10am to 3pm, on one Sunday of every month or exact dates, see our page on the Groote Post Country Market.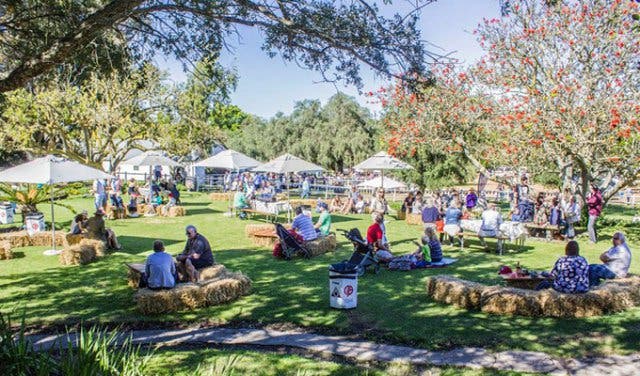 Groote Post | Darling Hills Road | Darling | +27 (0)22 497 2825
---

Check out this goth night market and party at Evol.

Get out and about this weekend with the Cathedral Market.
Read more about markets in Cape Town and surrounds in our overviews of markets in the City Bowl, markets in the southern suburbs, markets in the northern suburbs and markets in the Cape Winelands. Be sure to read our 10 speciality markets in Cape Town and surrounds.
---
Use our events section for an up-to-date overview of happenings in Cape Town. Also, don't forget to subscribe to our newsletter.
Follow us on Twitter, like us on Facebook, connect with us on LinkedIn, check out our photos on Instagram and follow our Pinterest boards for updates on what's happening in and around the Mother City!