20 Cool Things Every 20-Something Should do in Cape Town
Make the most of your youth by immersing yourself in every hip and happening activity in the Mother City
Last updated: 26 March 2018

Being a 20-something-year-old means you've recently said goodbye to the restraints and limitations of teenage years, but haven't quite entered into the depths of adulthood. While this transitional period can be rather daunting, it also usually means that your sense of adventure and willingness to try something new are at their peak. Of course, if you find yourself in Cape Town, you have some of the best things to do and places to see on your doorstep. Whether you've chosen to align your self-identity with nightlife thrills or outdoor experiences, we rate the Mother City as a 20-something-year-old's playground of culture, desire and excitement.
20 COOL THINGS FOR 20-SOMETHINGS TO DO IN CAPE TOWN

1. Play glow-in-the-dark mini golf
Who doesn't love playing mini golf? The highly-addictive and sociable format of the game has been taken to the next level with Glowing Rooms SA. What we have here is an 18-hole course of South Africa's first glow-in-the-dark, 3D, space-themed mini golf adventure, and you and your friends are invited to partake. Tee off on the first hole and play your way through this carefully-crafted neon wonderland.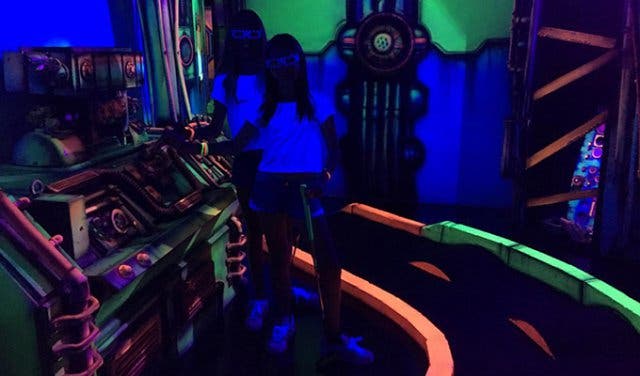 The Gallery | Milnerton | +27 (0)21 551 2244
2. First Thursdays
Ask anybody in Cape Town what to do the first week after payday and 'First Thursday' will roll off his or her tongue without a moment's hesitation. On the first Thursday of every month, spend your evenings soaking up Cape Town's arts and culture at this popular event! Gather the gang and head to the CBD, where art galleries and cultural attractions remain open until late. This provides the perfect opportunity to meet new people, make some friends and browse expressive art while sipping on craft beer. What's more, there is no entry fee, which allows students to take full advantage of summer evenings by enjoying Cape Town's unique lifestyle without breaking the bank.


CBD | Cape Town
3. Explore the sea with Ocean Star Sailing Academy
If a little bit of oceanic adventure is what you're after, then you'll love what the Ocean Star Sailing Academy has to offer! There's Jet Ski Orientation (basically flying across the water on a jet ski while being taught and supervised by an instructor), high-speed boat rides, Fishing Charters and a newly introduced Photographic Charter designed specifically for those of you with cameras (so basically every 20-Something in Cape Town) who'd like to get a unique shot of our beautiful city from the Table Bay Harbour and surrounds. You will be so close to our marine-life that you're guaranteed all of the Insta-likes.

Pentridge House | 11 Portswood Rd | V&A Waterfront | +27 (0)21 418 4074

4. Sip sundowners in Camps Bay
The picturesque Camps Bay beach stretch provides the perfect backdrop to truly revel in Cape Town's exquisite sunsets. Sit back and sink your toes into the sand, appreciating the beauty around you, or head to Café Caprice for a drink while you watch the sun go down and the waves roll in. You can't really call it 'Cape Town Living' if you aren't lounging and chilling in one of the most scenic locations of our pretty city.
If Camps Bay doesn't cut it, have a look at our best sundowner hotspots in Cape Town for you to take full advantage of!
Café Caprice | 37 Victoria Road | Camps Bay | Cape Town | +27 (0)21 438 8315
5. Venture out on a full moon hike
If summer hikes and the Mother City lights bring a twinkle to your eye then you'll appreciate it a whole lot more when it's cast under the light of a full moon. No entrance fee means you're able to take full advantage of the magnificent panoramic views of Cape Town and the surrounding coastline. Every friend circle should schedule in at least one full moon hike up Lion's Head as a great group activity!

Lion's Head | Signal Hill | Cape Town
6. Learn how to S.U.P!
SUP'ing is the new in-thing, whether you are a water baby or not. You'll be experiencing Cape Town from the water, on an oversized board with the aid of a paddle. Fitness fanatics and outdoor lovers will go crazy for this new watersport as it helps strengthen your core and upper body. Not only is this something exciting and different, but it also provides the perfect opportunity to spot marine life! If the thought of riding waves with the aid of a paddle frightens you, fear not! With High Five offering S.U.P lessons that include group specials, you and your friends will have your summer schedule planned and set!


High Five| 62 Beach Boulevard | Table View
7. Paraglide off Signal Hill
Your twenties are about bold chances and life-changing leaps of faith. One such experience we recommend is taking off from Signal Hill. Of course, this means that you get to see the Mother City from a breathtaking vantage point. Few things will be more exhilarating than feeling like you are flying over Cape Town! If you want to soar through the sky with the comfort of a qualified instructor to hold onto, book with ParaTaxi's tandem paragliding experience!

Para Taxi | +27 (0)82 966 2047
8. Sip craft beer and nibble on artisanal goods at the Biscuit Mill
It is a well-known fact that you can't quite call yourself a Capetonian until you have been to the trendier-than-a-Converse-shoe Neighbourgoods Market at the Biscuit Mill on a Saturday morning. Situated in Woodstock, The Old Biscuit Mill food market is a popular Mother City institution that features everything from scrumptious food and drinks to clothing and jewellery. If you're looking for an easy excuse to drink before noon, or simply want to bite down on a gourmet burger, this place is a food lover's heaven and is perfect to take visiting mates for a scrumptious taste of Cape Town.

373-375 Albert Road | Woodstock | Cape Town | + 27 (0)21 447 8194
9. Embark on an exhilarating experience with Scootours!
Experience Cape Town like you never have before! If you're a thrill-seeker looking for a fun day out, Scootours® will treat you to a tour of the city only a few get. Freewheel down Signal Hill and along Table Mountain on these ultra-cool, Swiss-designed scooters! Indulge your inner child by getting lost within the beautiful surroundings. The adventure gurus Scootours have now added Knysna and Stellenbosch to their list of routes. Not to mention that you can now book a number of cool and adventurous activities through them: from paragliding and abseiling to kayaking and swimming with seals off the coast.

Scootours Cape Town| + 27 (0) 82 776 0557
10. Feed your soul with sweet sounds at Kirstenbosch Summer Concerts
As one of Cape Town's many treasured gems, Kirstenbosch National Botanical Gardens provides the perfect treat to unwind and soak up some sun and sweet music. You cannot really say you've experienced the Mother City until you've sat amongst the beauty and serenity of this vast paradise- can you?


Kirstenbosch National Botanical Gardens| Rhodes Drive | Newlands | Cape Town
11. GET DOWN TO GROOVY BEATS AT SHIMMY BEACH CLUB
Shimmy's deck overlooking the Atlantic just screams "summer" and is the perfect sundowner spot. Once night falls, Cape Town's young hip crowd arrives in droves for the weekend parties, usually with impressive electronic headline acts. During Sundays in December, you can catch SA's most famous EDM duo, GoldFish, at the vibey GoldFish Submerged events. Be prepared to dance the night away at Shimmy Beach Club.

12 South Arm Road | V&A Waterfront | Cape Town| +27 (0)21 200 7778
12. Bar hop on Long Street
Whether you choose to start partying early in the evening or late at night, Long Street offers the perfect atmosphere to keep the vibes running wild! A cultural hub during the day, Long Street comes alive and transforms into one central party location at night for an ultimate party experience. Begin your night with Happy Hour specials at Café Mojito from 5pm to 7pm, before making your way to Neighbourhood and then bar hop to Beerhouse for an all rounded night out. Alternatively head back to Café Mojito for a second round of Happy Hour drink specials from 11pm until midnight as a perfect end to the night, or to keep your night going!


If you're looking for cheap drinks for a merry evening, check out our other popular Happy Hour Specials in the city!
Long Street | Cape Town
13. Thrills and Shrills with Shark Cage Diving in Gansbaai
Dive head first into this deadly experience that makes a perfect memory when you recall your twenties! Gather a group of friends and take a short two-hour drive to Gansbaai (small fishing town that has a big reputation for being the great white shark capital of the world) for the day, completing it off by taking a swim with one of the world's most feared creatures! There's nothing like a good old dive with Great Whites to make you feel alive! Why not book your tour with the White Shark Cage Diving Company, where director Nik Walsh will help you put your fears to rest, swearing that these seemingly ferocious creatures are actually very gentle and majestic (Yikes!).


White Shark Cage Diving Company | 9 Kusfront, Van Dyks Bay |Gansbaai |+27(0) 21 671 4777
14. Spend the evening at The Galileo Open Air Cinema
How cool does a movie night under the stars sound? And what better place to take full advantage of the summer season than in the Mother City itself! The Galileo Open- Air Cinema, which operates from November until April, invites anybody and everybody to lounge out under a starry night watching your favourite films! This is the perfect stress relief for friend groups looking for a chilled night of good company and great food, all wrapped up into an affordable and memorable experience.


The Galileo Open Air Cinema | hello@thegalileo.co.za | +27 (0) 71 471 8728
15. Swirl and Sip Wine at a Wine Farm
When life becomes a little mundane, and you're searching for a special spark, spend your weekend sipping on wine in one of Cape Town's picture perfect vino farms. If you're a chocolate fanatic, then satisfy your sweet tooth with a delectable wine and chocolate pairing at Spier Wine Estate, or head to Franschhoek where the charming presence of Leopard's Leap Family Vineyards oozes class and will leave you feeling fancy with their range of wine cocktails on the weekend! We also recommend a road trip to Stellenbosch, where wine tasting at Marianne Wine Estate will keep you informed and well entertained during a wine tasting with an insane view! Check out our top 20 Favourite Wine Tasting venues - because everything in the Mother City comes to life when you're twenty-something and slightly intoxicated.

Leopard's Leap Family Vineyards | Franschhoek | +27 (0)21 876 8002
16. Experience an outdoor Music Festival
When summer rolls around, expect full weekends of non-stop partying. You definitely want to attend at least one trance party while in your twenties, and with the Mother City being the home of trance festivals, you're guaranteed a good time! Head to one of the Mother City's trance party events for a magical and mystical music experience or, if you're into alternative rock, Rocking the Daisies seems to attract a number of 20-something year olds all gathered in one place for a common purpose: to party hard in Cape Town.
17. Ostrich riding
Hold on to the wings of your feathered friend for dear life, as it shoots out of its enclosure like a speeding bullet. Definitely not something for the faint hearted, but nonetheless, this is a must -do for all those 20-somethings who want to make the most of the moment, the Mother City, and who are searching for exciting and memorable stories to share in the future.

Cango Ostrich Show Farm | Oudtshoorn | +27 (0) 44 272 4623
18. Stroll around a Night Market
Take a well-deserved break from the hustle and bustle of everyday life and pencil Cape Town Night Markets into your schedule. Head to Muizenberg on Fridays from 4pm to 10pm for the Blue Bird Garage Food and Goods Market or take an evening drive to Tokai, where the you'll find that the Earth Fair Market makes the perfect place to grab dinner and drinks with a few friends.

Blue Bird Garage Food and Goods Market|39 Albertyn Road | Muizenberg | Cape Town
19. Take a chill pill at Cape Town's popular beaches
Get an all over tan at Sandy Bay Beach, Cape Town's nudist beach, while the stunning surroundings are a playground for hikers and nature lovers. Or if you want to make some cute little friends, head to Boulder's Bay Beach for some up close and personal time with penguins! However, if you're looking to escape the craziness of every-day life, you can sit back and watch the waves hit the shore at Blouberg and Clifton Beach, where you can bask in the sun and take in the tranquil scenery.


We suggest you check out the top 10 beaches in Cape Town for some serious surfing, sunbathing or chilling!
20. Go to AfrikaBurn
Your twenties are the most crucial time in your life; it's when the fire ignites within your heart,and you've got to let it burn! Helping you along this way is the Afrikaburn Festival. Although this seven-day event takes place in the Karoo Desert, it deserves a mention because it's the type of creative expression every 20-something wants to revel in.
... and an extra two
Go off the Beaten Track
No one does wine tours like these guys. Leave the worries of deadlines, financial stresses and social anxiety behind and get lost in the Karoo. On this trip through the Forgotten Route, Wine Flies will take care of the wine, provide the transport and arrange the accommodation. You'll be placed in the care of an enthusiastic wine lord, who is as excited about schooling you on the grape nectar as you, undoubtedly, are about getting your drink on. Explore Matjiesfontein through wine, food and fun with Wine Flies. Book online.

Wine Flies | Corner of De Villiers and Constitution Streets | Zonnebloem | +27 (0)21 4628 011 | info@wineflies.co.za
RACE DOWN THE MOUNTAIN ON A SCOOTER
Experience Cape Town like you never have before. If you're a thrill-seeker looking for a fun day out, Scootours will treat you to a tour of the city only a few get. Freewheel down Signal Hill and along Table Mountain on these ultra-cool, Swiss-designed scooters. The adventure gurus at Scootours have now added Knysna and Stellenbosch to their list of routes. Not to mention that you can now book a number of cool and adventurous activities through them: from paragliding and abseiling to kayaking and swimming with seals off the coast.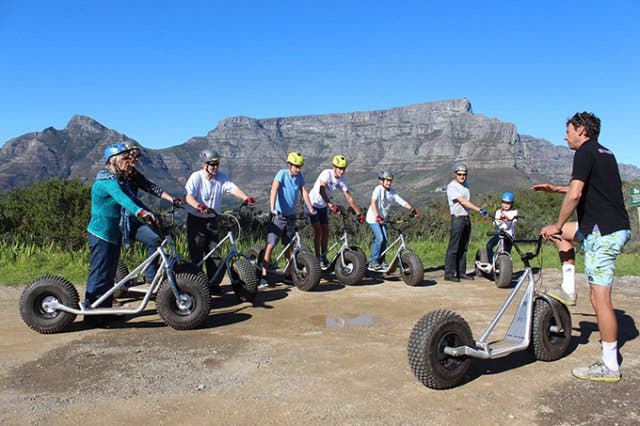 +27 82 776 0557| capetown@scootours.co.za
---
Go wine tasting on an e-bike with Vinebikes.
Learn to paint while letting loose at this moms and friends Paint 'n Sip evening.
Consider yourself a yogi? Head to this free beach yoga class.
Now that you know how to make the most of your days in the Mother City, check out our pick of 30 Cool and Unusual Things to do at Night in Cape Town for you and your mates to add to your bucket list!
If you're babysitting, or looking to entertain some energetic little children, check out our pick of 50 Super Cool things to do with kids in the Mother City.
---
Check out our events section for an up-to-date overview of happenings in Cape Town. Also, don't forget to subscribe to our newsletter and if you have a smartphone, add m.capetownmagazine.com to your home screen for quick access on the go!
Follow us on Twitter, like us on Facebook, join our Google+ circle, connect with us on LinkedIn, check out our photos on Instagram and follow our Pinterest boards for updates on what's happening in and around the Mother City!
---