22 Great Places To Celebrate Your Birthday
Party in an underwater world, hang out on a city rooftop or escape into nature for your birthday
Last Updated: 16 March 2020
Birthdays are special – whether you like them or not – and deserve to be celebrated. If you're looking for a fresh way to mark the occasion, you're in luck. How about an all-African township-style feast or some fun on a sand dune that'll make you feel like a kid again? Or maybe fine dining or beach cocktails are more your speed. Whether you're into the big bash or something a little more low-key, you'll find your perfect birthday venue with this round-up of Cape Town hot spots.
BRING YOUR OWN WINE ALONG TO THIS GRILL ROOM
The premium grill room, which has 13 Western Cape locations, is famous for its speciality steaks and its award-winning wine list. Although the wine list is extensive, there is absolutely no corkage fee, so you and your friends are welcome to bring along your own choice of wine. Besides the excellent steaks, there are also poultry, seafood and vegetarian dishes at The Hussar Grill.
Good to know: There are set menus available for large get-togethers.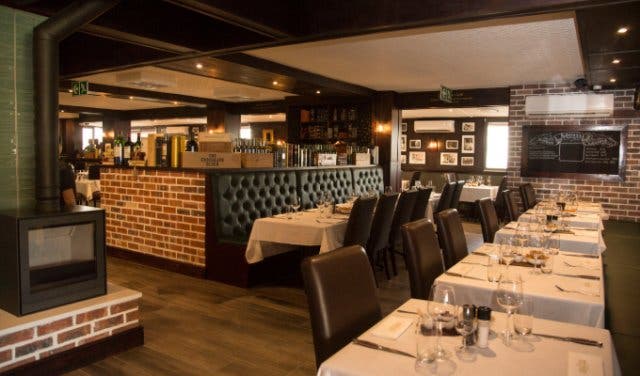 Various locations in the Western Cape | book online
CELEBRATE WITH LIVE MUSIC
You can party inside the intimate spot or settle in on the rooftop to soak in the views with a cocktail at the Skybar (which has a pool and a view of Table Mountain). A moody De Waterkant musical joint, The Piano Bar is the place to go for easy listening funk, soul and blues. The sophisticated venue features live music every night of the week and serves up inventive cocktails and diverse tapas. Expect an enticing drinks menu, casual but top-quality cuisine, and a venue that's as vibey in summer as it is cosy in winter at The Piano Bar.
Good to know: The Piano Bar is a great place for functions – you can hire out the entire venue or just reserve one section.

47 Napier Street | De Waterkant | +27 (0)21 418 1096 | bookings@thepianobar.co.za
BIRTHDAY CELEBRATIONS WITH A SIDE OF SWIMMING
If you're a summer baby, your party is pretty much set at Ficks, with its outdoor wine bar and lounge-style decor, basking in the sun. The restaurant is set along the cliffs surrounding Fick's Tidal Pool, with wraparound decks offering an exquisite ocean view. Keep an eye on the weather: this is very much an outdoor venue. They don't take bookings, so it's a great option for smaller groups. Fadzi, the resident culinary master, is determined to bring guests the taste of Spanish-inspired dishes and a unique experience at Ficks.
Good to know: Check Ficks' Instagram (Social Media Pages) to find out when they have special events taking place.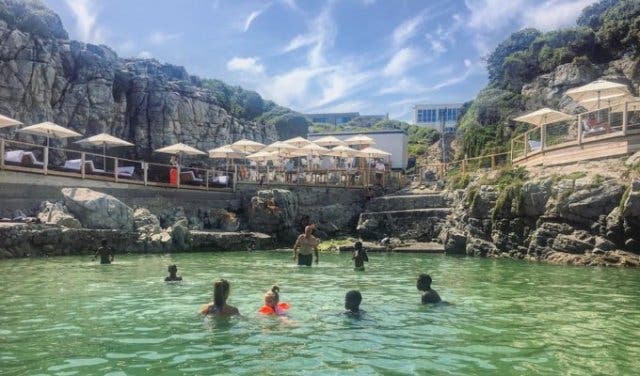 8 Marine Drive | Hermanus | +27(0)28 312 4082 | info@ficks.co.za
SOMETHING FOR EVERYONE AT THIS CAPE TOWN CAFE
Everyone's welcome at Cafe Extrablatt, from the guy taking his granny for tea, to the young party ready to dance the night away. It has the space to accommodate all of that, with two floors, each with balconies, and a vibe that's relaxed but can be dialled up for a dance. There are DJs, a fireplace, hookah pipes, big screens, beer, weekend buffets, German food and great coffee at Cafe Extrablatt in Green Point. The kitchen stays open until midnight, seven days a week. It serves an a la carte breakfast (and buffet on the weekend), pizza, burgers, German cuisine, snacks, pasta, grills, soup, salad, pita and desserts, plus there are many specials to choose from at Cafe Extrablatt in Green Point.
Good to know: Cocktails are reduced-price from 5pm–8pm Monday–Friday.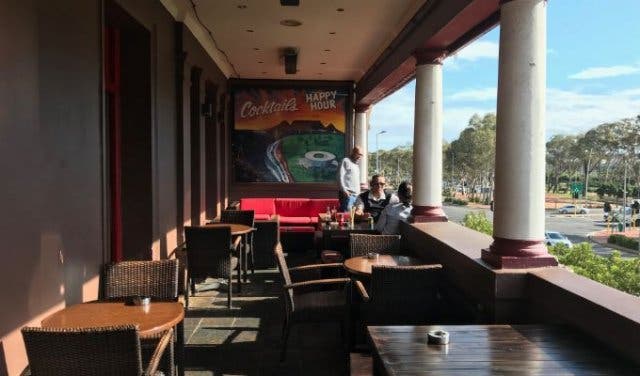 Exhibition Building, Green Point, Cape Town, info@cafe-extrablatt.co.za, +27(0)21 434 3759, website
INVITE 14 FRIENDS FOR A FUN, INTERACTIVE SCAVENGER HUNT
If you're looking for a totally unique birthday party, you've found it. This scavenger-hunt-meets-wild-goose chase is a fun and interactive way to bring your friends closer together in a competitive environment. Every team receives a smartphone loaded with a variety of challenges with set points. Teams compete to complete the challenges, send in photo evidence and score points to keep their rank on top of the live leaderboard. You can even watch the live photo feed to see what the other teams are up to. Plus all the photo evidence is yours to keep after the game, so the fun never stops with The Gallivanting Goose.
Good to know: Pricing works on a scaling system. The bigger the group or the more times you play, the less you pay. Prices start at R6750 for 15 participants and from there, the price drops per person for 21 participants. Contact The Gallivanting Goose for more details. Games are catered for up to 100 participants.


Various locations in and around Cape Town or Stellenbosch | www.thegg.co.za | +27 (0)82 468 3052 | talktome@thegg.co.za
HAVE SUSHI INSTEAD OF BIRTHDAY CAKE
Love sushi and looking for a birthday-party venue? Asami's has six branches. From spacious restaurants to adjustable seating arrangements, you can bring a large group and the restaurant waiters will make a plan for your seating. Asami's also has specials that can feed an army, like the three-for-two sushi combos on Monday, Wednesday and Fridays that cost between R129 and R139 in combo sizes from 16 to 21 piece. There's also the two-for-one on sushi plates on Tuesdays and Thursdays and if you're having an intimate affair you can do the all-you-can-eat sushi buffet at R179 per person (R115 for children). There's everything from salmon, tuna, avo and even caramelised prawns and many more specials at Asami's.
Hours: Mon-Sat: 11am-10pm, Sun: 11am-9pm (Stellenbosch closes at 9:30pm on Sundays)


Cobble Walk Shopping Centre | Sonstraal Road |Sonstraal Heights | 072 263 2262
Tygervalley Centre | Service Road | Bellville Park | 076 219 9417
10 Somerset West Mall |Centenary Drive | Firgrove Rural | 072 925 5593
21 Waterfront Drive | Knysna Central | Knysna | 064 988 0450 / 063 5901 183
24 Main Road | Rondebosch | 021 685 3403
Paradyskloof Padstal | R44 & Blaauwklippen Road | Stellenbosch | 021 880 0416
PARTY ON A ROOFTOP OR IN A PRIVATE LOUNGE
Voted one of the best new bars in the world by Condé Nast Traveler in 2012, Tjing Tjing Rooftop Bar has been a favourite hang-out since 2011, and is as popular as ever. Killer cocktails, views and an inner-city vibe under wooden mansards in an old attic with an open rooftop area make this rooftop special. There's also great indie and electronic music, moreish bar snacks and cool décor, like the red Japanese-shrine-inspired bar and the black and white Tokyo photo wall. One floor down is the moody, intimate Momiji Lounge, with sunken booths and a long, low couch. Sip on Japanese folklore-inspired cocktails, or something from the extensive wine or spirit list (including Japanese whiskies). Both Tjing Tjing Rooftop Bar and Momiji Lounge are ideal for private functions or events.
Tip: There is no venue hire cost at Tjing Tjing House.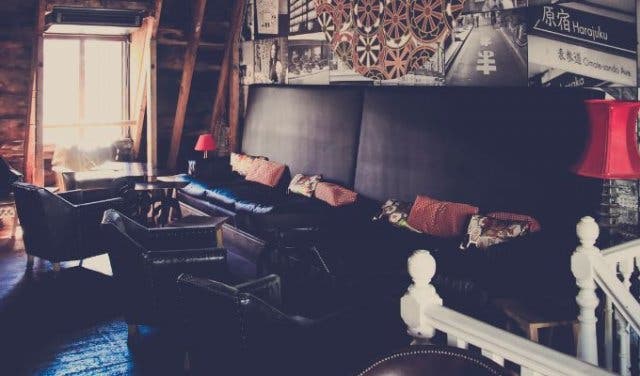 165 Longmarket Street, Cape Town | +27 21 422 4920 | info@tjingtjing.co.za
A FAMILY DESTINATION IN THE ELGIN FARM VALLEY
Super cosy, minimum tech and maximum relaxation are what it's about at this luxury glampsite in the Elgin Valley, just 50 minutes from Cape Town. There's also a large events space which is ideal for mini-festivals (hint: you don't pay venue hire, just the accommodation) and big birthday parties. Not to mention the luxury tents with real beds and armchairs inside – with grazing zebra and springbuck right outside. It's cosy in winter, romantic and lovely for the kids at Cherry Glamping.
Good to know: There are more camps coming because it gets booked out quickly.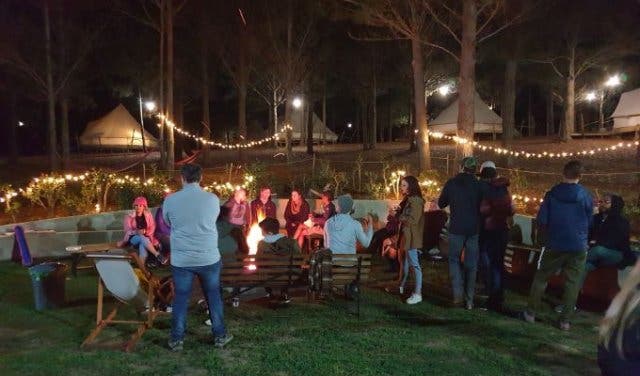 Groenrug Estate, N2, Grabouw | +27 (0)82 788 9837, info@cherryglamping.co.za
ETHIOPIAN STEWS AND COFFEE
This Ethiopian eatery in the heart of the city centre is a great place to share a memorable meal in a warm and communal manner. They offer set menus of two to three courses. The flavourful stews are served in a pancake-like sourdough base called injera. And when you're done, you can enjoy traditionally made Ethiopian coffee. Get together in a traditional, beautiful and relaxing setting at Addis in Cape.
Good to know: Your vegan, non-vegan and gluten-free friends are easily catered for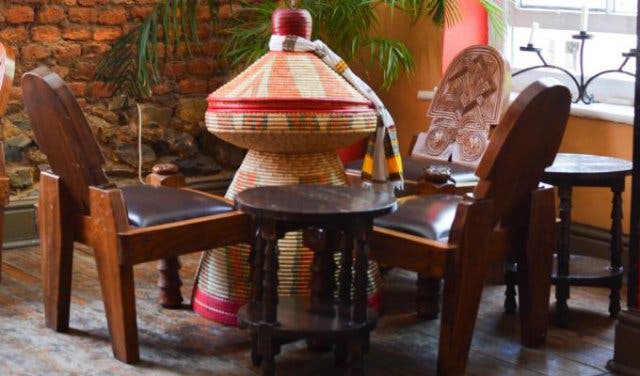 41 Church Street| City Centre, +27 (0)21 424 5722 | celebrate@addisincape.co.za
COCKTAILS ON A SURFBOARD TABLE WITH YOUR FEET IN THE WATER
You, a few friends, sipping R&Rs (raspberry and rum) with your feet dangling in the shallow pool below your table, looking out over Big Bay's views of the mountain and Robben Island. The menu – including crocodile tail pie with pineapple-chilli salsa, Soweto-style chicken wings or maize-crumbed shrimp – is one of our favourite finds. There's a live DJ that plays on weekend afternoons at moyo at Eden on The Bay.
Good to know: Come on a Friday, between 12pm and 6pm, for R25 draughts and R39 cocktails during moyo's drink specials.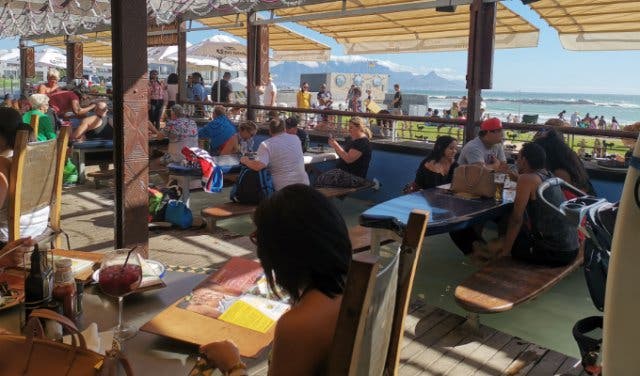 Eden On The Bay Mall, Otto Du Plessis Dr, Big Bay/Blouberg | blouberg@moyo.com, +27 (0)21 286 0662
SHARKS, TURTLES AND OTHER INTERESTING PARTY GUESTS
With enough spectacular marine displays to make you feel like a kid again, this underwater wonderland boasts a number of venues that can be booked for private events. The Atlantic Ocean Gallery, with displays of spider crabs, anemones and jellyfish, holds up to 100 people; the I&J Predator Exhibit, home to ragged-tooth sharks, turtles and stingrays, holds up to 250 people. You can be sure that your guests will never attend a birthday party quite like yours at the Two Oceans Aquarium.
Good to know: You get free entry on your birthday at the Two Oceans Aquarium birthday experience.


Dock Road, V&A Waterfront, Cape Town | +27 (0)21 418 3823, Website
DESIGN YOUR OWN DINING EXPERIENCE
If you love the food at Grub & Vine and can't get enough of Chef Matt Manning's interactive dining experiences and events, then book your bash at The Green Room – Grub & Vine's private dining room that seats 20 guests. The creator of the popular One Ingredient pop-up dinners and five-course Saturday Brunch Club is a social dining guru. He loves nothing more than creating a unique and intimate experience for his guests, no matter the size, budget or occasion.
Good to know: Grub & Vine's The Green Room hosts the #VineNights, the free wine tasting every Wednesday.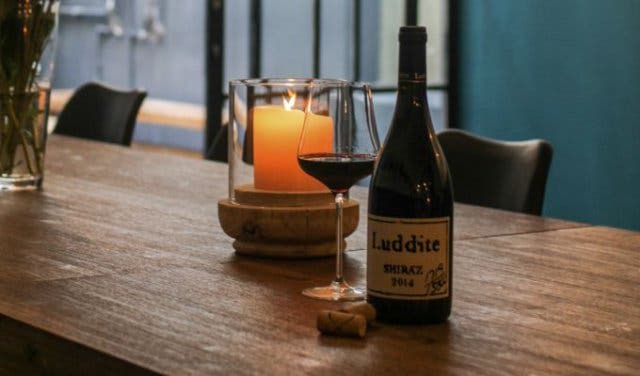 103 Bree Street, Cape Town City Centre | +27 (0)76 256 8654
LAUGHTER KEEPS YOU YOUNG
So why not blow your candles out at Cape Town Comedy Club, which hosts stand-up talents and headliners like Rob van Vuuren, Nik Rabinowitz and club owner Kurt Schoonraad. There's a fully stocked bar, halaal-friendly menu of pizzas, salads and grills, R18 tequila shots and an occasional DJ on the decks at Cape Town Comedy Club.
Good to know: Doors open at 6pm and the shows start at 8:30pm, Wednesday to Sundays. The capacity is 180 people, shows often sell out and prices vary.

The Pumphouse at the V&A Waterfront | Dock Road | Cape Town |+ 27 (0)21 418 8880
FROM PARIS TO VIENNA TO NEW YORK IN ONE BIRTHDAY
If you are looking for an intimate and exquisite get-together for your birthday, why not try a lunch, brunch or dinner at Coco Safar, the all-day cafe in Sea Point? With decor and ambience that would not be out of place in Paris or New York, this beautiful spot is perfect for smaller groups. Try the tapas experience (Wednesday to Saturday evenings) or choose from the all-day menu and experience a delicious Rooibos float. Treat yourself to the ultimate birthday at Coco Safar.
Good to know: Speak to the manager about the birthday cake of your dreams; the on-site bakery and pâtisserie can whip it up for you.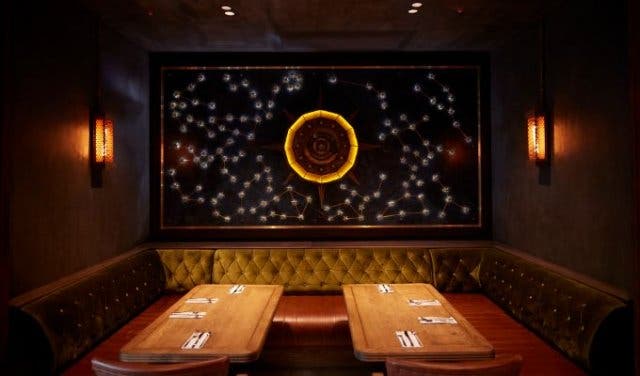 Artem Centre, 277 Main Road, Sea Point | +27 21 433 1336, generalenquiries@cocosafar-sp.co.za
AMERICAN-STYLE RIBS AND SEAFOOD
With ample space and great food and drinks, Knife is a brilliant place to host a birthday celebration. You can hire the entire space and order set menus for big parties or reserve a few tables and order off the extensive à la carte menu for smaller groups. Either way, the smoked sticky BBQ baby back pork ribs are a must-try, and the burgers, steaks, Louisiana specialities (like spicy prawn gumbo) and seafood are delicious. The upmarket restaurant is family-friendly, so you can bring the kids to Knife Restaurant.
Good to know: You get a free meal in your birthday month if you bring a party of five or more (minimum six, including yourself) for the Knife Restaurant birthday special.


Back of Crystal Towers Hotel | Corner of Century Boulevard and Rialto Road | Century City | Cape Town | +27 (0)21 551 5000
TRAPPED IN A REAL-LIFE VIDEO GAME
Your group of two to six friends gets trapped in a mysterious room for 60 minutes. You have to solve challenges, find hidden keys and codes, release trapdoors and open secret passageways to complete your mission. Make like the lead characters in an adventure film and put your heads together to complete the mission and get out of the escape room.
Good to know: R130 per person for a team of six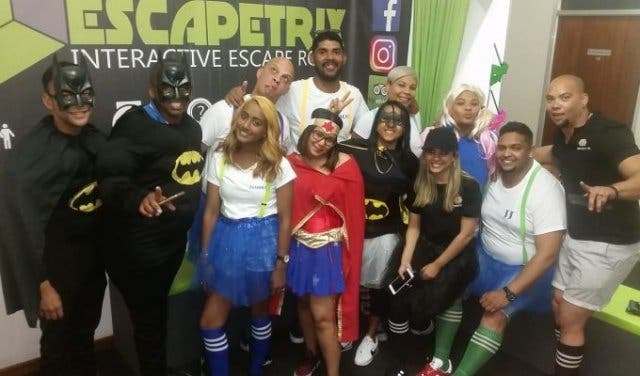 276 Main Road, Monte Rosa Building Paarl | info@escapetrix.com, +27(0)21 300 0447 | website
AN ALL-AFRICAN FEAST
Afrolife & Pitso's Kitchen serves township cuisine. There's plenty to choose from, ranging from hardbody (free-range) chicken to the popular mogodu (beef or mutton tripe). For the indecisive, the platters, called Group Hugs, serve up to four. They include a choice of starch, up to four meats and sides such as chakalaka and atchar. Wash it down with Ukhamba Beerworx refreshing farmhouse ale or Silwela wines at Pitsos Kitchen.
Good to know: There's a deck for alfresco dining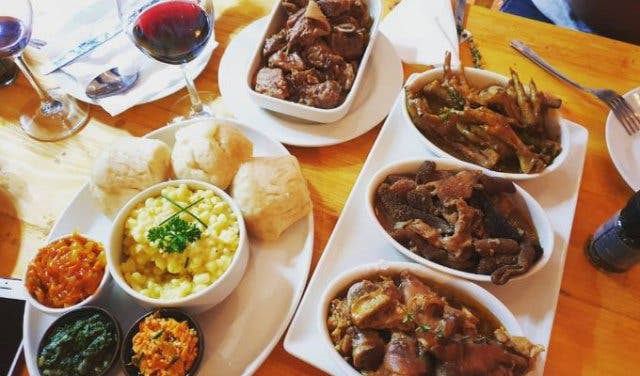 230 Long Street, Cape Town Central | +27(0)67 272 1964, info@afrolife.co.za, reservations@afrolife.co.za
BIRTHDAY BRAAI, KOREAN STYLE
Galbi (meaning 'ribs' in Korean), the Korean fusion restaurant, offers the authentic table-top barbeque experience as found in Korea, with an African twist. Staff supply you with an array of marinated meats (including options of springbok, warthog, kudu, zebra and ostrich) and side dishes. Barbeque your meat (or vegetarian option), wrap a piece in a lettuce leaf with some of the spicy (or not spicy) side dishes and rice to eat it the traditional way.
Good to know: They stock Soju, a clear, colourless distilled beverage made in Korea, and make delicious cocktails with it


9 (19) Bloem Street, Alley Entrance, CBD | +27(0)21 424 3030, info@galbi.co.za
FINE DINING 400M ABOVE SEA LEVEL IN STELLENBOSCH
Located along the Helshoogte Pass just outside Stellenbosch, Tokara offers contemporary cuisine, fine wine and incredible views over Stellenbosch and False Bay. It's a refined plaaskos (farm cuisine) menu of semi-dehydrated tomato with tomato consommé, tempura tofu, celery and basil for starters, beef rib-eye with Heerenboontjie, green beans, turnip, thyme jus and roasted garlic tapioca for mains and a dessert of dark chocolate with granadilla and cacao nib ice cream.
Good to know: There are five large-scale tapestries by world-famous artist William Kentridge from the "Porter Series". No other venue in the world displays as many.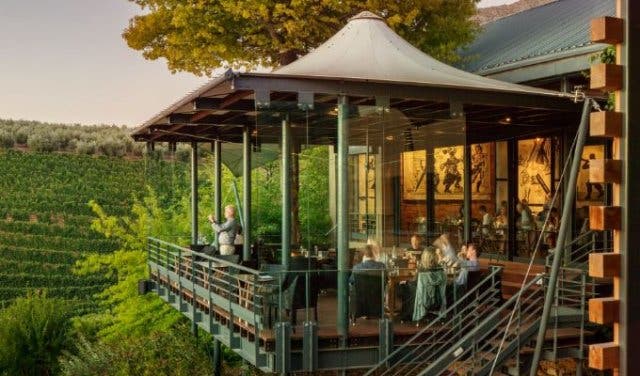 Helshoogte Road, Stellenbosch | +27 (0)21 885 2550, reservations@tokara.com
HEAD SOUTH FOR A TASTE OF HOME
Scarpetta is a family-run Italian eatery in Woodstock where owner and chef, Ricky Turilli, wants to show you his family style of dining. He says, "I want to bring people together, around a table with humble, honest, seasonal food that makes them feel good inside."
Good to know: Bring those vintage bottles of wine you have at home to savour with your meal because they don't have a liquor license and there's no corkage fee.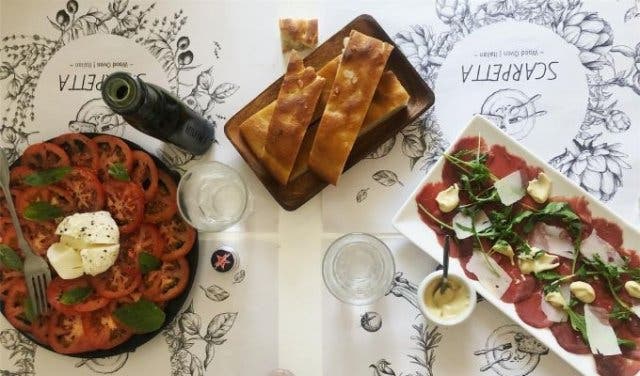 85 Roodebloem Road, Woodstock | +27(0)83 251 0730
PACIFIC ISLANDING IN HOUT BAY
Situated in Hout Bay, the small and cosy restaurant, Cheyne's, serves cuisine from the Pacific Rim (the lands around the rim of the Pacific Ocean). The Asian fusion menu offers dishes packed with umami (savoury) flavours. The menu is divided into four sections: sea, earth, land and happy endings. Think chilli salt squid, sesame mayo and green chilli caramel or duck, lime leaf and miso croquettes with caviar mustard or aubergine tempura, unagi sauce and lime aioli. Pick dishes and share them tapas-style.
Good to know: Enquire about the Yum Cha dining experience, where you get three dishes for the table to share (it works out cheaper than ordering individually)


35 Main Road, Scott Estate, Hout Bay Cape Town | cheynemorrisby@gmail.com, +27(0)664 123 289
CELEBRATE IN STYLE WITH A WINE EXPERIENCE
This Franschhoek Valley estate boasts sociable tasting facilities, a versatile food offering, culinary tutoring and a novel food and wine pairing experience. The offering can be tailored to suit your needs and there are six venues to choose from, including the veranda (with modern couches and lower tables), tasting room and the inviting Family Table at Leopard's Leap.
Good to know: Some areas can be interlinked with one another for greater versatility.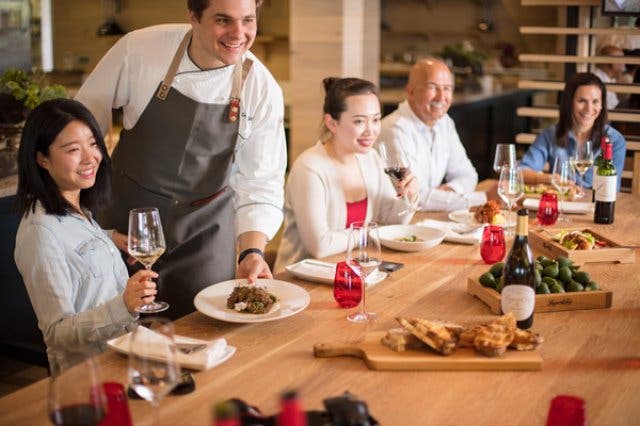 R45 Main Road | Franschhoek Valley | +27 (0)21 876 8002 | manager@leopardsleap.co.za
---
You can throw one helluva party at Rooftop on Bree.
Host your kid's birthday party at Spur.
Enjoy a CBD infusion experience on Long (CBD optional) at Infusion On Long.
Get chauffeured to your special occasion or go on a tour of the Cape in a vintage car with Classic Rides.
Check out the wholesome buffet breakfast and Sunday brunch with the buffet at Cafe Extrablatt.

Get freaky with Halloween 2019.
Cape Town is a party hotspot. Check out these Trending Party Places.
One of Stellenbosch's most peaceful, pretty escapes. Have you been to Jordan Wine Estate?
Celebrate the chilly season with So Happy's annual Winter Wonderland.
Have a look at our updated overview of free things to do for your birthday, or have a look at our overview of kids' party venues in Cape Town.
Alternatively, check out our Functions Venues in Cape Town and ideas for end of year parties and even bachelorette party ideas.
Catch up with the weekend overview, the hottest nightclubs, party places in Cape Town, happy hour specials, rooftop bars and cocktails in Cape Town.
Idyllic countryside venue for a big family birthday celebration with group accommodation options and one-of-a-kind experiences? Have a look at Rotterdam Guest Farm in Swellendam.
No rain or wind can keep you away from The Shred Skate Park in Cape Town. Check out their Monday half-price skate sessions.
Rock the night away with legendary pizzas, classic tunes, musically inspired cocktails, friendly vibes and weekly pizza and burger specials at Sgt Pepper on Long Street. They can also host your party for free on Mondays.
---
Use our events section for an up-to-date overview of what's happening in the city, 'burbs and dorpies. Join our newsletter and get quick access on the go by adding us to your mobile home screen for the ultimate guide to discoveries in Cape Town.

Follow and like us on Twitter ❤ Facebook ❤ LinkedIn ❤ Instagram ❤ Pinterest for updates.