#CapeTownTogether: let's show our support for small businesses
Get food delivered, pick out some colourful socks, and learn new skills with these local businesses that are open during lockdown
It's a challenging time for most of us in Cape Town, as we come to terms with the reality of the coronavirus pandemic and the nationwide lockdown. Some of us are lucky enough not to have our livelihood affected, but with trading restrictions in effect, many small local businesses are taking a huge hit.
The economy is under strain, but together we can keep many people afloat. So take part in an online cooking school (for free), get fresh produce delivered to your door or shop locally crafted jewellery.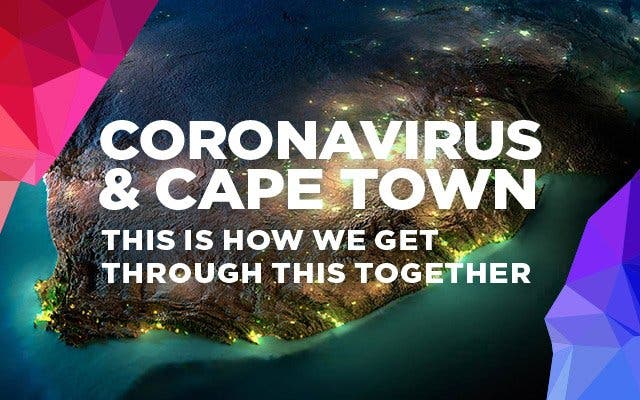 IT'S JUST AN INTERVAL FOR THE LABIA THEATRE
The Labia Theatre is as Capetonian as Table Mountain, and like many local businesses, they have had to shut their doors during lockdown. But it's not the end: it's just an intermission. Support them through this tough time (and pencil in some post-lockdown plans for yourself) by buying a prepaid voucher. After lockdown, you can exchange it for 10 discounted admissions.
STOCK UP ON DRY GOODS WITHOUT LEAVING YOUR HOUSE
While grocery shopping is allowed under lockdown, anyone who can avoid public areas should, for the sake of those who can't. Fresch Online is an online food service that provides dry goods. They have everything from rice and grains to nuts and dried fruit, and they're delivering throughout the lockdown. You can also look out for their specials and healthy recipes while also placing your order on freschonline.com.



GO JEWELLERY SHOPPING
Dear Rae creates stunning pieces, from rings to pendants as well as custom designs. The Bree Street studio may be closed during the lockdown, but its online store is still running. All orders placed will be processed and manufactured once the lockdown has been lifted. Visit the Dear Rae online shop.


View this post on Instagram
STOCK UP ON KITCHEN ESSENTIALS (AND BRUSH UP COOKING SKILLS FOR FREE)
Even though their doors are closed, Yuppiechef's online store is open. They are now allowed to deliver essential items, which means you can order food, non-alcoholic drinks and cleaning products from them. Plus, cook off the cabin fever with Yuppiechef's online cooking school, which is available for free for 30 days. You'll learn to master popular recipes, techniques, and cooking styles from the comfort of home and at your own pace. Live the #isolationbaking dream by signing up on the Yuppiechef website.


View this post on Instagram

PILATES STUDIO MAKES CLASSES AVAILABLE ONLINE
Core Fit Centre in Sea Point knows that your physical health is really important right now, so they're airing regular live and pre-recorded classes. Get all the information you need to book on Instagram.


View this post on Instagram
GET YOUR DAILY BREAD
Bakery, Loaves by Madam Baker, delivers special baked goods on Mondays, Wednesdays and Fridays to specific areas, with a menu that includes ciabatta, rye, sourdough and croissants. They're also offering baking class vouchers, with live classes commencing on 1 July. You can find out more and also request virtual classes via the Loaves By Madam Baker Facebook page.


FEELING SOCKSY?
Winter is on its way, so support these guys now and be prepared for those chilly days with these funky socks from Nic Harry, which are made from incredibly soft and luxurious bamboo fibres. Nic Harry ensures that they produce the most comfortable socks that you could possibly put on your feet. "We don't make anything that we won't wear. We are focused on incredible style and amazing quality," says founder Nic Haralambous. Find a pair that suits your personality at their online shop.


View this post on Instagram
CREATE A MASTERPIECE (OR JUST TRY YOUR BEST)
Join people from all around Cape Town (and the rest of the world) for live, interactive virtual art lessons. Learn a new skill or get a little creative, and you don't need any experience. All profits go to registered community projects in the Mother City. Sign up for a class by visiting the Canvas, Clay & Rosé Facebook page.


View this post on Instagram
FRESH FISH DELIVERED TO YOUR DOOR
ABALOBI is an app that connects small-scale local fishers with buyers looking for quality fresh fish. They're an official CIPC-registered provider of essential services during the lockdown, for both food production and delivery. For now, they'll deliver in and around the CBD and the Southern Suburbs, with an expanded route on the way. Get fresh fish delivered to your door via the ABALOBI Marketplace app.


View this post on Instagram

FROM ORGANIC PRODUCE TO SOURDOUGH
Sans in Sea Point is an organic Grocery Store, and (luckily for us) they're open for business during lockdown. They also deliver, if you live in the Atlantic Seaboard area. Sans is stocked with nutrient organic produce and ethically sourced dairy and meat, naturally fermented sourdough and a selection of dry foods.
---
SUBSCRIBE TO OUR NEWSLETTER FOR UPDATES
For more updates on Cape Town and coronavirus (COVID-19), including some of the good news we all need during this trying time, subscribe to our weekly newsletter.
STAY UP TO DATE ON ALL THINGS CORONAVIRUS-RELATED
The situation is ever-changing and our team is committed to bringing you all the latest updates on COVID-19 in Cape Town. Find out which places have closed and get notified when they reopen. Read about government's decision to restrict the sale of alcohol during the coronavirus outbreak. Keep tabs on the other governmental restrictions in place.
YOU CAN STILL LIVE A LITTLE
You might have cancelled many plans, but there's still plenty to do to keep yourself entertained this weekend. Use this social distancing period to work on your cooking skills with our homely, classic Cape Town recipes. Need supplies? Check out these places that deliver during lockdown.
---
Follow and like us on Twitter ❤ Facebook ❤ LinkedIn ❤ Instagram ❤ Pinterest for updates.