Sunday Markets in and Around Cape Town
Take it easy this Sunday at one of these great Sunday markets to take a stroll through
2019 update: And from the market named after a dog to a slow market in Langa, there's lots to see at these City of Cape Town markets. We've also curated outstanding and out of town markets worth travelling for.
---
Sunday is a day of rest, so grab the family and take a lazy drive and or walk to one of these Sunday markets in and around Cape Town.
V&A Food Market – eating interesting artisanal food in the ambience of free live music
If you like your artisanal street food affordable and served with live music and craft beer, you'll love the V&A Food Market. With 42 vendors and cutting-edge street food concepts like non-dairy yoghurt smoothies and your choice of steak cuts to go, it's like getting a gourmet food experience for a fraction of the cost. Open seven days a week from 10am to 7pm (Sunday to Thursday) and 10am to 8pm Friday and Saturdays (May to October) and 10am to 8pm Sunday to Thursday and 10am to 9pm (November to April), this market offers free live music every Saturday, Sunday and public holiday from 1pm-4pm. The market is also located inside the beautifully restored Old Power Station building, with its original steel and wood structures and double volume space creating a lively atmosphere as unique as it is spacious. There are plenty of tables inside, upstairs and outside the venue, which overlooks Table Mountain and the dockyard and lies on the pedestrian walkway to the Cape Grace and V&A Waterfront shops.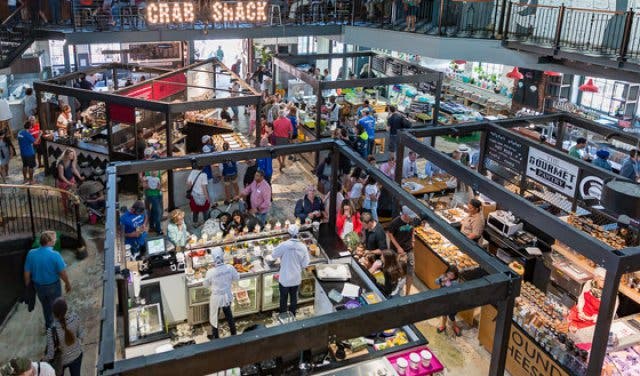 Dock Road | V&A Waterfront | Cape Town | +27 (0)21 418 1605
Groote Post Country Market
Are you a lover of all things local? Then you will enjoy your time spent at this country market in Darling. You will be able to enjoy gourmet produce including breads, mushrooms, charcuterie, wors (sausage), sauces, olive oils and so much more. The big hit as always will be the popular craft beers from Darling Brew. Groote Post Country Markets will take place on the last Sunday of every month between 10am and 3pm. The date for the final market of the season is Sunday, 30 April 2017. Note: The market is closed during winter.

On the West Coast Road towards Langebaan, turn right onto the Darling Hills Road opposite Grotto Bay turnoff. After 10-km turn right to the Grote Post Cellar | +27 (0)22 451 2202
The Bay Harbour Market
This incredibly vibrant indoor weekend market has put the sleepy town of Hout Bay back on the map with its regular celebration of creativity, culture, and cuisine. Open every Sunday from 9:30am to 4pm, the Bay Harbour Market invites locals and tourists alike to come swap stories by the fireplace, tuck into gourmet and homestyle nosh at the large wooden dining tables, and clink glasses of the finest craft beer and local wine, while soaking up some of the best live entertainment that the Mother City has to offer. This culturally diverse market brings together a host of interesting traders from all over Cape Town, which means you'll find everything from antique collectables to trendy accessories here. Be sure to look out for bespoke memorabilia which make ideal gifts. Kids are welcome, as there is a play area and child-friendly food and drinks available. What's more, the market is mostly indoors so it's a great place to visit, no matter the weather.

31 Harbour Road | Hout Bay | +27 (0)82 570 5997
Spier's Craft Market
Visit this market for contemporary and traditional artworks by local crafters. Open daily between 10am and 6pm during summer and between 10am and 5:30pm during winter, expect a selection of quality textiles, woodwork, ceramics, African bead work, crafted pottery and handmade Nguni-style tapestries woven by women from the Keiskamma Embroidery project (Eastern Cape).

R310 | Stellenbosch | +27 (0)21 809 1100
The Watershed
The Watershed opened in August 2014 as a replacement for both the old Red and Blue Craft Markets. Peruse the stalls and discover some of the best local design and craft products. This large, vibrant space houses over 150 tenants with more than 365 products ranging from home and decor to fashion and jewellery. The Watershed is open every day from 10am to 7pm.

V&A Waterfront | Cape Town | +27 (0)21 408 7840

Constantia Craft Market
Set in environmental parkland in the heart of Constantia; this elite market offers goods which echo the beauty of the African continent. Visit during the first and last weekend of every month for 100 small shops selling individual work. The market has credit card, refreshment, wheelchair and restroom facilities, with parking next door.

Alphen Common | Constantia Road | Constantia (opposite Constantia Village Shopping Centre)
Green Point Flea Market
Are you not sure what you're looking for? Visit the market that sells everything with over 400 stalls of cooking and electrical goods, antiques and bric-a-brac, books and magazines, and hardware. The market opens between 8:30am and 5pm every Sunday and you can also get your chops around some tasty morsels at the Food Emporium including fish and chips, boerewors rolls and Cape Malay delicacies.

Main parking area | Cape Town Stadium | Bill Peters Drive | Green Point | Cape Town | +27 (0)21 439 4805
Millstone Eco-friendly Farm Stall and Cafe
Head to one of Cape Town's best kept secrets for homely food in a relaxed setting with tables and chairs made from reclaimed timber. Visit between 9am and 5pm from Tuesday to Sunday to enjoy lazy breakfasts or lunches, vegetables delivered via horse and cart and homemade preserves and jams.

Oude Molen Eco Village | Alexandra Street | Pinelands | +27 (0)21 447 8226
Kirstenbosch Craft Market
Join 190 crafters offering a variety of hand crafted goods, refreshments and even pony rides. Visit between 9am and 1pm on the last Sunday of every month, from January to May, from September to November and the second and third Saturday of every month during December for gifts, curios, clothing and home ware. Why not take a stroll through Kirstenbosch National Botanical Gardens afterwards?

Rhodes Drive | Newlands (opposite main gates of Kirstenbosch National Botanical Gardens) | +27 (0)21 799 8800
Khayelitsha Craft Market
Head to this market for a chance to interact with locals, buy crafts and souvenirs and enjoy refreshments and traditional African meals. The market operates between 9am and 2pm on weekdays and between 9am and 12pm every Sunday.

St. Michaels and All Angels Anglican Church | Khayelitsha | +27 (0)21 361 5246

Milnerton Flea Market
Visit an excellent junk and second-hand flea market where you can find t-shirts, car parts, computers, Tupperware, telephones, exercise machines, kitchen sets, CD's, pancakes and ginger beer. The market with everything is open between 7am and 4pm on Saturday and Sunday.

Otto du Plessis Drive | Paarden Island | Cape Town

Century City Natural Goods Market
Are you looking for a unique gift or a handmade treasure? Head to an outdoor market with 40 traders stalls selling quality products and produce. Open from between 09:00 and 15:00 on the first Sunday of every month the market is a relaxed environment where you can also enjoy a good cup of coffee and a bite to eat.

Central Park | Park Lane | Century City | Cape Town | +27 (0)21 531 2173
Family Farmers Market at Lourensford Wine Estate
Nominated in Eat In Magazines 'Best Market' catergory of its Produce Awards for 2011 this market is home to delicious foods including breads, pastries, trout, cakes, vegetables and Bratwurst as well as a variety of wine, jewellery, plants and clothing. Visit between 9am and 4pm on the first Saturday and Sunday of every month to relax in their stunning gardens with an alfresco lunch whilst listening to live music. There's also plenty of kids entertainment. Read more about A One Day Holiday at Lourensford Wine Estate.

Lourensford Road | Somerset West | +27 (0)21 847 2259

Obs Holistic Lifestyle Fair
One of Cape Town's oldest markets this market will satisfy those with a holistic and healthy appetite with therapist and life readers, vegan, halal, organic and slow food, green, eco, recycled, health and healing products and much more. Open between 10am and 4pm on the first Sunday of every month the market is both dog and child friendly and offers patrolled parking.

Observatory Community Centre | Observatory (off Station and lower Main roads and Drake Street) +27 (0)21 788 8088
---
PLUS: Discover watersports and wine-tastings by the lake at Lakeside Lodge & Spa.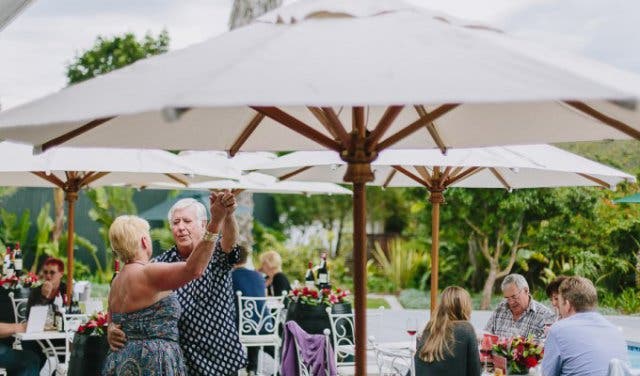 Shop local and support the community this Christmas at the Pinelands Craft & Gift Fair market and the TEARS Christmas Market. Discover Fridays for the whole family at The Fort Food Truck Market. And find unique gems at this car boot sale in Hermanus.
---
Enjoy a sun-filled Saturday at the Hucksters Food Market.
Picnic on the lawns to the sounds of jazz at the Kirstenbosch Craft & Food market.
Explore Chinese food, culture and heritage at the annual Chinese Spring Food Fair.
See if you can handle the hottest chilli in the world-infused hot sauce at the Annual Ferno Wings Challenge.

Find "the best stuff you've never seen" at the 2019 Kamers in Cape Town.
Groove to gypsy jazz tunes while sipping bottomless gin and tonics all afternoon at Sunday Gin & Jazz.

Get creative with the community at the Scarborough Fair Market.

Don't let the sunset on a Sunday be a sad thing – plan your week and following weekend by taking time to visit a market. Monday markets, Tuesday markets, Wednesday markets, Thursday markets, Friday markets.
Enjoy a lazy Sunday lunch by the sea at the First Sunday Rhythms or enjoy a Sunday Funday at Bugz Playpark.
Also check out the best of Cape Town for this and so much more.

---
Use our events section for an up-to-date overview of what's happening in the city, suburbs and dorpies. Join our newsletter and add us to your mobile home screen for the ultimate guide to discoveries in Cape Town.
Follow and like us on Twitter ❤ Facebook ❤ LinkedIn ❤ Instagram ❤ Pinterest for updates.