Off-The-Radar Beaches: Rocky Coves, Hidden Hamlets, Isolated Enclaves
17 idyllic sandy stretches for families, surfers, trendsetters, people watching and isolation
Last Updated: 5 November 2019
The Western Cape has kilometres of coastline, which means you can find pretty much any kind of beach you're in the mood for, from popular and family-friendly to romantic and remote-as-a-desert-island. Here's a list of beaches that will suit every kind of mood (and one of them is not even on the coast).
OUR MOST SECRET BEACH (BUT NO SWIMMING ALLOWED)
This beach is on top of Table Mountain, and you reach it after about four hours of strenuous hiking up Skeleton Gorge. The beach is at the far end of the Hely-Hutchinson Dam, which holds nearly a billion litres of water. You can dig your feet in the sand but you're not allowed to swim and face a fine of R500-plus if caught. The main Skeleton Gorge hiking route starts in Kirstenbosch National Botanical Gardens (up to R75 entrance fee).
Insider info: It's a man-made beach but is the by-product of the dams that were built in the late 1800s. The water in the dam is a clear, Rooibos-tea shade of orange because of tannins from the fynbos that leach into the water.
Where: Hely-Hutchinson Dam, Table Mountain
View this post on Instagram
A HIDDEN PATH LEADS TO THIS PRETTY ENCLAVE
The viewpoint above Smitswinkel Bay attracts cyclists and motorists, but few venture down to the beach because there's no official signboard at the path to indicate that it's accessible to the public. But you can reach it down a steep path with signposts indicating the way. There's no electricity at Smits, as it is affectionately known by locals. Residents (and their dogs) in the village use gas or opt for solar panels. It's a beautiful beach, but it's often windy and the water icy, and at high tide, the beach is almost lost. When accessible, you can explore the rock pools on the shoreline.
Insider info: You have to carry everything you need with you and there are no stores.
Where: It's on the bend of a road just before Cape Point Nature Reserve, around 20 minutes outside of Simon's Town.
View this post on Instagram
BOOK YOUR OWN HUT AT THIS ACCESSIBLE BEACH
This Blue Flag Beach gets top marks for safety, recreational facilities and eco-consciousness, making it the ultimate family beach. The adjoining Muizenberg Pavilion offers a water slide, outdoor swimming pool and putt-putt course. You can walk along the seafront walkway (from Muizenberg to St James) to enjoy the shoreline and whale watching (June to November). Dogs are allowed on a leash most of the year, barring 9am–6pm from November to March.
Insider info: The colourful Victorian bathing boxes that add bold colour to the beachscape are available to rent at R148 per day from 1 December until January from 10am–8pm Monday–Sunday. Make a booking at the beach office at 1 Beach Road.
Where: Main Road, Muizenberg, Cape Town (bathing boxes contact: +27(0)21 709 6076 or harald.ross@capetown.gov.za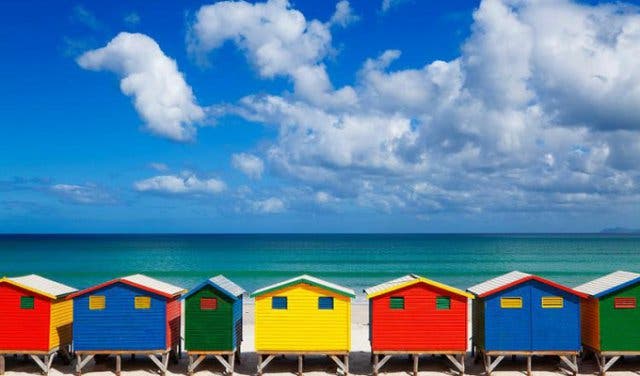 TAKE YOUR FAMILY TO THIS GARDEN ROUTE PARADISE
Herolds Bay is a beach hamlet hardly bigger than one square kilometre in size, about 15km from George. A rocky cove and forested hills shelter the bay, making it great for swimming, surfing and fishing. You'll have plenty of space to stretch out because the beach is wide and protected from the south-easterly wind. This family-friendly beach is perfect for playing ball sports or chilling. There's a tidal pool and braai area, as well as rock pools and short hikes all nearby.
Insider info: Catch spectacular sunsets from the Dutton's Cove Restaurant
Where: Herolds Bay Beach, Garden Route, South Africa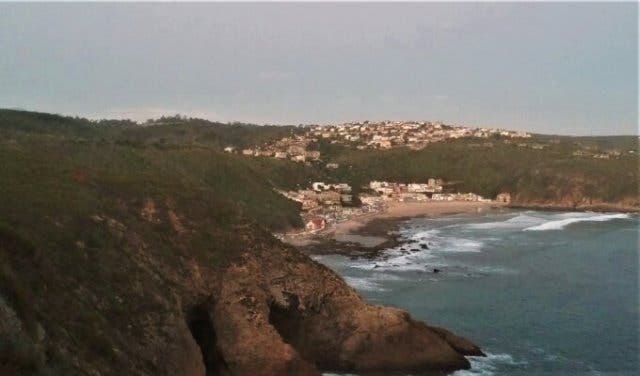 FIND PRISTINE NATURE IN WEST COAST NATIONAL PARK
Kraalbaai (previously known as Flamingo Bay) is a bay of the Langebaan Lagoon in the West Coast National Park. It has a distinctive landmark, Preekstoel (pulpit in Afrikaans), a rock formation that looks exactly like a preacher's pulpit that juts out of the still water at high tide. The idyllic lagoon-side stretch has fine, white sand and clear water for swimming, kayaking, snorkelling and supping.
Insider info: Moored houseboat accommodation is available for rent from Kraalbaai Luxury Houseboats.
Where: West Coast National Park, with a South African ID: R32–R64; standard conservation fee: R48–R96; higher rates in flower season (August and September); Hours: September to March: 7am–7pm; April – August: 7am–6pm; +27(0)22 772 2145
View this post on Instagram
SS KAKAPO SHIPWRECK AT LONG BEACH
This a wonderful beach walk (with your dogs and companions during daylight hours because it's a lonely stretch), along the white sand to the rusty wreck of the SS Kakapo. The over 68.6m-long SS Kakapo steamship was en-route to Sydney when she ran aground on 25 May 1900. Long Beach is 8km long, and you can reach the wreck from either the Kommetjie side or the Noordhoek side. For a longer, but more scenic walk, from the parking lot on the Noordhoek side of the beach, follow the boardwalk and turn left onto Long Beach. It's best to time this walk at low tide to stay dry.
Insider info: The wreck is partially buried on the beach because the ship ran aground with such force that it skidded a few meters up the beach.
Note: There have been attacks on this beach in the past, but fewer this year
Where: Long Beach, Kommetjie / Noordhoek, Cape Town
View this post on Instagram
RIDE WAVES AT THE BIRTHPLACE OF SURFING
This beach is considered the birthplace of surfing in South Africa. According to The City of Cape Town, a visiting Australian showed the locals how to ride the waves in around 1910. Soon after, surfers and swimmers began colliding, which necessitated an area demarcated for surfers. And thus, Surfer's Corner was established. It remains a great place to learn to surf and multiple surf schools cater to all ages and levels. From April to November dogs are allowed on leashes, but between December to March, no dogs are allowed between 10am and 6pm. This beach has attracted locals and foreigners to its sands and impressive backline for more than 100 years of surfing in Muizenberg.
Insider info: The Shark Spotters initiative started at this beach in October 2004 to improve beach safety, sounding the alarm when sharks are sighted.
Where: Beach Road, Muizenberg
View this post on Instagram
PICNIC AND SWIM CLOSE TO PENGUINS
The Boulders Penguin Colony at Boulders Beach in Simons Town is part of the Table Mountain National Park. The African Penguin is classified as an endangered species, but here you can get up close to a colony, who're resident on the beach (note: the African penguin is also referred to as the "Jackass" penguin, and you'll soon realise why).
Insider info: At no cost you may walk along the boardwalks, but it costs to enter the beach area. Enjoy the scenery and solitude of the quieter side of Boulders, and as you walk, peer beneath the bushes along the boardwalk to find nesting penguins.
Where: Seaforth Road, Simons Town, Cape Town, with a South African ID: R39 per adult and R20 per child; with SADC passport: R76 per adult, R39 per child; foreign visitors: R152 per adult, R76 per child.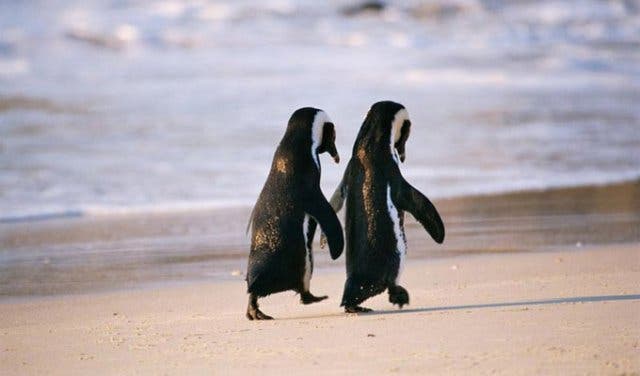 THERE ARE ALSO PENGUINS AND BOULDERS HERE
Windmill Beach is tucked behind The Simon's Town Country Club and golf course. Just like neighbouring Boulders Beach, it's surrounded by large granite outcrops, which also serve as a windbreak. The water is calm, flat and clear, offering safe paddling and swimming for children and good snorkelling further out. Dogs are allowed to run free on the sand, but must be on a leash on the pathways to the beach.
Insider info: The beach is often used as a scuba diving training site because it offers accessible entry and exit points, good visibility of the kelp forest's underwater life and minimal currents.
Where: Corner M4 and Bellevue Roads, Simon's Town
View this post on Instagram
IT'S A NIPPERS' PARADISE AT SUNRISE CIRCLE BEACH
Sunrise Beach is home to the False Bay Lifesaving Club, which provides volunteer lifesaving services in peak periods and offers a training ground for "nippers" (young lifeguards in training). It's also a favourite spot for kitesurfers to harness the strong southeasterly winds. Dogs are allowed to run freely east of the lifesaving building.
Insider info: This beach spills into the popular Muizenberg Market, which runs on Sundays 9am–5pm.
Where: Sunrise Circle, Muizenberg
View this post on Instagram
SHELTER AT THIS MAN-MADE BEACH IN GORDON'S BAY
Sheltered from the summer southerly winds, Bikini Beach is a man-made beach close to the harbour in Gordon's Bay. It's popular for sunbathing, swimming and surfing the left-hand break off the harbour wall. It's a Blue Flag beach that has lifeguards from December to March, plus there are parking facilities, hotels, restaurants and stores a few minutes' walk from the beach and at the adjacent harbour.
Insider info: Inland, Stellenbosch is a 45-minute drive from Gordons Bay, and female Stellenbosch University students lend the beach its name by regularly frequenting it in bikinis.
Where: Beach Road, Gordon's Bay Central
View this post on Instagram
THERE'S PLENTY SEALIFE AT MILLER'S POINT
Divers and anglers love Miller's Point because it's the main boat-launching slipway on the southern side of the False Bay coast. Further from the northern slipway is the Black Marlin seafood restaurant and Miller's Point caravan park. This marine-protected area offers abundant sea life, making it popular for scuba diving and fishing.
Insider info: While sea-kayakers generally enjoy the calm conditions, surfskiers prefer the howling southeasters for the "Miller's Run" (a downwind paddling route,) riding the swells to Fish Hoek.
Where: Miller's Point Road, Murdock Valley
View this post on Instagram
SCARBOROUGH IS POPULAR FOR ITS SURF
This long Scarborough beach is popular for kite-flying, kitesurfing and surfing. Swimming is best on calm days to avoid strong waves and rip currents. Rolling dunes back the beach and constitute a seasonal wetland area. There are two access points: from the Main road, it's a steep walk down a sandy track, alternatively, you can drive down the road just outside the entrance gates to Soetwater Resort to the car park. Dogs may run freely on this beach. Apart from a boat launch and slipway available to permit holders, there aren't public facilities here.
Insider info: A seafood processing factory is perched on a rocky headland, and surfers frequent the 'crayfish factory' as a big-wave surf spot.
Where: Witsands, Scarborough, Cape Town
View this post on Instagram
FOR STRONG WINDS AND GOOD VIEWS, COME HERE
Blaauwberg Beach is just 30 minutes' drive from Cape Town and is one of the world's most popular kitesurfing destinations. The winds reliably bring a one- to three-metre surf for the majority of the year. It's also popular for surfing, windsurfing and other sports, and offers a picturesque view of Table Mountain in the distance.
Insider info: Sunsets are spectacular from this beach, casting a warm light over the wet beach sand as the sun sets behind Lion's Head
Where: Otto du Plessis Drive, Bloubergstrand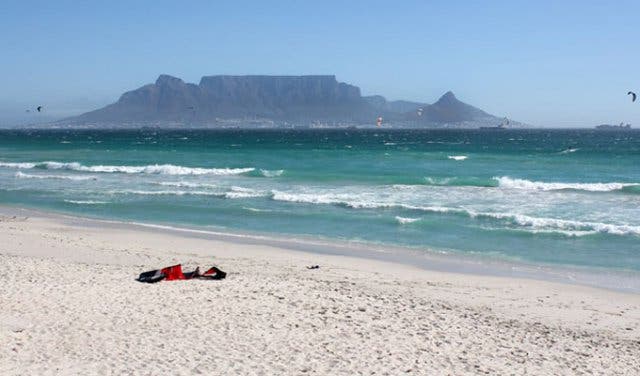 GRANITE BOULDERS, TOP VIEWS RIGHT IN THE CITY
On the doorstep of the surrounding private houses, Beta Beach is a small, off-the-radar beach with magnificent views of Lion's Head and the Twelve Apostles. Large granite boulders flank the beach and help shelter it from the wind. There are no waves, making it ideal for sunbathing and swimming.
Insider info: You can walk across the rocks to the right of Beta Beach to find a smaller secluded beach with spectacular views of Lion's Head in particular
Where: Victoria Road, Bakoven
View this post on Instagram
GORGEOUS COVE AT LLANDUDNO BEACH
Popular for sunbathing and surfing, this picturesque cove is a Blue Flag beach at the foot of one of the city's most affluent suburbs. Llandudno Surf Lifesaving Club volunteers services every day during Blue Flag season (1 December to 31 March). Dogs may run free except from November until March between 9am and 6pm.
Inside info: To the right of the beach, the Logies Bay promontory of granite boulders features several caves which were used by the Khoisan.
Where: Llandudno Road, Llandudno
SEA AND BE SEEN AT CAMPS BAY BEACH
Camps Bay Beach is where visitors and locals come to see and be seen. Cool off in the waves or head to the tidal pool for a swim. There are many stylish sundowner venues overlooking the bay on the Camps Bay Strip, which offers bars, shops and restaurants.
Insider info: Directly opposite the restaurants and cafes, on the beachfront, there are often street performers as well as artists who build impressive sandcastles of mermaids, the Big Five or airplanes that are up to five metres long. If you leave a tip, you may pose and take a photo.
Where: Victoria Road, Camps Bay | Cape Town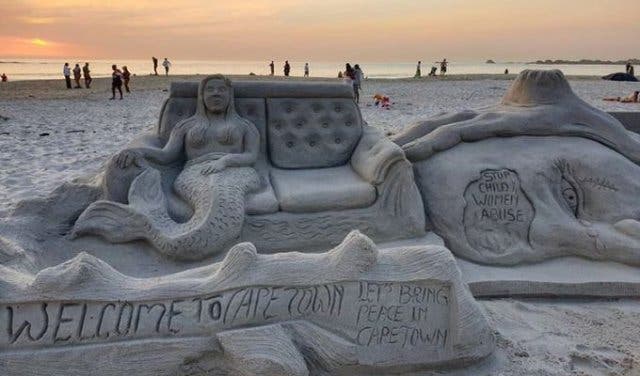 THE FOUR CLIFTON BEACHES ARE LEGENDARY
Offering white sands, blue waters and majestic mountain views, the four Clifton beaches attract sun-lovers from all corners of the globe for tanning, beach sports, people-watching and relaxing. Each beach has a vibe, from trendy to sporty. You can walk between them and pick the one that best suits you.
Insider info: Dogs are allowed to run freely on Clifton 1st Beach, and on the other three Clifton Beaches, only between April and October.
Where: Next to Bantry Bay | Victoria Road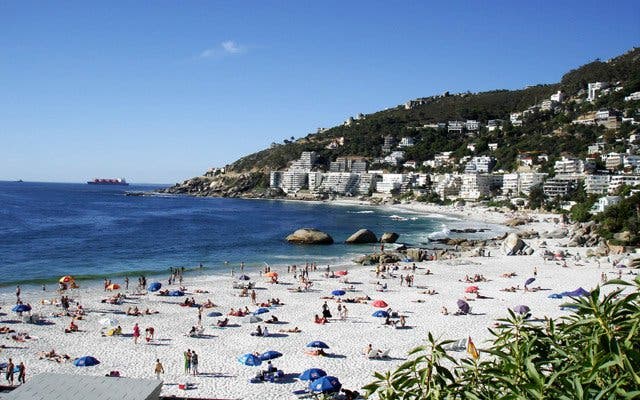 ---
Epic concerts on a luxury yacht at The Mirage Forever Summer Concerts.
Pitch your tent beneath a canopy of stars at any of these camping sites.
It's all about sun, sand and epic kitesurfing stunts at Kite beach Cape Town.
Catch gnarly waves at Cape Town's best surf spots.
Sunsets, fairy lights and fires at Dutchies beach restaurant in Hermanus.
Braai spots, snorkelling, beaches and more in a paradise cove at Oudekraal.
Don't break the bank with these free and cheap things to do with kids. So many things that the whole family can enjoy with our list of things to do with kids.
Stay between the 12 Apostles and the sea at Ocean View House.
Discover (and swim) at these special and hidden tidal pools in Cape Town and picturesque natural rock pools.
If you're not a fan of the beach, try out any of these public swimming pools or open to the public pools.
Learn to kitesurf at some of the best spots in Cape Town, from Bloubergstrand to Langebaan, with High Five kitesurf school or learn to surf with African Soul Surfer Backpackers.
It's all about sushi, seafood and sunsets at Blowfish in Blouberg. Check out their weekly sushi specials and their weekly calamari and prawn special.
Explore more with these epic hiking routes and stay over at unusual places to stay.
---
Use our events section for an up-to-date overview of what's happening in the city, 'burbs and dorpies. Join our newsletter and get quick access on the go by adding us to your mobile home screen for the ultimate guide to discoveries in Cape Town.
Follow and like us on Twitter ❤ Facebook ❤ LinkedIn ❤ Instagram ❤ Pinterest for updates.