See Small Marine Life Up Close At These Tidal Pools, Plus Get in a Good Splash
From hidden gems to popular pools, here are 13 swimming spots
Update: 7 January 2020

Tidal pools – free and safe to swim in – are the Western Cape's gems, and we are so spoilt for choice. Just look at this list, which also details the natural fauna and flora makes the visit to each one worthwhile. What's more, the revamped Ficks tidal pool in Hermanus now comes with a tapas restaurant.
YOU CAN SWIM AND EAT AT FICKS
Fick's Tidal Pool is cradled between the rocks in Hermanus. This amazing spot overlooks the ocean, making it an ideal summer venue for swims and sunsets. The restaurant, also called Ficks, has wooden decks that hug the cliffs surrounding the pool, and is a truly idyllic venue. Sip cocktails, dine on pinchos, and cool off in the crystal clear pool at Ficks.
What should you bring? Bring family and friends to celebrate your next milestone at Ficks before taking a dip in the pool. Pack a jacket; the weather tends to turn without notice. Please note, Ficks does not take reservations.
What wildlife will you find? Over whale season (June to November), you'll be able to see these magnificent mammals in the sea beyond the pool. Plus there are often dolphin sightings. There is plenty of intertidal marine life here, along with birds.
Cost: Free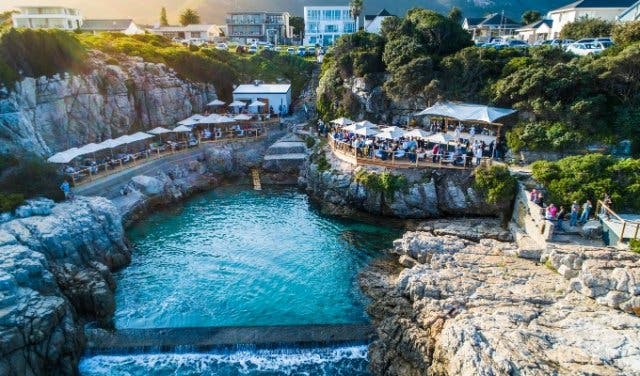 8 Westcliff Road | Hermanus
TAKE A DIP THEN BRUNCH AT DALEBROOK
Dalebrook is ideal for taking an early-morning dip – many regulars frequent it, so it's also safe – followed by breakfast/coffee at a nearby cafe like Bob's Bagel Cafe or Dalebrook Cafe. The pool is easily accessible, plus there are standard changing rooms and sections of the pool are shallow, making it ideal for kids. One of its biggest assets is that it's protected from the southeaster.
What should you bring? There's very little shade, so bring an umbrella and lots of sunscreen.
What wildlife will you find? Dalebrook is a popular dive site. Standing in the tidal pool, you'll probably come across small schools of fish and kelp pushed in by the tide, as well as starfish, sea anemones and moss along the walls.
Cost: Free
Photo by: Fanie du Toit


Dalebrook Road | Kalk Bay

TAKE A DIP AT ONE OF CAPE TOWN'S MOST POPULAR TIDAL POOLS
St James is one of Cape Town's most popular tidal pools and close to Dalebrook, so if you're not into crowds, you may want to give this one a skip or get there early for a quiet morning dip. It's also uber close to Folk Cafe, where you can grab a pizza, tapas or a burger.
What should you bring? Pack a surfboard, the reef is perfect for catching a wave or two, or a bodyboard. For the kids, pack beach toys like buckets, shovels, and sand moulds for sandcastle building.
What wildlife will you find? Watch the skies for albatross, petrels, shearwaters, tems or everyday seagulls. If you're in the tidal pool, watch where you step: you might encounter a spiky sea urchin.
Cost: Free
Photo by: Cape Town's Deep South


Main Road | St James Beach | Kalk Bay

TAKE THE TRAIN TO GLENCAIRN
If you're looking for something a little less busy, head down to Glencairn tidal pool, about four kilometres north of Simon's Town. It's near the train station and so is easily accessible, plus much of it is shallow, which makes it perfect for children. Get there early as the beach area is small, plus the wind can pick up in the afternoons. And after a long day of swimming and sunbathing, head over to Glencairn's restaurant strip for a drink or something to eat.
What should you bring? There's not much shade, so pack a brolly, sunscreen and a hat for that sweltering Cape Town sun.
What wildlife will you find? In the Glencairn area, you'll see a few klipfish and redfingers, plus a selection of seastars, sea cucumbers and large sea squirts. There are also usually gulls and cormorants on the rocks nearby.
Cost: Free
Photo by: Nigel Riley


Glencairn Beach | Glencairn

SIMON'S TOWN'S HIDDEN GEM
Roughly 5km outside the navy village of Simon's Town, along the coastal road to Cape Point, lies Miller's Point tidal pool. Getting to the pool involves a little walking, and it's hidden worth finding. Head to the Cape Boat and Sky-Boat Club, then turn left until you reach another boat launch spot: the tidal pool is between the two. There's a couple of sheltered pools for splashing, a braai area and picnic spots.
What should you bring? Something for the braai, definitely, and a picnic. There's very little protection from the sun, so pack those umbrellas – because of the hard ground, a tent umbrella would work best.
What wildlife will you find? This is a good place to snorkel as it's less frequented by the public. Small fish get pushed into the tidal pool by strong waves and there are starfish and crabs, plus plenty of resident cormorants and other birds on the surrounding rocks.
Cost: Free
Photo by: Jolize Asch


5km South of Simon's Town | Beyond Boulders and Seaforth | Miller's Point

THE BEST POOL FOR KIDS
Maiden's Cove is the perfect spot for families, and the tidal pool is great for kids because it's on the shallow side and sandy. Nestled between the beaches of Clifton and Glen Beach, the pool boasts stunning views of Table Mountain and the Twelve Apostles. You can watch the sunset from the grass nearby, plus there's a braai area.
What should you bring? Maiden's Cove is ideal for spending the whole day, so pack sunscreen along with a picnic. If you're staying until sunset, be sure to pack a jersey.
What wildlife will you find? There's a collection of algae along the walls. You can also hunt for shells on the beach.
Cost: Free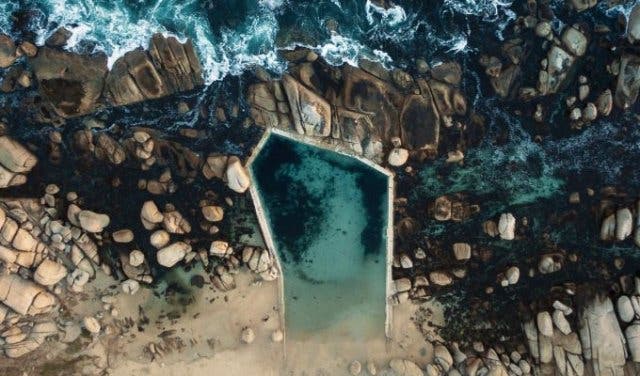 Off Victoria Road | Camps Bay

"DE KOM" IS DUTCH FOR "THE BOWL"
Sit in the shade of a milkwood tree as the kids splish-splash in De Kom tidal pool in Kommetjie. There are concrete steps and a handrail, so access is easy, plus you can see the Slangkop Lighthouse. The best time to visit is during the medium-high tide, since low tide leaves the pool somewhat empty.
What should you bring? Pack a nice early/late lunch, a picnic blanket and an umbrella (in case all the shade is taken) and relax on the grass.
What wildlife will you find? There's birdlife around the pool and, from time-to-time, flamingos come to wade in the shallow water.
Cost: Free
Photo by: Ken Jerrard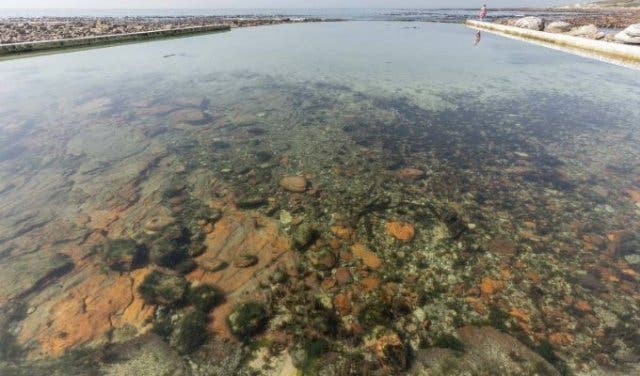 Lighthouse Road | Kommetjie

KICK BACK AND RELAX AT MONWABISI RESORT
Monwabisi is the largest man-made tidal pool in the south and caters mostly to the residents of Khayelitsha. Come summertime, it's filled to capacity. It's a popular spot because the cliffs along the seafront protect swimmers from the wind. There's also paddling pools and a pavilion nearby. Currently, the pool is closed for renovations, so be sure to call ahead and ask if they're open over the dates you want to go. They'll be up-and-running again at the beginning of December 2019.
What should you bring? Something to braai, and a picnic blanket, and some cash if you want to buy a snack from the kiosk.
What wildlife will you find? Look up into the clear blue sky and you might spot speckled mousebirds, black-shouldered kites, rock kestrels, and the Cape spurfowl.
Cost: For day visitors and braai facilities: R7 per child; R14 per adult; R7 per person for groups of 30
Photo by: Peter Kisiara


Off Baden Powell Drive | Khayelitsha | Ferosa.Maurice@capetown.gov.za

WE'RE NOT PULLING THE WOOL OVER YOUR EYES WITH THIS ONE
Wooley's is one of the smaller pools, but it's by no means the runt of the litter. The bigger pool has a baby tucked away in the corner where kids can paddle and splash while better swimmers use the main section. The rocks along the side of the pool are ideal for sunbathing or keeping a watchful eye on swimming children - be careful though; they can get slippery. Grab a hearty helping of fresh fish from Kalkys not far away, or swing by the Kalk Bay Food Market.
What should you bring? Take a towel for sunbathing on the rocks, and protective shoes for the urchins.
What wildlife will you find? Mostly here you'll find some small fish, anemones and sea urchins.
Cost: Free
Photo by: Nigel Riley


Main Road | Kalk Bay

SAFEST TIDAL POOL FOR KIDS
Catch the sunset at Saunders Rock, positioned between Clifton and Sea Point in Bantry Bay. Over weekends it's fairly crowded, but during the week, you may find yourself all alone. Because of the large rocks that surround the pool, it's often windless. According to the City of Cape Town, Saunders Rock is one of the safest tidal pools for kids because there are no crashing waves or strong rip currents.
What should you bring? Pack lots of toys for the kids to enjoy a full day by the beach, and an umbrella, there is no shade.
What wildlife will you find? The pool is quite small but popular, but you may see some birdlife about. You'll also view a sunset like no other, as only Cape Town can offer.
Cost: Free
Photo by: Grant Ashe


Saunders Beach | Sea Point Promenade | Cape Town

CAMPS BAY HAS COCKTAILS, SEAFOOD AND A TIDAL POOL
Camps Bay, on the Bakoven side, is home to own of Cape Town's most popular tidal pools. Camps Bay pool is large and easy to access, plus you'd be spoiled for choice if you decide to grab a bite to eat or have cocktails as the sun sets. The sandy beach is perfect for sunbathing and the pool offers an unrivalled view of Table Mountain and the Twelve Apostles.
What should you bring? If you're looking to catch a wave or two, too, bring your boogie board. Bring a camera, because the sun setting directly behind the tidal pool is a picture-perfect opportunity not to be missed.
What wildlife will you find? The shallow pools near the tidal pool are home to small marine life, such as starfish, sea urchins and a variety of sea cucumbers.
Cost: Free
Photo by: Imraan Phillips


Victoria Road | Camps Bay

REVEL IN THE VARIETY OF ANIMAL LIFE
About an hour-and-a-half outside of Cape Town, almost at the very end of the continent, sits Buffels Bay in Cape Point Nature Reserve. On this relatively sheltered and crowd-free beach is a tidal pool that's ideal for a post-hike/cycle dip. There's even a grassy lawn for your picnic. And the pools are safe for little ones to explore to their hearts' content.
What should you bring? Bring along something for the braai or pack a ready-to-eat picnic and some blankets. A beach umbrella will also go a long way. Just remember to bring firewood and matches.
What wildlife will you find? The area has a wealth of diversity, including animals such as the eland, bontebok, Cape mountain zebra, and a variety of flora and birds. Be careful of the baboons, too.
Cost: For South African citizens: R40 for children ages 2 to 11 and R80 for adults; for international visitors: R160 for children and R320 for adults
Photo by: Simoné Visser


Via M4 | Cape Point Nature Reserve | +27 (0)21 780 9010 | info@capepoint.co.za

PLAYFISH AND PADDLEBOARD IN HEROLDS BAY
This tidal pool close to George is surrounded by smaller rock pools. A concrete ramp leads into the chilly water, then half a meter of silky sand which gives way to rocks. The tidal pool is safe during low tide; during high tide, large waves crash against the walls and spill over into the pool, creating rough currents that could be hard for small children to handle. It is advised that swimmers not stand on the back wall during high tide.
What should you bring? The tidal pool and surrounding rock pools are ideal for play-fishing, so pack nets and little fishing rods (you can buy them at the nearby shop). The pool is also ideal for snorkeling and paddle boarding. Bring a pool inflatable to chill and soak up the sun during low tide.
What wildlife will you find? Keep a lookout for Herolds Bay's resident squid, who visits the shallow ends of the tidal pool every now and again. Whether it's the same one or a different one each time, no-one knows. Other than that, you'll find small marine life, such as fish, starfish, crabs and sea cucumbers.
Cost: Free
Photo by: Charlotte Coetzee


Beach Road | Herolds Bay

PLEASE NOTE: All operating hours and entrance costs are subject to change
---
Pitch your tent beneath a canopy of stars at any of these camping sites.
Catch gnarly waves at Cape Town's best surf spots.
Don't break the bank with these free and cheap things to do with kids. So many things that the whole family can enjoy with our list of things to do with kids.

Have safe Summer fun with this selection of Public Swimming Pools.

It's all about fun in the sun and sand at the beach.

Let the family festivities begin at one of these Cape Town braai spots.

Drop in for wine and pintxos at Ficks.

Off-the-radar beaches: Rocky coves, hidden hamlets, isolated enclaves at these beaches in the Cape.
---

Stay between the 12 Apostles and the sea at Ocean View House.xxx Supercharge your event? Our Events Support Programme gets results. Contact support@capetownmagazine.com or +27 (0)21 565 0415.

Use our events section for an up-to-date overview of what's happening in the city, suburbs and dorpies. Join our newsletter and add us to your mobile home screen for the ultimate guide to discoveries in Cape Town.

Follow and like us on Twitter ❤ Facebook ❤ LinkedIn ❤ Instagram ❤ Pinterest for updates.