Animal Encounters and Petting Zoos, Farms and Wildlife Parks in Cape Town
There's a petting zoo and jungle gym for the kids at Alpaca Loom in Paarl. At Cape Town Ostrich Ranch you can ride the big birds. Or taste wine while animal watching at Saxenburg Wine Estate.
Last updated: 21 December 2018
We braved the depths of shark-infested waters, posed for pictures with those birds in tuxedos, rode creatures taller than a horse and petted cats that run faster than the Cape Town speed limit, without injury, to share with you our pick of places to visit animals in Cape Town and surrounds.
UNDER THE SEA
A great all-age, any-weather place to see ocean animals is the Two Oceans Aquarium. At this underwater wonderland you'll find over 3000 living sea creatures, and if you time your visit right, you can even watch some of the critters, like those adorable penguins, being fed. Your little ones will love the interactive touch pool and the kiddies play centre. The Aquarium is free for South Africans on their birthday. Find out more about the Two Oceans Aquarium.
Price: Children under four get in for free. Prices range depending on age so check their website for seasonal prices.
Opening times: Daily: 9:30am–6pm (including public holidays).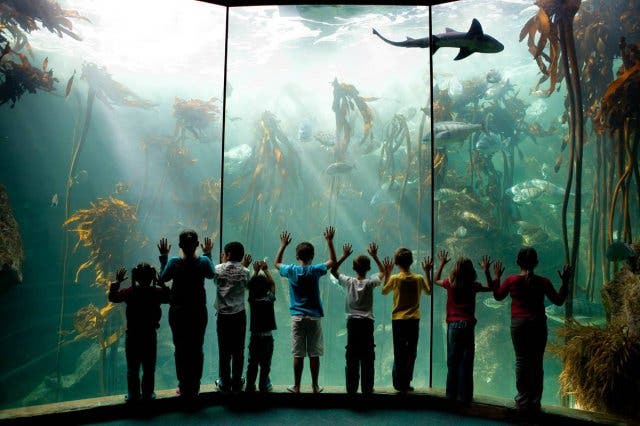 V & A Waterfront | City Centre | Cape Town |+27 (0) 21 418 3823
ENDLESS CUDDLES AND PLAYTIME AT VREDENHEIM ANIMAL FARM
Every Saturday and Sunday between 10am to 4pm (check the Facebook page for info on daily open times during school and public holidays), R45 per kid (R25 for adults) gets you into Vredenheim Animal Farm in Stellenbosch, a safe, farmyard-style gated and fenced area amidst this wine farm's vineyards. Inside, the little ones can interact with bovine calves, friendly sheep, fallow deer, turkeys, free-roaming chickens and rabbits and – everyone's favourite – three resident pigs. All tame and all friendly (you can buy an animal feed bag for R7 at the food court). Combine this with the large farm-style playground, complete with sandpit and mini bike racetrack (beach toys and push bikes provided by the farm), as well as a jungle gym and birthday party venue, and you have a recipe for family fun. Also, enjoy a tour on the nearby wine farm, get up close with lions, leopards and tigers on the farm's big cats park, or book a unique game drive.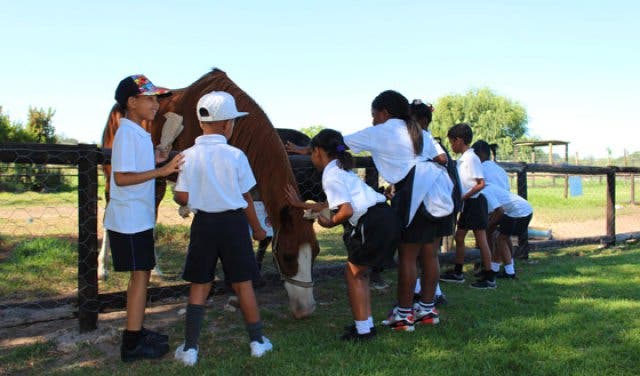 R310 Baden Powell Drive | Stellenbosch | +27 (0)21 881 3878
CHANNEL YOUR INNER CALM – SURROUNDED BY GOATS
This concept brings animal therapy and exercise together. Fairview tested the concept for in event in 2017, and people loved it so much, they have opened the experience to the public. It's as simple and cute as it sounds, doing yoga in a goat pen. One day a goat might hop on your back, another just they just sleep in the corner.
Price: R185/p include the yoga session and breakfast.
Opening Times: Saturdays 9am–10am.
Fairview Wine Estate | Suid-Agter-Paarl Road | Paarl | 083 729 5858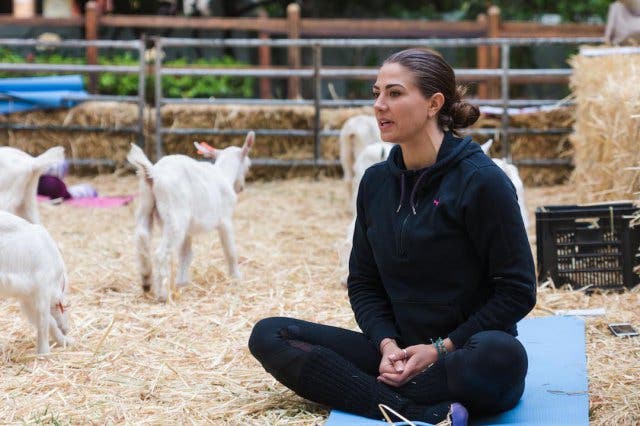 DID YOU SAY SOUTH AMERICA? ALPACA MY BAGS
Cute and fury, alpacas are a type of camel that originate in South America. But you don't have to travel across the ocean to see them up close. Say hello to these fascinating creatures at the Alpaca Loom in Paarl. There's a petting zoo and jungle gym for the kids, while the adults can enjoy tea and cake at the coffee shop.
Opening Times: Daily 10am–6pm.


Suid-Agter-Paarl Road | Paarl | 021 863 2495
A SLICE OF SAFARI AT SAXENBURG WINE ESTATE
The Kuils River-based estate boasts a 40-hectare reserve, where you'll find ostriches, wildebeest and zebra. In summer, guests can watch the animals while wine tasting. The Saxenburg animal guides will speak to you about the wildlife and the wine team leads a guided sampling session.
Price: Wine tasting and safari (September to April) is R170 for a group of five people.
Opening times: Monday – Friday: 9am – 5pm; Saturday – Sunday: 10am – 5pm.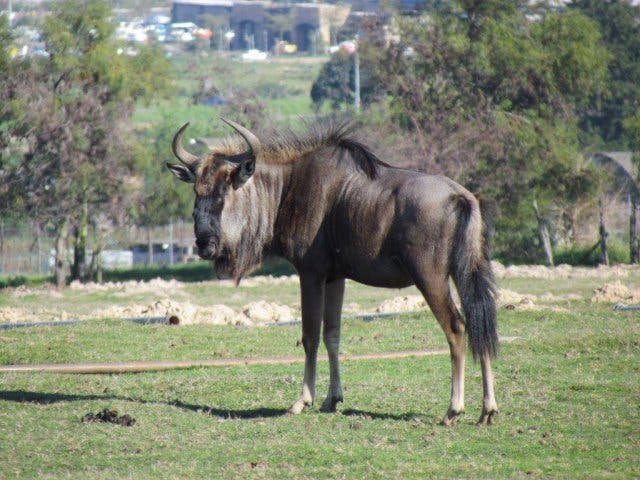 Polkadraai Road | Kuils River | Cape Town | +27 (0)21 903 6113
SEE THE BIG 5 RIGHT HERE IN THE WESTERN CAPE AT AQUILA
This private game lodge, sprawled over 10 000 hectares in the Klein Karoo, is one of the only parks within a two-hour drive of Cape Town that offers visitors the chance to view all of the Big Five. You'll also see hippos, giraffes, springboks, wildebeest and over 170 various bird species, including the namesake and resident eagle of the Karoo, the Aquila.
Price: Prices depend on the kind of safari chosen. Check their website for details.
Opening times: Daily. Phone to confirm a time for a guided tour.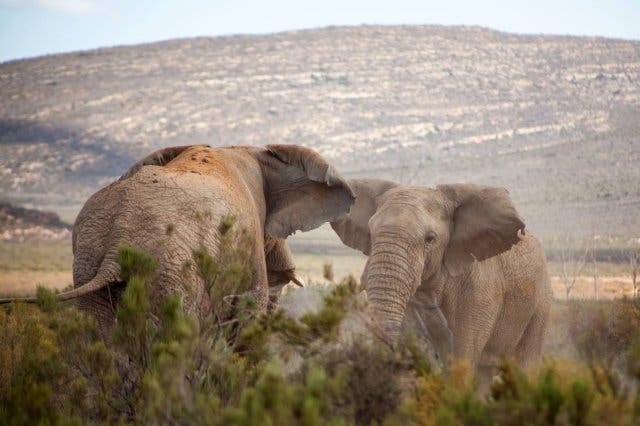 Touws River | Western Cape | +27 (0)21 430 7260
FAIRY GLEN GAME RESERVE – WHERE BIG GAME MEETS ROCK ART
It's an hour away from Cape Town and has a giant portfolio of animals, including buffalo, lions, blue wildebeest, eland, the endangered bontebok, zebras, lynx, oryx and many more. The guided tours are in open 4x4 vehicles. There's also a Khoisan rock art heritage site
Price: Prices start at R1650/p for a self-drive safari for adults. Check their website for a detailed list of prices for each activity.
Opening times: Morning tours start at 8am and afternoon tours start at 1pm.

Brandwacht Road | Worcester |+27 (0)21 424 9173
BIRDS OF A FEATHER FLOCK TOGETHER AT SPIER
This wildlife conservation centre is a home to injured, poisoned and hand-reared birds of prey. It's a prime spot for viewing birds, ranging from dancing barn owls to American black vultures, martial eagles, yellow-billed kites, peregrine falcons, blue cranes and jackal buzzards. There are a few non-feathered animals around too, including bearded dragons, a two metre-long boa constrictor, leopard tortoises and an African crested porcupine.
Price: Adults R80/p, children, students and pensioners R65/p
Opening times: Daily: 9:30am–5pm.

Spier Wine Farm | R310 | Stellenbosch | +27 (0)21 858 1826
SNORKELING WITH SEALS IN HOUT BAY
This incredible marine experience gives anyone from the age of six the chance to swim with the curious Cape fur seals in the clear waters of the Atlantic Ocean. The three-hour adventure takes place just off the coast of Hout Bay's Duiker Island, which is home to thousands of seals, and the animals are even known to come within an arm's length.
Price: Seal Snorkelling with Animal Ocean rings is R800/p, which includes all equipment.
Opening times: The tour usually commences at 10am at the National Sea and Rescue Institute (NSRI) in Hout Bay Harbour, but other departure times may be arranged.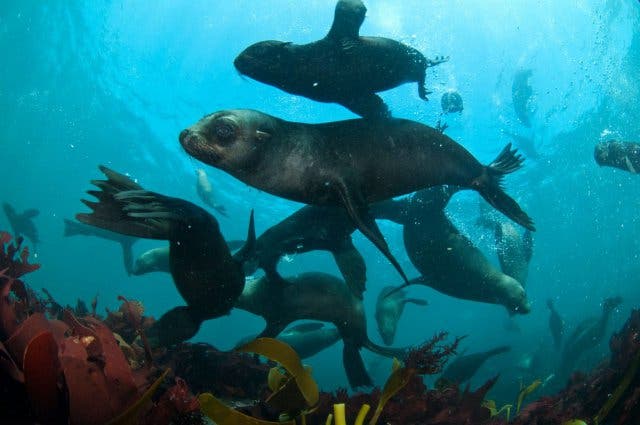 +27 (0)72 296 9132 | info@selasnorkeling.com
BUTTERFLY WORLD ZOO – MORE THAN JUST BUTTERFLIES
This indoor tropical garden is home to more than butterflies (though these delicately winged creatures are certainly the show stoppers). You'll also find reptiles, tarantulas, birds, marmoset monkeys, meerkats and more. Make a day of it and have a meal at the on-site restaurant, Jungle Leaf Café.
Price: Adults R88/p, children R49/p, students and pensioners R79/p.
Opening times: Daily: 9am–5pm.


Route 44 | Klapmuts | Paarl | +27 (0)21 875 5628
A SANCTUARY DEDICATED TO AFRICA'S LARGEST BIRD
At The Ostrich Ranch you'll find an abundance of things related to this giant non-flying bird. You can take a guided tour of the ostrich farm through the breeding enclosures, you might spot newly hatched chicks and a male ostrich doing a majestic mating dance.
Price: Adults R80/p, children (2-6 years) R31/p, children (7-16 years) R65/p.
Opening times: Monday to Sunday: 9am – 5pm.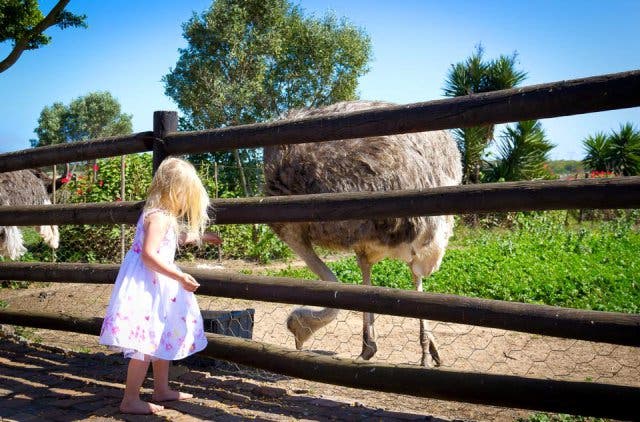 Van Schoorsdrif Road | Philadelphia | Western Cape | +27 (0)21 972 1955
PENGUIN VIEWING AT BOULDERS BEACH
For a special experience perfect for animal enthusiasts of all ages, visit one of the few African penguin colonies in the world at Boulders Beach in Simon's Town. Part of the Table Mountain National Park, the area, which comprises three beautiful rock-laden beaches and three meandering boardwalks, is home to over 2000 of these adorable feathered friends.
Price: R75/p for adults and R40/p for children under 12.
Opening times: Open daily. April to September: 8am–5pm, December to January: 7am–7:30pm, February to March: 8am–6:30pm, October to November: 8am–6:30pm.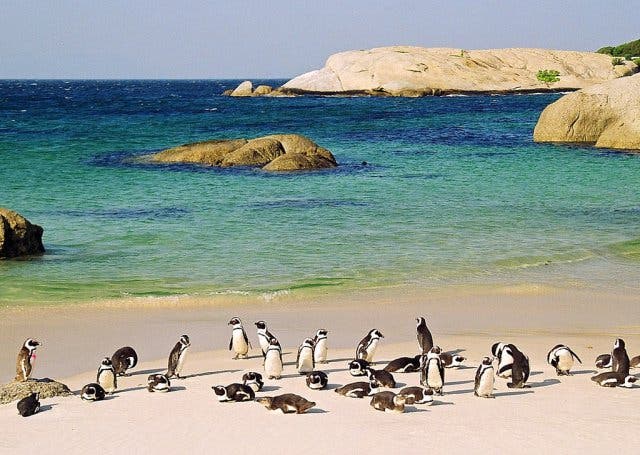 Boulders Beach | Simon's Town | +27 (0)21 786 2329
GET FACE TO FACE WITH A CHEETAH AT CHEETAH OUTREACH
Seeing a cheetah, the planet's fastest land-based mammal, up close is a special experience. This programme on a farm in Somerset West is to increase awareness, educate people and raise funds for this endangered species. View these magnificent cats, listen to talks, watch the predators at full sprint and then, if you have the gumption, pet the cheetahs' soft fur.
Price: Entry to the general park costs R10/p during the week and R5/p on public holidays and weekends. Engaging with the adult cheetahs: adults pay R150/p and children (under 14) pay R90/p. Engaging with a cub (when available) is R250/p for both adults and children.
Opening times: Monday – Sunday: 10am – 5pm; encounters take place between 10am and 1pm and again from 2pm to 5pm.

Firgrove | Somerset West | +27 (0) 21 851 6850
PAWS AND CLAWS, SADDLES AND SCALES AT IMHOFF FARM
Enjoy hours of fun at the Higgeldy Piggeldy Farmyard, petting goats, pigs, sheep, ducks, geese, chickens, rabbits, guinea pigs and ponies. And for the braver visitors, there are snake encounters that invite you to hold the cold-blooded, slithery creatures for a memorable photo moment. Imhoff Farm also offers horse-riding outings on the beach, and well as camel rides on the farm.
Price: A short camel ride is R50/p for children under 12 and R70/p for adults. A scenic camel ride costs R300/p, while a horse ride is R550/p and a snake encounter costs R70/p for adults and R50/p for children.
Opening times: Tuesday – Sunday: Camel rides are available from 12pm to 4pm and snake encounters are available from 9am to 5pm. Monday – Sunday: Horse rides leave at 8am, 12pm and 4pm.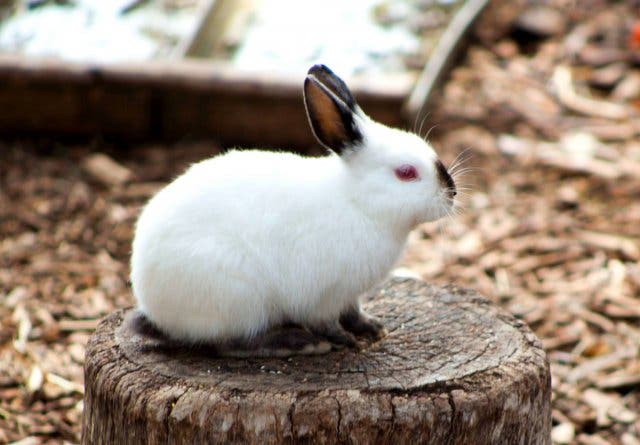 Kommetjie Road | Kommetjie | +27 (0)21 783 4545
STEP INTO THE GIRAFFE HOUSE
The Giraffe House, just outside Stellenbosch, is where your kids can have an educational petting zoo experience. This well-maintained farm has a long list of four-legged friends to accompany the Gerry, the giraffe: Cape fox, the bat-eared fox, warthog, caracul, prairie dogs, ostrich and even zebra and springbok.
Price: Adults R50/p, children (2–15 years) pay R30/p, seniors R35/p.
Opening times: Open daily: 9am – 5pm. Reptile show is at 11am, 1pm and 3pm.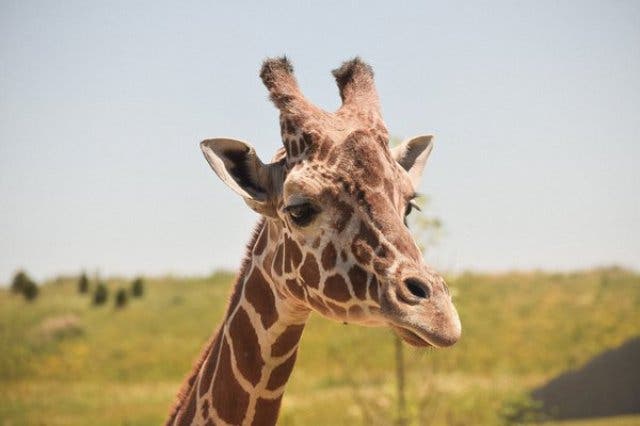 Cnr R304 & R101 | Stellenbosch | +27 (0)21 884 4506
A WORLD OF FEATHERED FRIENDS
As Africa's largest aviary, World of Birds in Hout Bay has over 3000 animals and over 400 different species, including monkeys, foxes, squirrels, guinea pigs, ducks, lovebirds, eagles and swans. You can watch the penguins, pelicans or birds of prey being fed, which is a fascinating experience, or step into the monkeys' enclosure for a close encounter.
Price: Adults R120/p, children R45/p, pensioners and students (with a card) R75/p.
Opening times: Open daily: 9am–5pm; birds (like penguins and pelicans) are fed from 11:30am to 1pm and 2pm to 3:30pm, and birds of prey are fed at 4:15pm.


Valley Road | Hout Bay | +27 (0)21 790 2730
SHARK CAGE DIVING IN GANSBAAI
If you would like more of an extreme animal encounter and you are over 12 years old, try shark cage diving. You can hire a shuttle to drive you from Cape Town to Gansbaai, home to the highest density of great white sharks. You'll be lowered into a cage in the water, and the great white sharks will be circling just beyond, arm's length.
Cost and times: Depends on the tour operator.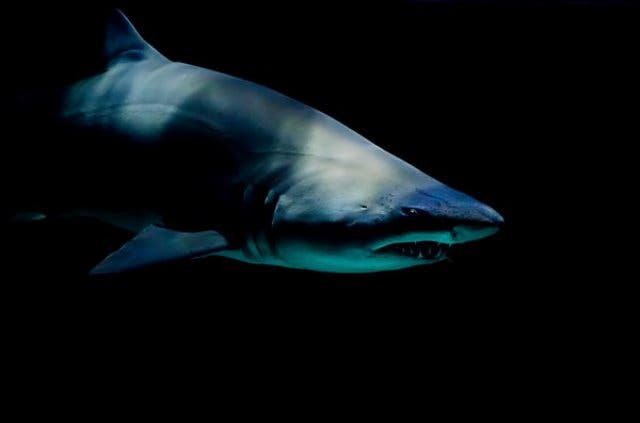 Gansbaai Tourism | Gansbaai | +27 (0)87 723 9331
WHALE WATCHING IN HERMANUS
The coastal town of Hermanus is where you can go to see one of the majestic giants of the ocean, the whale. See Southern right whales, humpback or Bryde's whales. There are various ways to watch the whales, like from a boat, from a helicopter, while kayaking or simply from one of the many vantage points along the coast.
Cost and times: Costs depend on your type of whale viewing, and the best time to go is between the months of May and November.


Hermanus Tourism | Hermanus | +27 (0)28 312 2629
---
Race at your own pace, without any pressure at Runstacle.
Get inked and support the animals at DARG at the Charity Tattoo Day at Cape Electric Tattoos.
Bring 'n braai 'n jazz legends at Jazz in the Kraal.
Cycle on water and see Simon's Town from a Water Bike.
Bring the kids: Check out Bugz Playpark in Kraaifontein. Keep the little ones occupied with these 50 activities for kids and see our free and cheap things to do around the city with the kids.
For a family holiday, check out this Karoo family farm accommodation and this Swellendam farm stay special.
Help some cute kitties out just by visiting them (and enjoying a cup of coffee) at South Africa's first rescue cat cafe, Cat Heaven Cat Cafe. Plus: Here are the places to volunteer in Cape Town. And have some doggone fun in Melkbosstrand at this fundraising walk for pit bulls.
---
Use our events section for an up-to-date overview of what's happening in the city, 'burbs and dorpies. Join our newsletter and get quick access on the go by adding us to your mobile home screen for the ultimate guide to discoveries in Cape Town.

Follow and like us on Twitter ❤ Facebook ❤ LinkedIn ❤ Instagram ❤ Pinterest for updates.