From Buying Tickets To Getting There - A Guide To Table Mountain In Peak Season
A how-to guide to getting the most out of Cape Town's most impressive landmark during the tourist season
Last update: 18 December 2019

With the summer season settling over the Mother City, tourists from across the world are flocking to Cape Town for the temperature, beautiful beaches and variety of activities and must-see landmarks. It's the city's busiest period, so here are some tips for navigating the long lines and scarce parking. From transport and things to do on top, to buying early access tickets, we've got you covered.

Please note: The Table Mountain Aerial Cableway will be closing the cableway from 7 July 2020 to 26 July 2020 for the annual maintenance period.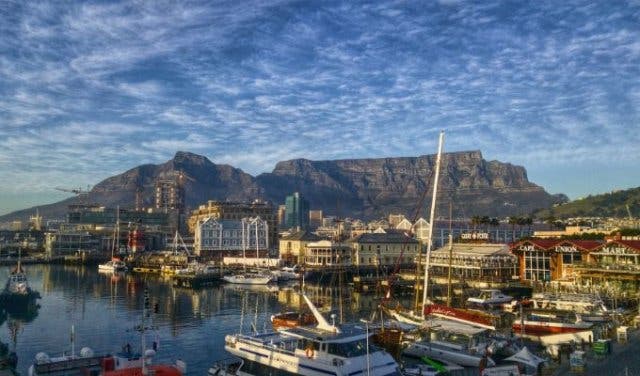 SKIP THE QUEUE WITH PRE-PURCHASED TICKETS
Buying your tickets online saves heaps of time when it comes to going up Table Mountain via the aerial cableway. With your pre-bought ticket, skip the line at the ticket counter and scan your barcode (printed or on your smartphone) at the entrance. You can buy tickets online.



HERE'S A BREAKDOWN OF TICKET COSTS FOR 2019/2020:
Ticket Type

Price: Round Trip

Price: One-way

Adult

R360 from open–1pm

R300 from 1pm–close

R200

Child (ages 4 to 17)

R180 from open–1pm

R150 from 1pm–close

R100

Early access

R450 from 07:30am–8am (ticket comes with a free coffee and a muffin you can redeem at the Wifi Lounge)

-

Student

R180 all day

R100

Pensioners

R100 all day

R50

Kids under 4

Free all day

Free
Please note that the Cableway is entirely weather and season dependent, meaning that times for the first car up and the last car down differ during different times of the year. In case of storms or strong winds, the Cableway is not operational. Plan ahead by checking out the weather beforehand (you can also look on the Table Mountain Aerial Cableway website for updates) and the schedule below:
| | | | |
| --- | --- | --- | --- |
| Time of Year | First Car Up | Last Car Up | Last Car Down |
| 1 December 2019–15 December 2019 | 8am | 07:30pm | 08:30pm |
| 16 December 2019–15 January 2020 | 8am | 08:30pm | 09:30pm |
| 16 January 2020–31 January 2020 | 8am | 07:30pm | 08:30pm |
| 1 February 2020–31 March 2020 | 8am | 7pm | 8pm |
| 1 April 2020–30 April 2020 | 8am | 06:30pm | 07:30pm |
| 1 May 2020–31 August 2020 | 08:30am | 5pm | 6pm |
SAVE PETROL, THE PLANET AND TIME
The Table Mountain Aerial Cableway suggests visitors skip the frustration of looking for parking in the always-full parking lot by using public transport, like a meter taxi (usually charges between R10 and R20 per kilometre), an Uber, the Hop-On, Hop-Off City Sightseeing bus (tickets are between R220 and R320 per person) or the free MyCiti Shuttle that comes from the Lower Tafelberg Road stop (off Kloof Nek Road) on route 110. The shuttle will drop you off in front of the Lower Cableway Station: keep in mind that it only runs until 7pm. Minibus taxis are also an awesome way of getting around (and they won't break the bank). Fares average around R7 per trip and depart from outside the Post Office on the Grand Parade. They can drop you off on Kloof Nek Road to catch the MyCiti shuttle. Make sure to ask the driver if you're on the right route and what the fare is before you get in - they're always willing to help.


WHAT TO DO ONCE YOU'RE ON TOP
Table Mountain has a host of activities you can participate in, from simply looking around to chilling in the Wifi Lounge (entrance is free) to hiking one of the paths. The Wifi Lounge and Table Mountain Café both open the same time that the first cable car goes up and close 15 and 30 minutes (respectively) before last car down. You'll find an assortment of treats and drinks to enjoy, plus, the lounge comes with facilities that allow you to charge your mobile devices. There's a balcony with an unbridled view of the city, too.

From 9am to 3pm daily, there's a free walking tour that departs from the Twelve Apostles Terrace (below the Table Mountain Café). The tours are family-friendly and each lasts only 30 minutes. Or, if you want to take the tour at your own pace, download the Voicemap app before heading up the mountain (or using the wifi at the Wifi Lounge). On the app, there are two free audio tours: one for in-line entertainment at the Lower Cableway Station; the other a tabletop walking tour. Both tours run offline once downloaded.



THE TOP IS WHEELCHAIR-FRIENDLY
The Table Mountain summit consists of a series of paved pathways, making sections of the mountain entirely wheelchair-friendly. Plus, there are plenty of ramps and elevators at the Lower Cableway Station and Table Mountain Café, and an elevator that gives access to the Wifi Lounge at the Upper Cableway Station. Disabled visitors also don't have to wait in line or look for parking: show your disabled parking tag at the Lower Cableway Station and the team will show you to the disabled parking bays. Visitors who use wheelchairs have priority when purchasing tickets and riding the cableway. To help you plan your visit, you can download a map of wheelchair-friendly areas.

KEEP YOUR EYES OPEN FOR SPECIALS AND DISCOUNTS
Currently, all South African pensioners and students get a discounted rate on tickets if they bring their identification documents or passports along. South Africans over four years old (with valid birth certificate/identification) can ride the cableway for free on their birthday. And tickets are half price for locals from 1 November 2019 to 29 February 2020 (excluding 19 December 2019 to 2 January 2020) for the Sunset Special. Adults pay R150 for a return ticket after 6pm daily; kids pay R75.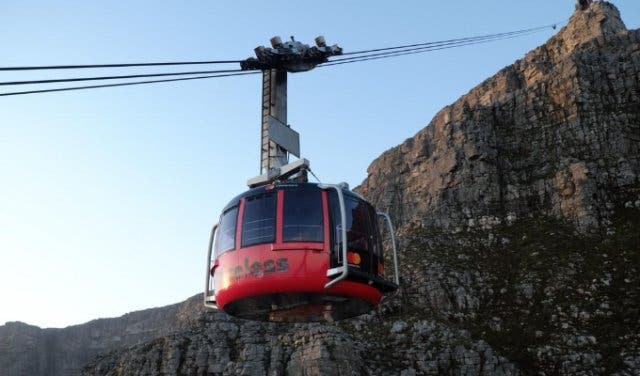 REFUNDS DON'T HAVE TO BE A SCHLEP
Table Mountain Aerial Cableway offers full refunds within a certain period of purchase. Normal tickets (valid for seven days) can be refunded within seven days of buying. Early Access tickets (valid for two days) can be refunded within two days. If you'd like your ticket refunded and fall within the prescribed period, simply send an email to refunds@tablemountain.net. If you want a refund on tickets paid for at Pick 'n Pay, email refunds@webtickets.co.za.

WHAT TO BRING ALONG
The cableway recommends visitors bring good walking shoes (even if you're not hiking to the top), lots of sunscreen (even when it's overcast), sunglasses, a warm jacket and, of course, a camera. They also suggest that Cableway-travellers allow enough time to walk up and down the mountain (even with purchased tickets), as the cable cars do occasionally become non-operational in windy or bad weather.



SAFETY FIRST
Always keep safety in mind, especially when the mountain gets crowded. Check the operational status of the cableway on the Table Mountain Aerial Cableway website or by calling +27 (0)21 424 8181. And in the event of an emergency, call Metro Rescue on +27 (0)21 948 9900.

---

If you're looking to dive deeper into the mystery of Cape Town's biggest landmark, check out these Eleven Table Mountain Facts.

Make your stay painless and memorable with these travel safety tips.

See twenty ways to survive tourist season in Cape Town.

Check out this guide to tipping in South Africa.

You can wake up on Table Mountain at the Overseers Cottage.

Check out everything you need to know about hiking Lion's Head.
Take a piece of Cape Town wherever you go with these souvenirs.
---

Supercharge your event? Our Events Support Programme gets results. Contact support@capetownmagazine.com or +27 (0)21 565 0415.

Use our events section for an up-to-date overview of what's happening in the city, suburbs and dorpies. Join our newsletter and add us to your mobile home screen for the ultimate guide to discoveries in Cape Town.

Follow and like us on Twitter ❤ Facebook ❤ LinkedIn ❤ Instagram ❤ Pinterest for updates.