Eat, Play, Laugh: Comedy 5 Nights a Week at the Waterfront
Discover local and celebrity comedians, enjoy good food and share the experience at Cape Town Comedy Club in the Waterfront's Pumphouse
Chilli poppers and Jou Ma Se Gatsby. A craft beer you can only order here. The awesome atmosphere in the Waterfront's historic Pumphouse building. And Cape Town's funniest: from new local comedians to Cape Town's most celebrated comics.
If laughter really is the best medicine, then the doctor is in the house with live comedy and dinner five nights a week. Nobody leaves Cape Town Comedy Club without a good, gut-busting ab workout and a great meal.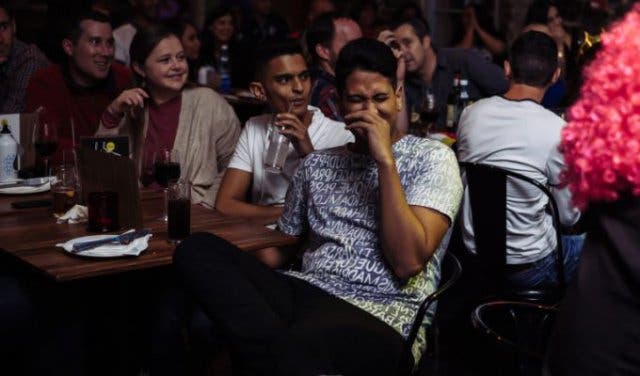 Picture by Maryke Howard

RATED ONE OF THE WORLD'S BEST COMEDY CLUBS
The Waterfront venue serves up laughter from Wednesday to Sunday, and has been featured twice on Comedy Central, showcasing regulars Nik Rabinowitz (2015) and Martin Evans (2016).
Recently voted as one of the ten best comedy clubs in the world by Traveller.com, Cape Town Comedy Club is at the centre of a South African comedy revolution, especially if you're looking for some Wednesday night comedy.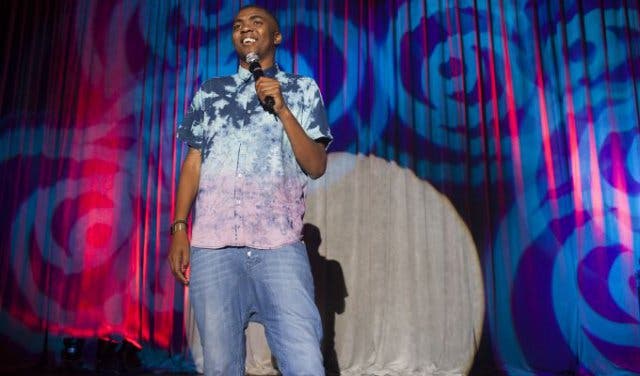 HUGE CAPE TOWN SUCCESS STORY
The club might be Cape Town's undisputed home of comedy now, but it's come a long way from its once-a-week comedy night roots in Observatory. In 2013, founder and owner Kurt Schoonraad took a huge leap of faith and moved the "then-scrappy stand-up" start-up to The Pumphouse, building it into the province's only dedicated comedy venue.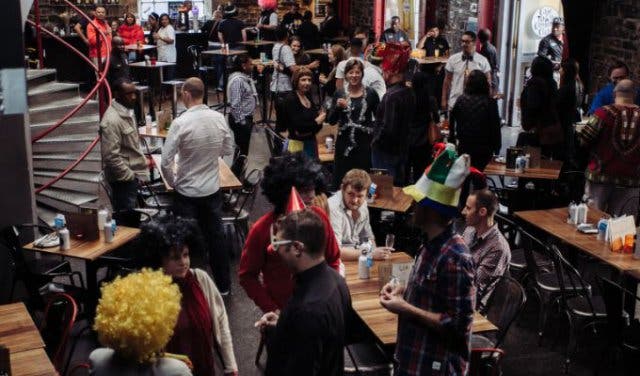 Picture by Maryke Howard

THE BEST OF CAPE TOWN COMEDY
The venue rotates its crowd-pulling headline acts (Riaad Moosa, Dave Levinsohn, Rob van Vuuren) and emcee every week, with a laugh-out-loud line-up of supporting acts and guest stars.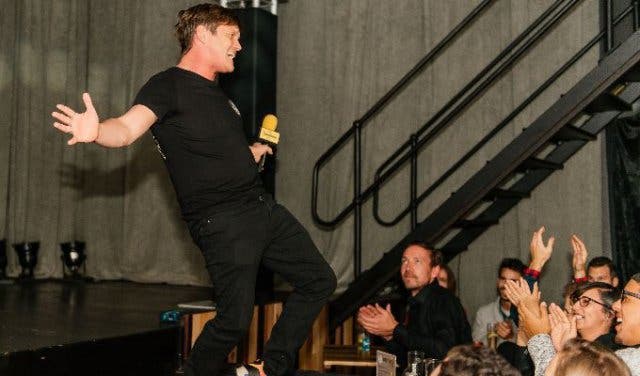 VIBRANT WATERFRONT COMEDY VENUE
The food is mouthwatering, the comedy side-splitting, and the venue jaw-dropping. The latter because Cape Town Comedy Club calls the historic Pumphouse home. With soaring ceilings, original stone walls and cozy tables spread out around a generous stage, this industrial-chic space is also the perfect spot for a midweek date night.

The Pumphouse, which dates back to 1892, is so named because it used to pump water from the Robinson Dry Dock in the V&A Waterfront. It is also the building where the first dynamo was installed to help illuminate Table Bay Harbour, 10 years before the rest of Cape Town. So what's better than having an interesting night out in the historic building that oozes character.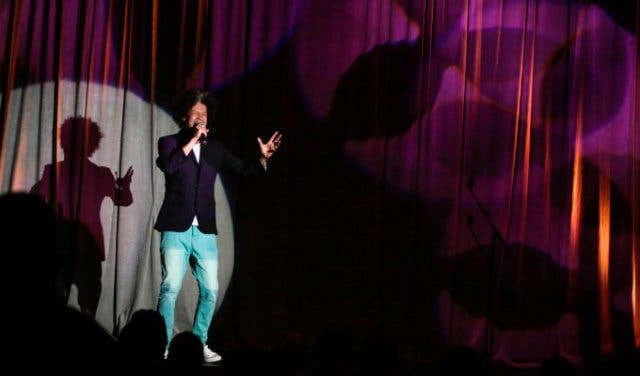 CAPE TOWN COMEDY CLUB MENU
Why not try the Jou Ma Se Gatsby, their very own version of the Cape Town gatsby: a half-sized baguette filled with lamb, fries, lettuce, tomato, and homemade mint sauce. The Pumphouse salad is perfect if you're looking for a light meal, or maybe you're in the mood for a pizza named after a famous comedian: perhaps The Murphy (smoked or spicy chicken) or The Izzard (roasted mixed vegetables) will hit the spot. Or nibble on some cheesy chilli poppers.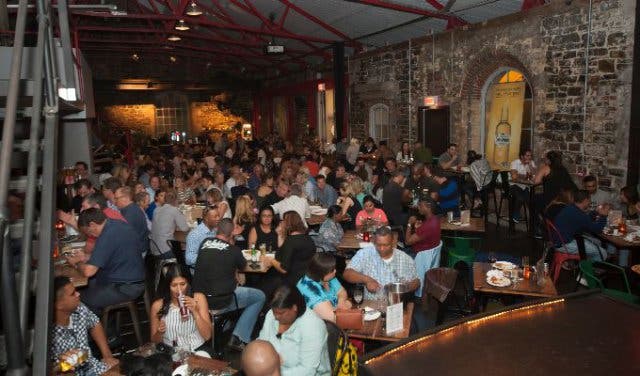 DRINKS AND HAPPY HOUR
Sip on a Jou Ma Se Brew craft beer exclusively available at The Pumphouse, order a couple of R18 tequilas, or make Tupac proud and get yourself a Hennessy (make it a double).
The show gets going at 8:30pm, but with happy hour from 6pm to 7pm, there's every reason to arrive early.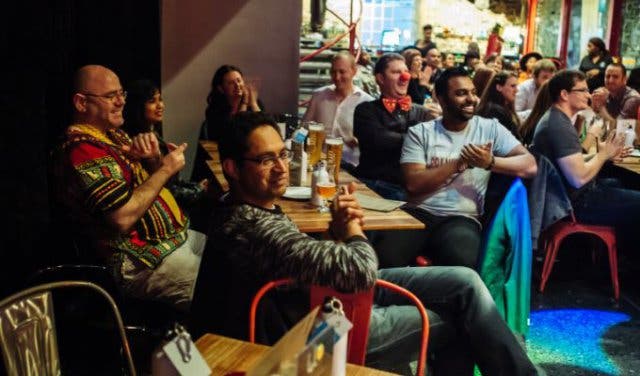 Picture by Maryke Howard

PLUS: CAPE TOWN COMEDY OPEN MIC NIGHTS
But, Kurt is just as committed to supporting new talent and constantly scans the underground comedy scene, hosting a "newcomer competition" talent search every year. So catch the newbies before they make it big – many aspiring stand-ups had their start on this stage's five-minute open-mic slot. To enquire about an open-mic spot, call +27 (0)21 418 8880 or e-mail info@capetowncomedy.com.
Show Times: Wednesday–Sunday, and seven days a week during the festive season. Doors open at 6pm, show starts at 8:30pm.

Tickets: Tickets cost between R95 and R120. Buy at the door, or get ahead of the queue via Computicket.com, as shows often sell out. Check out the week's line-up at CapeTownComedyClub.com.

Bill: Starters from R45 and main dishes between R65 and R185.
---
Planting funny bones and growing local comics at the Mother City Comedy Festival.
Come for dinner and listen to the Alvin Dyers Trio, or better yet bring your own instrument and jam with them at the Cape Town Comedy Club Jazz Jam Sessions.

Tickle your funny bone with the Big 5 Comedy Show.
Laughter goes around to help fund a mobile health bus to serve rural areas with Penny for a Laugh.
Laugh 'til it hurts at his new show, Work in Progress by Nik Rabinowitz.
Cape Town Comedy Club also hold half-price Sundays.
Find out where else you can watch stand-up comedy or other venues for dinner theatre in Cape Town.
Looking for places to host your birthday or end of year function?
---
Use our events section for an up-to-date overview of what's happening in the city, suburbs and dorpies. Join our newsletter and add us to your mobile home screen for the ultimate guide to discoveries in Cape Town.
Follow and like us on Twitter ❤ Facebook ❤ LinkedIn ❤ Instagram ❤ Pinterest for updates.
---