Spend a Day at: Kirstenbosch National Botanical Garden
Spend the day exploring one of Cape Town's most special attractions; a tropical jungle on the slope of a stunning mountain
There is little in the world more calming than strolling in an immaculate garden. It does not matter where the garden is, who the garden belongs to and how it got there; the most important fact is that walking around in nature can soothe the soul like nothing else on Earth. We have our very own slice of paradise right here in the Mother City, and it's nestled below Nursery Ravine and Skeleton Gorge.
Kirstenbosch is the perfect day out adventure for the whole family. You'll be able to explore hundreds of different varieties of plant life, all conveniently grouped (and lovingly cared for) by Kirstenbosch National Botanical Garden. It is claimed to be one of the best botanical gardens in the world, and in my own personal experience, that statement rings very true. The people who work in the garden, along with the people who visit, all develop a love and respect for the work that this conservation initiative does; they preserve plants from all over the world for the public's viewing and enjoyment.
In case you hadn't already guessed, spending a day at Kirstenbosch will require a fair amount of walking. Sure, you don't need to actually hike up the back of Table Mountain (although you can, if the urge takes you), but the garden is on a slope, and to reach the wonders at the top, you have to walk there. While we are on the topic, hiking Table Mountain is well worth it. The views are indescribable - so I am not even going to try - the sense of achievement is also pretty legit, so keep that in mind too. Hiking the mountain via Skeleton Gorge is certainly not a family-friendly activity; it is much too strenuous for kids and quite honestly, we would be impressed if you could hike up Skeleton Gorge with a screaming six-year-old on your back #parentinggoals. If hiking is to you what Kanye is to Kanye, then you'll love our Hiking Overview.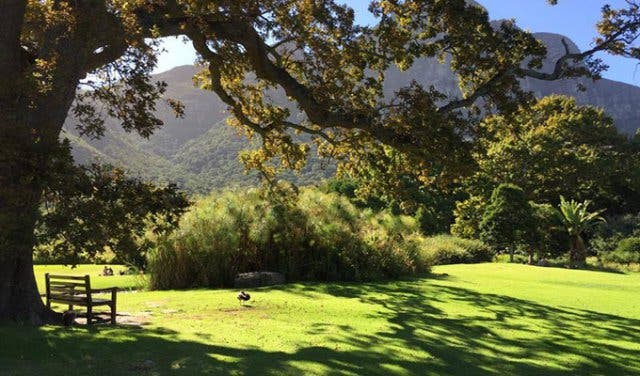 Let's talk about the various entrances to Kirstenbosch. There is one off Rhodes Drive, this one is called the Rycroft Gate. This gate is located at the top left of the garden and provides easier access to the attractions located higher up like the Boomslang Canopy Walk and the Dinosaur Garden of Extinction. The Kirstenbosch Main Gate is the gate near Vida E Cafe and the gift shop. The Garden Centre Gate is located near the Tea Room and the Nursery. Why do you need to know this? Countless times have I arranged for people to meet at one gate, and they have rocked up at another which is fun for approximately 0% of people.
My favourite part of Kirstenbosch, bar none, is the newly opened (but ironically, ancient) Cycad Garden. The area of the park sees extinct and dangerously endangered cycads preserved amongst amazingly crafted dinosaur sculptures. This step back in time experience is definitely something that shouldn't be missed at Kirstenbosch, after all, who wouldn't want to see the residents of Jurassic Park in the Mother City! Rumour has it that a few years ago (the date seems to have escaped the gossip circle), people tried to break into Kirstenbosch to steal some of these rare plants, some of which are worth a whole lot of money. Cycads have been around for over 340 million years, and over 60% of the various species are close to extinction. Well, not if Kirstenbosch can help it! Head to the Cycad Garden and see some of the rarest plant creatures in the whole world.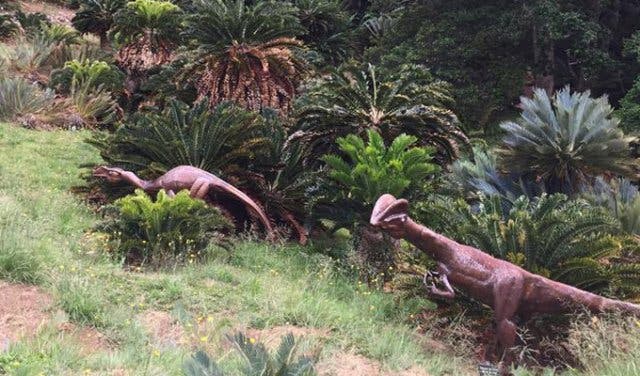 It is not as common as it should be that attractions across the city cater for the blind. Kirstenbosch would love if everyone could experience and enjoy the garden, so they decided to create a trail especially for those patrons that cannot see; the Braille Trail. The Braille Trail is just under half a kilometre in length and should take you anywhere between 15 and 10 minutes to complete. This self-guided tour was designed especially for the blind and/or poor sighted as it is all guided by a rope. Once the person reaches a block in the rope, they know there will be a sign written in English and braille describing the plants that lay before them. The trail starts and ends at the Fragrance Garden, which I will tell you more about next!
The Fragrance Garden is pretty self-explanatory, but I will have a go anyway. Nature produces some amazing visual displays, but it also has the ability to perfume the fair with the colourful blooms that we love to look at. You can smell this garden from ten paces, and it's filled to the brim with all kinds of plants, all of which produce very strong smells. Just be aware that not all of them may be to your liking but the experience is certainly worth it. I never knew that such nondescript plants could produce such a strong aroma!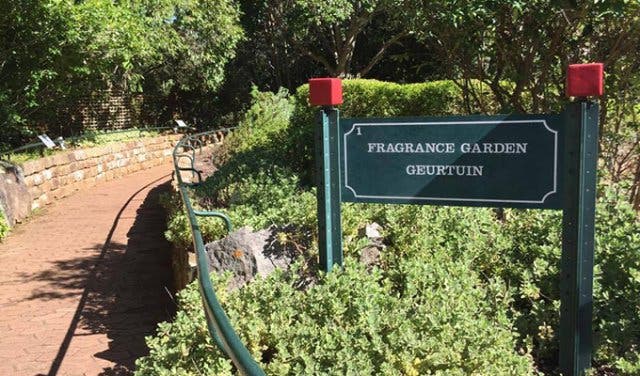 The Centenary Tree Canopy Walkway is another must at Kirstenbosch. Affectionately named 'the Boomslang' (after the tree snake), this new development offers patrons a panoramic view of the garden and the mountain that provides the stunning backdrop. This low-impact installation gives guests a never before offered chance to see Kirstenbosch from the point of view of the birds; above the tree canopy level.
If you haven't been to a Kirstenbosch Summer Sunset Concert yet, put that on your list because it's one of the best ways to spend a warm summer evening. During the 2016/2017 season, the concerts boasted many awesome locals artists like Jeremy Loops, Shortstraw and even Al-Bairre's last ever concert (we were there, it was awesome)! The garden also played host to The Vamps, The Pixies and in the past even the English folk sensation - Passenger! You buy a ticket, pack a delicious picnic and sit on the perfect Concert Lawn for an evening of high-quality music and good times with your mates. The Concert Lawn is the perfect place in the garden for a concert, and why is that? The lawn is every so slightly sloped (jokes, when you are carrying a basket and other stuff it feels like Everest) and it creates a natural amphitheatre meaning you can see the stage from anywhere! Provided of course that you don't get there too late and are forced to sit behind a tree.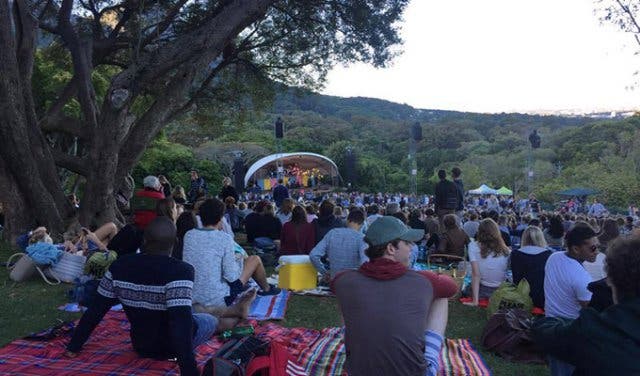 If you love art, and sculpture is the peanut butter to your toast, then the Sculpture Garden is well worth a visit. Stunning examples of Mambo Stone Sculptures were lovingly crafted fro this ever-changing outdoor exhibit. If you are lucky, you might catch a glimpse of a sculptor creating a new piece to add to the garden's selection.
If you find yourself feeling a little hungry, then you'll be delighted to know that Kirstenbosch has two wonderful places to get a bite to eat; Moyo and The Tea Room. If you fancy a light lunch with a view of the mountains, then The Tea Room is your ticket. Their toasted sandwiches are amazing and so is their shakshuka (I had it on a vaguely rainy June morning, and it warmed me up like nothing else could, except maybe a pot of tea which I had as well). Their menu also features English Tea for Two which includes cake, scones, sandwiches, quiche and tea; doesn't that sound charming? If tea isn't your thing, then maybe another type of Pamela's famous selection could entice you; it includes chocolate brownies, cookies, scones, muffins and cinnamon buns.
If you fancy something a little more substantial, Moyo is the place you're looking for. This stunning venue is styled like an African palace, with large gilded arches and exposed dark wood interior. Their motto of 'celebrate Africa' can be traced right through the experience; the food, the decor and the drinks. Their wine selection is extensive and their dessert menu is something to daydream about. Be sure to note parents, that there is also a menu that caters for the little ones, complete with chicken nuggets.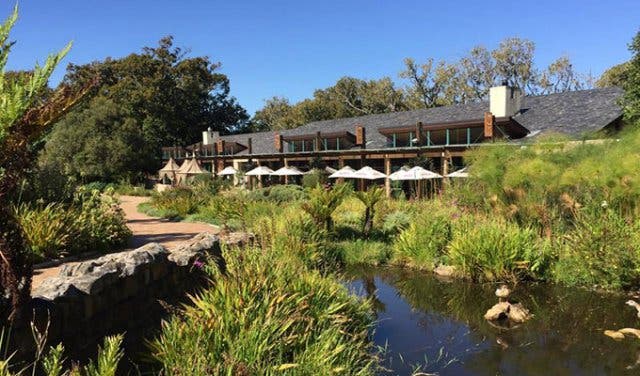 There is also the added bonus with Kirstenbosch of finding secret picnic spots high up in the gardens. There is nothing quite like it; sitting under a tree, hiding from the heat of the day and enjoying a delicious picnic prepared by the Tea Room (yes, you can totally order them and pick it up to fuel your day of adventuring). The walk up to your secret picnicking spot will be moderate at best and you'll have the reward of a totally secluded spot, high up in the gardens with a view of Cape Town that you usually only see when hiking is involved. To get there, walk along the Protea Walk uphill towards the area of the garden where the proteas live. Up there, you will find much quieter lawns, with less of a chance of having to sit near screaming children.
There are also plenty more places to check out in Kirstenbosch, so be sure not to overlook the Greenhouse, the Garden of Extinction, the Garden Centre (where you can buy amazing plants to take home), the Useful Plants Garden, the Arboretum, the Garden of Weeds and the Peninsula Garden.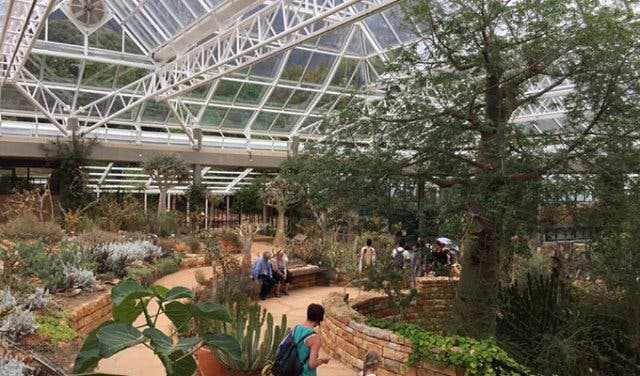 Article written by Charlotte Rogers.
---
Walk a personal pilgrimage to slow down and take a break from a busy life during the Cape Camino.
Think you have a green thumb? Take your pick from thousands of plants at the Kirstenbosch Plant Fair.
Sing along by candlelight this December at the Kirstenbosch Carols.
If you are on the search for the best places to take a walk/hike, check out our overview of Hiking Routes in Cape Town and Surrounds. You can thank us later! Maybe after all that exercise, you'd like to grab a bite to each and a cold one, well we have you covered for that too; New Restaurants and Hotspots in Cape Town.
---
Also, don't forget to follow us on Twitter, like us on Facebook, and check out our Pinterest boards for updates. Not to mention, subscribe to our newsletter to keep up to date with what's hip and happening in our pretty city.