Set The Standard High For 2020 With These New Year's Day Ideas
Hike a mountain, take a tour, live like a gourmand, or just keep the party going
Last Update: 20 December 2019

Every new year deserves a fresh approach, so why not start off with an adventure – book a trip with Kiff Kombi Tours, for instance – or boost your ocean knowledge with the kids by visiting the aquarium….. Plus, there are markets to go to, picnics to attend, and champagne to taste.


DJ COSHER, MINI FRENCH TOAST AND CHAMPAGNE
Step into the new decade feeling fancy with a three-course brunch at Sotano on Mouille Point. They've partnered with Veuve Clicquot to bring you starters like mini french toast, Veuve Sabayon oysters, and a Champagne popsicle. For mains, choose between the salmon benedict, fish and chips, lamb burger, and sushi platter. End off with a churro dipped in chocolate sauce or a traditional Portuguese custard tart. And after breakfast, the dancing starts. Tanner Mason with start the sultry sounds of live saxophone from 12pm. DJ Cosher takes over at 3pm to kick the dancing into high gear. You get a complimentary glass of Veuve Clicquot bubbly when you celebrate the new year with Sotano.
New Year's Day Hours: 11am–5pm
Cost: R380 per person
Please note: Bookings are essential as space is limited and a deposit is required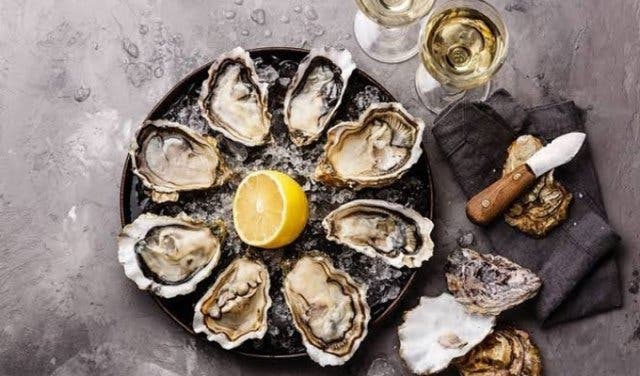 121 Beach Road | Mouille Point | +27 (0)21 433 1757 | info@sotano.co.za
SHARING IS CARING AT THE PIANO BAR
Plunge into the new year with tantalising tapas, perfect platters and salads fit for summer. Forgoing its usual 7am–12pm breakfast period for 9am–1pm, The Piano Bar in De Waterkant (at The Grey Hotel) specialises in a menu that is designed for sharing. Although, you may not want to share once you see the menu: Italian quinoa bites made with sundried tomato-infused red quinoa; fresh basil and Parmesan cheese; flash-fried prawns; or chorizo croquettes coated with crispy phyllo and served with mustard mayo. And if you have a sweet tooth, why not try the pistachio brûlée (served with fresh berries and mint) or the traditional tiramisu? It's the first day of the new decade, so indulge your taste buds at The Piano Bar.
New Year's Day Hours: 09:30am–1pm
Cost: Item-dependent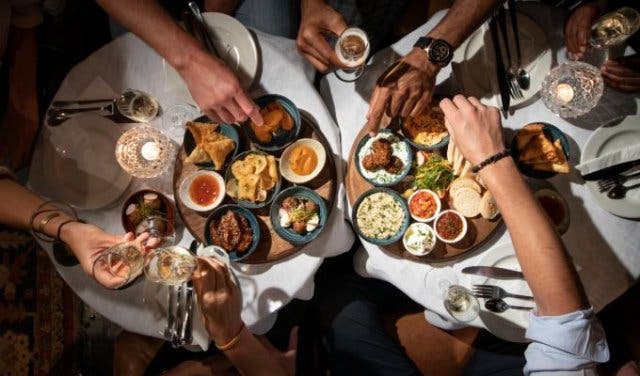 47 Napier Street, De Waterkant | bookings@thepianobar.co.za | +27 (0)79 028 4628
LOOK ON THE BRIGHT SIDE
Picnic under the trees at Nelson Wine Estate for TP le Pique Nique's 10 Years of Grace. For the kids, there'll be games, face painting, a magician and a swimming pool, plus snacks and caretakers. Adults can chill by the braai areas or check out the live music (there's a stage for commercial music and another for deep house). The theme is Living on the Bright Side, and the event doubles as a charity drive for sanitary pads and old clothes donated to Human Nature Projects and Mbebe Unknown Incidents.
New Year's Day Hours: Gates open at 11am
Cost: R100 - R500


Nelson Wine Estate | R44 | Paarl

TAKE A TRIP TO THE NORTH POLE
This is a special New Year's Day treat for the little ones. Santa's Festive Village is open from 10am to 6pm everyday from 1 January to 5 January in Somerset Mall. Plus, the kids can have fun in Santa's special workshop every weekend from 10am to 1pm. Think a quaint town buried in snow with lots of candy and fun.
New Year's Day Hours: 10am - 6pm
Cost: R50 for kids, R10 for parents (only card/Zapper payments are accepted)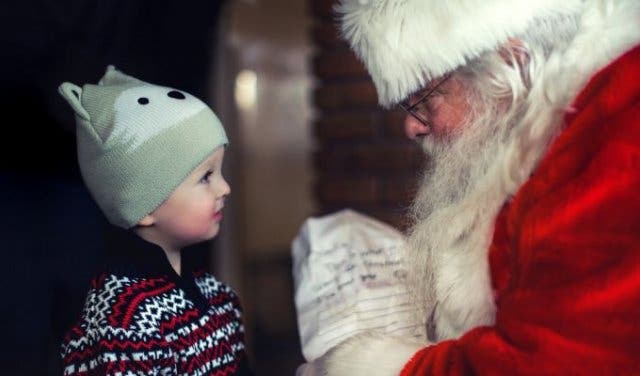 Edgars Courts | Somerset Mall | Somerset West

TREATS AND OBSTACLES COURSES
Join Bloemendal Wine Estate for their Festive Family Market running from 1 January 2020 to 4 January 2020. Adults can take in the beauty of the estate and relax while the kids are entertained with an obstacle course, slide, jumping castle and other games. There's plenty of food from different vendors for sale, from fresh produce to baked goods to homemade preserves. The wine tasting is open, or you can enjoy an ice-cold beer in the beer tent.
New Year's Day Hours: 9am - 3pm
Cost: Free


Tygerberg Valley Road | Oude Westhof | +27 (0)21 975 7575

THE CHAMPAGNE LIFE WITH MUMM
Start the new year with a leader in French champagne: G.H. Mumm at The Bungalow. Opulence, class and a secret musical line-up that promises to blow you away. There'll be champagne from G.H. Mumm, plus you might spot some celebrities, according to the organisers, like TV-presenter Somizi Mhlongo and Minnie Dlamini-Jones. The dress code is white and red. If you spend at least R10 000, your table of 10 can have its own private table service.
New Year's Day Hours: 2pm – 1pm
Cost: R350 per person


Glen Country Club | Victoria Road | Clifton

GET TO KNOW THE OCEAN NEAR YOU
The Two Oceans Aquarium makes true on its promise for being open 365 days a year. Take the little ones and show them the wonders (and some crazy monsters) of the sea on New Year's Day 2020. Make sure to check out the feeding schedules so you can plan your visit for maximum entertainment and education. There's lots of fun to be had and things to learn at the Two Oceans Aquarium.
New Year's Day Hours: 9am–6pm
Cost: R90–R185 (children under 3 get in free)
Photo by: Daniela Buda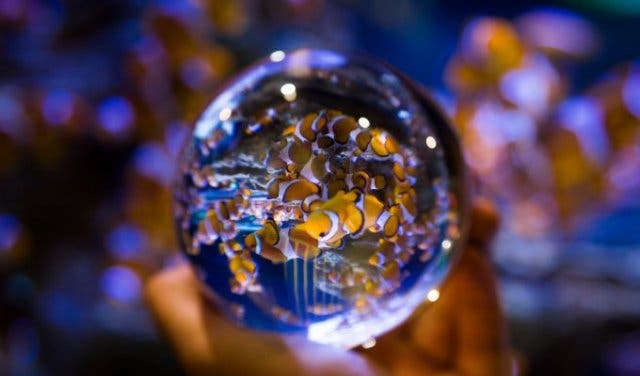 Dock Road | V&A Waterfront | aquarium@aquarium.co.za | +27 (0)21 418 3823

CATCH A MOVIE WITH THE GALILEO
End the first day of 2020 with the popular rom-com What To Expect When You're Expecting. Follow the lives of five couples as they face the challenges of pregnancy and realise that no matter how much you plan, life doesn't always go your way. Make 2020 a hit with The Galileo Open Air Cinema.
New Year's Day Hours: 6pm - 10:30pm
Cost: R109 - R360


Kirstenbosch Botanical Gardens | Rhodes Drive | Newlands | hello@thegalileo.co.za | +27 (0)71 471 8728

PENGUINS, PENINSULA AND PINOTAGE WITH KIFF KOMBI
Let someone else do the driving and explore the pretty Southern Peninsula with a Kiff Kombi Tours on New Years' Day. It's a 7- to 8-hour tour that starts bright and early at 8am and includes a private guide, coffee, entrance fees into all applicable national parks, lunch, drinks and a wine tasting. It takes in Chapman's Peak Drive, Cape Point, Kalk Bay and Boulders Beach. Remember to tip your guide afterwards. Find out more about the award-nominated Kiff Kombi Tours.
New Year's Day Hours: 8am–5/6pm
Cost: For 2: R2 750 per person; for 3: R2 250 per person; for 4+: R1950 per person


8 Kloof Street | Buitenkloof Studios | 7th Floor | bookings@kiffkombitours.co.za | +27 (0)72 213 3888

A LITTLE PARTY NEVER KILLED NOBODY
Plunge into 2020 with style and flair with Party on the Pier at LIFE Grand Café. The theme? The Great Gatsby. Dress in all-white 1920s regalia, then add some metallic touches. Live entertainment includes Khuli Chana, Njelic, Major Leagues, Lamiez, Marco V and Dimitri Kambas, who'll keep patrons chilling well into the night. Included in your ticket is a feast fit for a king: prawn gambas, West Coast oysters, beef rump and ribs, a variety of salads, decadent desserts and oven-baked pizzettes. It's all glitter and glam at LIFE Grand Cafe.
New Year's Day Hours: 2pm - late
Cost: R2 200 - R8 800


2 Pierhead Road | V&A Waterfront | events@lifegrandcafe.com | +27 (0)21 205 1902

DJS AND LIVE ENTERTAINMENT AT SHIMMY
Join event brand agency Pop Bottles this coming New Year's Day, with a selection of DJs and live entertainment by Dimplez, Sumbody, Milkshake, Kyeezi, Fort Noks, Super Nova and many others. This daytime festival is all about lifestyle and relaxation, and starting the new year with your favourite hits. Invite your entire squad to get discounted tickets (if you buy four, you get the fifth ticket free). There are always lively and stylish parties at Shimmy Beach Club.
New Year's Day Hours: 12pm - 12am
Cost: R150 - R1200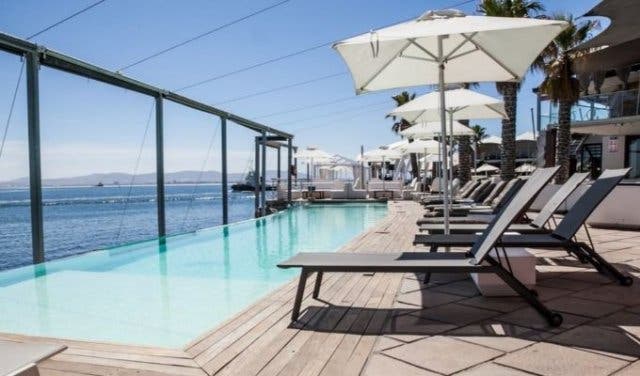 12 S Arm Road | V&A Waterfront | info@shimmybeachclub.co.za | +27 (0)21 200 7778

OPT FOR JAZZ BRUNCH AT BENGUELA COVE
Spend the morning in Hermanus and have brunch at Benguela Cove. The menu is a la carte. The stunning view and delicious food aside, there's also live jazz music performed by Ethan Florus, a Stellenbosch University music graduate. Please note that bookings are essential. There always new experiences awaiting at Benguela Cove.
New Year's Day Hours: 11am - 2pm
The Bill: R650 per person


Benguela Cove | Walker Bay | Hermanus | info@benguelacove.co.za | +27 (0)87 357 0637

LET'S RING A BELL FOR THE NEW YEAR
Head to the Brass Bell on New Year's Day for a day chilling by the tidal pool or snacking on pizza or fresh fish 'n chips with friends. The venue has a variety of seating areas, all with a stunning view of Kalk Bay's coast. The Brass Bell is always popping, and has something for all ages. The Bikini Bar hosts karaoke and dance parties at night in, or you can chill with a cocktail and watch the waves break against the tidal pool wall. It's a lively venue, perfect for that new year hype. Learn more about The Brass Bell.
New Year's Day Hours: 8:30am - 10pm
The Bill: R42 - R580


Main Road | Kalk Bay | info@brassbell.co.za | +27 (0)21 788 5455

EAT SUSHI IN AN ART-DECO SETTING
Start the year off with South African-Asian fusion at Beluga. Indulge in fresh West Coast oysters, calamari or prawns, miso soup, lobster bisque or a vegan poke bowl. Or give the summer set menu a try: there's a two-course lunch, or three-course lunch or dinner. There is a wide selection of sushi at Beluga.
New Year's Day Hours: noon - 10pm
The Bill: R25 - R290; for set menus: R195 - R245; platters: R495 - R1800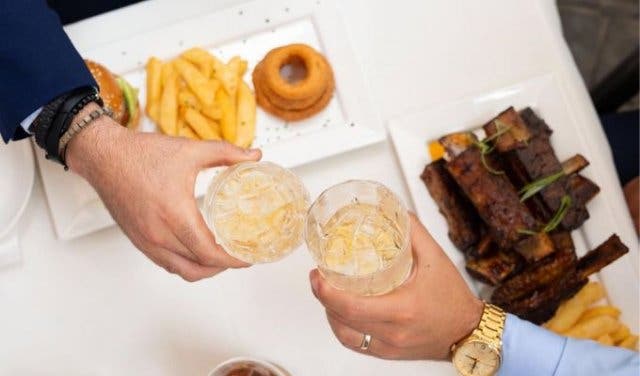 70 Prestwich Street | De Waterkant | info@beluga.co.za

SINK INTO NATURE'S POOLS AND SOAK UP THE RAYS
There's nothing like a refreshing dip. From popular spots like Clifton to hidden gems such as Miller's point, there's a little pond for everyone in our selection of Cape Town beaches and tidal pools.
New Year's Day Hours: All day
Cost: Free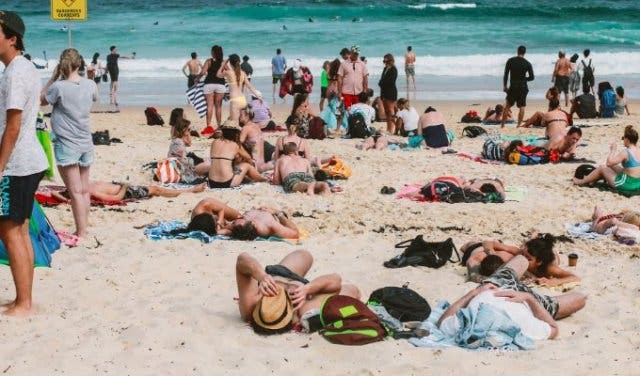 Various locations in and around Cape Town and the Western Cape

GRAB YOUR HIKING BOOTS AND KICK THE YEAR OFF RIGHT
Enjoy a hike on one of Cape Town's scenic routes - there are many. Most of them are open all year and won't cost you an arm and a leg (especially after the festive season). There are also natural pools at some that you can splash around or cool off in. Try out one of these hiking routes or rock pools.
New Year's Day Hours: Daylight hours
Cost: Free - R140
Photo by: Simon Streicher


Various locations in and around Cape Town and the Western Cape

---

See if 2020 is the year you tick off everything on this ultimate bucket list.

Check out this list of new restaurants and experiences.

Need something to keep the kids busy? Here's a list of free/cheap things to do with kids.

Discover over 50 kickass activities for kids.

Glide into 2020 with the best ever New Year's Eve.

Usher in the year of the earth pig at Sea Palace Chinese Restaurant and celebrate the Chinese New Year

---

Supercharge your event? Our Events Support Programme gets results. Contact support@capetownmagazine.com or +27 (0)21 565 0415.

Use our events section for an up-to-date overview of what's happening in the city, suburbs and dorpies. Join our newsletter and add us to your mobile home screen for the ultimate guide to discoveries in Cape Town.

Follow and like us on Twitter ❤ Facebook ❤ LinkedIn ❤ Instagram ❤ Pinterest for updates.