Cape Town's Next Storm Loading (+ videos from last night)
Dams overflowing! Rooftops flying! From the funny to the serious, about last night... (and what's that on the horizon?)
Latest update: 23 July 2019 with a few images and videos of the storm hitting Cape Town on Tuesday 23 July.
STORM WARNING: INCOMING MONDAY
We're not out of trouble yet. The next big storm looks set to hit on Monday morning, so be prepared, and if you can, work from home to avoid the roads. Also try do somehing for the homeless and those less fortunate: Buy rain coats for your staff, donate blankets or warm jerseys.
Monday more of that.

#capestorm #capetownweather pic.twitter.com/U0Lc40TC91

— molocapetown (@molocapetown) July 24, 2019
SATELLITE IMAGE OF THE EVENING OF TUESDAY NIGHT 23 JULY
Late PM sat image (23 July 2019). Cold front over the western parts of SA. Snow on the high lying areas will become disruptive tonight (southern Northern Cape and western high ground of Western Cape). Scattered showers and thundershowers over WC. Have a good night, stay safe. pic.twitter.com/G3phbss3JH

— SA Weather Service (@SAWeatherServic) July 23, 2019
SPECTACULAR AIRMASS ANIMATION VIA ALEX DE KOCK
We agree, late July and August is when winter in Cape Town really sets in. Alex shares on Twitter that the next serious front (possible storm) is predicted for 29 July.
@sawx_sa_weather stunning airmass animation! #capetownweather pic.twitter.com/1UCntfbutB

— Alex de Kock (@Alex_CPT) July 23, 2019
FROM IMPRESSIVE SWELL (VIA @THECAPETOWNGUY)
Cape Town: The storm is coming. pic.twitter.com/R4QBM3A5qQ

— Cape Town Guy (@TheCapeTownGuy) July 23, 2019
ANY STORM IN BLOUBERG AS WELL? ("VET F*K OP")
Absolutely crazy. "Any storm in Blouberg as well?" Title of this video received via whatsapp. #capestorm pic.twitter.com/4GmZg8IPwA

— molocapetown (@molocapetown) July 23, 2019
GOOD NEWS FOR THE WATER LEVELS WITH RIVERS BURSTING AT THE SEAMS
Beautilful sight at the Berg River dam in Franschhoek
#bergrivierdam het nou begin oorloop - waarsku net alle mede boere om pompe op rivier oewer te verwyder want Bergrivier mag sy walle oorstroom #winter #franschhoek_sa #franschhoekvalley #happyfarmers #praisethelordfortherain pic.twitter.com/4Hg9rVbR3e

— PIETER HANEKOM (@AKKERDAL) July 23, 2019
The Lourens River in Strand
The Lourens River in Strand. #capestorm #capetown pic.twitter.com/qzFoEPLd1T

— Sune van Renen (@sunesnip28) July 23, 2019
Video of the enormous impact of the rains on the Du Toitskloof River
Big storm hitting Cape Town today and tonight.

Watch this video of Du Toitskloof river (Just received via whatsapp and not verified yet).

(link: https://t.co/k7ZVtuSZ2O) https://t.co/qFKSnlUpel for a few more impressions. Be safe. #capestorm #capetownweather #capetown pic.twitter.com/jPBzzMHqNx

— CapeTownMag (@capetownmag) July 23, 2019
TERRIBLE IMPACT OF THE STORM AND RAINS IN THE TOWNSHIPS
Heartbreaking to see how many people will be impacted negatively in the poorest of areas in the Western Cape.
We'll share info on where you can offer support and relief for those hit hard(est) by the storm.
#CapeStorm has hit the cape hard pic.twitter.com/47ViU4SHUU

— Mbulelo Sibunzi???????? (@Iam_Mbuja) July 23, 2019
AND TO THINK IT ALL STARTED OUT SO SWEETLY
Brrrr! We like to think of this as "penguin weather". ????❄️#capetown #capestorm #capetownweather pic.twitter.com/erLm1rSeAe

— Two Oceans Aquarium (@2OceansAquarium) July 23, 2019
ALTHOUGH SWEETLY?
I woke up this morning to the sound of wind blowing around the house and rain pouring down. This time last year we thought Cape Town will never get rain to fill the dams again. This year, we are happy to see a storm rolling in.#capestorm #itsrainingagain https://t.co/NMOpIjuwkd pic.twitter.com/evtksm7o9A

— Elmarie Porthouse (@Elmarie912) July 23, 2019
HAIL BELLVILLE
Cape Town's northern suburbs reporting hail.
Hail stones this afternoon in Bellville, Cape Town #capetownweather #CapeTown #eNCA #NewsAlert pic.twitter.com/09nkrvemZA

— Riaan Phillips (@Riaan98) July 23, 2019
IN OTHER WORDS:
There's versatility in descriptions in this city:
Die haal het net skrik gemaak. #capetownweather pic.twitter.com/EirBdUa2sq

— ARE YOU (@seriyaaz) July 23, 2019
SOON UPDATED: CAPE TOWN STORM INFO AND FORECAST NEWS
You've found an old article however it's full of good tips on how to deal with bad weather.
More good news is twe recently updated our choice pick of things to do when it rains in Cape Town and our special selection of cosy restaurants with fireplaces. Power off again? Keep up to date with the latest in loadshedding in Cape Town.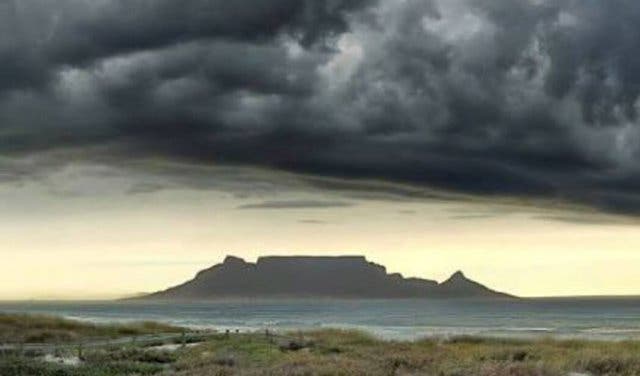 The Disaster Risk Management Centre has been advised by the South African Weather Service of adverse, cold and wet conditions in Cape Town this winter.

Weather Warnings issued indicate that heavy rain (as high as 50mm or more) and strong gale force winds accompanied by high seas are expected over the Cape Metropole during the winter months.

The Disaster Risk Management Teams will remain on high alert during the winter months, ready to respond to any emergencies that may arise, following the cold, wet and rainy weather.

Cape Town residents are requested to prepare for this adverse weather well in advance..

Cape Town's weather conditions have the potential to cause significant damage to public and private-owned coastal property. Residents are therefore advised to have a plan-of-action in place in case of emergencies.

Members of the public are urged to stay away from areas such as Sea Point Promenade, Atlantic Seaboard, False Bay Coastline and Strand/Gordon's Bay beachfront areas during heavy rain and stormy conditions.

Private homeowners living close to the beach need to be prepared for possible storm surge impacts to their property.

Be ready for when the storms come by using the following methods to reduce your flood risk:

• Check that the private drainage facilities on your property are checked and maintained in good working order.
• Check for dead and burnt trees that could fall onto the property, and notify the authorities if there is a danger.
• Place sandbags where necessary to protect critical areas.
• If your neighbour's boundary walls are diverting mountain slope and stream run-off onto your property, bring this to their attention, as it is illegal to divert such run-off onto another property.
• If there is a threat of severe flooding or debris flow to your property, select a route through the property that will cause the least damage (such as a pathway or stairs) and use sandbags to try and confine the flow to that route.
• Raise the floor level of your house to be higher than the land outside.
• Listen to weather warnings that are issued by the South African Weather Service.
• Check the terms of your insurance policy with regard to flood and mud damage.

For more information on weather warnings visit the City of Cape Town's website: capetown.gov.za/disaster.

Residents can also call the following numbers to report emergencies:

To report all emergencies: 107 or 021 480 7700 (from a cell phone)
To report flooding: 0860 103 054
Disaster Operations Centre: 021 597 5000

Done prepping your property for the harsh winter weather? Learn how the City of Cape Town is aiming to weather the storms this winter.

To keep up-to-date with what's happening in and around Cape Town, be sure to subscribe to our monthly Editor's Picks Newsletter.