The Best Time To Plan A Special Getaway With These Great Deals
Get more bang for your buck with low-season specials
Updated: 22 November 2019
Good news: accommodation rates in Cape Town are at their lowest at this time of year, which means you can snuggle up with someone you adore, or gather a group of friends and plan a special weekend away. Winter is the season you'll get the best bang for your accommodation buck by taking advantage of specials in and around the city, often with very cool extras thrown in, such as spa treatments or discounts on five-course meals (you can even get married for a steal in winter). We've handpicked some of the best getaway specials around town.
TAKE AN AFFORDABLE SUMMER BREAK IN THE KAROO
African Relish offers themed cooking courses, exciting adventures and four self-catering cottages in the Karoo town of Prince Albert. The cottages, that sleep between two and four, are in the simple style and architecture of the Karoo. Interiors are beautifully designed with influences from JP Meyer, Jacques Erasmus of Hemelhuijs and the Keys, and they're a wonderfully cool escape from the Karoo heat. Take advantage of the two summer specials, both of which include a copy of the African Relish cookbook in the price. A winter special will be announced closer to the season at African Relish cooking school and find an affordable summer food adventure in the Karoo at African Relish cooking school and Karoo accommodation. How about an adventure during a day in Prince Albert?
Note: Enjoy the surrounding Karoo scenery and mountain vistas and cuddle up by the crackling fire in the evenings
Summer special for 2 adults: R2050 pp, inclusive of 2 nights accommodation, a half-day cooking course with lunch or dinner and recipe book (usually R2470). Valid until end February 2020.
Summer special for 2 adults and 2 kids: R5950 for two nights' accommodation in the two-bedroom cottage, a half-day cooking class with lunch or dinner, and a recipe book (usually R6995). Valid until end February 2020.
Availability: Until 29 February 2020
To do close by: Visit the lovely coffee shop and deli on-site as well as unique décor shops and (IMAGE)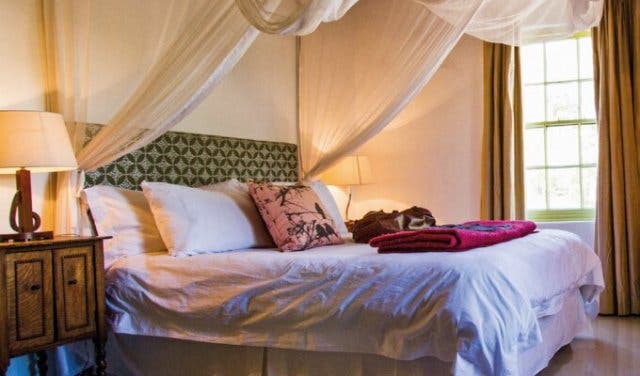 34 Church Street, Prince Albert, +27 (0)23 541 1381, +27 (0)72 582 8749, foodies@africanrelish.com
BUSINESS MEETS PLEASURE AT A BOUTIQUE HOTEL WITH 50% OFF
Nine rooms and suites are waiting for your visit in two inner-city locations. In total, 33 suites will make up Ideas Cartel's offering of hotels by 2020 in three different locations. In sizes up to 100 square metres, rooms feature various configurations of open-plan living, views, and balconies. All the carpeted rooms have a double layer of curtains, 55-inch flat-screen TVs, Netflix, Internet connectivity, Smeg appliances, and live plants, bathrobes and slippers at Cartel House Hotel.
Note: CapeTownMagazine.com readers get 50% off all rooms. Select the hotel and enter booking code CTMag50 once you have clicked "book now" on Cartelhousehotel.com.
Price: R1100–R2250 (usually R2200–R4500)
Availability: Until 30 November 2019
To do close by: Cape Town is your playground with shopping, nightlife, and eateries all within 500 metres of the hotels.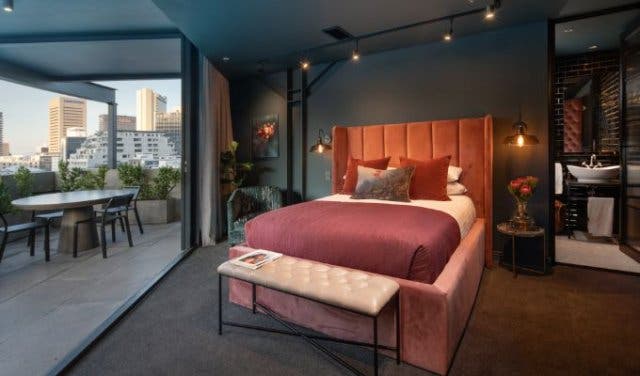 3 locations, +27(0)21 824 1781, info@ideascartel.com, website
GORDON'S BAY BOUTIQUE SPECIAL: TWO NIGHTS FOR THE PRICE OF ONE
Take in the sunset at the gorgeous Colourful Manor in Gordon's Bay. The two-night special for two includes free breakfast and gin and tonic. In the day play in the pool or the ocean, just a hop away, or let them arrange your dinner and spa bookings, which they will do with pleasure.
Note: There are various gins to choose from for your free G'nT
Price: R1750 for two people for two nights
Availability: Until October 2019
To do close by: Hike to Crystal Pools (permit required) for impressive jumps off the cliffs into the magnificent pools.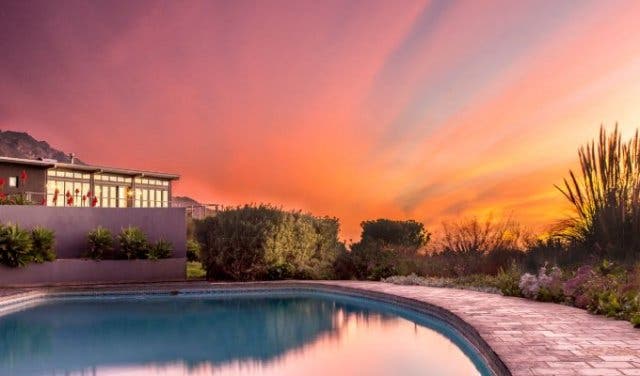 Sir Lowrys Road, Gordons Bay | +27 (0)79 729 7988
GREAT SUITE OF DISCOUNTS AT THIS STELLENBOSCH GOLF ESTATE
Devonvale Golf & Wine Estate's winter special offers R500 off a stay for two in one of its Petite Hotel rooms, and over 50% off a two-night stay at the two-bedroom Holiday House. The Holiday House special, for four guests, also includes 25% off spa treatments, 25% off the breakfast buffet (usually R190), and 46% off a golf session (usually R420). Why not take advantage of this great winter special and sit back on the terrace overlooking the Simonsberg Mountains and the vineyards at the Devonvale Golf & Wine Estate.
Note: You might spot a springbok or two frolicking near the dam during breakfast
Price: R1100 for 2 people sharing the Petite Hotel Room (usual cost R1600 for 2 sharing); R1000 per person sharing for the Holiday House (usually R5032)
Availability: Until 30 September 2019
To do close by: Explore the Bottelary Hills mountain bike trails (permits are R60)

Devonvale Estate, Bottelary Road, Koelenhof, Stellenbosch | +27(0)21 865 2080, info@devonvale.co.za
10% OFF YOUR CITY STAY IN 2019 AND 2020
Open since April 2019, Gorgeous George is a boutique hotel created out of two restored heritage buildings in the Cape Town CBD. Each room features hand-painted wall art and an eclectic mix of designer pieces. Head up to the sixth floor and revel with locals at the pool and Gigi Rooftop Restaurant & Bar. CapeTownMagazine.com readers can experience this modern hotel by using a special promo code.
Note: Chill out at Gigi Rooftop Bar's Sunday Sessions when a DJ plays chilled, groovy tunes starting at 2pm. Music continues until 8pm
Price: 10% off the best available rate (usually R2450–R6450)
Availability: Bookable dates: 1 July – 30 September 2019. Valid to Stay: 1 July 2019 – 30 September 2019 and 1 June 2020 – 30 September 2020. Promo code: CPTMAG10
To do close by: Visit the Zeitz Museum of Contemporary Art Africa. Every Wednesday, entry is free for SA citizens upon presentation of ID/driver's licence/passport.


118 St Georges Mall, Cape Town City Centre | +27(0)87 898 6000, reservations@gorgeousgeorge.co.za, website
25% DISCOUNT ON HOTEL NEXT TO WATERFRONT
The AC Hotel, minutes from the V&A Waterfront, has all-embracing views of Table Mountain, Lion's Head, Signal Hill and the harbour. If you prefer a less-complicated yet sophisticated stay, you can rest at ease at the AC hotel, which is offering a 15% and 25% discount. They offer a Spanish twist with their breakfast and serve tapas and expert local knowledge at the AC Hotel at the V&A Waterfront.
Unique thing to do: Try the famous Spanish communal drinking tradition, drinking from a unique instrument called a porron
Price: Non-members: 15% discount and Marriott Bonvoy Members: 25% discount on accommodation rates and complimentary breakfast. Only for online bookings
Availability: Until 30 September 2019
To do close by: Visit Battery Park and watch skaters, ballers or yogis as the sun rises or sets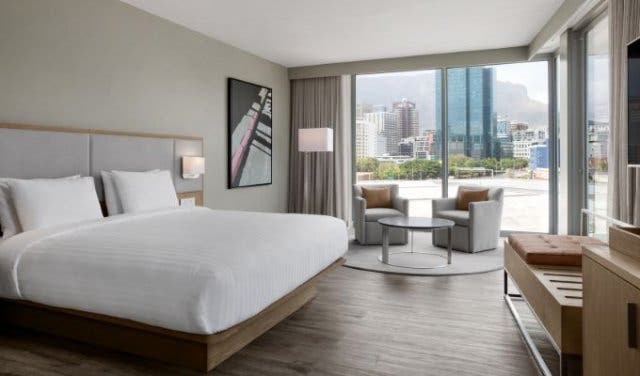 Dockrail Road, Foreshore, Cape Town | +27 (0)21 137 1100, acbm.cptar.reservations@marriott.com | https://www.marriott.com/cptar
FREE NIGHT AT A STYLISH FARM
La Chataigne is a working wine farm situated 7km from Franschhoek village in the Winelands. Guests can choose from five self-catering cottages, either on the riverside or overlooking the mountains. All cottages are tastefully furnished with Scandinavian design and boast private decks.
Note: All cottages have indoor fireplaces
Price: Monday–Thursday: 20% off two nights or more; weekends: Stay Friday and Saturday Night and get Sunday night free (usually R1400–R3630 per night) Book directly online
Availability: 1 May – 31 August 2019
To do close by: Enjoy wine tastings, go for scenic walks along the river and among the vineyards, play a game of boule and pick vegetables from the garden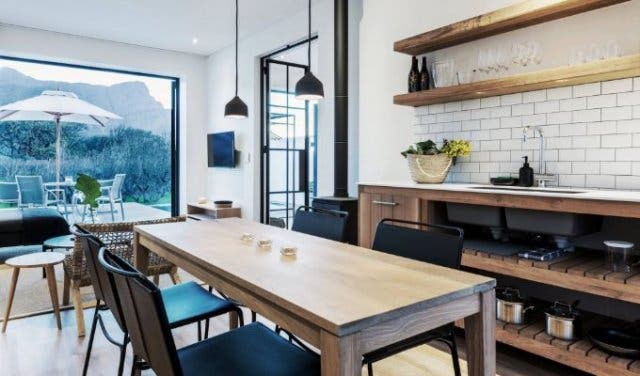 La Chataigne Wines & Guest Cottages, R45, Franschhoek | +27(0)21 876 3220, info@lachat.co.za
HALF PRICE FOR YOUR WEDDING
Zeestock Lodge, the adventure lodge in Philadelphia, hosts the ultimate rockstar weddings for creative types and adventure lovers. Get a special rate on accommodation for 20–30 pax, the Morrocan wedding pagoda, food, DJ, sound system and lighting and a professional photographer at Zeestock Adventure Lodge.
Note: The venue accommodates 150 day guests. For extra accommodation, you can choose camping or another guest house in the area
Price: R500 per head (usually R1000)
Availability: Until 1 June 2020
To do close by: Sandboarding at the Atlantis dunes

73 Three Fountains Estate, Philadelphia | +27 (0)79 242 7031, stay@zeestocklodge.com
DINNER, BREAKFAST, SPA AND GOODIE BAG
Rotterdam Boutique Hotel and guest farm is a romantic country retreat just outside of Swellendam. There are multiple en-suite rooms and a two-bedroom family cottage. Your winter special booking includes one dinner and two breakfasts, a goodie bag filled with sunglasses, slippers, dark chocolate, magazines and gin and tonic and a 15-minute spa treatment from the mobile spa. Discover the brand new restaurant, quaint chapel, rustic luxury accommodation and sunset safari picnics at Rotterdam guest farm in Swellendam.
Note: You need to quote 'Capetownmagazine' when booking in order to qualify for the special rate.
Price: R1750/person (usually R1975/person) for 2 nights
Availability: Until 1 October 2019
To do close by: Go on a game drive - with picnic - at the neighbouring guest farm, Kwetu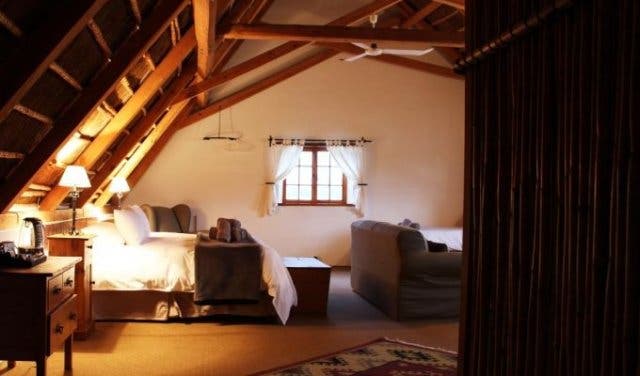 Olivedale Road, Buffeljags River Swellendam | +27(0)67 3834664, info@therotterdam.co.za
ALMOST 50% OFF WITH 5-COURSE DINNER
Jordan Wine Estate in Stellenbosch dates back 300 years, boasts Platter-winning wines and The Restaurant at Jordan, run by famed chef George Jardine of Jason's Bakery. The panoramic views of the vineyards and the mountains are pretty impressive, too. The winter special includes a night's stay and a five-course food-and-wine pairing at The Restaurant at Jordan. You also receive a bottle of estate wine. The next morning, enjoy breakfast for two at The Bakery at Jordan.
Note: Relax and unwind by pre-booking for a massage in your suite by the fireplace
Price: R3545 all-inclusive for 2 people sharing (usually ±R6000)
Availability: Until 30 September 2019
To do close by: Take a tour of the Jordan wine cellar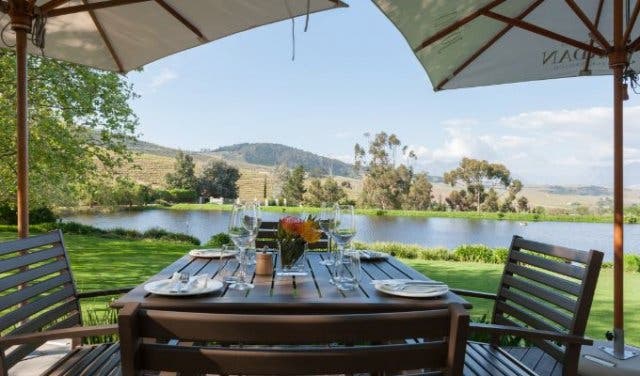 Stellenbosch Kloof Road, Vlottenberg, Stellenbosch | accommodation@jordanwines.com, +27 (0)21 881 3048
FREE NIGHT'S STAY 50M FROM THE SEA
The Auberge Burgundy is a charming guesthouse set above the picturesque Old Harbour in Hermanus, the whale watching capital of the world. The annual Whale Festival takes place in September, but whales start arriving as early as July. The central location is surrounded by ocean viewing areas, cliff paths, restaurants, craft markets, boutiques, art galleries and quaint shopping centres.
Note: The pool-side suite has a fireplace
Price: Stay for 2 nights and only pay for 1 (usually R860–R3790)
Availability: Until 10 July 2019
To do close by: Take a walk at Hoy's Koppie, a hill rising 75m above sea-level and check out the cave where tools and artefacts from the Middle Stone Age were found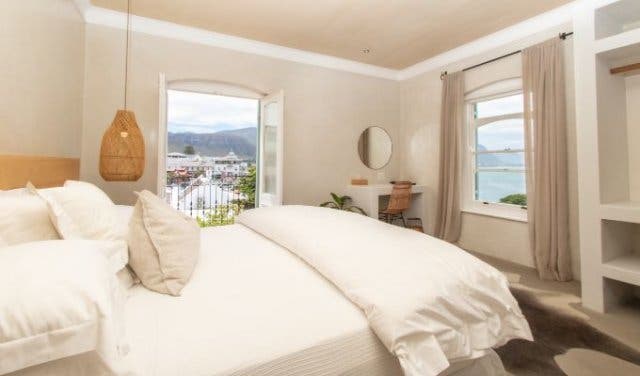 16 Harbour Road, Hermanus | +27(0) 28 313 1201, auberge@hermanus.co.za
GET A FREE NIGHT AT A GAME LODGE
Thali Thali Game Lodge on the West Coast is tranquil, comfortable and makes for an amazing family or group safari getaway. It's also very affordable, which is what makes the 3-for-2 offer, where you sleep three nights but pay only for two nights, super special. While you're there, do a game drive, and hopefully catch sight of species like buffalo, sable antelope, kudu, oryx, and giraffe at Thali Thali Game Lodge on the West Coast.
Note: The offer excludes breakfast and activities
Price: R720 pp sharing per night (buy 2 get one free)
Availability: Until 31 August 2019. The deal is applicable Sunday to Thursday
To do close by: Go on a game drive at R300 per adult and R150 per child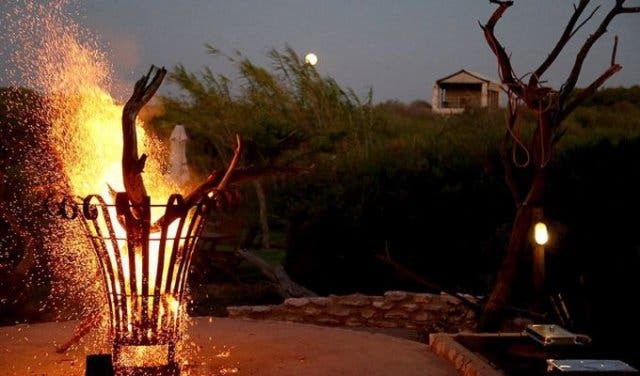 Just off R27 across Langebaan entrance | Langebaan | +27 (0) 82 372 8637, info@thalithali.co.za, Thalithali.co.za
HAVE A PEACEFUL SLEEP IN THIS STELLENBOSCH PARADISE
When staying at Haskell Vineyards, you can choose between two luxurious spaces – The Residence and the Cottage. Both have a rustic, vintage look about them and a unique feeling of being both elegant and homely. The Residence is a beautiful country house equipped with two bedrooms, three bathrooms, a dining room, a fully-equipped kitchen, a TV room, DSTV, free wifi, laundry room, braai and fireplace. While The Cottage is a loft-style apartment with one bedroom, a kitchenette, a bathroom, free Wi-Fi, DSTV, air conditioning and a veranda. Read about their 2019 Platter's award and find out about Haskell's 2019 sundowners and picnics.
Availability: until 30 September 2019.
Price: During the winter months, this self-catering accommodation will cost R2850 for the Residence per night, and R1500 for the Cottage per night, compared to the usual R3700 for the Residence and R2200 for the Cottage. Special: Pay for two nights and get one extra for free.
To do close by: Play a round of golf at the De Zalze Golf Estate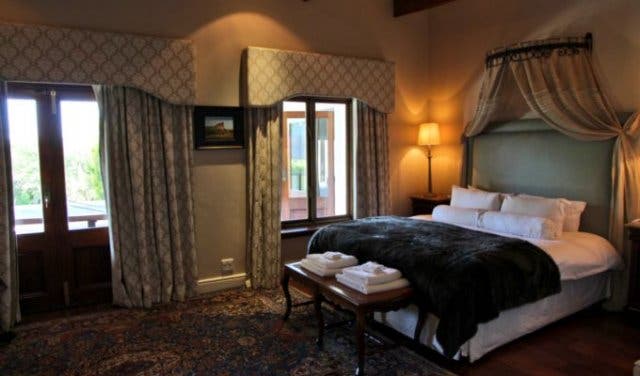 Annandale Road, Lynedoch, Stellenbosch | +27(0)21 881 3895 | info@haskellvineyards.co.za
EAT WELL AND STAY FIT WHILE SOAKING UP THE CITY
This heritage site overlooking the bustling Greenmarket Square has a fully kitted-out fitness room, rooftop pool, sauna, 165 fully-equipped luxury rooms and 24-hour room service. The O'taste restaurant offers a great dining experience, and the hotel is within walking distance of numerous entertainment options. Enjoy being in the heart of the city and all its gems with a stay at ONOMO Hotel Cape Town.
Note: The booking code to use is "winter"
Price: R1095 for a single room, R1350 for a double room (usually ± R1420–R1935)
Availability: 1 May 2019–31 August 2019
To do close by: Make like a local and feed the squirrels in the Company's Gardens. You can buy peanuts from the traders at the entrance to the gardens in Wale Street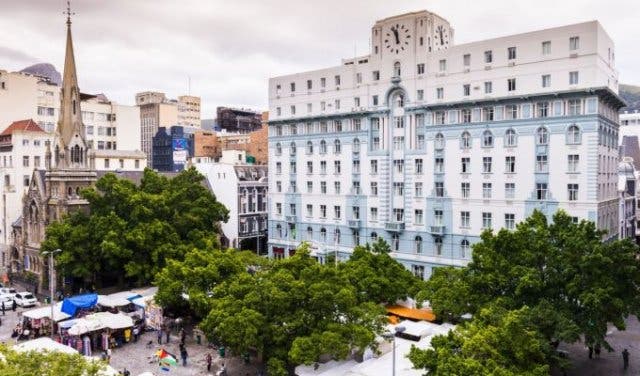 10 Greenmarket Square, City Centre | +27 (0)21 423 2050
NATURAL HOT SPRINGS
The natural hot springs at Goudini Spa self-catering resort in Rawsonville make this the perfect winter destination. Water slide, trampolines, miniature golf, hiking trails, birding, horse riding, tennis, volleyball, snooker, pool and a games arcade make it fun for the whole family. The winter special allows you to book for three nights and get the fourth night free for all types of accommodation at Goudini Spa.
Note: The Slanghoek Villas each have a fireplace in the lounge
Price: R820–R2760 per night (buy three get one free)
Availability: 14 June – 7 July 2019
To do close by: Visit the Badsberg Winery for a wine and photo pairing. Each of the eight wines is paired with a story and a photo of the surrounding area taken by photographer Hansen Preuss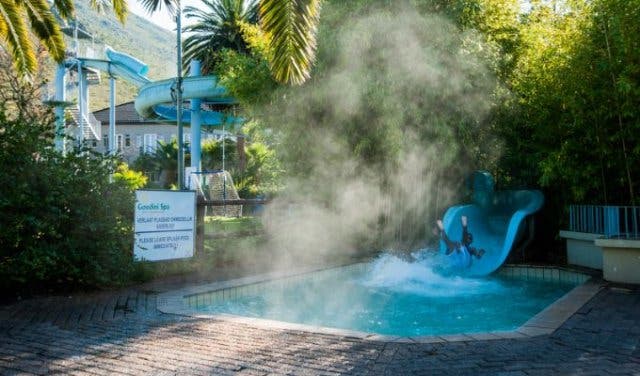 Wyzersdrift Road, Rawsonville | +27(0)23 349 8100, goudini@atkv.org.za, website
---
PLUS: Looking for an epic bonding experience? Go on a mid-week team building getaway with Cherry Glamping.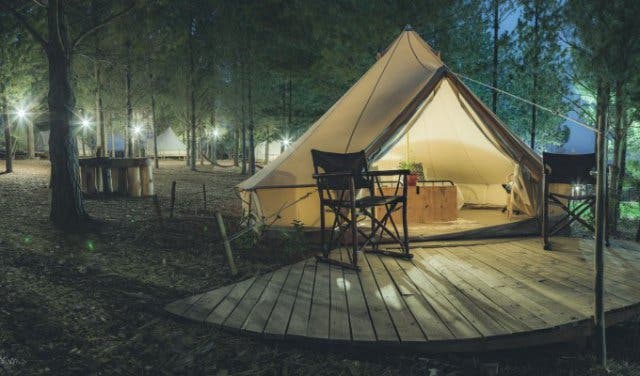 INCREDIBLE CAPE TOWN VIEWS AND EXPERIENCES
Easy but delectable meals, iconic harbour views, a chic cocktail and sundowners bar, en-suite bathrooms with any sized room and ideally located within the CTICC precinct. An iconically Capetonion leisure or business accommodation experience (complete with canal cruiser that goes through the hotel property) awaits you at aha Harbour Bridge Hotel & Suites.
Price: Get a free all-access pass to over 30 of Cape Town's top attractions when you book a four-night or more stay at Harbour Bridge Hotel at the standard booking rate. Your hotel booking includes complimentary breakfasts and a bonus three-day Cape Town Explorer pass for adults to the value of R2955.
Availability: until 30 September 2019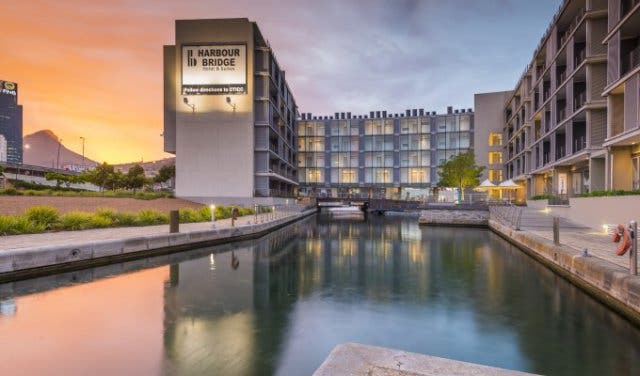 Dockrail Road | Foreshore | Cape Town| +27 (0)21 431 9202 | reservations@harbourbridgehotel.co.za
THE OLD PASTORIE – AN 1860S MANOR HOUSE IN DARLING
Only an hour from Cape Town, Darling is a quaint town in the heart of wildflower country. Securely situated on 40 hectares of private reserve, The Old Pastorie is ideal for relaxing and enjoying nature. Picnic in the garden or stop by Evita Se Perron for an evening of comedy and cabaret with Pieter Dirk Uys. After a day of exploring the town and surrounds, drift off to sleep in spacious rooms with high ceilings. Wake up to a symphony of birdsong courtesy of herons, spoonbills and geese on the nearby lake. Visit The Marmalade Cat or stop by the monthly Groote Post Country Market for breakfast. Hosts, Kneale and Robert, are friendly and accommodating and if you're lucky, you may be treated to an impressive piano solo.
Availability: Until the end of 2019
Price: R1020 per room per night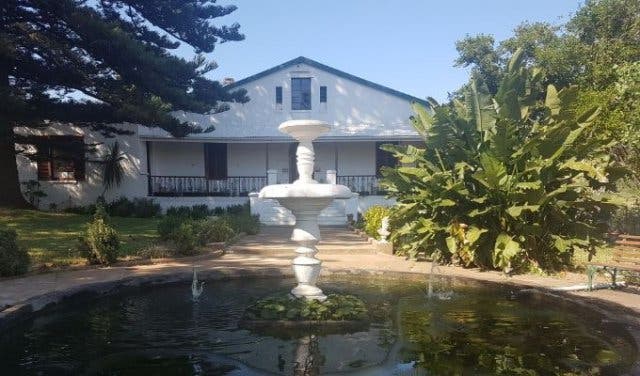 The Old Pastorie, Pastorie Street, Darling | 022 492 3715, 072 083 9990, firstreserve@worldonline.co.za, www.theoldpastorie.co.za
---
Here are 10 steps for investing in your first Property in Cape Town.
Plush hotels suites at the epicentre of Cape Town at Cartel House Hotel and discover the premium work-and-play hub for bleisure travellers who want it all at Ideas Cartel.
From lofts among the trees to a luxurious seven-bedroom villa surrounded by vineyards at Marianne Wine Estate. Plus, if you're an SA or SADC resident, you get a 20% discount off your stay.
Grand luxury weddings deserve this winelands setting of 20 000 fairy lights at the Bona Dea wedding venue.
One of Stellenbosch's most peaceful, pretty escapes. Have you been to Jordan Wine Estate?
From fully automated rooms, solar-derived energy and sweeping countryside views, get a unique experience at theLAB Robertson.
Looking for some adventure? Check out these exciting top camping spots. Be intrigued at these wonderfully unique Western Cape options for unusual accommodation and also check out our romantic getaways and for more money-saving, have a look at our budget accommodation.
Do you need more reasons to visit Cape Town in winter? Don't miss these winter specials and be prepared with things to do during bad weather in Cape Town.
Discover Cape Town, explore the Garden Route, go on safari, or design your own adventure through Agetaways.
Stay over at one of the oldest houses in Observatory at Wanderlust Backpackers.
See the new Park Inn by Radisson Cape Town Foreshore here.
Experience one of the most popular spots on the Garden Route in sophisticated luxury and home-feel comfort at aha The Rex Hotel. Also, check out luxury at its finest at aha The Quayside Hotel.
If staying in a luxury apartment is more of your style, why not try one of Afribode Apartments' 50 self-catering apartments
---
Use our events section for an up-to-date overview of what's happening in the city, 'burbs and dorpies. Join our newsletter and get quick access on the go by adding us to your mobile home screen for the ultimate guide to discoveries in Cape Town.
Follow and like us on Twitter ❤ Facebook ❤ LinkedIn ❤ Instagram ❤ Pinterest for updates.