Kids Birthday Party Spots That Make it Super Easy for Mom and Dad
Focus on the joy, not the stress. These kids birthday places take the effort out of organising the big day
Last update: 6 December 2019

We say down with the stress and effort of planning a kid's birthday party. Mom and Dad should be able to relax and enjoy this big day just as much as everyone else. We want a kid's birthday party where all you have to do is bring the kids and the cake. Or money-smart party ideas where you can save on food and entertainment. And what about a type of party that's so relaxed and easy it takes all the guesswork out of planning your little one's big day. We found several such places Cape Town and the Western Cape.
FANCY DOING A GUN RUN ON YOUR BIRTHDAY?
Nerf battles, using toy guns that shoot foam darts, are played in your garden, in forests, parks, or really anywhere you like! Scout Smart Ideas has made it easier than ever, because they set up and guide the game, leaving parents to relax and cheer from the sidelines. Send the birthday boy or girl on the Gun Run, down a gauntlet of friends, to dodge Nerf bullets fired by their friends. Other more strategic games are also available such as King of the hill, Capture the flag, Elimination, and Sniper shootout.
Benefit for Mum and Dad: The Scout Smart Ideas crew comes to you and does all the work from setup to breakdown.
Age Group: 6–14
Cost: R99–R199 per child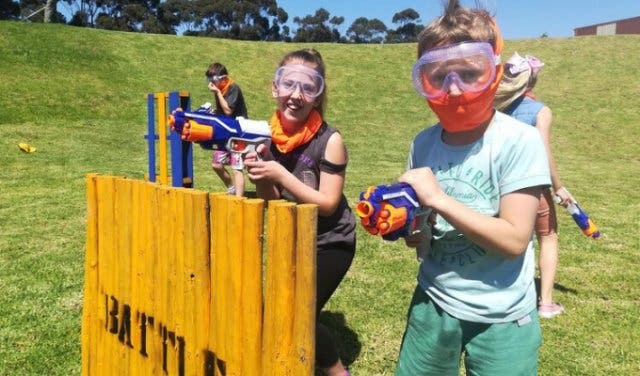 Your address of choice, scoutsmartideas@gmail.com, +27(0)63 434 4239, book online
LET SPUR SING FOR YOU ON YOUR BIRTHDAY
If you haven't experienced a Spur birthday party, have you really had a birthday party? Every kid needs to experience the Spur special birthday treat: an ice cream sparkler and the Spur birthday song performed by the waiters. Each Spur comes equipped with a supervised indoor play area, and kids receive wristbands to ensure safety and peace of mind for the parents. You can get the Spur Birthday Combo Meal for R74,90 per person, which comes with a kids meal, lucky packet, party decor and a gift for the birthday boy or girl. If you want to bring your own cake, you can do so completely free of charge. You can book your Spur kids' party online.
Benefit for Mum and Dad: Sit back and relax while the super-friendly Spur staff does all the prep, set-up and cleaning.
Age Group: 3-12 years


Various locations | spur@spur.co.za | Book online
ANIMAL FARM PARTIES IN STELLENBOSCH
Does a bike track, sandpit and the option of a private jumping castle in your own cordoned-off space inside a safe animal farm space with calves, goats, pigs, sheep and other animals – sound good? There's loads of shaded seating (and a kiosk) for the parents and the venue takes care of everything, from the cake, food and drinks to chairs and the entertainment. All you have to bring is cutlery, crockery and decor (if you want). Discover easy farm-style birthdays at Vredenheim Animal Farm.
Benefit for Mum and Dad: They take care of everything and the on-site kiosk is a blessing if you need to buy any extra sweeties or cold drinks.
Age Group: Toddlers and young children.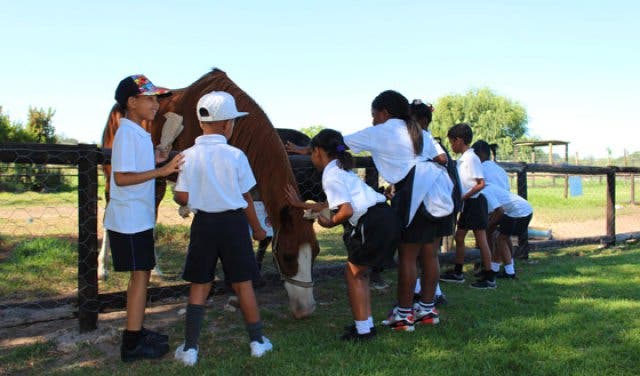 Vredenheim Farm | Baden Powell Drive | Stellenbosch | carli@vredenheimanimalfarm.co.za | +27 (0)83 391 5510
FUN FAMILY VIBES AT THE SKATE PARK
Let your kids and a couple of friends celebrate the big day by rolling around a skate park (push bikes and roller skates welcome). It is safe and fun, and they are well looked after. There are various birthday packages to choose from, which include an instructor, balloons, cake, a coffee voucher for parents and a professionally edited video (depending on which option you choose). Read more about The Shred Indoor Skate Park.
Benefit for Mum and Dad: If you choose to have the assistance of a skate instructor, you can park off in the coffee shop to get away from all the noise. Your kids will be in safe hands.
Age Group: Young children to teens.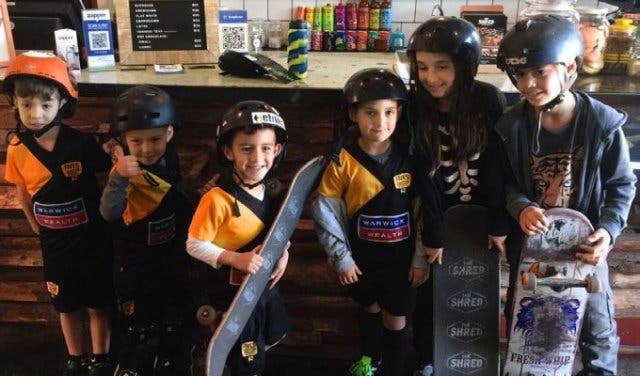 68 Auckland Street | Paarden Eiland | +27 (0)21 510 2918 | hello@theshred.co.za
A POOL PARTY IN THE SOUTH
Ever seen what happens when you unleash a group of kids (who can swim) into an indoor and comfortably-heated pool? Sheer joy and excitement. No one thinks about food (just hand them each a piece of cake on their way), and they are entertained, for two hours straight. We recently discovered that Jaxx Swim School in Fish Hoek does kids' birthday parties.
Benefit for Mum and Dad: Just pay for the venue, your entertainment's sorted and you save on food and snacks.
Age Group: Young children (who are able to swim).
Cost: About R950 for the venue only, pool toys included.
Note: Jaxx only does one birthday per weekend for two hours on a Saturday, so you need to book well in advance.

22 Central Circle | Fish Hoek | +27 (0)82 571 9441
30 BIRTHDAY THEMES AT THE WESTERN CAPE'S LARGEST PLAYPARK
Hosting almost 25 birthdays every weekend in eight themed indoor and four outdoor private party areas, you'll find loads of cool options, ideas and extras with a party at Bugz Playpark in Kraaifontein.
Options: Over 30 party themes to choose from.
Must-try: "Activity" themes: a cooking party (complete with mini kitchen and fondant fun) or makeover party (hair, make-up and nails done in a beautiful and fully-equipped room complete with mirrors and lights).
Benefit for Mum and Dad: All you have to do is bring the kids and the cake, everything else is sorted. The venue, set-up, food and a personal helper.
Age Group: Toddlers to pre-teens.
Bonus: Access to the entire park after the party – including all the rides.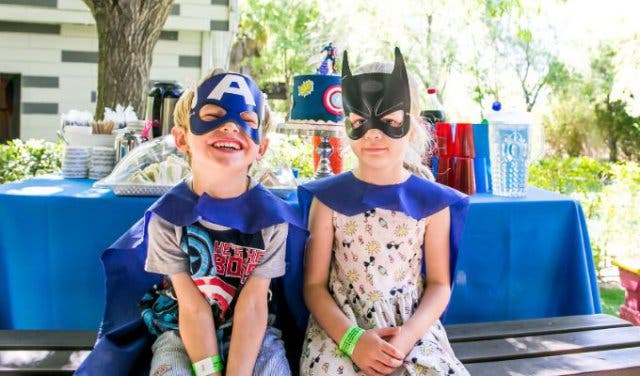 56 Tarentaal Street | Kraaifontein | +27 (0)21 988 8836 | party@bugz.co.za
A BABY SPLASH POOL IN A NURSERY IN SOMERSET WEST
Though the idea of splash pools aren't unique, the one at Mondeor Restaurant inside the nursery just off the N2 is really worth checking out. It's only a few centimetres deep, making it ideal for toddlers and even babies. And the eatery's tables encircle it, so you can keep an eye on the little ones. And it's complemented by jungle gyms, slides and play areas, in a safe enclosed space.
Benefit for Mum and Dad: Easy to organise, just book a table – they do all the set-up – in a safe, child-friendly space. Plus: It's a restaurant, so there are nice food options for the grownups, too.
Age Group: Toddlers to young children.

22 Mondeor Street | Somerset West | +27(021) 858-1608 | info@mondeorrestaurant.co.za
KICK BACK WHILE THE KIDS PARTY IN CAPE TOWN
The President Hotel might not be the first place you'd think of having a kid's party. But if it's within your budget, it can be magic. Their entire focus is on allowing parents to also relax all parties come with childminders – so take in the Sea Point views and vibe while the kids enjoy the infinity pool, jumping castles, ball pit, teepees and healthy food and drinks.
Benefit for Mum and Dad: Just chill, they do everything for you.
Age Group: Toddlers to teens.
Cost: Starts from R200 per child.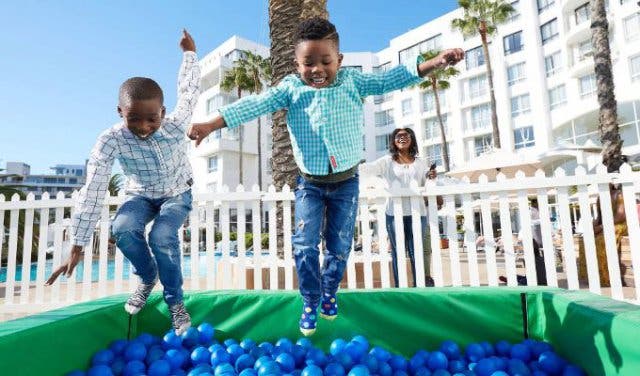 4 Alexander Road | Bantry Bay | +27 (0) 21 434 8111 | info@presidenthotel.co.za
SAFE AND FUN LASER TAG IN A PARK
Here's a chance to get the children away from the games consoles and out into nature in a fun way that builds social and co-operational skills. Laser tag is pain-free, high-tech and loads of fun – like paintball, but with laser equipment, so it's safe. It's convenient because the organisers can bring the game to a park nearest you. Discover birthday parties with Battlefield Live SA.
Benefit for Mum and Dad: You can pick a location near you, so you get convenience.
Age Group: 7 and up, good for teens.
Cost: R2730 for 14 kids.

Various locations | +27 (0)84 364 9979 | renar@battlefieldlive.co.za
A PUPPET THEATRE IN THE SOUTHERN SUBURBS
The Rainbow Puppet Theatre in Constantia might already be known as a fun, storytelling-based activity for children on the weekend, but did you know that it can make for an ideal (if not frugal) birthday party? Here's the idea: If you have 20 or so kids to entertain for a birthday, you can join any of their existing shows (classics like Little Red Riding Hood, Rumpelstiltskin etc.) on a Saturday, at just R25pp.
Benefit for Mum and Dad: At R25 per person, it can be affordable. Include some snacks and share in the surrounding gardens.
Age Group: From 4 up.
Cost: R25pp

Constantia Waldorf School | Spaanschemat River Rd | +27 (0)217832063 | therainbow.puppettheatre@gmail.com
DOWNHILL ADVENTURE PARTIES FROM TABLE MOUNTAIN TO THE WINELANDS
Here's something very different: A guided downhill off-road scooter ride through some of the most beautiful mountains in and around Cape Town. It's outdoors, adventurous, fun and active. And you have several route options from Signal Hill near town to Jonkershoek and even the Franschhoek Valley. Discover birthday parties with our friends at Scootours.
Benefit for Mum and Dad: No need to worry about cakes and sweets, just bring water and a thirst for adventure.
Age Group: From 10 up (2–9 ride as passengers).
Cost: R400pp for drivers and R150pp for passengers.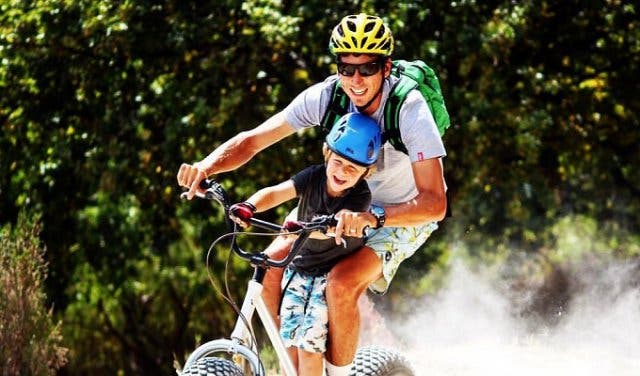 Various locations | +27 082 776 0557 | capetown@scootours.co.za
FARM-STYLE PARTIES IN THE HELDERBERG
Helderberg Farm, on Klein Helderberg Road near Somerset West, has a reputation as a family-friendly venue, offering everything from strawberry picking to hiking, biking, braai and picnic. But, it's also very geared for events, team building and birthdays. Kids' birthdays here are outdoorsy, with a playground and loads of farm-style activities, from learning to shoot a kettie to climbing trees. They do, however, have all the usual: decor, themes, cakes, jumping castles etc. and, whatever they can't do in-house, they can help arrange a professional to handle for you.
Benefit for Mum and Dad: Your choice: You can keep it simple and just have the basics, or ask the team to recommend pro entertainers or decor specialists to make it extra special.
Age Group: Toddler to teen – they help you create different types of parties for various ages.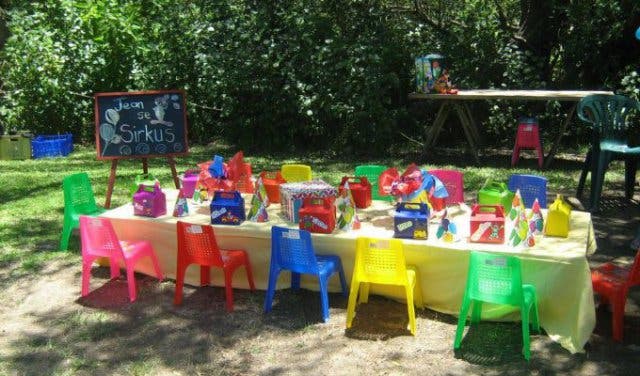 Klein Helderberg Rd | Helderberg | +27 (0)21 855 4308 | helderbergplaas@mweb.co.za
SAFE WATER SLIDE FUN IN STRAND
Your kids won't be short of entertainment here. There are five waterslides, including safe play areas for under-6s as well as other attractions such as putt-putt, a jungle gym, zip slide, obstacle course and shaded café. You get two hours of access to all rides, as well as a picnic table area for the party. And you can choose whether you want to bring your own party packs and cake etc., or have it all taken care of in-house. Check out the birthdays at Waterworld in Strand.
Benefit for Mum and Dad: Kids have full access to all activities and there are lifeguards and personnel on hand to ensure their safety.
Age Group: Toddlers, young children and pre-teens.
Cost: Starts at R90 per child.

Beach Road | Strand | +27 (0) 21 584 4702 | info@waterslides.co.za
BONUS:
AQUARIUM FREE ON YOUR BIRTHDAY
Although they no longer offer birthday parties at the city's famous aquarium, you can now get free access to the Two Oceans Aquarium on your birthday. And, if you bring a group of 10 people or more (like for a birthday party excursion, for example) you get 10% discount on the price of everyone's ticket. Discover free birthdays at the Two Oceans Aquarium.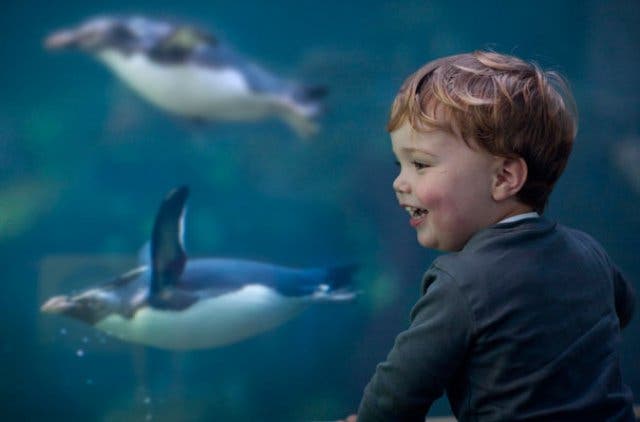 OR AN OUTDOOR MOVIE EXPERIENCE
You can also now get free entry, a backrest and a blanket on any movie showing on the day of your birthday at the Galileo Open Air Cinema.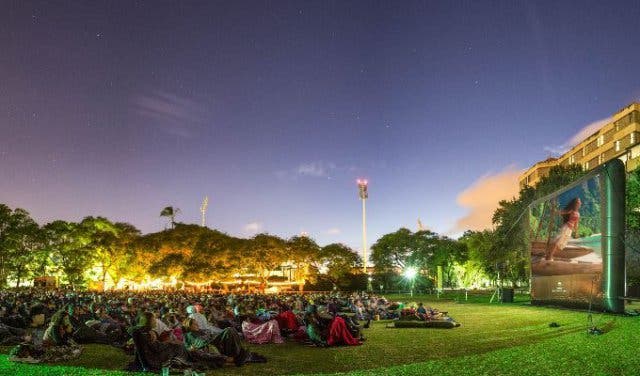 PLUS: More free things on your birthday in Cape Town.

Rock it like Juni and Carmen Cortez at SpyKids' first Nerf War.
Party in an underwater world, hang out on a city rooftop or escape into nature at these great birthday party places.
Discover over 50 things to do with kids, as well as 20+ free and cheap things with the family.
For adults, have a look at our choice selection of special places to have your birthday.
---
Use our events section for an up-to-date overview of what's happening in the city, 'burbs and dorpies. Join our newsletter and get quick access on the go by adding us to your mobile home screen for the ultimate guide to discoveries in Cape Town.
Follow and like us on Twitter ❤ Facebook ❤ LinkedIn ❤ Instagram ❤ Pinterest for updates.