Top Chinese Restaurants in Cape Town
A selection of premium eateries to chow down with chopsticks in the Mother City

Last update: 6 September 2019
Hungry for noodles and rice and all things nice? Whether generously piled into takeaway boxes or brought to the table sizzling hot, Chinese food is always a firm favourite. From tasty Cantonese dishes like sweet and sour pork to delicious Szechuan options like Kung Pao Chicken, this particular type of Asian cuisine bursts with the unique, irresistible flavours of the Orient.
So, to help you find the top Mother City eateries to indulge in dim sum and dumplings, what follows is a broad selection of Chinese restaurants in Cape Town and surrounds. Now, all that's required of you is to pick up those chopsticks and start chowing down.

CHINESE FOOD AND AN OCEAN BREEZE
Asami's in Knysna serves sushi made to order. It also has an impressive Chinese menu with plenty of options from sweet-and-sour chicken with fresh vegetables to crispy Peking duck. There are also noodle options from chow mein to pad thai, udon, Singapore noodles and more, plus you can eat outdoors in the Knysna Waterfront's fresh sea breeze at Asami House.
Hours: Mon-Sat: 11am-10pm, Sun: 11am-9pm (Stellenbosch closes at 9:30pm on Sundays)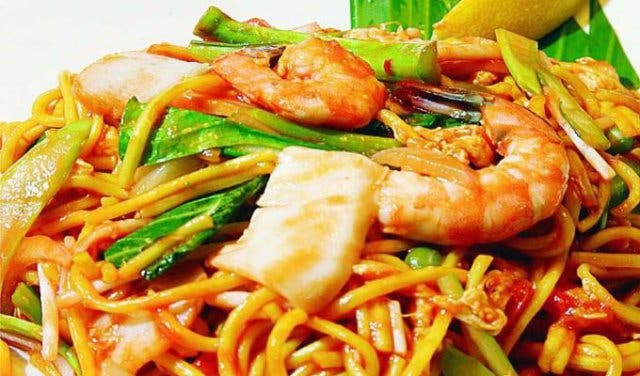 21 Waterfront Drive | Knysna Central | Knysna | 064 988 0450 / 063 5901 183
SOUTH CHINA DIM SUM BAR
This local favourite is as trendy as its top location amidst the quirky boutiques and eateries of Cape Town's colourful Long Street. Pull up a wooden crate and compose your own meal from the array of bite-sized Southeast Asian morsels on offer. Fill your bowl with tasty nibbles of steamed buns, wontons and potstickers and dip them in the eatery's unique homemade soya sauce for extra zing. Every Saturday, you can also pop by their stand at the City Bowl Market for a delicious bite on the run.
Hours: Tuesday – Friday: 12:30pm - 3pm and 6:30pm - 10pm; Saturday: 6:30pm - 10pm
289 Long Street | City Centre |Cape Town | + 27 (0) 78 846 3656
MONK'S CHINESE FOOD
This popular takeaway service offers a taste of China to rival the rest with its wide assortment of flavourful dishes presented in white rectangular boxes, reminiscent of those in television sitcoms. One of Cape Town's best-kept secrets, Monk's is low key, boasts affordable prices, and delivers within the City Bowl (between Camps Bay and Woodstock) with all orders made via telephone for your convenience. Try firm favourites like the Crispy Duck Pancakes with Hoisin Sauce or the Smoky Noodles, and don't expect to have to wait too long; delivery is quick and efficient.
Hours: Monday–Sunday: 5pm-10pm
City Bowl | Cape Town | +27 (0) 424 9162
MR CHAN
Asian locals and tourists alike make up a sizeable portion of this Chinese eatery's clientele – a great reflection of the authenticity of their food. Mr Chan is conveniently situated on Sea Point's bustling Main Road, and with its extensive menu of zesty Cantonese, Peking and Szechuan fare (think delectable dishes like chilli ribs and fried lobster), it fills up quickly; it's thus always best to make a booking to secure a table, especially on busy weekends.
Hours: Monday – Sunday: 12pm - 2pm; 6pm - 10:30pm
178 Main Road | Sea Point | Cape Town |+27 (0) 21 439 2239
MAINLAND CHINA
Tucked away in Claremont mall, Stadium on Main, this charming eatery is a hidden gem, dishing up delicious authentic Chinese cuisine. Its main drawcard is the all-you-can-eat R55 Sunday lunch buffet (12:30pm to 3pm), which, with a scrumptious spread of well-loved choices like spring rolls, chow mein and egg-fried rice, regularly brings in the weekend crowds. On warm days, savour your selection chopsticks-style on the outdoor terrace and round it off (if you still have space) with sweet, sticky bow ties or a calming pot of jasmine tea.
Hours: Monday –Tuesday: 11am - 4:30pm; Wednesday – Sunday: 11am - 9:30pm
111 Main Road | Claremont | Cape Town | +27 (0) 21 674 2654
TAI PING RESTAURANT
Situated in a peaceful cul-de-sac in the leafy suburb of Newlands, this family-run restaurant offers an ideal setting in which to linger over flavoursome Chinese fare. Complementing the calming surrounds is a first-rate menu of delicious options, like hot pot dishes, the Honey and Garlic Ribs and Fong Li Pork. A separate functions room that seats approximately 30 people can be hired out for special occasions.
Hours: Monday ­– Saturday: 10:30am - 2:30pm; 4:30pm - 9:30pm
Corner of Dean Street and Wilkinson Street | Newlands | Cape Town | +27 (0) 21 686 6312
BEIJING RESTAURANT
On stepping through the door of this Northern Suburbs restaurant, you're guaranteed to feel as if you've entered a warm, welcoming Chinese home, despite its old Victorian facade. The food is as delicious as it is fresh and wholesome, and the committed part host, part chef takes as much care in the fare's preparation as she does in giving guests a positive, memorable experience. The extensive menu boasts favourites such as Cherry Chicken and Peking Duck.
Hours: Monday – Sunday: 12pm - late
26 Oxford Street | Durbanville | Cape Town | +27 (0) 21 975 1024
MAKE
Offering a mouth-watering array of urban Chinese and Japanese fare, this restaurant prides itself on being strictly MSG-free. No non-descript food additives or highly suspicious sachets of special 'tasty powder' will be found here; rather the focus is exclusively on honest, wholesome raw ingredients. The selection is always evolving with new dishes being added regularly, but it's recommended you try one of their steadfast stalwarts, like the Prawn Crackers or Chicken and Sweet Corn Soup, or indulge in Singapore Fried Noodle.
Hours: Monday – Sunday: 11am - 10pm
204 Main Road | Sea Point | Cape Town |+27 (0) 21 434 8899
JACKY'S CHINESE RESTAURANT
This Panorama-based restaurant's authentic Asian tasting buffet reliably draws crowds from both near and far. At R75 per person, the spread is a bountiful bargain, offering customers the opportunity to sample tasty dishes like Vegetable Chop Suey, Beef Fillet in Black Bean Sauce or Sweet and Sour Calamari. A la carte and takeaway menus that don't skimp on flavour are also available for those who are less ravenous or on the go.
Hours: Monday­ – Saturday: 11:30am - 10pm; Buffet: Monday – Thursday: 6pm - 10pm; Friday – Saturday: 3:45pm - 10pm
Shop 14 | Delmar Centre | Corner of Henrie Winterbach and Rothschild | Panorama | Cape Town | +27 (0) 21 930 0770
Note: the cost of the buffet is subject to change
TAO YUAN
Boasting a splendid sea view from its prime location on the Sea Point promenade, this family-friendly restaurant is the ideal choice for tasty Chinese cuisine in scenic surroundings. In addition to a focus on colourful Cantonese dishes (such as your choice of meat or vegetables cooked in delicious sticky sweet and sour marinade or smoky oyster sauce) you can also venture further into the broader range of Asian flavours on the menu. Alternatively, test your wasabi tolerance with a tantalising selection of freshly-prepared sushi inspired by the nearby ocean.
Hours: Monday – Sunday: 10:30am - 3pm; 5:30pm - late
Mimosa Court | 275 A Beach Road | Sea Point | Cape Town |+27 (0) 21 434 8188
HO HO'S
This simple takeaway joint is a favourite spot for those craving the comforts of delicious traditional Asian dishes, such as Foo Yong (Chinese omelette) and vegetarian chow mein. Most of their sauces are homemade and their portions are very generous, making Ho Ho's a popular and especially convenient stopover on the way home. To create the sense that you've cooked their tasty fare yourself (or if you simply want to enjoy the full flavours of their food throughout the week), you can also select frozen meals to heat up at home. Or, for an indulgent dining experience without any of the associated effort, order a tasty TV Box (1 vegetarian spring roll, choice of sweet and sour pork or chicken with either rice, noodles or vegetables, washed down with a selected soft drink) and enjoy from the comfort of your couch.
Hours: Tuesday – Sunday: 12pm - 8:30pm
Shop 10 | Ipic Shopping Centre | Kenridge |+27 (0) 21 914 0985
HAYASHI
Set in the heart of the bustling university-centred town of Stellenbosch, this Chinese restaurant is popular with students, locals and tourists alike. Choose from a large selection of mouth-watering offerings (think Hot and Sour Soup, Stir-fried Pork Belly and Teriyaki Kingklip) or practise your chopsticks skills as you dig in to delicious options at the sushi bar or, on Sundays, enjoy the all-day sushi buffet. What's more, if you're looking to dish up Asian food at an upcoming function, Hayashi also offers catering services on special request.
Hours: Monday – Sunday: 10am - 10pm
Shop 6 |Springbok Building | Andringa Street | Stellenbosch |+ 27 (0) 21 883 8917
WOK THIS WAY
With an array of pleasing sights, smells and tastes on offer, this intimate, relaxed Chinese establishment on Somerset West's Main Road gives you no option but to 'walk this way' right through its open doors. Select flavourful dishes (like the spare ribs in salt and chilli or the beef scallion) from either their set or a la carte menu, or try their special combo of one starter and one main for only R88 per person.
Hours: Monday – Sunday: 12pm - 3pm; 5pm - 10pm
Unit 6 |Uitkyk Trading Post | Corner of Main Road and Van der Byl Street | Somerset West | +27 (0) 21 852 6636
---
Explore Chinese food, culture and heritage at the annual Chinese Spring Food Fair.
Tea drinking culture is changing. Come taste its new flavour at Royaltea Cape Town, a Tuesday treat to share with a friend at this tea special.
NEW: Try the menu and meet the couple behind Hout Bay's Nippon Sushi.
Satisfy your cravings at Asami's Sushi and Chinese. Looking for a broader selection of Asian cuisine? Then Cape Town's Eastern Food Bazaar is the place to head. Alternatively, have a gander at our overview of Asian restaurants in the Mother City.
---
Use our events section for an up-to-date overview of what's happening in the city, suburbs and dorpies. Join our newsletter and add us to your mobile home screen for the ultimate guide to discoveries in Cape Town.
Follow and like us on Twitter ❤ Facebook ❤ LinkedIn ❤ Instagram ❤ Pinterest for updates.