Accommodation in De Waterkant
A selection of places to stay in one of Cape Town's most charming central sub-districts
Cape Town's vibrant and historic hillside village De Waterkant, with its panoramic views and picturesque scenery, is a welcome reprieve from the hustle and bustle of the nearby city centre. Colourful houses and cobblestone streets lend a charming air to this cultural hotspot, which is known for being both a safe area and the city's most popular and lively gay-friendly neighbourhood.
Needless to say, if you're seeking a quaint, central place to stay in the Mother City, this delightful sub-district is it. Whether you are looking for a luxury hotel, cosy bed and breakfast (B&B) guest house or self-catering apartment for holiday rental, there is plenty on offer, all ideal for relaxation and rejuvenation. Catering for both the budget-conscious and the affluent leisure traveller (and everyone in between), our overview of accommodation in De Waterkant will help you find a top-notch site to rest your head that is both comfortable and within short walking distance of a vibrant array of sidewalk cafés, boutique stores, restaurants and nightlife haunts.
B&B GUEST HOUSES IN CAPE TOWN'S DE WATERKANT

PLUSH HOTEL SUITES AT THE EPICENTRE OF CAPE TOWN
Ideas Cartel is a lifestyle suite of offerings including the Cartel House Hotels, the offices and coworking spaces, private booths and meeting rooms, and exclusive lounges (accessible to hotel guests and members of Cartel Members Club) – all under the Ideas Cartel umbrella – at three locations in the city. All suites are decorated by Jacob Crafford-Burger; responsible for Inner City office's upmarket interiors, he has added the plush additions and comfort that guests expect from a hotel. All en-suite rooms have a double layer of curtains, 55-inch flat-screen TVs, Netflix, Internet connectivity, Smeg appliances, and live plants, bathrobes and slippers. There are three rooms at the Cartel House Hotel on Waterkant Street, about 20 more coming at the Old Foundry on Sand Hill Road as well as six rooms in Loop Street at Cartel House Hotel Everything can be booked via the Cartel App.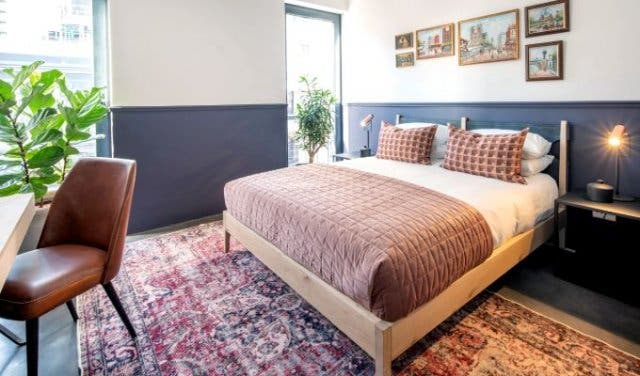 3 locations, +27(0)21 824 1781, info@ideascartel.com, website
De Waterkant House
Nestled in the heart of De Waterkant Village close to a number of eateries, bars and boutiques, this elegant, Euro-chic B&B boasts an outdoor pool and terrace and overlooks the charming cobblestoned neighbourhood and the Table Bay harbour. Housed in a luxurious Cape Georgian manor, the guest house comprises a selection of single and double bedrooms, and options range from the more affordable traveller's room (which is simple but no less elegant) to the more indulgent superior room (which features an en-suite bathroom and flaunts breathtaking city or harbour views). Each room is equipped with a mini-bar and tea and coffee-making facilities, and breakfast is served at the quaint, nearby, alfresco Village Café.
35 Loader Street | De Waterkant | Cape Town | +27 (0) 21 437 9706
The Charles Guest House
The Charles, De Waterkant House's sister accommodation, is conveniently situated right opposite the village's vibrant Cape Quarter piazza. Offering an intimate setting where guests can unwind at their own leisure, this gay-friendly luxury B&B guest house also features a number of different rooms that range from the reasonably-priced traveller's rooms to the more opulent, open-plan superior rooms; both twin and double alternatives are available. Two spacious rooftop decks that claim splendid sweeping city vistas provide ideal spaces for small cocktail parties and special occasions. Guests are also welcome to relax at the outdoor pool and terrace at De Waterkant House, and can indulge in a hearty breakfast at the Village Café located only a few steps away.
137 Waterkant Street | De Waterkant | Cape Town | +27 (0) 21 437 9706
Tip: In addition to De Waterkant House and The Charles guest houses, a number of connected self-catering apartments and town houses are also available for short-term rental during summer (or long-term rental in winter). These cosy, individually-themed homes feature between one and three bedrooms and some boast the extra option of an intimate courtyard and rooftop deck, ideal for those hot summer days. To cool off, independent travellers are also welcome to take a dip in the splash pool located at De Waterkant House.
The Village Lodge
A trendy, intimate B&B located in the centre of the cultural De Waterkant district, this accommodation hotspot promises guests a unique, personalised experience with its range of highly comfortable, contemporary double rooms. Visitors can enjoy a traditional English (during winter) or continental (during summer) breakfast at the in-house Soho Restaurant, which acts as an independent eatery during the remainder of the day, offering authentic Thai cuisine to the general public. For some much-needed relaxation, guests can also visit the lodge's rooftop Sky Bar and pool to sip on sundowners and take in the sensational sunset views.
49 Napier Street | De Waterkant | Cape Town | +27 (0) 21 421 1106
De Waterkant Place Guest House
Found in the heart of the Old Malay Quarter, De Waterkant Place lies nestled among the vibrant facades and cobbled streets iconic of this lively area. This cosy, beautifully-finished B&B boasts a range of different rooms that can accommodate up to two people (there are also options for the single traveller). Five of these rooms are found in a separate two-storey accommodation unit that also features communal self-catering facilities, a lounge and dining room; visitors have the option to rent the whole unit, each level or single rooms. A large rooftop terrace provides panoramic views of the V&A Waterfront, Table Bay and Table Mountain. For independent travellers seeking privacy, a fully-fitted self-catering cottage at a different location in De Waterkant can also be secured for short-term holiday rental.
35 Dixon Street | De Waterkant | Cape Town | +27 (0) 21 419 2476
SELF-CATERING APARTMENTS IN CAPE TOWN'S DE WATERKANT
De Waterkant Cottages
De Waterkant Cottages comprises a selection of 14 different self-catering units that are scattered along some of the village's main streets and that serve as delightful, affordable homes away from home. Guests can pick their own uniquely-decorated and furnished property from the wide array of cottages, apartments and town houses on offer. Appropriate for short-term vacation rental (medium-term stays can also be arranged), the units range in size from one to four bedrooms and each boasts a well-kept outside area; most also offer the added facility of a small pool, jacuzzi or roof deck. Daily housekeeping is provided and the fully-fitted kitchens can be pre-stocked upon request.
40 Napier Street | De Waterkant | Cape Town | +27 (0) 21 421 2300
Soho on Strand
This trendy, modern apartment block, which is conveniently located close to Cape Town's city centre and popular nightlife strip Long Street, boasts an assortment of privately-owned, New York-style flats that feature between one and three bedrooms to suit all accommodation needs. Set around a communal swimming pool and braai area, the self-catering apartments flaunt dazzling views of either the surrounding city or the Mother City mountains. Short-term holiday rental, as well as long-term stays, can be arranged, and the type of furnishing and facilities available depend on the owner of each unit. A concierge service and 24-hour security are provided for guests' safety and convenience.
128 Strand Street | De Waterkant | Cape Town | +27 (0) 21 419 8888
The Rockwell Apartments
This boutique-style De Waterkant residence offers a range of both one and two-bed room luxury self-catering holiday apartments, all of which feature balconies. Being both stylish and contemporary, this premier accommodation option is ideal for single travellers or small young groups looking for a rather indulgent stay that comes with all the modern amenities (think televisions, air-conditioning, Wi-fi and safes) and is located right in the heart of one of Cape Town's most vibrant nightlife areas. What's more, premium security and an indoor pool are also available as added extras.
Corner of Prestwich and Alfred streets | De Waterkant | Cape Town | +27 (0) 72 208 8986

Harbouredge Apartments
This urban-chic self-catering holiday apartment block, which flaunts unrivalled views of the harbour and Table Mountain from the upper floors, offers luxury accommodation that is both sophisticated and spacious. A range of different contemporary, well-appointed units are available – from single studios to three-bedroom apartments and one three-bedroom penthouse suite – and all are ideal for entertaining and for a comfortable, relaxing short-term stay. A fully-equipped gym, a plunge pool, an adjacent restaurant, underground parking and 24-hour security are some of the services and facilities on offer for guests' comfort and convenience.
10 Hospital Street | De Waterkant | Cape Town | +27 (0) 21 418 2821
HOTELS IN CAPE TOWN'S DE WATERKANT
Protea Hotel Victoria Junction
Set amidst the hustle and bustle of vibrant Somerset Road, this recently-refurbished (2012) hotel, with its quirky décor and dynamic pricing, makes for a comfortable, convenient and affordable stay. Ideal for both business and leisure travellers on short, overnight trips, the reasonably-priced hotel provides a choice of standard, superior and loft rooms (all one-bedroom). What's more, it is within walking distance of a selection of popular eateries, the luxury Cape Quarter Lifestyle Village and boutique shopping centre and central business hubs. An outdoor pool, a gym and a restaurant (Connexxion) are available on the premises.
Corner of Somerset and Ebenezer roads | De Waterkant |Cape Town | +27 (0) 21 418 1234
BUDGET ACCOMMODATION IN CAPE TOWN'S DE WATERKANT
Traveller's Places
Are you a discerning traveller who would rather use the bigger part of your budget on adventure and activities than accommodation? Then Traveller's Places, a group of affordable units scattered throughout De Waterkant, is the ideal option for you. Catering to the passing through backpacker who also prefers a spot of refinement, these rooms are available in some of the best locations at bargain prices. Such rooms can be found at discounted rates in the quaint De Waterkant Village and in guest houses De Waterkant House and The Charles. With accommodation like this as an alternative, travellers can rather spend their extra cash on popular activities in the area, such as skydiving, abseiling and biking.
Various locations | De Waterkant | Cape Town | +27 (0) 21 437 9722
---
Found a place to stay in this vibrant neighbourhood? Now, head out for a camp crawl and explore the gay clubs and nightlife in De Waterkant. While you're here, make sure to check out the one and only Cape Quarter Lifestyle Village.
---
Also, don't forget to follow us on Twitter, like us on Facebook, and check out our Pinterest boards for updates. Plus, subscribe to our weekly newsletter for news on what's happening in and around Cape Town.