From Rockpools To Rooftop Luxury Baths
62 pools of various sizes and types to try out
When it's hot in Cape Town, there are few things as refreshing as cooling off in a pool. Whether you're after a family-friendly frolic, a dip in the ocean, or a relaxing poolside cocktail, we have what you're looking for right here. Some have venues that host parties, include spa treatments, provide Olympic level challenges and have hours of exhilarating fun for the kids. There are also pretty and safe tidal pools and crystal-clear hidden rock pools for you to discover.
FROM OLYMPIC SIZE TO TODDLER POOLS
Less stringent water restrictions and alternative water sources have paved the way for many more pools to be open this season. The pools range from Olympic-scale to tot-sized, with diving boards and parks for those who can't swim (yet). The City of Cape Town hopes to have 30 public pools open in Cape Town this summer.



ADD ADVENTURE TO YOUR POOL EXCURSION
They say that it's about the journey, not the destination: that's what makes finding a natural rock pool so special. It's not just about being in the fresh, crystal clear water, but about hiking, climbing, and maybe even jumping to get there. They're also located out in nature, surrounded by indigenous fynbos - and if you're lucky you may even encounter local wildlife, like dassies or small buck. Start your adventure by trying one of these natural rock pools.



SAFE SEA SWIMS
The ocean can be thrilling to swim in, but the waves and rip currents can be a little intimidating, especially for those who aren't strong swimmers. You don't have to skip the beach if you're worried about the waves though: there are plenty of safe tidal pools to enjoy. You get to enjoy the fresh coolness and natural buoyancy of the ocean, and discover an array of sea life. From whales to starfish, sea anemones and urchins, explore the ocean safely at these amazing tidal pools in Cape Town.



COCKTAILS, RESTAURANTS AND PARTIES
Sometimes you want to splash and frolic in the water, but there's also a time and place for a more sophisticated swim. There are some truly incredible pools to enjoy in Cape Town, where you can sip poolside cocktails, catch the game, enjoy panoramic views, get your groove on at a pool party, or even throw in a spa treatment. Make this summer memorable at one of the incredible pools open to the public in Cape Town.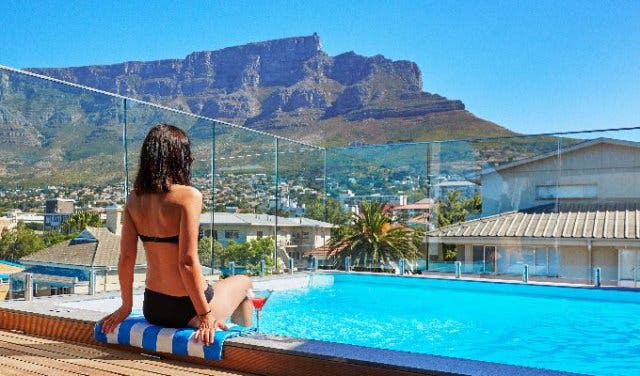 ---
Get out this summer and explore these off the radar beaches.

Live it up this at one of these Cape Town party venues.

Live life to the fullest, tick all of these from your bucket list.

---


Use our events section for an up-to-date overview of what's happening in the city, 'burbs and dorpies. Join our newsletter and get quick access on the go by adding us to your mobile home screen for the ultimate guide to discoveries in Cape Town.
Follow and like us on Twitter ❤ Facebook ❤ LinkedIn ❤ Instagram ❤ Pinterest for updates.