50% Off Plush Hotel Suites Atop Smart Work Spaces In Epicentre Of Cape Town
Ideal base for stylish travels (and business if desired)
The jewel-coloured, padded velvet doors at the Cartel House Hotel on Loop Street lead to five of six suites, one with a spacious balcony complete with a hammock, patio furniture, plants, and views of the Bo-Kaap, Signal Hill and the city.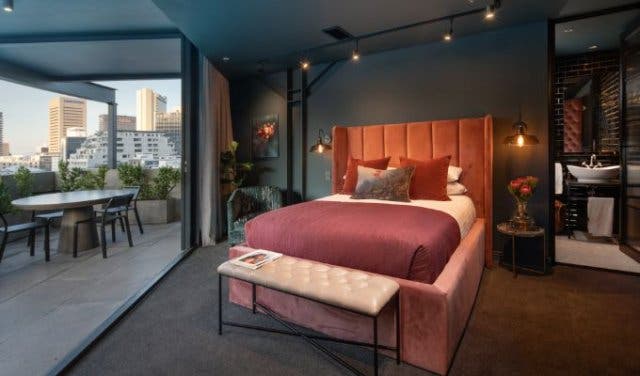 Cartel House Hotel bookings also unlock entry into the Cartel Members Club. This gives guests free access to all Inner City coworking spaces, across three locations, and private spaces like the spectacular 360-view rooftop pool on the 11th floor, and the bedecked lounges.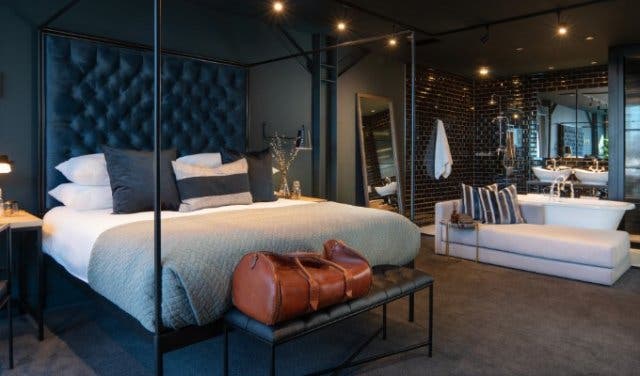 TOP-CLASS STAY AND BOUTIQUE HOTEL IN ONE
These are some of the 33 suites that will make up Ideas Cartel's offering of hotels by 2020 in three different locations across the city. In sizes up to 100 square meters, each suite features various configurations of open-plan living, views, and balconies.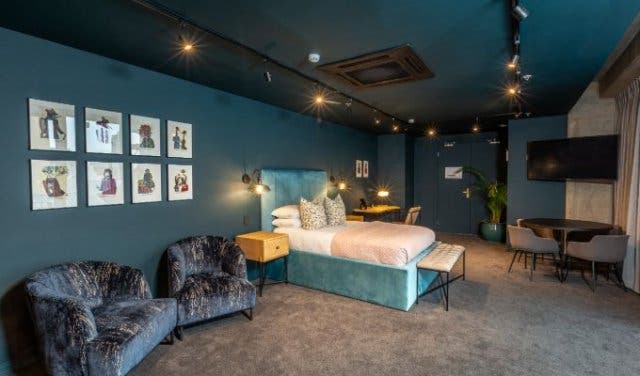 Built for the rising breed of business visitors who want to mix work, play and leisure, the hotels are the seamless mix of luxury accommodation and intimate boutique hotel.

The win for leisure travellers is that the hotels are housed in the same buildings as Inner City By Ideas Cartel, with its range of offices, coworking spaces, private booths and meeting rooms at three coveted addresses – Loop, Waterkant and Sand Hill Road. The hotels are managed by Travis Young, who brings his years of experience at hotels such as the opulent Delaire Graff Estate and classic luxe Ellerman House to create the unique Cartel experience.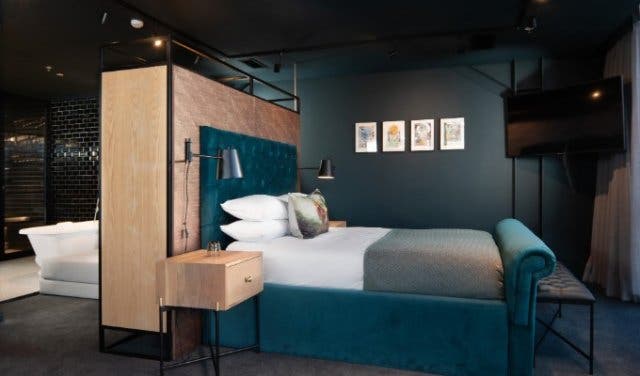 COMFORT IS PLUSH VELVETS AND JEWEL COLOURS
So on-point is their style that the hotel accommodates all contemporary tastes, from quirky Millennials to been-there and seen-it-all executives. All suites are decorated by Jacob Crafford-Burger, the brain behind all of Inner City office's upmarket industrial interiors, but he really pumped up the plush and comfort levels for the hotels.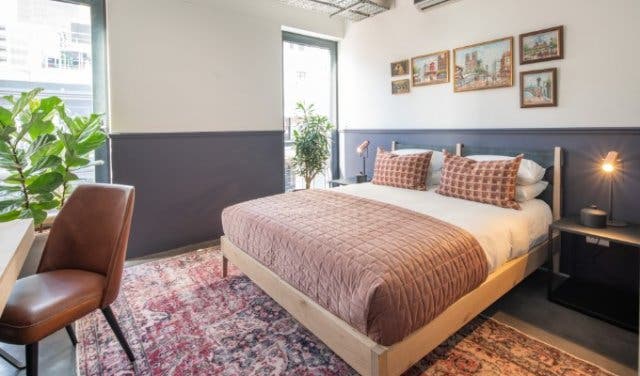 Beds feature velvet-upholstered bases and headboards with plump decorative cushions in addition to the sleeping pillows. The walls on Loop are a deep blue hue and feature quirky Tony Pinchuck prints of African wildlife, traditional patterns and Victorian engravings, or original paintings by various up-and-coming local artists.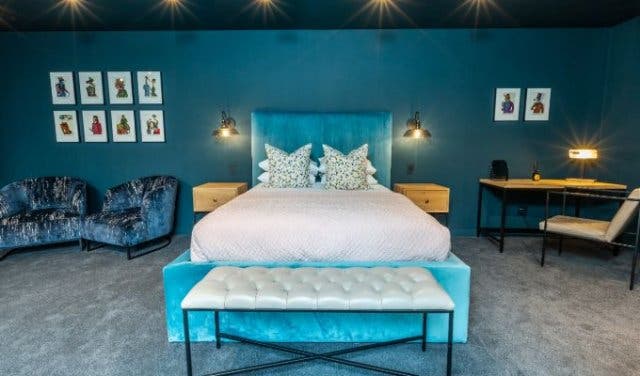 BESPOKE FURNITURE, BATHTUBS AND BATHROBES
These air-conditioned abodes feature bespoke furnishings such as bedside tables with copper bases and marble tops, work desks and elegant wood-and-steel closet spaces.

It's the kind of luxury you experience as much as feel. A plush bed sunk snugly into a salmon upholstered base looking out over the city skyline and balcony. A four-seater round table to enjoy your morning coffee or nightcap before bed. Or retreat onto a settee, chair or into the bathroom, with its premium range of Africology products, rainfall showers and, in some rooms, a generously-sized Victorian-style bath.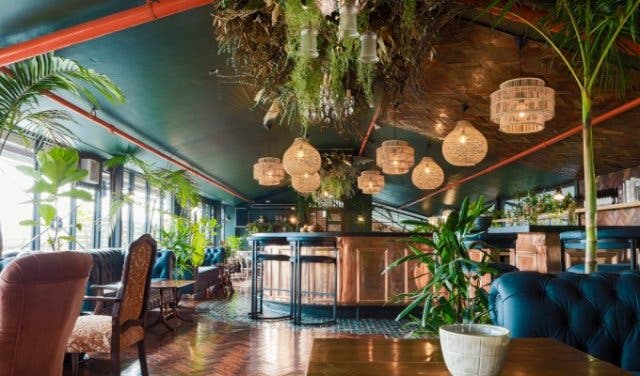 SPECIAL HOTEL RATES AND 50% OFF
All of the rooms are carpeted and have a double layer of curtains, 55-inch flatscreen TVs, Netflix, Internet connectivity, Smeg appliances, plants, bathrobes and slippers.
The 25 square-metre rooms at the Cartel House Hotel at 71 Waterkant Street start at R2200. Rooms at 113 Loop Street range from 39 to 100 square meters in size and R2500 to R4500 in price. CapeTownMagazine.com readers get 50% off any room. Just select the hotel and enter the booking code CTMag50 once you've clicked "book now" on the Cartelhousehotel.com website.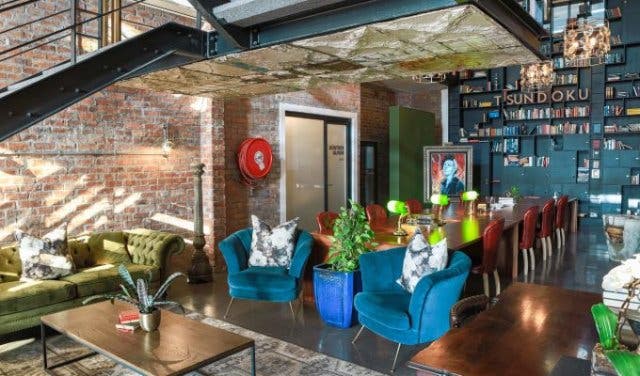 FROM WORK TO NIGHTLIFE IN A BEAT
Bleisure travellers want to be at the epicentre of their destination city, which is why all Ideas Cartel locations are just a short walk or Uber away from restaurants and nightlife. The Loop Street hotel is sandwiched between Long Street (a popular haunt for the young) and Bree Street, which offers a more upmarket experience.
Ideas Cartel prides itself on being the perfect environment for entrepreneurs to thrive. Travellers will rub shoulders with founders of start-ups and creative agencies and automatically get into The Founders Lounge Bar in Loop Street, and Frontier at the Old Foundry.
Get the inside scoop on all that's available at Ideas Cartel or go directly to cartelhousehotel.com.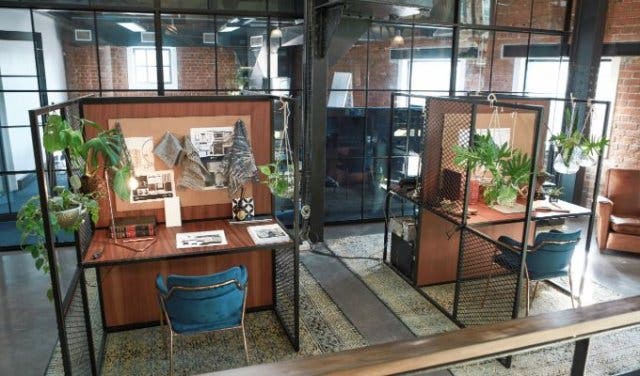 ---
There are only 20 seats available at the Disappearing Dining Club.
Find your sweet spot mentally and emotionally to excel in 20Plenty at the Strategise Your Life Seminar.
Cocktails, poker and big ideas at Cartel House's Founders Lounge.
If you're interested in efficient office space, find the perfect option in our collection of shared working spaces and function venues.
For those who love something a little different, you'll find it here in our list of unusual accommodation, romantic weekends or cosy weekend getaways.
To get it all, have a look at our accommodation section and accommodation outside Cape Town.
If you're looking for a deal, check out our accommodation specials, budget accommodation and camping sites.
---
Use our events section for an up-to-date overview of what's happening in the city, suburbs and dorpies. Join our newsletter and add us to your mobile home screen for the ultimate guide to discoveries in Cape Town.
Follow and like us on Twitter ❤ Facebook ❤ LinkedIn ❤ Instagram ❤ Pinterest for updates.