Spring Flowers: Edible Flowers and Where You Can Taste Them
Where to go for foraging, fynbos tastings and apothecary workshops
Every year spring comes round and in the Cape we scramble for the visual feast of carpets of flowers. But why not try something different? Get in touch with nature's most theatrical season in a more tactile way: savour, touch, create, even heal yourself using flowers and plants. Our foraging and wild food experts have great tips and host immersive workshops. Their most important tip? Don't pick anything in a nature reserve, national park, forest or private lands; the wildflowers of the Cape are protected by law. And please, don't trample the flowers while taking pics for the 'gram.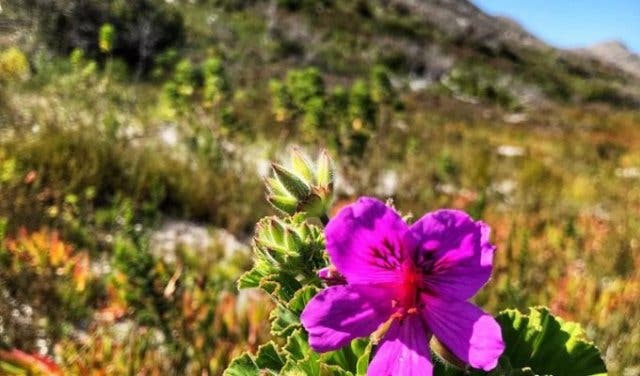 1. LEARN ABOUT THE POWER OF PLANTS
Foraging for meal ingredients has become popular in the last few years but humans have actually been doing it for some two million years. Carly Esterhuizen owner of The Wild Love, has been foraging for wild edibles since 2011. "Flowers are potent medicine and have extraordinary healing abilities," she says. Carly and The Wild Love run herbal workshops in which you can learn about the medicinal, magical and edible properties of plants. Esterhuizen will be running flower workshops from September onwards at her herbalism workshops.
When: See the Facebook events page for the schedule
Price: ±R500
Nice to know: Esterhuizen also hosts retreats, such as her seven-day women's rewilding retreat at her guest farm in Tulbagh.

Muizenberg or Tulbagh address provided upon booking | carly@wildlove.life, website, subscribe to newsletter
2. HOW TO FYNBOS FINESSE YOUR VINEGAR (AND MORE)
Giselle Courtney and Cape Town Fynbos Experience offer two options, the Fynbos Tasting and the Apothecary Workshop. In the Fynbos Tasting, you'll experience the flavour of botanical heritage in the Company's Garden in central Cape Town. Fynbos species include rooibos, honeybush, buchu, snow bush, rhino bush, cancer bush and pelargoniums. You'll be guided through eight fynbos botanicals, infused in different edible substances from herbal teas, sweet cordials, aromatic vinaigrettes and oils, along with edible naturals and seasoning salts, soothing digestives and sweet treats.
When: Most Wednesdays and Thursdays 2pm–3:30pm
Price: R1200 per person. See the schedule and book online
Nice to know: You can visit the medicinal garden which showcases indigenous plants used in traditional healing.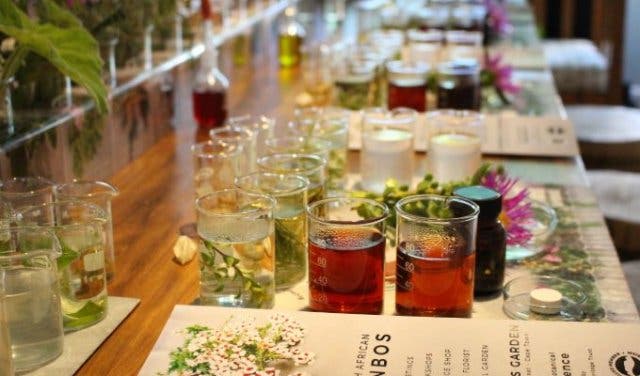 Company's Garden, 19 Queen Victoria Street, Cape Town | info@capetownfynbosexperience.com, +27 (0)66 225 5722, website
3. PLAYFUL LESSONS ON THE USE OF WILD FLOWERS
It's only safe, healthy and enjoyable to eat some parts of certain flowers, advises Veld and Sea's Roushanna Gray – absolutely do not eat any blooms unless you're sure of their identification. "I have actually seen some toxic flowers being used as a garnish on social media," she says. It's always best to consult a medical or botanical professional. In her workshop celebrating spring, you can learn to make flower crowns and learn about their history, and make wildflower tea and cakes. Start by taking part in an edible flower- and foliage-picking session in the gardens. Head back to the cabin for floral arrangements, a medicinal flower talk, botanical bubbly, cocktails and snacks.
When: See the schedule online
Price: R680 book online
Nice to know: You'll help prepare and share a vibrant rainbow-coloured edible floral food feast.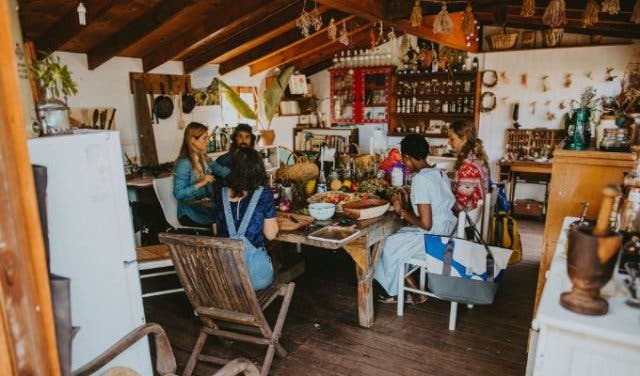 Veld and Sea cabin at the Good Hope Gardens Nursery, Plateau Road, Cape Point | roushanna@hotmail.com, website
WHERE YOU CAN BUY EDIBLE FLOWERS
Ask at your local farmers' market and look for them in the veggie section at the supermarket. The Heritage Shop (+27(0)21 426 2157) in the Company's Garden sells seasonal species of fresh fynbos by the stalk, as well as fynbos tea infusions and seasoning salts.
Roushanna Gray's advice is to grow edible flowers, such as pansies (Viola tricolor), in your garden or on your windowsill – easy to admire often and add to food when cooking or preparing meals. Edible flowers' seeds or seedlings can be purchased from a few garden centres and nurseries. Esterhuizen recommends Hart Nursery in Ottery (+27(0)21 703 8689) as it offers a wide variety of organic edible flowers.
View this post on Instagram
7 SAFE EDIBLE FLOWERS (VETTED BY OUR EXPERTS)
The flowers recommended below are edible, but it's advised not to pick them wild, and it's best to have attended a course before adding uncommon plants to meals or drinks. Check with an expert if you are unsure.
Oxalis pes-caprae (Cape Sorrel or Suuring): Indigenous to South Africa and occurs mainly in the Western Cape. The pretty flowers can be used as a floral garnish for drinks, desserts, baked goods, salads or in ice. The lemony-tasting leaves and stems can go in stews, salads or sandwiches in small amounts. (Suggested by Carly)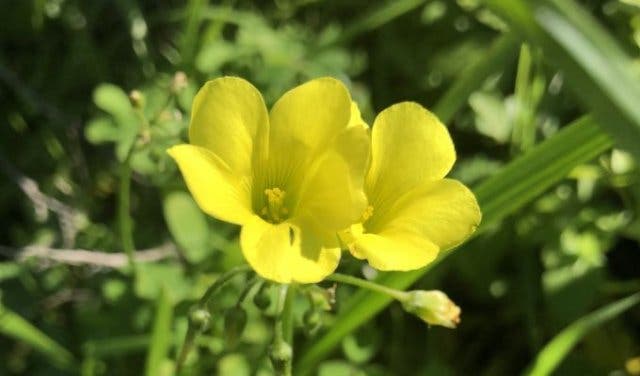 Calendula (calendula officinalis): This is an easy-to-grow winter annual in the Western Cape that will flower throughout spring and into early summer. Calendula petals have a slight peppery, spicy, piquant and fresh taste and can be added when making homemade custard for fillings or toppings for crêpes, cakes, tarts and pastries. (Suggested by Carly)
Snow bush (Eriocephalus africanus): This highly aromatic type of fynbos has a wild-rosemary flavour. Mix natural sea salt with dried snow bush to make a seasoning salt that complements all roasted food flavours. Also good in yoghurt-style accompaniments like tzatziki. (Suggested by Giselle)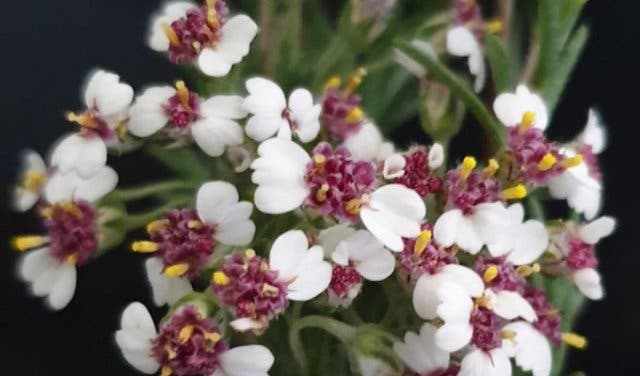 Cancer bush (Lessertia frutescens): This type of fynbos is a natural immune booster. Make a tea infusion by adding boiling water to one small leaf in a mug and allow to draw for 5–7 minutes. It is exceptionally bitter, but beneficial. Consult a medical practitioner before ingesting if you are on medication. (Suggested by Giselle)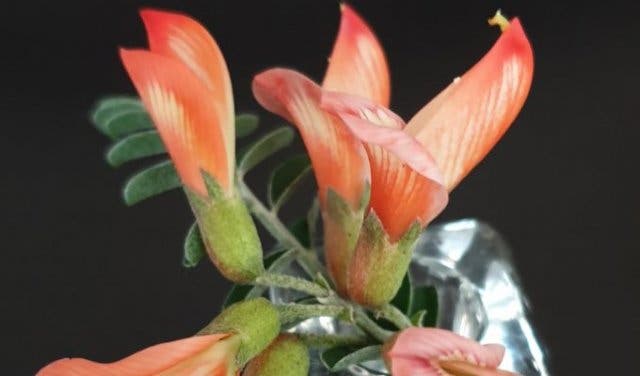 Rose pelargonium (Capitatum or Graveolens): This fynbos has a grassy, fresh flavour and a rose scent and can be made into a cordial: gently simmer two large cups of rose pelargonium leaves in 1 litre of water for 10 minutes. Remove the leaves and add two cups of sugar. Continue to simmer gently, stirring until the mixture thickens into a syrup. Allow to cool and add the juice of one lemon. Mix 100ml of cordial with 1 litre of chilled sparkling water and a rose pelargonium stalk to serve. (Suggested by Giselle)
Pansy flowers (Viola spp): With their vivid colours, use these grassy and fresh-tasting flowers to garnish just about anything. (Suggested by Roushanna)
Dandelions (Taraxacum officinalis): Part of the daisy family, the flowers have a honey-like flavour when young but become bitter when mature. Add the flowers to salads and stir-fries; the young leaves can be eaten steamed or raw. (Suggested by Roushanna)
Images: Roushanna Gray and Veld & Sea; Giselle Courtney and The Fynbos Experience (Lyle Scritten); Carly Esterhuizen and The Wild Love
---
All you need to know about the Lion's Head hike.

Support Cape Town's biodiversity at the 7th Annual False Bay Birdathon.

Celebrate Spring by check out the Vase Ceramic Exhibition.
New idyllic summer hangout in Hermanus's open-air restaurant, Ficks.
Find out where to see the best flowers this spring flower season.
Explore the tour that Madiba did with Wildflower Safari.
Discover spring events in August and September.
Get active with our overview of hikes in Cape Town.
Find your roots at one of these camping spots.
Which is your favourite of these natural rockpools?
Go on an adventure with these day tours.
---
Use our events section for an up-to-date overview of what's happening in the city, 'burbs and dorpies. Join our newsletter and get quick access on the go by adding us to your mobile home screen for the ultimate guide to discoveries in Cape Town.
Follow and like us on Twitter ❤ Facebook ❤ LinkedIn ❤ Instagram ❤ Pinterest for updates.