See How Much Wildlife You Can Spot While Swimming in These Rock Pools and Waterfalls
Hike or camp at these trails that lead to gorgeous rock pools and waterfalls
In the Western Cape our waters are usually crisp and clear, although some rivers might be the colour of Rooibos tea thanks to fynbos tannins that leach through. There are numerous hikes that lead to popular (and some less frequented) swimming holes and waterfalls.

Pack your cozzie, suntan lotion and hat, and check out our list of anything else you might need. We've also listed what fauna and flora you'll find in each area, plus emergency numbers for your peace of mind. One reserve also has 300 000-year-old San and Khoi paintings.

SWIM, FISH AND HIKE ALONG THE RIVER
The Witte River runs through the Bainskloof Pass in the Worcester area, approximately two hours outside Cape Town and past the Huguenot Tunnel. It's part of the Limietberg Nature Reserve and boasts pristine camping spots, hiking trails and natural swimming pools. Day visitors are welcome, though spending the night is advised.
What should you bring? If you're just a day visitor, lots of water and some food. If you're camping, remember that it can get unexpectedly cold, so pack warm gear, and don't forget the braai materials.
Fauna and flora: According to park management at the Limietberg Nature Reserve, the reserve is home to an abundance of wildlife, including dassies, klipspringers, baboons, a wide range of birdlife including black eagles, and the occasional leopard (but they're very elusive so it's unlikely you'll ever cross paths). In the river, you'll find fish such as trout.
Cost: Day passes: R30 for kids, R50 for adults; overnight passes: R20 for kids, R40 for adults (not including cost of camping); camping: R400 per night for 1 - 2 people during peak season, R160 per night for 1 - 2 people during off-peak season, R60 per night for additional campers.
Operating hours: Daylight hours
Photo by: Jean Mortlock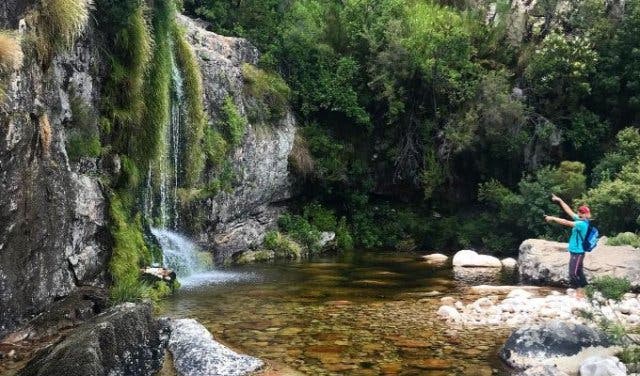 Limietberg Nature Reserve | Worcester | +27 (0)21 871 1535 | +27 (0)82 492 9707 (in case of emergency)

PG-RATED SLIPPERY SLIDES
Tucked away in Grabouw's Hottentot's Holland Mountains lies every adrenaline junky's wet dream: Suicide Gorge. The hike takes you high up into the mountains, and then down again in what is really just a slippy-slide for adults, since you'll be sliding down natural waterslides for most of the walk. There are even jumps up to 14 meters high. Ask management what to do in case of emergency when you get there, as they have special procedures.
What should you bring? The hike is for experts, so bring proper hiking shoes and a jacket (you're gonna get wet). Some experts advise hikers/swimmers pack a wetsuit. A booking confirmation – you'll need it given they only allow 30 people inside the reserve per day. Take lots of snacks to keep energy levels up.
Fauna and flora: Up to 1300 species of fynbos grow inside the reserve, says Hottentots Holland Nature reserve park management, and you might glimpse a grey rhebok, klipspringer, duiker or grysbok. There's also 110 bird species, including several types of raptors.
Cost: R30 for kids; R50 for adults.
Note: No children under 12; the reserve is closed May to October
Photo by: Joubert du Toit


Hottentots Holland Nature Reserve | Grabouw | +27 (0)87 288 0499 | +27 (0)21 483 0190 | reservation.alert@capenature.co.za

CAMPING IN PORTERVILLE
Just outside Porterville is the popular campsite Beaverlac. Enjoy an early-morning dip in the dam, or pick one of the picturesque hiking trails and make your way alongside the river until you get to the rock pool. There, you can jump off one of the cliffs into the dark water below.
What should you bring? Bring your booking confirmation for your camping spot, firstly. Then some good walking shoes, and snacks and water are advised as well.
Fauna and flora: You may see predators such as caracals, wild cats, mongooses, and genets. There are reports of leopard in the area, although sightings are very rare. There are over 100 bird species, including the Cape rockjumper, the black eagle, the goshawk and the jackal buzzard, according to management.
Cost: R30 per car; for camping: R75 for adults, R45 for children ages 4 - 17, free for children under 4; R50 for dogs (dogs are not allowed in the rock pools).
Operating hours: 7am – 9pm daily
Photo by: Steve Blues


Beaverlac Campsite | Porterville | +27 (0)22 931 2945 | beaverlac.kantoor@gmail.com | +27 (0)22 931 294 (in case of emergency)

IT MIGHT BE "DIE HEL" BUT THE POOLS AREN'T
If you ever find yourself hiking inside the Groot Winterhoek Wilderness Area, a definite must-see (and swim) is Die Hel natural pool. It's one of South Africa's largest rock pools. The water is crystal clear, according to frequent visitors. Note that there is no reception inside the park, which means management won't allow lone hikers.
What should you bring? It's quite a hike getting there and back, so be sure to wear comfy shoes, pack plenty of water and snacks, and keep sunscreen on hand. Don't forget your swimsuit and something warm.
Fauna and flora: A variety of mountain fynbos, including Tulbagh powderpuff, a rare and threatened species. If you visit during January and February, red disas grow along the streams. You can also spot predators like wild cats and genets, or more common antelope such as klipspringers and grey rhebok.
Cost: Day passes: R40 for kids, R70 for adults; overnight passes: R140 per person
Operating hours: Daylight hours
Photo by: Stacey-Lee Swart


Near Tulbagh | +27 (0)22 931 2860 | reservation.alert@capenature.co.za

HEROLDS BAY'S BEST KEPT SECRET
Herolds Bay, near Knysna and George, has a secret gem: a rock pool at the base of the hill. Take a quick 2km hike up the hill (the slope is very mild, so you can do it in flip-flops) through thick, evergreen trees, until you reach a cross and a gravel parking lot (known as Voëlklip Viewpoint). Now walk all the way to the edge and walk down. The pool is at your feet. The seawater is icy and clear, and it's not so deep that you can't stand, but it's still perfect for swimming. For the brave, climb the rocks and soak up the sun from high above your friends.
What should you bring? Herolds Bay is picture-perfect, so pack a camera or a drone you can send out to sea. If you want to spend the whole day, bring lunch and water (for after the hike), plus something warm; when the wind picks up, it gets cold.
Fauna and flora: Frequent holidayers Ingrid Lagenhoven and Sandri Marais say you'll find small fish, starfish, sea cucumbers, small crabs... all the usual suspects. Plus, further out to sea, dolphins sometimes come to play near the bay.
Cost: Free
Operating hours: There are no official hours, but during high tide, the pool becomes too dangerous for swimming. Check out what the tide is doing during your visit at Surf Forecast online or ask one of the lifeguards on duty by the beach.
Photo by: Charlotte Coetzee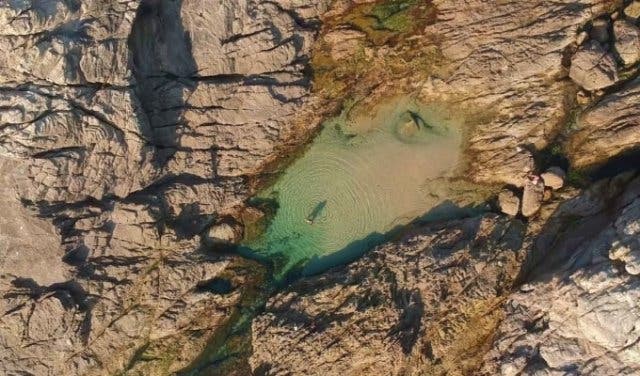 Voelklip Viewpoint | Herolds Bay | +27 (0)82 990 5955 (in case of emergency)

CECILIA FOREST, IN CAPE TOWN
Take an easy, two- to three-hour hour hike through Newlands Forest with man's best friend and then cool off in the Cecilia Waterfalls and rock pools; they're shallow, but they'll get the job done. All you have to do is walk on the path marked Rooikat Ravine, around Cecilia Ridge and into Cecilia Ravine.
What should you bring? Sturdy walking shoes and plenty of water. Plus, the park is dog-friendly, so pack your pooch and remember to bring them plenty of food and water.
Fauna and flora: Keep your eyes peeled for a variety of fynbos, some dassies (they're very common), bontebok, tortoises and many birds. You might even find some small fish in the streams, so watch where you step.
Cost: Free
Operating hours: Daylight hours
Photo by: Renata Bossi


Newlands Forest | Newlands | +27 (0)21 712 0527 | +27 (0)86 110 6417 (in case of emergency)

CRYSTAL CLEAR AND KLOOFING OPPORTUNITIES
The Crystal Pools hiking trail is one for all hikers, although unseasoned hikers may find it a little challenging. Plus, with rock pools along the way, there's really no downside to visiting Crystal Pools. The half-day hike takes you all the way to the "top" (the terrain is mostly flat), where you'll find the most idyllic of waterfalls. The first of the aptly-named crystal clear pools are about 45 minutes into the hike, perfect for cooling down. Further down (10-15 minutes) is the second pool, which is better for swimming and kloofing. Remember to stash food away because baboons tend to troll for food.
What should you bring? Water, snacks and good walking shoes. Also pack your camera and a pair of binoculars for bird-watching.
Fauna and flora: The hike falls under the greater Kogelberg Biosphere Reserve, meaning there's over 1600 different plant species to spot, like the Kogelberg sandstone fynbos, which is a preferred snack for baboons. In the water, you might find the Cape clawless otter, and on land, spotted genets, caracals, foxes, according to frequent hiker Emma Mitchell.
Cost: R75 per person
Operating hours: Daylight hours from 1 November to 30 April
Note: Bookings to hike in the reserve must be made via email and at least two working days before the visit
Photo by: Simon Streicher


Steenbras Nature Reserve | Gordon's Bay | +27 (0)21 444 6927 | +27 (0)21 957 4725 (in case of emergency) | steenbras.naturereserve@capetown.gov.za

Please note: For the moment, the Crystal Pools hiking trail is closed due to flooding. Park management will assess mid-November and decide whether to open again or not.

HIKE ALONGSIDE THE HOMTINI RIVER IN KNYSNA
How many people can say they've swum in red wine? Due to tannins in the roots and leaves of trees and the soil, the water of Drupkelders takes on a deep red hue. Hike alongside the Homtini River, through the indigenous forests of Knysna, and you'll come across the icy-cold but refreshing Drupkelders rock pools. Only 12 people are permitted inside Garden Route National Park at any given time.
What should you bring? Pack a picnic and a blanket to enjoy alongside the river. Bring along a plastic bag for any refuse, as there are no bins in the park. Wear proper walking shoes.
Fauna and flora: Keep your ears open for the call of the Fish Eagle or the Knysna Loerie, says park official.
Cost: R23 for kids; R46 for adults
Operating hours: Daylight hours
Photo by: Jada Linström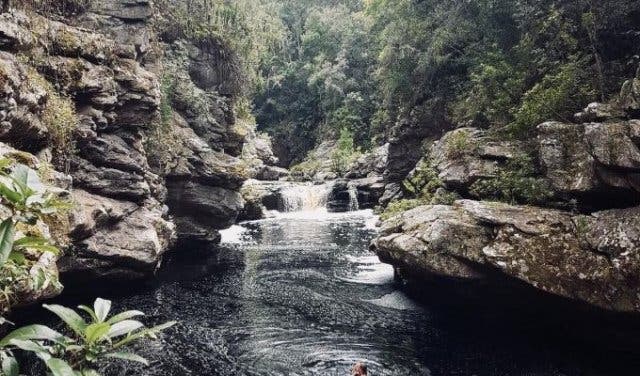 Follow the Rheenendal Road 12,6 km before turning right | Knysna | Garden Route | +27 (0)44 389 0252 | 084 154 (in case of emergency)

THE BOTTOMLESS POOL LOVED BY HIPPIES
If you're looking to get well out of town, head to Sanddrif Private Holiday Resort, in the heart of the Cederberg Wilderness Area. The Maalgat, also known by some as the hippy pool, is a spot of wonderment. It's a natural swimming pool that's so deep you can't touch the bottom. It's easy to access, too: walk 30 minutes downstream from the Sanddrif camping site. Take a dip after the hike, or jump from one of the rock platforms. Check out the board at the start of the trail for emergency contact information.
What should you bring? There isn't a lot of shade at the pool, so bring your own shade, and camping gear, too, if you feel like turning it into a weekend.
Fauna and flora: You'll be spoiled for choice, according to Cape Nature: from baboons, klipspringer and aardvarks to black eagles and rock kestrels to Clanwilliam yellowfish, redfin minnow and fiery redfin minnow. You can also spot a lazy armadillo lizard or a variety of frogs like the Karoo toad and the Tradouw Mountain toad.
Cost: R20 for kids (ages 2 to 13); R40 for adults
Operating hours: Monday - Saturday: 8am - 12:30pm, 2pm - 5pm; Sunday and public holidays: 9am - 12pm; 4pm - 6pm
Photo by: Brittany Schultz


Sanddrif Camping Area | Cederberg | +27 (0)44 004 0060 | sanddrif@cederbergwine.com

THREE WATERFALLS, A STEEP CLIMB AND A HIKE IN THE MOUNTAINS
Jonkershoek Nature Reserve, near Stellenbosch, is a great destination for a full-day hike followed by a refreshing swim in a mountain stream. There are also various shorter walks available, plus tracks for mountain bikers. On the Tweede Waterval and Panoramic Circuit hiking trails, you'll find three waterfalls, two of which you can swim underneath. Follow the directions along the path to reach the waterfalls. For the first, the signs will lead you to the right for less than half a kilometer. For the second, you'll have to climb down the side of the trail to the left; the third waterfall is where the trail ends and you'll have to turn around. Take a map along if you're unsure.
What should you bring? Pack lots of water and snacks, especially if you're taking the Panorama Circuit, which is a roundtrip of 17km. Always remember to take warm gear, just in case.
Fauna and flora: A variety of mountain fynbos, as well as oak trees in certain spots. There are honey badgers, mongooses, baboons, and evidence of leopards in the area. There's also plenty of kingfishers, black eagles, fish eagles, spotted eagle owls, and protea seed-eaters. On warmer days, watch out for rock agama lizards lounging on sun-soaked rocks.
Cost: R30 per child; R50 per adult
Operating hours: Weekdays: 07:30a - 04:30pm; Saturdays: 08:00 - noon
Photo by: Marjoli Pentz


Jonkershoek Road | Stellenbosch | reservation.alert@capenature.co.za | +27 (0)82 467 0405 (in case of emergency)

Please note: For the moment, the Jonkershoek hiking trails are closed due to flood. Park management will assess mid-November and decide whether to open again or not.

KROM RIVER TRAIL
The Krom River Trail in the Limietberg Nature Reserve makes up a five-hour hike, so come prepared. You'll have to walk about 2,5km from the starting point to reach the first waterfall - don't stop here: the second waterfall is where the fun happens with its large plunge pool. Pack your camping gear if you're looking to make a weekend of it - camping is R400 for 1-2 people per night during peak season and R160 for 1-2 people per night during off-peak season; after that, it costs R60 per additional person per night
Please note: Hiking trails are for campers only.
What should you bring? For hiking and swimming, make sure you have sturdy walking shoes and a swimsuit that'll protect you from the cold mountain water. The reserve suggests that hikers carry a rope to help in tricky situations.
Fauna and flora: This might not be plants and wildlife, but hidden inside the reserve are San and Khoi rock art from 300 000 years ago. The reserve encourages hikers to set out and find the art themselves, so keep your eyes peeled.
Cost: R50 per person
Operating hours: Daylight hours
Photo by: Kirsten Ingelmann


Du Toitskloof | Limietberg Nature Reserve | Paarl | +27 (0)21 871 1535 | reservation.alert@capenature.co.za | +27 (0)82 494 9707 (in case of emergency)

PLEASE NOTE: All operating hours and entrance costs are subject to change.

---

Catch gnarly waves at Cape Town's best surf spots.
Don't break the bank with these free and cheap things to do with kids. So many things that the whole family can enjoy with our list of things to do with kids.

Summer time means beach time, so check out these Tidal Pools.

Have safe Summer fun with this selection of Public Swimming Pools.

It's all about fun in the sun and sand at the beach.

Get your 2019 guide to spring flower season in the Cape and spring flowers you can eat.

Find out what you need to know about hiking up Krom River.

Rough it up at these camping spots.

Work up a sweat and see some beautiful sights on these hiking trails.

---

Supercharge your event? Our Events Support Programme gets results. Contact support@capetownmagazine.c or +27 (0)21 565 0415.

Use our events section for an up-to-date overview of what's happening in the city, suburbs and dorpies. Join our newsletter and add us to your mobile home screen for the ultimate guide to discoveries in Cape Town.

Follow and like us on Twitter ❤ Facebook ❤ LinkedIn ❤ Instagram ❤ Pinterest for updates.