Vinebikes: Wine-Tasting Adventures On An E-Bike
Cycle to wine farms in Banhoek, Franschhoek or Stellenbosch
The great thing about an electric bike is that they make riding a no-sweat excursion. This is why a wine-tasting tour with adventure buffs Vinebikes is such fun: you go on a guided tour of Banhoek, Franschhoek or Stellenbosch through safe, scenic routes, tasting each farm's delicious wines, then back on your bikes for an easy pedal through greenery and rugged mountains in the fresh air.
The e-bikes are fitted with a motor and battery, handle like a normal bicycle, and are family-friendly (there are kids seats and half-wheelers). Plus, there are saddlebags so you can take a bottle or two home. And there's no rush: about 30 to 45 minutes is spent at each farm along the route.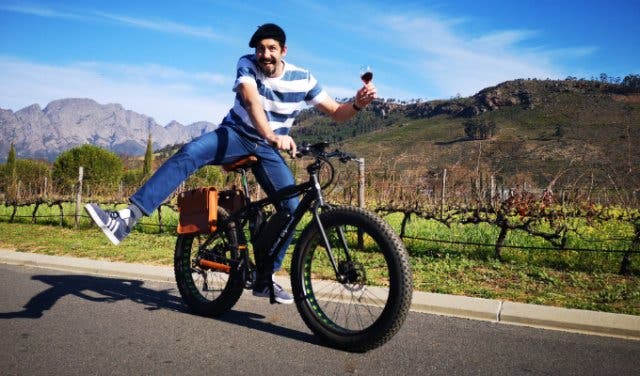 BANHOEK VALLEY WINES ARE DELICIOUS
This journey starts from the beautiful Banhoek Lodge and winds through the Banhoek Valley, which is surrounded by the impressive Drakenstein Mountains. You'll cycle to two or three excellent estates, including one that is tucked away at the end of the valley.
At each farm you can drink up the gorgeous views while you sip wine and enjoy some canapes, then you'll head back towards Banhoek Lodge for the final wine tasting.
Wine Farms: Thelema Mountain Vineyards, Zorgvliet Wine Estate, Oldenburg Vineyards
THE FRANSCHHOEK TRIP THROWS IN HISTORY
This trip starts at the La Couronne Wine Estate in Franschhoek, a culturally rich town that your guide will give you insight on while cycling through backroads. There'll be plenty of photo opportunities – the area is famously pretty, surrounded by imposing mountain ranges.
Cycling through working farms makes this an interesting and informative experience, plus these farms are beautiful.
Wine Farms: Holden Manz Wine Estate, Grande Provence Heritage Wine Estate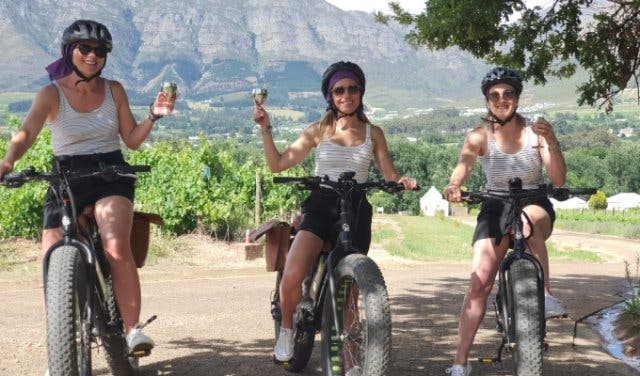 STELLENBOSCH: VISIT A FARM FOUNDED IN 1962
After leaving Stellenbosch town centre, you'll follow a track along the Eerste River past some historic buildings then on into the Jonkershoek Valley. There you'll visit Stark-Conde Wines and Lanzerac Wine Farm, one of the oldest wine farms in the country, established in 1692.
Like Franschhoek, this area is equally exquisite and riding through it is peaceful and uplifting, especially when you get to taste the fruits it produces.
Wine farms: Lanzerac Wine Estate, Stark-Conde Wines
Price for each experience: R885pp (e-bike riders) | R350 for half-wheeler (kids 5 – 9 years) | R150 for kids star seat (kids 3 – 5 years). Each tour lasts 3.5 hours.
WATCH: CYCLE THROUGH THE VINES

PLUS: AN E-FATBIKE EXPERIENCE UP A MOUNTAIN
This adventure starts at Jonkershoek Reserve, where you'll head up the mountain (with the help of your e-fatbike) through pockets of the forest to the top. Stop there for a cup of coffee and breathtaking views of the surrounding range and valleys below.

Most of the tour is on jeep tracks and not technical, making it easy to explore as much of the mountain as possible. Kids bike seats and half bikes are available.
Price: R950pp (adults)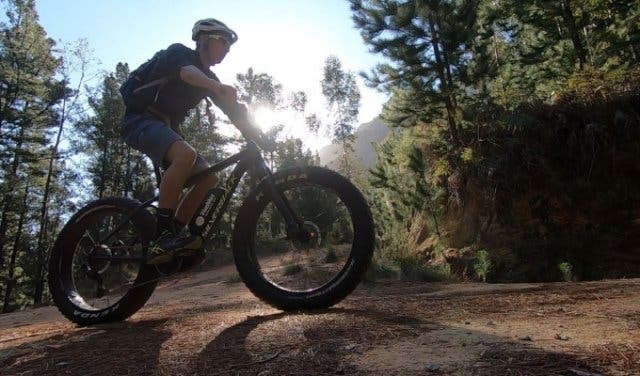 By Daryn Wood
---


Party like a biker, win a Harley and ride one in virtual reality at the Festival of Rebels.
Check out these top reasons to get your car serviced at Barons.
Freewheel down Table Mountain or through a nature reserve with Scootours.
Or check out these other day tours or top wine tastings in Cape Town.
There are tons of super cool things to do that you should add to your bucket list.
---
Use our events section for an up-to-date overview of what's happening in the city, suburbs and dorpies. Join our newsletter and add us to your mobile home screen for the ultimate guide to discoveries in Cape Town.
Follow and like us on Twitter ❤ Facebook ❤ LinkedIn ❤ Instagram ❤ Pinterest for updates.