Support Our Local LGBTQI Community, Plus Get In Shape While Doing It
It's Cape Town's third annual Rainbow Friendly Festival, and this year LA-based actor and producer, Carter The Body, is hosting
It's time to show your true colours by supporting the third annual LGBTQI Rainbow Friendly Festival on 10 November, when the main event kicks off at Club 169 on Long street. A coup this year is the fact that Carter the Body, an actor and producer from Los Angeles, will be hosting the event and two fitness classes for the public. What's more, there's also a free workshop led by mental health activist, Phumlani Kango, and a Lion's Head hike. The festival kicks runs from 10-15 November 2019.

IT'S NOT ALL SUNSHINE AND RAINBOWS
The festival supports a major underlying global issue - the mental health of the ever-growing LGBTQI community, especially in the South African context. As part of the initiative to create awareness around this growing problem, the organisers are hosting a free mental health workshop led by Phumlani Kango, a mental health activist from Johannesburg. The workshop is free and will take place on 13 November at Once in Cape Town. This is your chance to be part of the solution: #RAINBOWMENTALHEALTHAWARENESSWEEK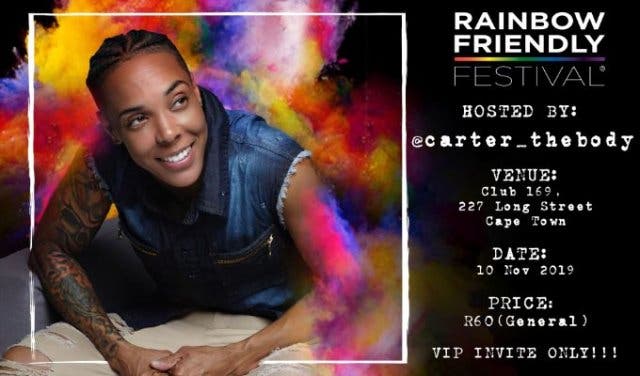 THE FUN STUFF
There is a host of fun to be had, including the LA-based MC for the event, Carter The Body, the actress who played Terrie on Lipstick the Series, a story about sexually fluid best friends living in LA. Carter is just one of many stars on the bill. On 10 November you can expect an evening (and early morning) of live performances and a fierce line-up of DJs from Cape Town and Johannesburg, including DJ Kixi, who is headlining. Other DJs include DJ Puggy, DJ Senhora, and DJ Bex. Knew, an artist from America, is also stopping by to join South African performers Annalyser, LNS and Sungakonji. The event also comes equipped with a night market selling food, sexy clothes, and fancy gadgets.



On 15 November, Carter The Body will be presenting two separate fitness workshops, one at 9 am and the other at 6 pm at The Pole Project in Sir Lowry Street. Both are one hour-long, whole-body workouts and cost R300 per session. And if you can't make the sessions, join the organisers for a leisurely hike up Lion's Head. Keep an eye on their social media platforms for more details on the hike.



Tickets to the event on 10 November cost R60 for general entrance. VIP tickets can only be bought "on invitation" from the organisers, so keep an eye on your inbox because you might be lucky enough to crack the nod. VIP passes give guests access to an exclusive floor, privacy, and the chance to mingle with Cape Town's queer elite, as well as some international figures.
---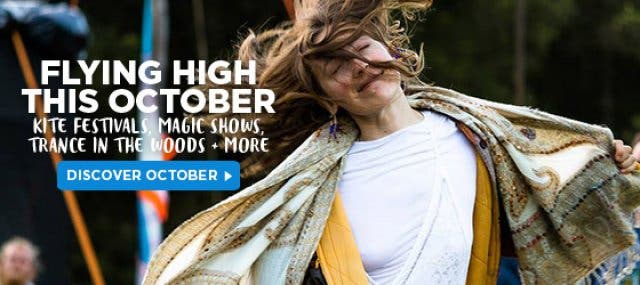 ---

Have a gander at these LGBTQI-Friendly Bars in Cape Town.

Check out these Annual Music Festivals.

Work up a sweat at boxing-inspired gym Drenched.

---

Supercharge your event? Our Events Support Programme gets results. Contact support@capetownmagazine.com or +27 (0)21 565 0415.

Use our events section for an up-to-date overview of what's happening in the city, suburbs and dorpies. Join our newsletter and add us to your mobile home screen for the ultimate guide to discoveries in Cape Town.

Follow and like us on Twitter ❤ Facebook ❤ LinkedIn ❤ Instagram ❤ Pinterest for updates