Best Burger Spots in and around Cape Town
Where to find the best buns (minds out of the gutter!) and patties in the Mother City and surrounds
Last Update: 10 September 2019
According to an article by The Huffington Post, Americans consume nearly 50 billion hamburgers a year. Yes, billion! So, while there aren't any official stats on just how many burgers South Africans eat annually, there's no denying that the bun-and-patty combo is a firm favourite amongst the people of Mzansi.
And when it comes to Cape Town, the foodie capital of the Rainbow Nation, it seems as though burger-love is deep and real. In fact, when we asked our readers to weigh in on their favourite burger joints in the Mother City, Ian Michael firmly asserted, "[If] anyone says McDonald's, they need to be pushed off the mountain- lol."
Thankfully, we don't have to be worried about being tossed off our beloved Table Mountain as we, with the help of some of our burger-obsessed readers' Twitter replies and Facebook comments, have put together the ultimate crowdsourced non-lolworthy overview of the best burger places in and around Cape Town.
BEST BURGER PLACES IN AND AROUND CAPE TOWN

YOU BOTH GET A LAMB BURGER, BUT ONLY PAY FOR ONE
Bring a friend and grab two lamb burgers topped with hummus, tzatziki, avocado, and crispy onion rings with a side of thin-cut chips for only R110 (the price of one) every Wednesday. The offer is valid from midday to 10pm at both Bree Street and Sotano Mouille Point.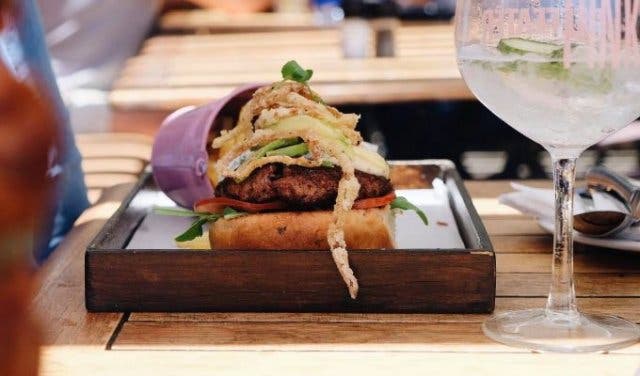 121 Beach Road | Mouille Point | +27 (021) 433 1757 | info@sotano.co.za
A BUDGET DEAL
For only R50, you'll get a delicious chicken burger and a generous portion of chips at Afro's Chicken. You can also trade your chips for coleslaw, or just get both. You can add a chilli or lemony sauce. Their "tjips" are made with locally sourced potatoes, hand-cut at the shop with the skin on. They don't use whiteners or other additives, like msg or flavourants, only salt.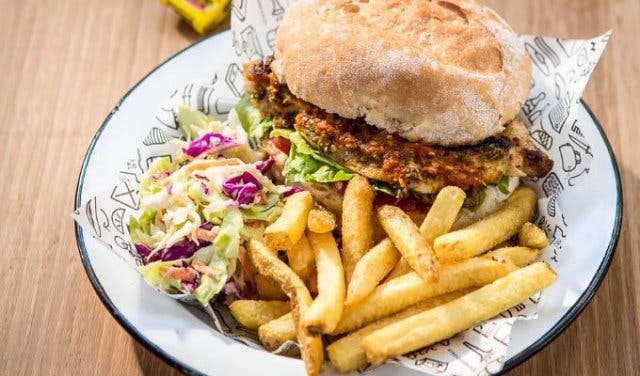 Church Square, 4 Spin Street +27 (0)87 365 3658 | Pier Place, 31 Heerengracht Street +27 (0) 87 365 3663
HAVE A BURGER THIS POPULAR JOINT (AT ONE OF THEIR 4 EATERIES)
Over 20 unique burger creations like The Original Royale with its bacon, chilli and onion rings and The Boss's BBQ beef rib and dill pickles. Not a fan of beef? Hudsons The Burger Joint can replace your patty with a vegetarian one at no additional cost. You can even ditch the bun, have your burger served a bed of lettuce at Hudson's The Burger Joint.

Stellenbosch: 77 Dorp Street, Stellenbosch | +27 21 887 2052 | stellenbosch@theburgerjoint.co.za
Gardens: 69A Kloof Street, Gardens | +27 21 426 5974 | gardens@theburgerjoint.co.za
Claremont: 25 Protea Road, Claremont | +27 21 674 5152 | claremont@theburgerjoint.co.za
Green Point: Corner Main Road and Upper Portswood Road, Green Point | +27 21 433 1496 | greenpoint@theburgerjoint.co.za

BURGERS AT THE BREWERY (2 FOR 1 ON WEDNESDAYS)
Ever had an Everything Bacon burger? How about the Fall Apart, the Oh Crumbs! or The Butcher Block burger. Choose a side: Fries, onion rings or coleslaw and try a new craft beer straight from the tank when ordering yours in the taproom at Jack Black's brewery in Diep River.
Tip: Come midweek when they offer 2-for-1 burgers on a Wednesday.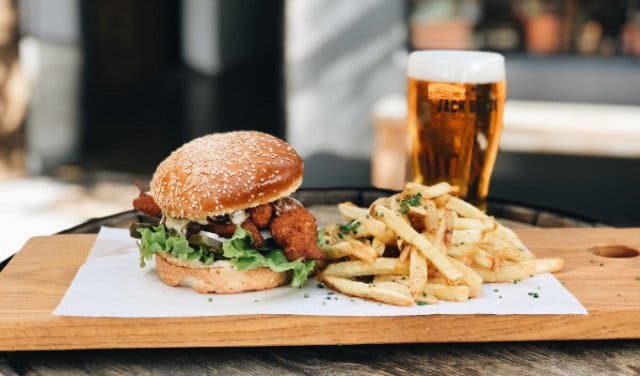 10 Brigid Road | Diep River | +27 (0)21 286 1220 | tastingroom@jackblackbeer.com
GRAB A DELICIOUS BURGER AT THIS HOT SPOT IN BREE STREET
From a cucumber yoghurt relish to chilli and pickled red onion, Arcade Cafe has burgers to tantalise every taste bud, no matter what you're craving. Each burger comprises a 250g organic free-range beef patty on a sesame seed brioche bun. It is served with a side option of fries, sweet potato fries or salad. Tuck into their famous Brooklyn burger or try the delicious Butter burger, which is as good over your lunch break as it is for sharing a meal with friends. And on Wednesdays, you can get two burgers for the price of one – the ideal hump day special.

152 Bree Street | Cape Town | +27 60 861 0511 | hello@arcadecafe.co.za
A Touch Of Madness
A Touch of Madness in Observatory offers an eclectic, street food-inspired menu. And what's a global menu without burgers? They have some exciting options to choose from, but the chilli popper burger with a 150g beef patty topped with roasted jalapeno peppers, cheese and bacon is a stand out contender. The vegetarian burger is also a hero on the menu, its patty made with beetroot, mushrooms and spinach, topped with caramelised onions and melted cheese. All burgers are served with hand-cut fries, aioli and a fresh garden salad. There is also a vegan option available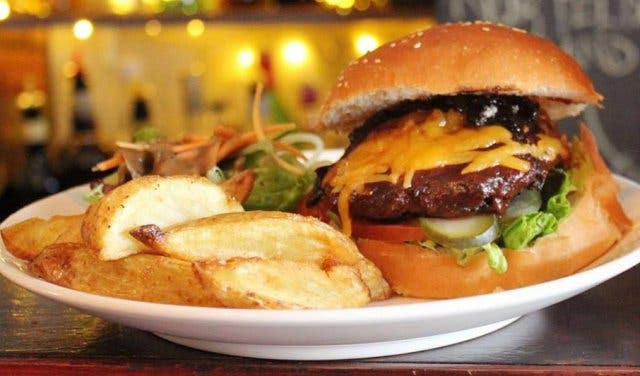 Touch of Madness | 12 Nuttall Rd | Observatory | 021 447 4650
The Dog's Bollocks
Neatly tucked away in a garage on Roodehek Street, The Dog's Bollocks is not only known as a no-frills hipster hotspot, but it is also responsible for doling out some of the most Instagram-worthy, hashtag-inspiring burgers in the Mother City. The massive sandwiches are made up of either a beef or vegan patty, and with options like the New Yorker, which is whipped up with olives, capers and cheese sauce, and the Pepperberry Blue -it comprises blue cheese and sliced pepperdews - it comes as no surprise that one of our readers, Gillian Farrel, was adamant that The Dog's Bollock's "has amazing burgers". Do note: The Dog's Bollocks is a cash-only operation and offers only 50 burgers on a first-come first-served basis every night.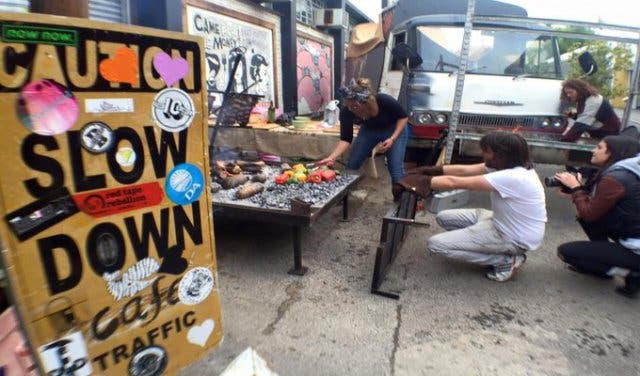 6 Roodehek Street | Gardens | +27 (0)83 440 7843
Tuck into a glorious burger at this trendy inner-city eatery. With grass-fed, hormone-free beef, succulent ostrich, lamb, pork or flavoursome vegetarian options to choose from, Rick's Cafe Americain needs to become your go-to burger joint. Try the traditional cheese beef burger, which comes with onion jam and melted cheddar cheese. The mouthwatering BMB (which stands for bacon, mushrooms and Brie) comes with cranberry jelly and rocket, while the popper beef burger is perfect for diners who like their food with a kick! Deep-fried jalapeno peppers, stuffed with cream and feta cheese, accompany a beef patty and peppadew salsa. All burgers come with coleslaw and a basket of piping hot fries. What we love: Don't fancy one of their meaty patties? The guys at Rick's will happily substitute your meat patty for a vegetarian one. Best of both worlds? We sure think so. To quote Casablanca, the famous film that inspired much of Rick's Café's aesthetic, "Round up the usual suspects" and head out for a hearty burger!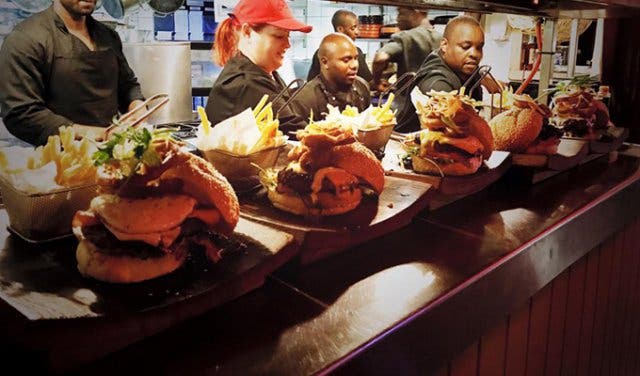 2 Park Road | Gardens | +27 (0)21 424 1100
Other notable mentions: Arnold's on Kloof Street and Clarke's on Bree Street.
The Loading Bay
It's not often that Thursday tops the list of favourite days of the week, but Cape Town burger lovers should rejoice when it comes around because that means that it is Burger Night at the trendy Loading Bay café in De Waterkant. In fact, our Facebook friend Lesley Ann van der Nest highly recommends the beef burger. How highly? Well, we counted eight exclamation marks. The food item is served with truffle salted fries or a side a salad, and all of the meat and produce are sourced locally from farmers and suppliers who abide by ethical rearing methods. Here's to Thursdays (insert eight exclamation marks).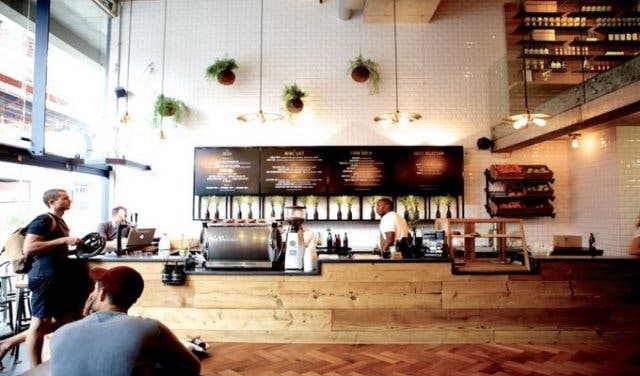 30 Hudson Street | De Waterkant | +27 (0)21 425 6321
BEST BURGER PLACES IN WOODSTOCK, OBSERVATORY AND SALT RIVER
Hello Sailor Bistro
Observatory's Lower Main Road is populated by a number of quirky haunts and the Hello Sailor Bistro is undoubtedly a stand- out spot thanks to its selection of tasty hamburgers. The burger options are all about chicken and cheese (two of the best words in Burgerville). There are classic cheeseburger and char-grilled chicken choices. Not to mention, the yummy creations are very reasonably priced - both the cheeseburger and char-grilled burgers are R40 each (R52 with fries).
Fun fact: The bistro's tattooed mermaid logo was designed by renowned South African artist Conrad Botes.
Opening times: Monday to Friday: 08:30am – 11pm; Saturday and Sunday: 9am – 11pm

86 Lower Main Road | Observatory | + 27 (0)21 447 0707
Taproom Craft Beer Pub and Restaurant
Housed in the Devil's Peak Brewing Company's converted warehouse in Salt River, the Taproom is the go-to place for the perfect burger and beer pairing. Grub options include a nifty bite-sized cheeseburger and a scrumptious lamb burger served with red onion, feta and cumin mayonnaise. And as for the frothy beverage to accompany your tasty stack? There's Woodhead Amber Ale, The King's Blockhouse IPA, First Light Golden Ale and Silvertree Saison to choose from (as well as an ever-changing range of experimental brews). And it seems as though our readers are also enamored with the upmarket spot: when asked to endorse a Cape Town burger spot, Amber Rose Pretorius replied, "TAPROOM. TAPROOM. Oh, and Taproom".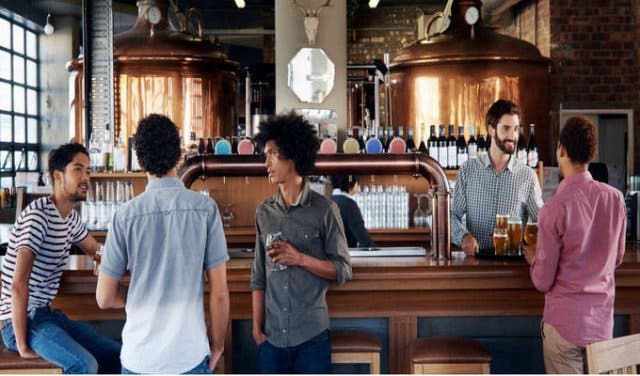 95 Durham Ave | Salt River| +27 (0)21 200 5818
Other notable mentions: Sticky Fingers in Observatory, Redemption Burgers at the Old Biscuit Mill and The Woodstock Lounge.
Café Caprice
Arguably one of the most popular spots in Camps Bay, the beachside Café Caprice is open seven days a week, which makes getting your burger fix from the trendy place that much easier. The café uses fresh ingredients and homemade sauces for its buns, and its extensive menu includes a Royal option that is stacked with streaky bacon, cheddar, fresh chilli and beer-battered onion rings; the Dreamy burger, which doubles as a decadent tower of mozzarella, creamy mushroom and black pepper sauce; an Apostle beef burger with shredded beef short rib, mozzarella and a fried egg and many others. Top tip for the image-conscious residents of Camps Bay: you can swap out the side portion of evil carbs (chips) for a Greek side salad for just R10 extra. Also be sure to ask about the 2-for-1 burger special that the restaurant runs during the winter months.
Opening times: Mondays to Sunday: 9am – late.
37 Victoria Road | Camps Bay | +27 (0) 21 438 8315
Mynt Café
It's not often that one can use 'affordable' when writing about a venue on the seaside strip of Camps Bay, but Mynt Café is all about catering to rand–earning Capetonians. So for those who want to venture to the land of bronzed bodies and maxed out credit cards and get more bang for their buck, Mynt Café is the spot for you. Its selection of burgers includes a bacon, egg and cheese creation; a Camembert, Thai sweet chilli and rocket tower; and a Portobello mushroom and cheese sandwich. Not to mention the eatery boasts a broad patio that spills out onto the pavement, so you can take in the pretty seaside views while tucking into an affordable mound of deliciousness.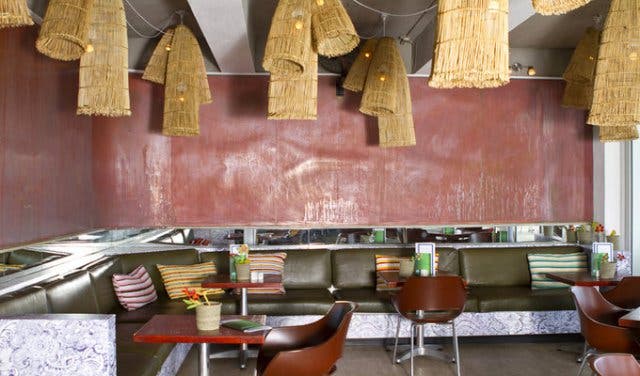 31 Victoria Road | Camps Bay | +27 (0)21 437 1765
Ragafellows
With one of the most eclectic burger menus in the Cape Peninsula area, it comes as no surprise that this steampunk- inspired haunt is widely considered to be one of the brightest jewels in the Hout Bay crown. Its range of so-called "e-steamed burgers" is served with mashed potato or a side salad. Carnivores can look forward to 200g of pure beef goodness and vegetarians can expect a special patty made from a heavenly mixture of butternut, lentils, chickpeas, brinjal and nuts. Special mention must be made of the no bun (shock, horror!) option; drawing inspiration from the Banting diet, the Noaksy option is a chickpea and corn fritter served with bacon jam, roast butternut and Parmesan. Ragafellows is also known for its extensive cocktail menu, which includes a one-litre Victoria Punch Jug option.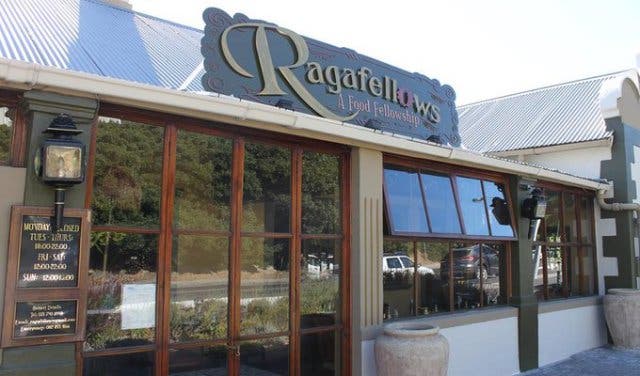 Main Road | Hout Bay | +27 (0)21 790 8955
Oh My Burger at Michael's Deli
With a name like Oh My Burger, you can expect mouth-watering burgers of course. This Rondebosch-based eatery, known affectionately as OMB, is open four nights a week (Wed-Sat) and on Sunday afternoons, and serves up one of the Southern Suburbs most talked about burgers - the Babe Burger. This delicious stack of heavenly goodness comprises crispy bacon, avo and Emmentaler cheese. Not to mention, if you take away the roll, you have the perfect Banting-approved meal. Prof Noakes would be so proud!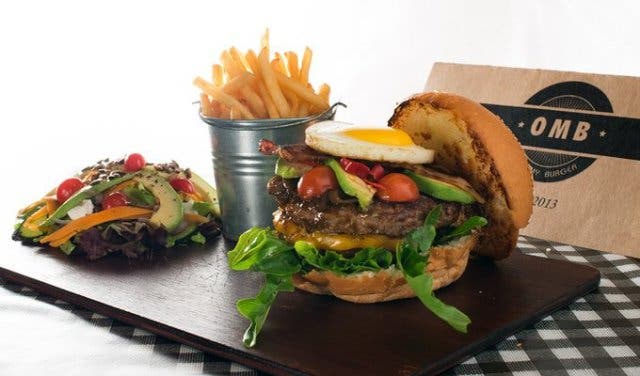 12 Westlake Lifestyle Centre | Tokai | +27 (0)82 904 9577
Dutch Haven Bistro
This family-friendly eatery in Durbanville is a great spot for the whole troupe to enjoy tasty bun and patty creations. Diners have the option to spice up a simple beef or chicken burger with bacon, avocado and cheese; a biltong and avo combo; or a slice of cheese. But if guests are in the mood for some authentic Dutch dishes, they can tuck into fare like uitsmijter (fried eggs, gypsy ham and melted Dutch cheese on bread), patat speciaal (hot chips served the Holland way with ketchup, mayonnaise and chopped onion) and Amsterdamse biefstuk (fillet served in a gravy on fresh bread).

High Street Shopping Village | Bella Rosa Street | Durbanville | +27 (0)21 914 6120
Slug and Lettuce (Durbanville)
This line of upscale British-style pubs and social cafés can be found all over the Mother City, but one of our readers, Lecile du Plessis, singled out the Durbanville-based one as the go-to Slug and Lettuce for delicious burgers. The menu includes a Bacon and Melting Cheese Burger, The Slug's Very Best Mushroom Burger and the Green Peppercorn Sauce Burger. The meaty sandwiches are all garnished with sliced tomatoes, onions and greens (you can expect lettuce and no slugs), topped with fried onion rings and served with fries.

Heritage Square| Vrede Street | Durbanville | + 27 (0)21 976 8705
BEST BURGER PLACES IN THE CAPE TOWN SURROUNDS
BLOUBERGSTRAND
Basic Bistro
The vibe: As the name suggests, Basic Bistro is an uncomplicated and unpretentious spot that is known for its cosy and intimate feel.
Our recommendation: The Camemburger- think a pure steak mince patty laced with thin layer of gourmet pesto and stacked with caramelised onion rings and Camembert slices. Need we say more?

31 Church Street | Stellenbosch | +27 (0)21 883 3629
Red Leaf Restaurant at the Beyerskloof Wine Farm
The vibe: If you're looking for a mini getaway, this Cape Winelands-based eatery facilitates a tranquil eating experience. Not to mention, the wine farm overlooks the stunning Simonsberg mountain, so you can enjoy some stellar views in addition to some tasty burgers.
Reader suggestion: Yvette Slowey highly recommends the Red Leaf's signature Pinotage Burger (the name alone makes us hungry!).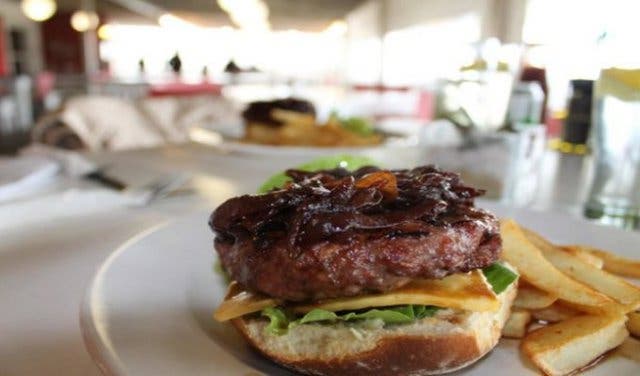 R304 Klipheuwel Road | Stellenbosch | +27 (0)21 865 2135
Fred and Max
The vibe: Described on its website as "one sexy little shop", Fred and Max boast a vintage-meets-contemporary aesthetic.
Wednesday: This is the day that the lord has made…for burger lovers! Every hump day, Fred and Max hosts "Good Burger Wednesday", which sees the eatery serve up gourmet burgers for the night.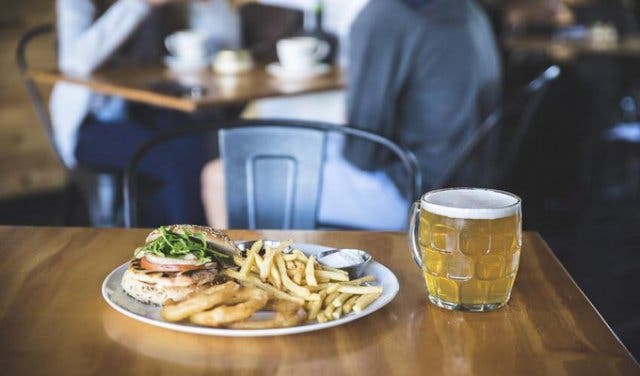 Shop 4 Fairview Centre | Somerset West | +27 (0)21 850 0911
Café Roux
The vibe: Situated at the Noordhoek Farm Village, Café Rouxis largely about an outdoor dining experience. What's more, the eatery borders on a children's playground and grass area, making it a family-friendly spot.
Our recommendation: The Ratatouille Burger, which is stacked with buffalo mozzarella, grilled aubergine, courgettes, red onion, tomato and basil sauce.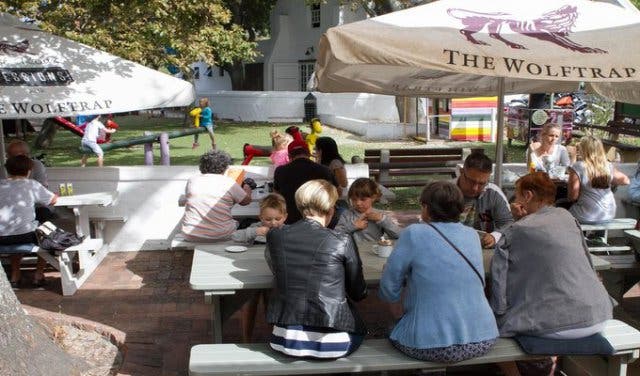 Chapman's Peak Drive | Noordhoek | + 27 (0)21 789 2538
---
Enjoy award-winning steaks and wines at The Hussar Grill. Also check out their daily lunchtime special.
Discover one of the most unique and quintessentially Capetonian restaurants, plus excellent food at the Monday burger special at Moyo Eden on The Bay All about the boerie and the tech at Boerewors King.
Check out a trio of new offerings including a wine bar and interactive chef experiences at Grub & Vine. Get good grub and support the spirit of Ubuntu at the same time at RobinHood Burger & Grill in Kloof Street.
---
Follow and like us on Twitter ❤ Facebook ❤ LinkedIn ❤ Instagram ❤ Pinterest for updates.