12 Fisheries and Fresh Fish Spots that Locals Love
From fresh fish to crayfish, prawns to fish and chips and mussels
Last updated: 18 April 2019
Enjoying fish and seafood is as Capetonian as Table Mountain. From when the first fishing licences were issued in 1658, through the 1790 rise of whaling stations around the Cape and their eventual fall, to the 1897 arrival of the first commercial trawlers and the eventual peak hauls of around 1.1 million tons of fish per year in the 1970s (today it's much more sustainable, of course).
Fishing employed, fed and sustained Capetonians for over 350 years. And it still does, for untold numbers of locals. So, no surprise then that most locals here are raised on fish and seafood. And, while there are countless seafood restaurants around the city and the Western Cape, to find the most special ones, you have to go where the locals go.
Here are some of our favourite fisheries and fresh fish spots frequented by locals:
INSIDE THE ORIGINAL SIMON'S TOWN "FISH HOUSE"
The Salty Sea Dog, located right on Simon's Town harbour, is famous for good quality and affordable seafood. But what's really special is the building it's situated in, although it might not look like much from the outside. Salty Sea Dog is inside the historical fish-sorting house of this harbour (where all the fish were weighed and processed).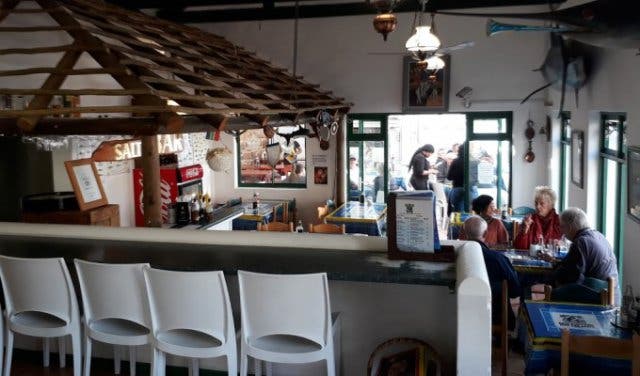 2 Wharf Street, Simon's Town | +27(0)21 786 1918 | saltydog@telkomsa.net
HIDDEN GEM FISHERY IN THE SOUTHERN SUBURBS
If you know where "the Spotty Dog" is, you'll know this one. On Main Road in Retreat – in the Kirstenhof vicinity – there's a real institution for those in the Southern Suburbs and the South Peninsula. Truemans Fish & Chips is nothing fancy, just really good food at exceptionally good prices.

286 Main Rd | Retreat | +27 (0)21 701 3133
WHERE THE LOCALS GO IN TOWN
Now this one doesn't need any introduction to Capetonians. You can almost set your watch to how regularly Lusitania Fisheries fills up at lunchtime. If you're in town and you're looking for good seafood at a great price, this is where you go. Did you know their hake roll is still just R28? For tourists, this is the one to discover – it's just off Bree on Waterkant Street.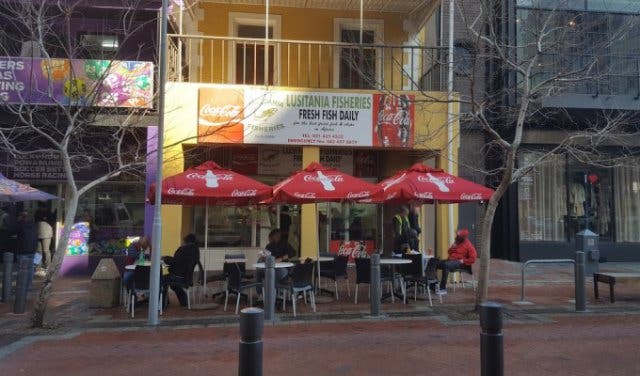 49A Waterkant St | Cape Town City Centre | +27 (0)21 425 4532
DID YOU KNOW SNOEKIES HAS A PLAY AREA?
One of Cape Town's best-known fish spots that sparked a franchise. The original Snoekies in Hout Bay is an institution. But have you noticed they installed a kiddies play area upstairs? More reason to go and discover it again.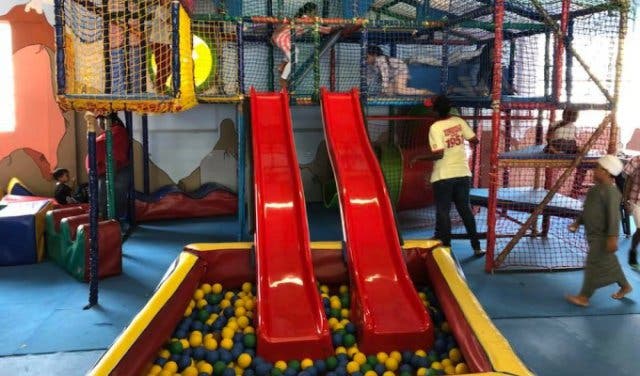 Quay 4, Hout Bay Harbour | +27 (0)21 790 6677 | david@snoekies.co.za
IN THE THICK OF THE ACTION
Enjoy your fish just a few steps away from the source. Right on the beach at Paternoster is where you'll find the Paternoster Crayfish Wharf, slap bang in the middle of a still functioning fish factory. Here you can enjoy all sorts of fish, including sushi, and even sip one or two delicious cocktails while looking out over the water.


Cnr of St Augustine Rd and Kreefte St | Paternoster | +27(0) 22 752 2616
BEACH-STYLE AT STRANDLOPER
Head for the colourfully decorated rustic cabins on the beach at Langebaan, guided by the smell and crackle of fire, to find the Strandloper Restaurant. Here you can enjoy traditional fish dishes, prepared West Coast-style over an open braai with a wide choice of side dishes. You can bring your own drinks or purchase from the quirky beach bar. You pay a fixed price for the full ten-course meal, while children under-5 eat free. Being located right on the beach and in keeping with its rustic, simple approach, Strandloper only accepts cash.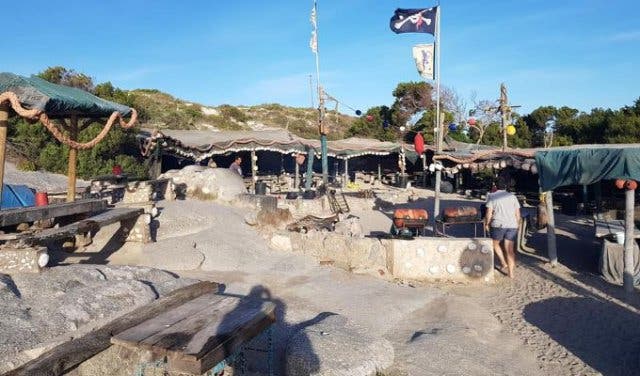 Jan Olfsen St, Leentjiesklip | Langebaan | +27 (0)22 7722 490
CAVEMAN-STYLE
Let the enticing aroma from the cave lure you down the stairs to enjoy a fresh fish meal at Bientang's Cave. This unique and environmentally-conscious eatery can be found in a century-old cave previously inhabited by a Koi strandloper named Bintang. Feast on an array of seafood prepared in a variety of ways while watching the antics of seabirds, dassies and whales.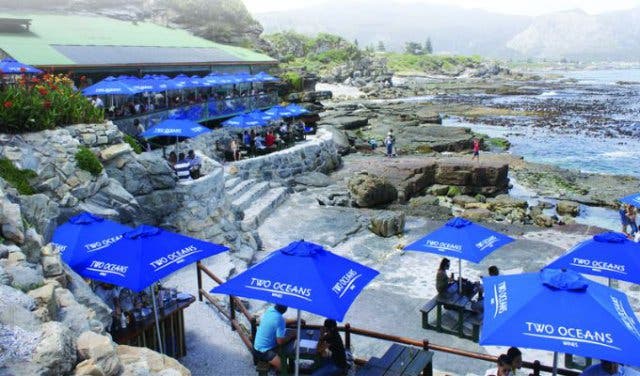 Below Marine Drive | Hermanus | +27 (0)28 312 3454

FRESH AND PLENTIFUL
If you want fresh fish in generous portions, then this landmark seafood eatery located on Beach Road, Gordon's Bay is the place to go. From the fresh catch of the day to mussels and tender calamari, you can choose from single or family portions or old-fashioned parcel-style servings. And, if you can't make up your mind what to choose, try their platters to get a little something of everything.


35 Beach Road | Gordons Bay | +27 (0)21 856 2790

WHERE THE SOUTHERNERS GO
Want to know where the locals go for their fish fix? Fish Hoek Fisheries' excellent reputation is evidenced by the long queue of customers waiting for their orders that are wrapped in newsprint as per tradition. Especially popular is the larger-than-expected fish cake.

43 Main Rd | Fish Hoek | +27 (0) 21 782 2314
THE WORLD'S YOUR OYSTER
Love mussels and oysters? The Mussel Monger & Oyster Bar in Sea Point is all about this delicacy (and mussels too); even the shape of the lamp is reminiscent of an oversized oyster. Slurp and lick your fingers while gazing over the ocean and watching the passersby on the Sea Point promenade.

30 Regent Rd | Sea Point | Cape Town | +27(0) 65 833 8593
THEY OFFER IT ALL
Fish and chips to take away and a fish market in one. Catch 62 has one of the widest ranges of seafood in the area, including fresh and frozen fish and a host of other ingredients that you can combine to make a delicious meal.

38 Northumberland Road | Bellville | www.catch62.co.za/
SOMETHING A LITTLE DIFFERENT
You want a little change from the same fish dishes? Then have a look at the Sea Breeze. This restaurant presents its seafood in a creative way with a lighter touch, fusing classic fish dishes with contemporary, modern cuisine. Only the water view is missing in the middle of the city.

213 Bree Street | Cape Town City Centre | +27 (0) 74 79 39 349
---
It's all about sushi, seafood and sunsets at Blowfish. Check out their weekly sushi specials and their weekly calamari and prawn special.
Popular the whole year, but particularly over Easter, we've got the inside scoop on making the ultimate pickled fish recipe.
There's a new oasis in the Deep South called Osetra in Kalk Bay.
Here's our favourite way to braai snoek. If you're not in the mood for fish then have a look at our pick of Cape Town's butcheries.
---
Use our events section for an up-to-date overview of what's happening in the city, 'burbs and dorpies. Join our newsletter and get quick access on the go by adding us to your mobile home screen for the ultimate guide to discoveries in Cape Town.

Follow and like us on Twitter ❤ Facebook ❤ LinkedIn ❤ Instagram ❤ Pinterest for updates.