Sizzling Cape Town Sundowner Hotspots
A selection of the scenic Mother City's top hangouts for sipping on sundowners
Update: 6 September 2019
As glorious warm weather descends on Cape Town, locals and visitors alike tend to descend on the city's many scenic summer sundowner spots.

WHAT PAIRS PERFECTLY WITH SUSHI?
Why, cocktails, of course, and you can choose from a wide range at Asami's, the sushi and Asian-cuisine restaurant. There's the Bumblebee Margarita, crafted from mango purée and tequila, shaken with lime juice and marmalade, with the glass rim dipped in black sea salt. Or how about the Chopstick Mule: vodka shaken with fresh lime and mango purée, splashed with aromatic bitters and ginger ale then topped with pickled ginger. There are also Appletinis, Cosmopolitans, Pina Coladas and Long Island Iced Teas plus Tuesday and Thursday night is ladies night, where women get half-priced cocktails at Asami's.
Hours: Mon-Sat: 11am-10pm, Sun: 11am-9pm (Stellenbosch closes at 9:30pm on Sundays)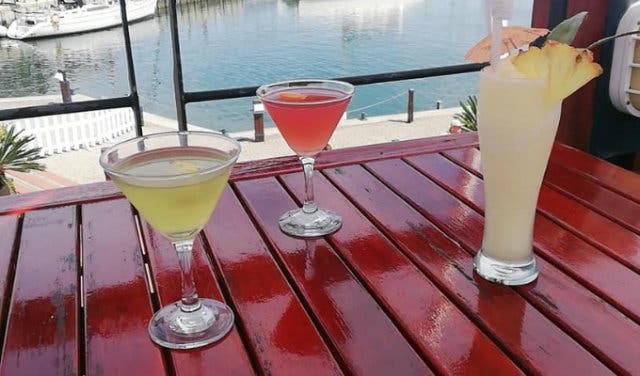 Cobble Walk Shopping Centre | Sonstraal Road |Sonstraal Heights | 072 263 2262
Tygervalley Centre | Service Road | Bellville Park | 076 219 9417
10 Somerset West Mall |Centenary Drive | Firgrove Rural | 072 925 5593
21 Waterfront Drive | Knysna Central | Knysna | 064 988 0450 / 063 5901 183
24 Main Road | Rondebosch | 021 685 3403
Paradyskloof Padstal | R44 & Blaauwklippen Road | Stellenbosch | 021 880 0416
APPLE JACK PIE AND A SUNSET
Watch the sky turn crimson with a drink in hand at this Blouberg eatery known for its sushi and seafood, and the place to be when dusk settles over Table Mountain. The Apple Jack Pie (Jack Daniel's Fire mixed with Monin Green Apple puree) sounds like a plan, or go for one of their flavoured gin and tonics or try the Hennessey Julep (VSOP Hennessy, lime and mint mixed with syrup and served on the rocks) at Blowfish.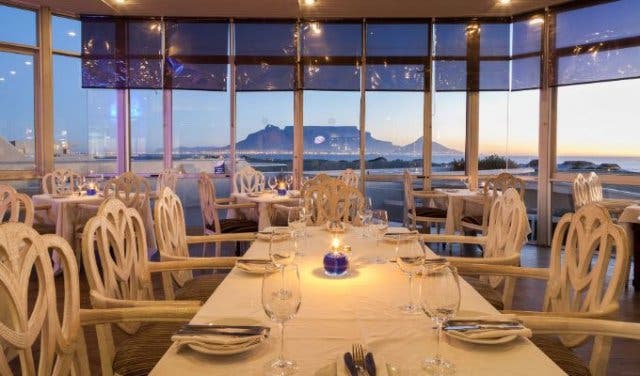 1 Marine Drive | Table View | +27 (0)21 556 5464 | info@blowfishrestaurant.co.za
COCKTAILS, POKER AND BIG IDEAS
Previously a boutique tailor's, the Founder's Lounge kept the original wardrobe cabinets and modified them into a bar space, maintaining Cartel House's old-meets-new aesthetic. With comfortable armchairs and sofas, the Founder's Lounge is perfect for meetings and work chats during the day and drinks and conversations later on. With internationally recognised mixologist Andrew Copsey at the helm, find out more about the world-class cocktails and how you can get into the Founder's Lounge.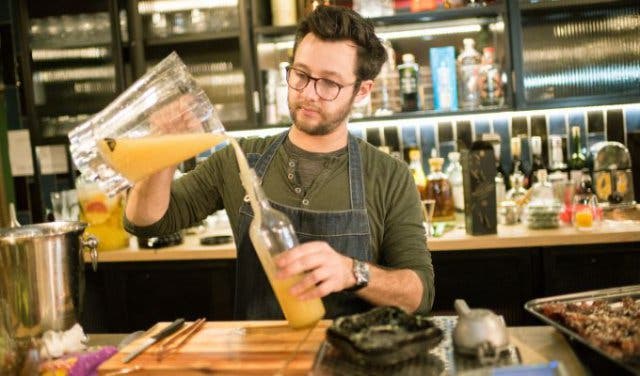 Cartel House, 113 Loop Street, Cape Town City Centre | info@cartelhouse.com , +27(0)21 824 1781, www.cartelhouse.online/founders-lounge-bar
FROM THE DECK ON LONG STREET
Take one balcony decked out in low-hanging lights, with retro furnishings and a view of vibey Long Street. Add to this live music, friendly staff, a selection of top-notch shots and daily specials and you have yourself a good time. If you want to take a risk, roll the dice at the bar and let fate decide what type of cocktail you'll be sipping on.
Tip: Ask them about their all-day cocktail special on Sundays. Check out Sgt Pepper on Long Street.
Hours: Monday – Sunday: 12pm – 2am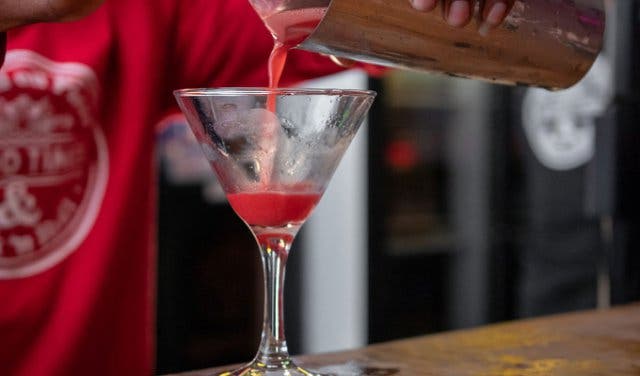 194 Long Street | Cape Town | +27 (0)21 424 5608 | info@sgtpepperct.com
GINTONIC AT THE AC MARRIOTT
Head to the bar and try one of their signature beverages, like the unique Gintonic. The hotel has partnered with local supplier Geometric Drinks, that produces a tonic syrup from their natural and locally-foraged ingredients found in the Franschhoek valley. The tonic syrup is low in sugar and a healthier alternative to tonic water-based gin and tonics. Otherwise, try their famous Spanish communal drink, Cava (white wine), which is served in a vessel called a porron. This unique container fosters communal drinking and allows for an enticing experience at AC Hotel Cape Town Waterfront.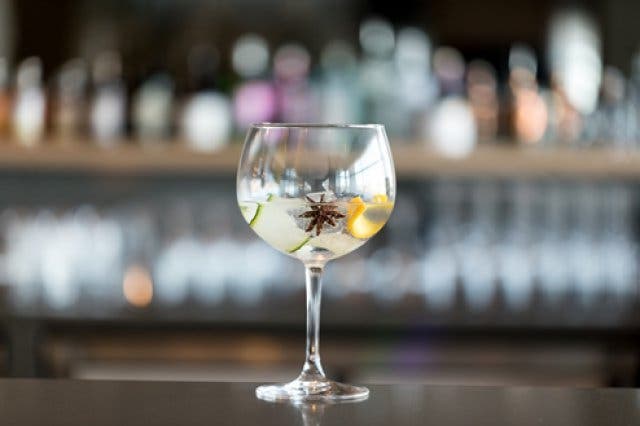 Dockrail Road | Foreshore | Cape Town | +27 (0)21 137 1100
CRUSHED COCONUT MOJITOS ON THE POOL DECK
Newly renovated, the quintessential Cape Town CBD hotel now features an extended Murano Deck overlooking Orange Street. With a pool, of course, and a dedicated cocktail bar. The Bali-inspired Crushed Coconut Mojito comes recommended. And there's always the option of having a bite to eat with a view of Table Mountain from the all-new 15 on Orange restaurant that doesn't have a name yet. Come find it at the 15 on Orange Hotel, Autograph Collection.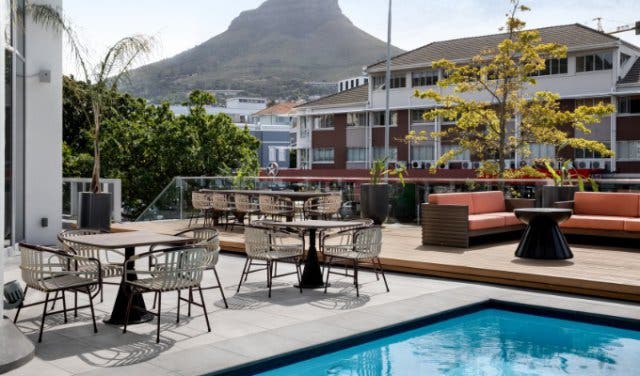 Corner of Orange Street & Grey's Pass | Gardens | Cape Town | +27 21 469 8000
SIGNAL HILL SUNSET AND A TASTE OF PARIS
A Euro-style eatery you might have expected in Milan or Prague, serving Parisian-style cocktails like Le Relais de L'Entrecote, right in the heart of Cape Town. From Don Julio cocktails to the bourbon-based "Signal Hill Sunset" and lavender-infused gin creations, you're not going to be thirsty here. And there's always something special happening: From specials on steak at #2FOR1Mondays to service in perfect pairs on #HQDateNight on Tuesdays and dinner and dancing at Friday Feels. You're going to want to check out HQ restaurant on Heritage Square.
Hours: Mon–Sat 12pm till late

Heritage Square | 100 Shortmarket Street | City Centre | Cape Town | +27 (0) 21 424 637
CANDYFLOSS AND GIN COCKTAIL IN STELLIES
Make the most of the scenic vineyard views of the Stellenbosch Winelands at Hudson's The Burger Joint Stellenbosch. From the usual cocktails such as mojitos and strawberry daiquiris to their own concoctions like Grapefruit Crush, which comprises grapefruit and vodka, or the Pink Lady, which is Whitley and Neill gin with Fitch & Leedes pink tonic and candyfloss, Hudsons The Burger Joint has an amazing selection to choose from. Even better, from Monday to Friday 4:30pm–6:30pm you can get two for the price of one with their Happy Hour special.


77 Dorp Street, Stellenbosch | +27 21 887 2052 | stellenbosch@theburgerjoint.co.za
"FIG OUT" OVERLOOKING THE BEACH OR THE 'BURBS
Ever had Gogo Juice? It's the latest healthy juice on Tiger's Milk all-new cocktail menu. There are also exciting mixes such as "Thyme to Fig Out" – a combination of fig, thyme and Bombay Sapphire Gin. Find them all at any of these Tiger's Milk restaurants around the city.

Muizenberg +27 (0)21 555 5555 | Claremont +27 (0) 21 671 1296 | Long Street +27 (0)21 422 3556 | Kloof Street +27 (0)21 286 2209 | Century City +27 (021 286 2191 | Stellenbosch +27 (0)21 883 2431
ULTIMATE MAN CAVE EXPERIENCE IN THE CITY
If you enjoy watching the game with friends, but not the crowds, then you'll love the Protea Hotel Fire & Ice by Marriott's private "Man Cave" experience. This stylish cave comes equipped with a 55" screen and includes a hot snack and bottomless draught beers served by a personal waiter. And when you're done, you can always join the rest of the sports lovers at the bar downstairs. The Man Cave accommodates up to 12 guests and can be booked for any occasion that calls for some man time. Which is any time really.
Cost: R4500 for 10 people
Bonus: Guess the score correctly and win a R250 meal voucher.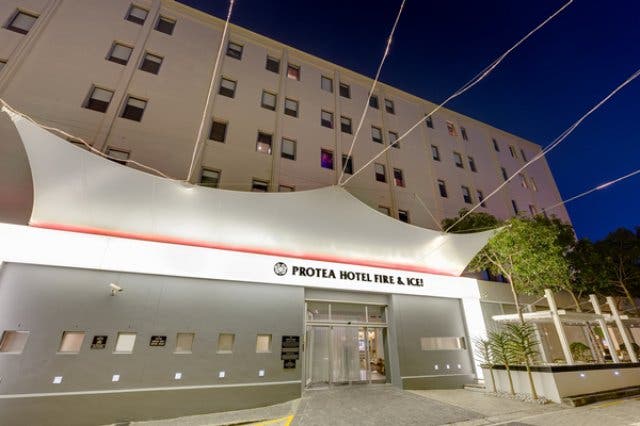 64 New Church Street | Tamboerskloof | +27 (0)21 488 2555
BELUGA
Sleek, sophisticated, but welcoming, Beluga's revamped bar is your go-to for after-work drinks. It features an extensive selection of whiskies from around the world. Enjoy them neat, on the rocks, or ask the skilled bar team to mix you a cocktail. Or opt for a crisp glass of bubbly. Enjoy cocktails with sushi or dim sum for up to half price every day from 12pm to 6pm (and all day on Sundays). Read more about what to love at Beluga.
Hours: Monday to Sunday: 12 pm to 10pm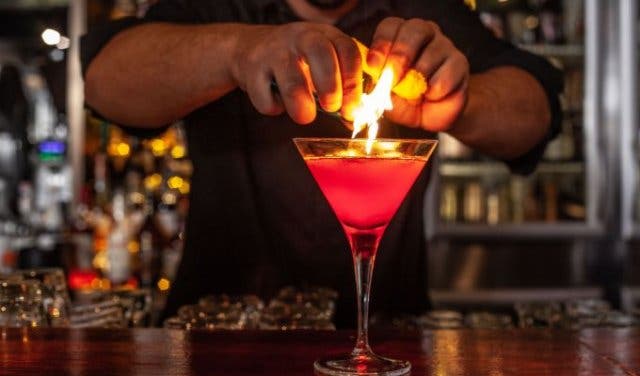 NEW WHISKY LOUNGE AT BELUGA
The popular spot recently launched their very own whisky lounge. You'll find a myriad of whiskies from unique locations, with diverse flavour profiles and different year aged casks at the hot new Beluga Whisky Lounge. Plus, you can become a member of the lounge, which means endless whisky-related events, specials, tastings and so much more. Get in touch to learn more.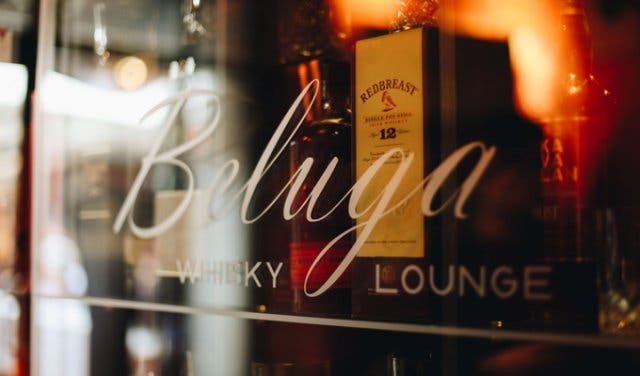 70 Prestwich street | The Foundry | De Waterkant | +27 (0)21 418 2948
SHIMMY BEACH CLUB
Watch the sun sink into the Atlantic Ocean from Shimmy Beach Club. Not only is this award-winning venue right at water's edge, but the man-made beach is the perfect place to spend sunny days lounging around one of the swimming pools. Sip on a Frosé, which is rosé, strawberries and grenadine, or try the Shimmy Blood and Sand cocktail that combines Glenlivet 12 year, vermouth, Chambord and orange juice. Pair your refreshing cocktail with one of their dishes for a delicious dining experience at dusk. Read more about Shimmy Beach Club.
Hours: Monday–Friday: 11am–11pm, Saturday: 11am–4am. Sunday: 11am–2am

12 South Arm Rd | V&A Waterfront | Cape Town | +27 (0)21 200 7778
STROLLA RESTAURANT AND BAR
If you're looking for a laidback but stylish summer sundowner spot, Strolla is the perfect place for you. Situated in Sea Point, this seaside eatery features a sun deck that is perfect for a cool evening of cocktails and good company. Guests can expect beer on tap or they can peruse the extensive wine list before settling back with a glass of vino. As for the cocktails - a must try is the Strolla signature Apple Cognac or the Salted Caramel Old Fashioned. Located just off Sea Point Promenade, you won't be able to resist the hotspot's chic pink gates and flirty, summery atmosphere. Read more about Strolla Restaurant and Bar
Hours: 7am–11pm

313 Beach Rd | Sea Point | Cape Town | +27 (0) 21 430 7778
SOTANO
In addition to its spectacular beach view, this special spot is the perfect sundowner hangout for all Mother City wine-lovers. Featuring wine-themed decor and views of the Mouille Point lighthouse, Sotano is known for its chilled atmosphere and scenery. On Wednesdays, expect a two-for-one lamb burger special that begins at 5pm and Fridays are all about sweet sounds and sunsets with Abbott Nu Jazz from 7pm until 9pm. That's not all - Sundays feature Cape Town Reggae band The Rivertones from 4pm until 7pm for the perfect end to a phenomenal weekend! There is always something to keep your entertained at Sotano! Read more about Sotano in Cape Town.
Hours: 7am–11pm


121 Beach Rd | Mouille Point | Cape Town | +27 (0) 21 433 1757
CAMPS BAY SEASIDE STRIP
The iconic palm-lined beachside stretch of Cape Town's Camps Bay is, arguably, the Mother City's finest and most well-frequented (especially among the attractive, eminent and affluent) location for a leisurely summer sundowner. Situated below the towering Twelve Apostles Mountain Range just metres away from shimmering sand and lapping waves, the trendy seaside strip features countless well-stocked cocktail bars and lounges with tables that spill out onto the street under open summer skies. Hands down one of the most ideal spots on the strip to drink up cooling concoctions while drinking in the magnificence of the sun setting into the sea is the slick Café Caprice (we recommend ordering the signature Granadilla Lolly), but other must-visit venues include upmarket eatery Paranga and Clifton's plush Bungalow restaurant and lounge (formerly La Med).
SIGNAL HILL TERRACE AND LOUNGE AT HILTON CAPE TOWN CITY CENTRE
Located at the luxury Hilton Cape Town City Centre, Signal Hill Terrace and Lounge sits pretty on the hotel's pool deck on the mezzanine level. As much an ideal location for lunch with friends as it is for after-work cocktails or a casual business meeting, this outdoor restaurant and bar boasts a trendy yet laid-back atmosphere. With an extensive cocktail menu, patrons can expect a wide variety of fruity concoctions including classics like the Long Island Ice Tea and Cosmopolitan, as well as specialty drinks like Sex on the Hill, all ideal for scenic poolside sundowners. To complement the bevvies, the restaurant and bar has a lunch, dinner and tapas menu where guests can order anything from hot and cold mezze platters to burgers and line fish. Don't forget to try an authentic Middle Eastern shisha pipe (tobacco flavours include strawberry, apple and orange).
NOTE: While Signal Hill Terrace and Lounge is open to the public, the pool is strictly reserved for Hilton Cape Town City Centre guests only. Read more about Signal Hill Terrace and Lounge at Hilton Cape Town City Centre
Hours: Daily: 10am–11pm


Hilton Cape Town City Centre | 126 Buitengracht Street | Cape Town | +27 (0)21 481 3700
HARVEYS RESTAURANT
Located along Cape Town's Sea Point promenade at luxurious historic hotel Winchester Mansions, this welcoming, elegant eatery claims a sea-facing terrace apt for savouring sundowners while watching the horizon turn spectacular shades of pink and orange. In addition to an assortment of sweet and savoury snacks (think nachos, potato wedges and spicy chicken wings), the bar serves up a mouth-watering medley of unique cocktails. What's more, on Wednesdays from 6pm onwards, the bar runs a ladies' night special offering all members of the fairer sex a complimentary cocktail and rose on arrival – certainly enough to inspire a midweek sundowner session. Read more about Harveys Restaurant at the Winchester Mansions.
Hours: Daily: 10am–late
Winchester Mansions | 221 Beach Road | Sea Point | +27 (0)21 434 2351
TOBAGO'S BAR AND TERRACE
Tobago's is, unquestionably, one of Cape Town's finest spots to sip on sundowners. This trendy restaurant boasts a panoramic view of the glistening ocean shoreline and an impressive selection of cocktails, wine and MCC. Soak up the sun on the eatery's expansive terrace, and even take a dip in the rim-flow pool on hot summer days, or dine indoors when the weather dips. Favourites on the drinks menu include the Passionate Mojito (with passion fruit) and the Watermelon Cosmopolitan – or a glass of red or white from their well-considered, locally-focused wine list. Read more about Tobago's Restaurant at the Radisson Blu.
Hours: Mon–Sun: 6:30am–10:30pm

Radisson Blu Waterfront Hotel | V&A Waterfront | Beach Road | Cape Town | +27 (0)21 441 3414
HARALD'S BAR AND TERRACE AT PARK INN BY RADISSON FORESHORE
A veritable oasis in the middle of Cape Town's bustling city centre, the eleventh-floor alfresco lounge and bar at the Park Inn by Radisson Cape Town Foreshore is proof that a stunning sundowner spot doesn't always require a sea view; rather, here, from a splendid sky-high vantage point, guests can watch the glowing sun sink below the city skyline with the impressive silhouette of Table Mountain as a backdrop. To complete the experience, colourful cocktails – there's even one called Table Mountain Sunset (an innovative blend of white and dark rum, blood orange extracts, cranberry and orange juice) – are available from the bar, along with non-alcoholic mixes for those who prefer to go virgin. To line the stomach, a selection of salads, starters, sandwiches and mezze snacks are also on offer. Read more about the Park Inn by Radisson Cape Town Foreshore.
Hours: Daily: 11am–10:30pm
29 Heerengracht Street | City Centre | Cape Town | +27 (0)21 427 4800
ON THE ROCKS
As the name suggests, this elegant, upmarket restaurant is found nestled right on the water's edge along the Bloubergstrand shoreline, promising postcard panoramas of the Table Mountain outline, Robben Island, the endless ocean and the occasional passing dolphin or whale. Needless to say, then, the sunsets from the terrace here are simply superb and best enjoyed drink in hand. In addition to a diverse selection of cocktails (including their signature 'On the Rocks', which combines Malibu, Blue Curacao, pineapple juice, fresh lemon and lemonade), guests can sip on one of their many quality, carefully-selected wines and champagnes, or perhaps savour a cognac or single malt whiskey in the cigar lounge. Whatever the preferred poison, though, this quaint spot certainly offers a sophisticated and memorable sundowner alternative.
Hours: Daily: 9am–10pm
45 Stadler Road | Bloubergstrand | +27 (0) 21 554 1988
MAESTRO'S ON THE BEACH
A laidback favourite amongst locals and foreigners alike, this Italian-inspired, family-friendly eatery is not only perfectly located on the wide-open dunes of Milnerton Beach, but also sports an alfresco terraced deck that maximises the splendid scenery, West Coast and Table Mountain views, and soft evening summer light. A wide range of standard cocktails – from pina coladas, strawberry daiquiris and caipirinhas to tequila sunrises, Singapore slings and Long Island iced teas – are available to wash down the sun and the busy week, as are an assortment of well-sourced reds and whites (guests can also bring their own for a small corkage fee). What's more, for those less inclined to merry tipsiness, they also serve non-alcoholic creations (such as the 'Nojito' or the 'Safe Sex on the Beach') that are equally refreshing but lack the kick.
Hours: Monday–Friday: 10am–11pm, Saturday–Sunday: 9am–11pm

Bridge Road | Woodbridge Island | Milnerton | Cape Town | +27 (0)21 551 4992
PAKALOLO COCKTAIL BAR TABLE VIEW
Located right on Table View's beautiful beach front overlooking the Atlantic Ocean and boasting one of the most spectacular views of Table Mountain and Cape Town, Pakalolo Cocktail Bar provides a chilled-out, no-fuss venue for people of all ages and walks of life. Not to mention, the bar hosts two flat-screen televisions, making it the perfect space for watching big sporting events. If you should you get a little peckish while sipping on mouthwatering cocktails, Pakalolo also has a great variety of wraps and quesadillas on offer as well as yummy burgers and an array of Mexican options. Doors open at 9am, seven days a week and stay open until late (they say around 2am).
Hours: Daily: 9am–2am
14 Beach Boulevard | Table View | +27 (0) 21 557 8508
BRASS BELL RESTAURANTS AND PUBS
A well-loved, world-renowned Kalk Bay institution, the Brass Bell and its assortment of relaxed dining spaces and bars are situated on the shore's edge (so close you can taste the sea salt), affording unsurpassed panoramic views over the harbour and across False Bay. While all spaces boast breathtaking vistas and a jovial atmosphere, the Water's Edge restaurant and Bikini Deck – waves that crash against the windows – are most ideal for that long, languishing sundowners session. Patrons can toast to the setting sun with a classic pina colada or strawberry daiquiri cocktail – they also offer sizeable jam jars for the thirsty – while listening to animated live music, snacking on fresh seafood and wood-fired pizzas, and simply relishing the sweetness of summer.
Hours: Monday–Friday: 8am–late, Saturday–Sunday: 9am–late

Main Road | Kalk Bay | Kalk Bay Station | +27 (0) 21 788 5455
CAPE TO CUBA
Set on the waters of Kalk Bay, this iconic Cuban-themed restaurant and bar offers a wide mix of innovative drinks to match its offbeat decor and laidback Caribbean-inspired ambience. Though sundowners can also be enjoyed in the more formal main restaurant (along with mouth-watering traditional cuisine), the colourful adjacent Che bar, which boasts sea views, was designed specifically for sitting and sipping on their truly comprehensive array of cocktails. Cuban classics are the order of the day here, such as the Cuba Libre (a dark rum, lime and coke mix) and the Cuban Sunrise (a blend of Bacardi, tequila, Triple Sec, orange juice and grenadine); of course, they're also renowned for their mojitos, and currently hold the record as the bar to sell the most in Cape Town.
Hours: Daily: 10am–10pm 1
65 Main Road | Kalk Bay | +27 (0)21 788 1566
GLEN CARLOU WINE FARM
Nestled at the foot of the grand Simonsberg Mountains in southern Paarl, this world-class winery boasts – in addition to its award-winning collection of reds and whites, of course – splendid sweeping vistas over the vineyards and valley below. In addition to indulging in Glen Carlou's premium Chardonnays (their flagship varietal), Pinot Noirs, Cabernet Sauvignons and red blends, guests can also spice up the sundowner session with international wines from the private cellar's sister and brother estates in Argentina, Australia and Napa Valley. For a refined and worldly way to toast the close of day, this special spot is a unique alternative. Read more about Glen Carlou Wine Farm.
Hours: Daily: 11am–3pm

Simondium Road | Klapmuts |Western Cape | +27 (0)21 875 5528
MONT ROCHELLE HOTEL AND MOUNTAIN VINEYARDS
There are few more spectacular sights in the Cape region than the sprawling, mountain-wrapped Franschhoek Valley, a panorama made even more magnificent by the soft light of the sinking sun. And the spacious outdoor terrace and indoor bar of elegant Cape Dutch establishment Mont Rochelle are perfectly placed for taking in such glorious vineyard-lined vistas, crisp martini, mojito or margarita in hand. While an array of the farm's own wines are, of course, on offer for easy drinking, guests can also sample world-class vintages and champagnes from a number of local, surrounding estates or order a cocktail or two – they make most of the classics – off the carefully-crafted list (non-alcoholic versions are also served on request). For the peckish, bar chips and nuts are available to accompany the beverages, but if group bookings are made in advance, tasty canapés can also be arranged. In addition to their bar, there are two restaurants on site; Miko for a more elegant dining experience and the Country Kitchen for a more informal venue leading on to their wine cellar.
Hours: Miko: Monday–Saturday: 7am–10pm, Country Kitchen: Monday–Friday: 10am–7pm, Friday–Sunday (dinner): 7pm–10pm Mont Rochelle Wine Farm | Dassenberg Road | Franschhoek | +27 (0)21 876 2770
PETER FALKE WINES
A captivating blend of dream-like decor and stunning natural scenery, this boutique winery – which sits on the slopes of the Helderberg Mountains in Stellenbosch – is a rare treat in the Cape Winelands, staying open late enough in the evenings (7pm) to make it a model site for casual summer sundowners. A sumptuous outdoor lounge on the estate's lush green lawns invites guests to unwind at dusk with a glass of wine – Peter Falke produces two ranges, which includes delicious Sauvignon Blancs, Blanc de Noirs, Shiraz, Cabernet Sauvignons and Pinot Noirs – overlooking bright bougainvillaeas, manicured rose and herb gardens, and wide stretches of verdant vegetation. To pair with the flavourful vintages, a decadent cheese platter with cold meats, figs, olives, fruit and bread is also available (at extra cost) for two to four people. Read more about Peter Falke Wines.
Hours: Tuesday–Sunday: 11am–7pm

Annandale Road | Stellenbosch | +27 (0)21 881 3677
CAPE TOWN'S BREATHTAKING BEACHES
From Noordhoek, Hout Bay, Kalk Bay and Kommetjie to Clifton, Camps Bay and Llandudno, the Mother City is dotted with a myriad of idyllic beaches that, with long stretches of soft white sand, azure waters and endless horizons, were designed, it would seem, for witnessing the sun's last red rays disappear over the edge of the ocean. What's more, as lazing along Cape Town's coastline doesn't cost a pretty penny, it's a budget- and student-friendly sundowner option for those with tight bank balances. It must be noted though, that drinking alcohol on South African shores, as enticing as it may be, is still considered an illegal activity, so sea, sun and sand lovers would be well advised to either go virgin or try to be discreet.
CAPE TOWN'S HIGHEST POINTS
Another especially inexpensive option is to pack a few cold ones and hike, drive or cableway up to one of Cape Town's higher peaks, most of which flaunt breathtaking views over the whole twinkling city as the sun slowly melts into the horizon. A few great alternatives include iconic tourist hotspot Table Mountain (there's a well-stocked café at the top, and they offer a half-price 'sunset special' on return tickets from 6pm onwards), Lion's Head (the 360-degree views from here are, arguably, unrivalled), Signal Hill and Paarl Rock. Although not an elevated point, the open field near the soccer pitch in Jonkershoek Valley, Stellenbosch is also a noteworthy natural site for an enjoyable and scenic spell of sundowners. Surrounded by towering mountains and greenery, such a spot takes after its lofty counterparts, affording a sunset experience that most urban cocktail bars and lounges would be hard-pressed to match.
---
Discover the new DIY gin bar at Nom Nom in Somerset West.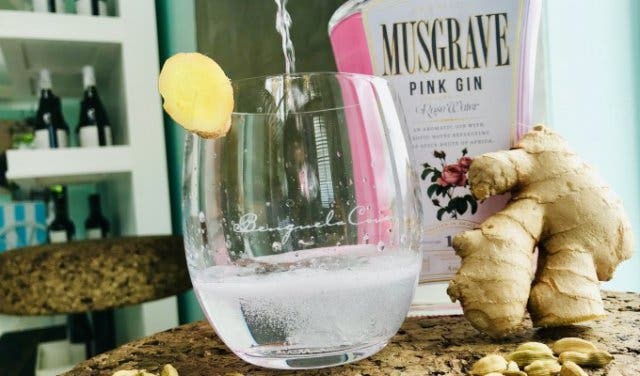 ---
There are only 20 seats available at the Disappearing Dining Club.

There's live music every night of the week at The Piano Bar. And there's bottomless bubbly every Sunday.

For a vibe, 2-for-1 specials and yummy tapas, check out La Parada on Bree Street.
City cafe is easy, affordable and open 365 days a year at Cafe Extrablatt in Cape Town and check out the wholesome buffet breakfast and Sunday brunch with the buffet at Cafe Extrablatt.

It's two-for-one burgers on Tuesdays at Robin Hood Burger and Grill.

Discover a bevvy of meat-lover and vegan burger options at Robin Hood Burger & Grill.

Learn the seductive art of dance at the Cape Town Tango Festival.
Charm all five senses at Maaya Cape Town.

For a party that peaks from start to finish and starts and ends on a train, get on board the Make Believe Train Party.
New idyllic summer hangout in Hermanus's open-air restaurant, Ficks.
Order a brew, hold on for the ride and let the good times roll at Friday Night Live at Aces 'n Spade.
Party in an underwater world, hang out on a city rooftop or escape into nature at these great birthday party places.
Laugh at the Queen and at yourself at this hilarious Cape Town drag show.
Country-style nose-to-tail dining at Viande.
AC Hotel Cape Town has live music and a happy hour every Thursday and a weekly Sunday roast.
Experience the magic of each of the Madame Zingara restaurants in Cape Town. Plus, check out their everyday drink specials.
Test and try the best whisky and gin at the Whisky And Gin Live 2019.
Discover one of the most unique and quintessential Cape Town beach restaurants in Moyo at Eden on The Bay. Plus: Unlock R25 draughts and R39 cocktails at Moyo's Friday drinks specials.
You can get giant 1kg beef ribs from the brand new smokehouse in Zonnebloem, Holy Smoke Cape Town.
Party with the LGBT crowd at these awesome gay and lesbian bars in Cape Town.
Here's your weekend special: A Night of Headliners at Cape Town Comedy Club.
Dance on the lawn as the sun goes down at Camps Bay Sunset Silent Disco. Explore new plant-based eatery in town, Mary-Ann's in Mouille Point. And perfect your oms by the ocean with this yoga session by the sea.
Experience a one-of-a-kind sunset and unmatchable vibes at the Barley & Biltong Emporium's Sundowner Sessions. Uncover the secret speakeasy offering phenomenal cocktails at The Art of Duplicity in Cape Town. Check out the Corona cocktail special at the House of H rooftop bar. And indulge in fine Macanese cuisine and cocktails at Macau bar and restaurant in Cape Town.
See the new Park Inn by Radisson Cape Town Foreshore here and discover excellent new Cape Town wine bar ChiCha. Also discover Cape Town's top picnic spots.
Watch the sun go down on another week in the Winelands at the Avondale Garden Bar.
Is Strand Street the new street du jour? Pop in and have a look at the cool repurposed interiors at VIXI Social House.
Get SA food with an international flair at The 41 in Camps Bay. And they have live music every Thursday.
---
Use our events section for an up-to-date overview of what's happening in the city, suburbs and dorpies. Join our newsletter and add us to your mobile home screen for the ultimate guide to discoveries in Cape Town.
Follow and like us on Twitter ❤ Facebook ❤ LinkedIn ❤ Instagram ❤ Pinterest for updates.