Dream Wedding Venues You Have to See in Cape Town
From the small and budget wedding venues to unique beach and forest ones, here's where to get married in an around the Mother City
Before we get to Cape Town, have a look at this idyllic boutique wedding spot on a working dairy farm in Swellendam ...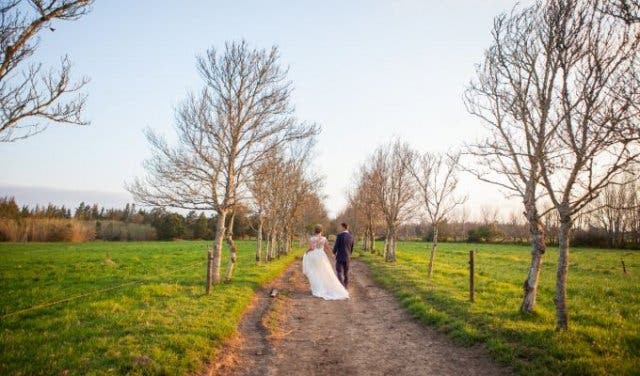 A quaint private chapel, big braai boma, swimming pool and rustic-luxury accommodation for 38 people. And, there are loads of cool extra experiences: a tour of the citrus plantations and sunset safari picnics.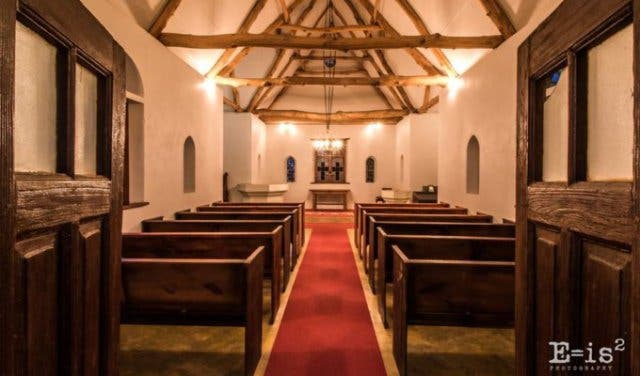 Olivedale Rd, Buffeljags River, Swellendam | +27 (0)79 200 9098 | info@kambati.co.za
Plus: Wedding special: book the entire venue and the bride and groom stay for free. Have a look at Rotterdam Guest Farm in Swellendam.
NOW BACK TO CAPE TOWN
You've got the perfect dress, the perfect flowers and you've sent the perfect wedding invitations out to your 'perfect' relatives. But how important is the perfect wedding venue? If your wedding day is unique compared with any other day of your life, so too should be the venue in which you choose to marry.
Cape Town is the perfect place to choose your wedding venue, abundant with beaches, mountains, vineyards and forests and caters for the traditional, to the downright unusual bride. We have selected some of the most unforgettable wedding venues in Cape Town and surrounds.
ARRIVE IN STYLE IN A VINTAGE CAR
Get chauffeured to and from your wedding in style, whether it's in a 1964 Jaguar or '47 Bentley. This classic chauffeur-driven car hire utilises a network of privately owned classic and sports cars to provide the ultimate transport experience for your special day. With the advanced online booking system, you can find out quickly if your ideal car is available for your special event through Classic Rides.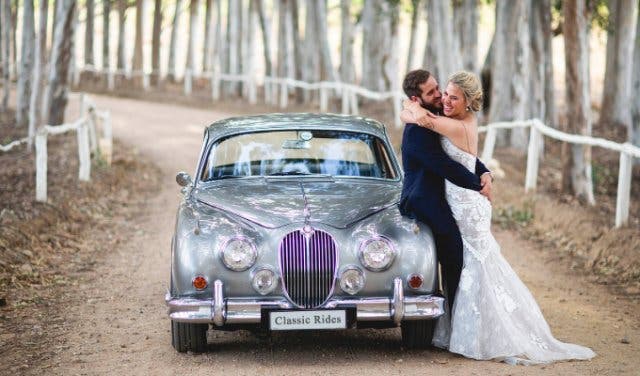 Gardens | Cape Town | +27 (0)63 208 4247 | info@classic-rides.co.za | website
HALF PRICE FOR YOUR WEDDING
Zeestock Lodge, the adventure lodge in Philadelphia, hosts the ultimate rockstar weddings for creative types and adventure-lovers. Get a special rate on accommodation for 20–30 pax, a Morrocan wedding pagoda, food, DJ, sound system and lighting and a professional photographer at Zeestock Adventure Lodge.
Note: The venue accommodates 150 day-guests. For extra accommodation, you can choose camping or another guest house in the area
Price: R500 per head (usually R1000)
Availability: Until 1 June 2020
To do close by: Sandboarding at the Atlantis dunes

73 Three Fountains Estate, Philadelphia | +27 (0)79 242 7031, stay@zeestocklodge.com
MOUNT NELSON HOTEL
Whether staging a grand celebration that would put Princess Di to shame, or a more intimate affair, Mount Nelson adds a touch of Hollywood Glamour to all Mother City marriages. Choose from a garden or ballroom wedding, complete with a show-stopping red carpet entrance. The exclusive venue is a 'one-stop- shop' for everything from flowers, to bespoke catering services. Want to keep the memories alive? A one-year anniversary dinner is included.


76 Orange Street | Gardens | Cape Town | +27 (0)21 483 1948
TIGGER 2
There cannot be a more unique way to celebrate your nuptials than on A champagne, sunset wedding cruise, departing from the V&A Waterfront. Tigger 2 will provide every wedding luxury, from bridal bouquets to hairstylists, to buffets and plated dinners. They cater for the cost conscious, as well as the extravagant bride and groom. They also provide special services for same-sex marriages.

Shop 5b | Quay 5 | V&A Waterfront | Cape Town | +27 (0)21 418 0241

THE TWELVE APOSTLES HOTEL AND SPA
For the perfect wedding photo opportunity, choose a romantic and memorable venue, set against majestic mountains and sparkling ocean, or in stunning gardens. Your dedicated wedding planner will organise everything, from a charming bridal suite to a private viewing of your wedding video at their in-house cinema.


12 Apostles Hotel and Spa | Victoria Road | Camps Bay | Cape Town | +27 (0)21 437 9000

STRANDLOPER SEAFOOD RESTAURANT
You could opt for an evening wedding on stunning Langebaan Beach, under a floral archway, with a passionate sunset as your backdrop. Afterwards, you and your guests can tuck into a sumptuous seafood menu, provided by Strandloper, and sip on wine, champagne and cocktails deep into the night. Wedding options include; a preacher, a wedding coordinator and accommodation for happy newlyweds in a charming honeymoon suite.

Langbaan Beach | +27 (0)22 772 2490

TOKAI FOREST WEDDING WITH WEDDINGS ABROAD
Fancy spotting a few wood nymphs whilst your being joined in holy matrimony? Tokai forest, tucked away between the Winelands and Constantia valley, makes for an enchanting wedding beneath trees and shards of sunlight. Services include; a bottle of champagne and a Mercedes chauffeur driven vehicle to and from the forest.

1 Woodlands Close | Pinelands | Cape Town | +27 (0)21 5314863

TWERBOSCH RESTAURANT (KNORHOEK ESTATE)
Don't want to be loaded with décor costs? Towerbosch restaurant has designed a space that is ready to go – a thatched-roof restaurant set in the glorious surrounds of a mountain stream, a nasturtium carpeted wood and sweeping lawns. Wed under a gazebo or the trees, with an optional red carpet, then indulge in South African cuisine and estate wines with your guests. You and your guests can also participate in additional activities including; a cellar tour, golf, or a visit to a professional beauty therapist.


Knorhoek Wine Farm | Knorhoek Road | off R44 | Koelenhof | Stellenbosch | +27 (0)21 865 2114

GROOT VLEI GUEST FARM
Groot Vlei Guest Farm is home to large tents, set in gardens of indigenous flowers and wild birds, which makes for an ideal location for large crowds and big musical wedding performances. The shell-encrusted honeymoon suite at this popular, rustic venue sports an open-roofed, oyster-shaped bath and magnificent Atlantic ocean vistas.

Lamberts Bay | +27 (0)27 432 2716

MOLENVLIET WINE AND GUEST
Where might you wed in abundant vineyards and landscaped gardens, surrounded by the Drakenstein and Simonsberg Mountains? MolenVliet offers exclusive wedding ceremonies including; a private banqueting venue for up to 250 people, catering and a world-class selection of wines. The Winelands wedding package, and nothing but the Winelands wedding package.

Banhoek Valley | Stellenbosch | +27 (0)21 885 1597

HARBOUR HOUSE RESTAURANT
Fancy a wedding with a view? Look no further than Harbour House, situated in picturesque Kalk Bay. With outstanding views of Kalk Bay's working harbour and False Bay, their wedding receptions boast award-winning cuisine. Harbour house offer a professional service and will coordinate everything for you, from the décor to the music.

Kalk Bay Harbour | Kalk Bay | +27 (0)21 788 4133

LIZEWE'S GUEST HOUSE
Why not opt for a traditional African wedding in the heart of Cape Town's township, Gugulethu. Small gatherings of up to 50 guests can experience the warm, relaxing atmosphere of township life, whilst tucking into delicious African cuisine. The delightful guesthouse has four rooms, each proudly decorated with South African décor.

NY111 | Number 121 | Gugulethu | Cape Town | +27 (0)21 633 7406

EXTRA TIPS FOR YOUR DREAM WEDDING
So now that you have a few venue ideas, consider these suggestions for other aspects of your wedding:
PHOTOGRAPHY SERVICE
The best way to keep the memories of special moments alive is through photographs. And your wedding is arguably one of the most special occasions of your life. Photofuzion knows how wonderful weddings are and offers a photography service that ensures every event they photograph is done so in a truly unique way. Their work starts prior to the wedding when they meet with the couple to get to know them a bit better and get a feel for their particular taste and style. With a style of shooting that can be described as photojournalism meets cinematography, Photofuzion believes the relationship they build with their clients is what helps to ensure that each photograph they take and every video they make captures the extraordinary details of a couple's big day. Photofuzion also offers custom-designed albums and coffee table books to make your memories last forever.
www.weddings.photofuzion.co.za | weddings@photofuzion.co.za
ENTERTAINMENT
Now that you have found the perfect Winelands wedding venue for your special day, the next step is securing some top-notch entertainment, and we suggest the smooth stylings of Ricky Botsis. With a strong passion for swing music and entertaining from a young age, Ricky broke into the professional world of entertainment in 2008 and has since then performed at countless events nationwide, including weddings! Described as the "local version of Michael Bublé" or dare we say a young Frank Sinatra (less pop, more swing), Ricky's enchanting voice is perfect for every occasion and is a sure crowd pleaser. Although Ricky primarily prefers swing, he can sing any genre of music (as long as it in within his range, of course). What's more, should you want something that may not be on Ricky's song list, request for it in advance and provided he can get the music, a plan will be made! Interested to hear him live? Catch Ricky's Swing Show every Tuesday night at Headquarters (HQ) Restaurant for their #DateNight special. Email Claire at rbotsis@gmail.com, or call +27 (0) 83 375 4450 for more information, quotes or availability.
INTERACTIVE FOOD THEATRE
Want to add a unique culinary touch to your special day? Then the Oyster King, an interactive food theatre company, might just be what you're looking for. Choose to be entertained and treated to speciality eats by a dedicated 'king' or 'queen' who goes around dishing out a treat of your choice to guests at the reception (it's a great way to fill the time for guests while you're off taking photos). From oysters, sushi and biltong to macarons, cake pops and fortune cookies, almost any kind of delicacy can be chosen to imbue your wedding day with a quirky, fun element.
Booking info: +27 (0) 860 697837 | info@oysterking.co.za
---
by Lisa Nevitt
---
You can throw one helluva party at Rooftop on Bree.
Get chauffeured to your special occasion or go on a tour of the Cape in a vintage car with Classic Rides.
From lofts among the trees to a luxurious seven bedroom villa surrounded by vineyards at Marianne Wine Estate. Plus, if you're an SA or SADC resident, you get a 20% discount off your stay.
Grand luxury weddings deserve this winelands setting of 20 000 fairy lights at the Bona Dea wedding venue.
Getting Married? Find everything you need at Simon's Town Wedding Expo.
Special, unique and unexpected function venues in Cape Town.
It's not just the venue that makes a perfect wedding. Be sure to read our overview of Planning the perfect wedding in Cape Town.
There are four hot pools, accommodation for all budgets and various entertainment options at Goudini Spa. Newlyweds get a stay in the Slanghoek Villas.
---

For your monthly update on what's happening in and around Cape Town, be sure to subscribe to our popular newsletter and follow us on Facebook and Twitter.