MAReSOL Restaurant at the V&A Waterfront
A celebration of proudly Portuguese food at the V&A Waterfront
Eating out is an event because meals are about more than just a number of randomly picked ingredients put together in the hope that they complement each other. Cooking involves creativity, finesse; it demands that chefs dare to innovate. MAReSOL takes all this into consideration when hosting diners and guests because MAReSOL understands that food is art.
The restaurant opened its doors in November 2016 and has since become a go-to for diners looking for Portuguese cuisine."MAReSOL is an accessible restaurant. We wanted to find a happy median between fine dining and value for money," says marketing manager Michelle Smit.
The sleek, polished eatery may not consider itself a fine dining restaurant but it certainly serves up fine food. It's a slow Friday afternoon and we're being spoilt; sitting in a flawless restaurant with a 360° view of Cape Town, soaking up the warm sun with the ocean just a stone's throw away.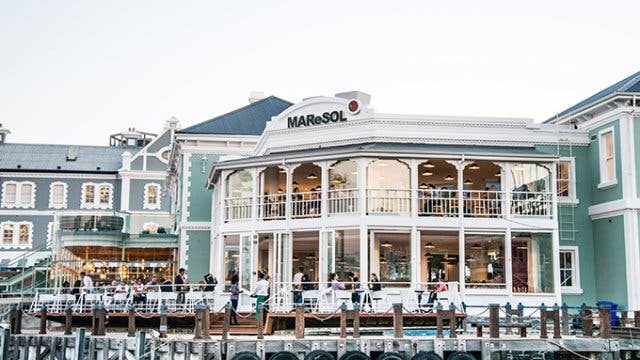 "The majority of the cuisine at the V&A is seafood. We also have great seafood dishes on our menu but we wanted to offer more variety too," Michelle shares. Their menu is bursting with options for diners who enjoy their food hot and spicy, mild with a little kick, or safe and tepid. "Portuguese food is very tricky because everyone likes their spice at varying degrees," Michelle shares, but the staff are happy to explain the dishes and their degree of spiciness to you.
And we put them to the test. I love spicy food. My date, on the other hand, whimpers at the hint of paprika. With this in mind, our delightful waiter suggests a number of starters dishes for us to enjoy tapas-style. I order a jalapeno and lime gin and tonic (told you I like my spice) and my date opts for a strawberry and mint gin and tonic. Feeling well taken care of and confident in the dishes we've ordered, we enjoy the sweeping view of the Atlantic ocean and wait for the feast to arrive.
What a feast it is. We are presented with prawn rissole (R69), giblets served in the in-house piri piri sauce (R59), Chouriço a spicy Portuguese sausage flambéed in brandy (R69), pan-fried beef fillet trinchado (R99), pan-fried calamari served with lemon butter (R69) and bacon-wrapped prawns that come with a can't-get-enough honey, apple and almond sauce (R99). As if that isn't enough, two fresh Portuguese rolls accompany the smorgasbord. "You can use these rolls to dip into the sauces of the different dishes," Michelle jokes, but that is exactly what we do. After gorging ourselves on the plethora of varied tastes, textures and spices we use the bread rolls like spoons (or sponges!).
We had but a preview of what MAReSOL offers diners. "Our dishes are designed to encourage family-style feasting and tapas-type dining," Michelle explains, and the platters are no different. The Mercado platter is R195 and comes with three queen prawns, three mussels, calamari steak and the catch of the day. The shellfish platter comes with a gorgeous langoustine, a tiger giant, a king prawn and three queen prawns, for R495. The MAReSOL spectacular – which comes with four tiger giants, four king prawns, four langoustines, calamari tubes, 12 mussels and the catch of the day – will cost you R1850. All their sides – miho frito, roasted vegetables, MAReSOL home slaw, onion rings, fries and MAReSOL side salad – only cost R22 each.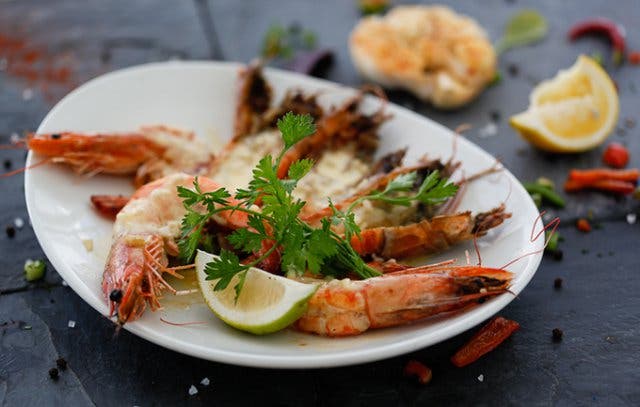 Vegetarians are also catered for at this picturesque eatery. For R65 you can enjoy a sizable serving of spicy tomato soup, or indulge in a chickpea curry or a spicy kidney bean medley with kidney beans, peppers, red radish, tomato and carrots served with rice and crushed avocado for just R85 each.
The dessert is absolutely delicious! A traditional Pastei de Nata is only R55 and it comes with vanilla ice cream. An almond tart will cost R59 and is also served with vanilla ice cream.
If you don't know, the Portuguese are always up for a good time. MAReSOL's seven-page cocktail menu and wine list reflects this. They offer modern gin and tonics for R45 each and they include the two variations we enjoyed, as well as thyme and lemon, orange, and green pepper and fresh basil. The MAReSOL is sure to put some hair on your chest! For R55 you get a generous serving of tequila, blue curacao, with dry lemon and lemonade. The bar is stocked with an extensive selection of Champagne and sparkling wine, and nearly every wine varietal, including chardonnay, Chenin Blanc, Cabernet Sauvignon, Sauvignon Blanc, Shiraz, Merlot and Pinotage, so you needn't worry that they have your favourite, chances are they do.
We love: The view! MAReSOL is perfectly positioned to treat you to an eyeful of the ocean on the one side, and a picturesque perspective of Table Mountain on the other. "The building was designed in a way that, no matter where you're sitting, you always have a beautiful view to look at," Michelle says.
Tip: Don't leave MAReSOL without trying their bacon-wrapped prawns, it would be an absolute travesty! The Portuguese restaurant also run daily breakfast, lunch and dinner specials so take full advantage of that to get as much of their flavoursome food as possible. Be sure to take full advantage of the winter menu too!
The Bill: For breakfast you can expect to pay anything between R35, for scrambled eggs on toast, and R89 for a Portuguese breakfast pan. The starters range between R49, for vegetable rissole, and R109calamari tubes with chouriço, tomato, black olives and rocket. A main dish ranges between R79, for a chickpea salad, and R1850 for a MAReSOL spectacular. For a sweet finish expect to pay R49 for creme brulee or rice pudding, and an almond tart costs R59.
Opening Times: Mondays - Sunday: 8H00 - 22H00
Old Hildebrand Building | V&A Waterfront | Cape Town | +27 (0)21 425 3385
Words by Inga Sibiya
---
Read about other hot coffee shops in Cape Town in the dedicated café section of our site. If you're looking for the perfect place to enjoy a mimosa and scrambled eggs, check out the best places to brunch.
---
Check out our events section for an up-to-date overview of happenings in Cape Town. Also, don't forget to subscribe to our newsletter and if you have a smartphone, add m.capetownmagazine.com to your home screen for quick access on the go! Follow us on Twitter, like us on Facebook, join our Google+ circle, connect with us on LinkedIn, check out our photos on Instagram and follow our Pinterest boards for updates on what's happening in and around the Mother City!