Touring Cape Town's Winelands is more than just a matter of taste
Winelands day tours uncovered in Cape Town and Surrounds
We all enjoy regular visits to the wine estates and vineyards of the Western Cape. When visiting Cape Town and Surrounds your trip would not be complete without a wine tasting experience in the Cape Winelands.

A patchwork of green vineyards surrounded by mountain ranges, the wine regions are home to historical towns including; Paarl, Stellenbosch and Franschhoek. Cape Town's Winelands are the perfect setting to learn more about wine, grape varieties and explore unique wine tastings, accompanied by an expert guide on a well-organised half or full day tour. Besides sipping on sumptuous wines, you may even discover a wealth of other excellent activities.
GET A NEW PERSPECTIVE ON A DOWNHILL SCOOTOUR
Scoot through the historic 1825 Holloway Pass and onto the 1819 Cats Path ox wagon trail through the Franschhoek Valley (famous for its artisan food route). Check out the fauna and flora at the Mont Rochelle Nature Reserve and enjoy the rest of your leisurely Scootour through famous Franschhoek and its surrounding wine farms on this kid- and family-friendly adventure. You can also try these other 3 routes Scootour has.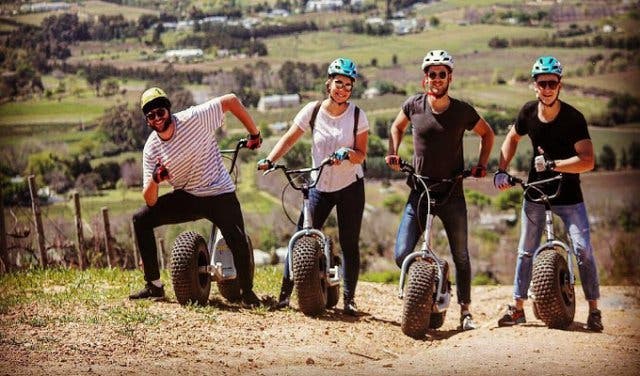 +27 82 776 0557| capetown@scootours.co.za
Educational and entertaining day tours in the Cape Winelands

Experience more than just wine with a historical view of the Winelands. Your full day tour of the towns and homesteads of Paarl, Franschhoek and Stellenbosch, includes; Paarl Language Monument, Huguenot Memorial and Cape Dutch architecture. Enjoy wine and brandy tastings along the way (Cape Sight Seeing Tours | +27 (0) 21 - 4330991).

Discover how Cape vintners make their wine, during a unique day tour with a knowledgeable and passionate, French gastronomist. Join cellar masters and wine experts along the Durbanville and Bottelary Wine Routes and indulge in an a la carte lunch at a cheese makers' trattoria. For times and prices, read our features on Didier's Cheese and Wine Tours / Durbanville Valley Tours (Didier's African Cheese and Wine Tours | +27 (0) 736132571).

A full day or half day private day tour, accompanied by a knowledgeable and likable tour guide, is rather like being driven around by a personal friend. Discover the historic Drakenstein Prison, Paarl; Franschhoek, where the Hugenots settled in 1820; and the Helshoogte Mountain Pass. Your personal tour includes; 3 wine tastings, a cellar tour and a lunch stop, with complementary, onboard refreshments and a free massage at your hotel. Read more about Personal Tours of the Cape Winelands (WOW Cape Town Tours | +27 (0) 832663591).

Get to know the wine industry, with a full day tour of the Western Cape Winelands. Visit Fairview, for cheese and wine tasting; Simonsig, to learn how to open a bottle with a sword; South Africa's most diversified wine estate, Spier. Your tour includes; an experienced guide, 5-6 tastings per estate and a hearty, farm-style lunch (Ferdinands Tours | +27 (0) 21 - 9878889).

Exclusive day tours in the Cape Winelands

Nothing beats a show stopping entrance to lunch or a tasting at fine wine estates such as, Dornier, Waterford or Lourensford. So, why not discover the tranquility and beauty of the Cape Winelands via a helicopter flight? Your private helicopter departs from the V&A Waterfront for a scenic flight, then drops you off for an exquisite tasting – and it's more affordable than you might expect. Spoil yourself with a Cape Helicopter Flip (NAK Makana | +27 (0) 21 - 4253868).

Ever wondered how wine is made? Try your hand at making your own wine, on a full day, private tour. Buy a 225l oak barrel and grapes from a boutique winery and get stuck into picking and crushing grapes. The winemaking process is then taken over by an expert wine maker. Once matured, your wine will be labeled and made available to you, but bear in mind that this tour is best suited to the harvest season, from January to April (Footsteps to Freedom |+27 (0) 824521112).
The Cape Winelands treat those visiting to more than just divine wines, to sample and - in most cases - take home, the region is a spoil of spectacular views. Why not explore? Hop on an eco-friendly scooter and embark on an exciting adventure through the area with a professional guide who will ensure you have fun and stay safe too. (Scootours® | +27 (0)82 776 0557)

Book an exclusive day tour of the Winelands with a qualified wine guide and transport in an air-conditioned vehicle. Explore Paarl, the Hugenot Museum in Franschoek, the Stellenbosch Museum and get up close and personal with the White Lion at Vredenheims Cape Town Lion Park, for example. Your knowledgeable tour guide will even pick you up from your hotel (Wine Fairy | +27 (0) 798922859).

Fancy some five star treatment? Get picked up from your hotel in a luxury vehicle with on board refreshments and allow yourself to be whisked away on a fully-inclusive day tour with a great guide. Highlights include; Fairview Estate (near Paarl), shopping in Franschoek and a sumptuous lunch at Zorgvliet Estate's Herenhuis Restaurant (Blue Grape Tours | +27 (0) 21 - 4381897).

Horseback and bicycle day tours through the Cape Winelands

Whether you've ridden before or not, a tailor made day trip on horseback makes for an unforgettable Winelands experience. Embark on a leisurely ride through the picture perfect settings of Belmont Estate in Somerset West and Kanu Wine Estate in Stellenbosch. All rides take place on safe mounts with skilled guides. This has to be one of the most unique things to do in the Cape Winelands (Orion's Stables | +027 (0) 21 - 8581938).

What's the rush? Why not slow down the pace and spend the day absorbing the Winelands by bicycle? Spend a mellow day with a friendly guide, cycling through Stellenbosch, Paarl and Franschhoek. Your wine tour includes a cellar tour, tastings in each region and a great picnic lunch. This bicycle tour attracts an easy going crowd and is suitable for all levels of fitness (Day Trippers | +27 (0) 21 - 4217003).

Charitable day tours in the Winelands

Combine wine tourism with charity on a full day wine tour with a difference. Compassionate wine tourists may take a full day tour, with a specialist wine guide to three wine farms. Wine tastings are complemented by a visit to crèches and afterschool clubs on each wine farm, where you may get involved in fun activities with children looked after by non-profit organization, The Pebbles Project. Your guided day tour includes a pickup from your hotel in an air conditioned vehicle (Wine Desk | +27 (0) 21 - 4180108).

Take a full day cycling tour through the vineyards, to learn how the Winelands developed. Visit two wineries, one brandy distillery and a cheetah sanctuary. Your tour, accompanied by fun wine guides, includes a cute picnic lunch and R10 from every ticket is donated to the Lynedoch Eco-village and Community School (Bikes n' Wines | +27 (0) 741860418).

We hope you've found this overview of day tours in the Winelands useful. If you're looking for more excursions in Cape Town, be sure to read our overviews of Adventure Day Tours, Cultural Day Tours, Township Day Tours, Cape Peninsula Day Tours and Wildlife and Nature Day Tours. For a selection of the best, be sure to read our Top Ten Day Tours.

By Lisa Nevitt

---
Healthy lifestyle for family and friends, young and old at Run The Vines.
Fabulous fair, sumptuous interiors and fine wine at Tryn at Steenberg.
Inspiring people with 50 sculptures made of material offcuts and discarded items at the Rodan Kane Hart exhibition.
Find current and upcoming events in our weekly overview of 7 great things to do in Cape Town this weekend.

For your monthly update on what's happening in and around Cape Town, be sure to subscribe to our popular newsletter and follow us on Facebook and Twitter.