Easter-ready chef's pickled fish recipe + a surprising veggie alternative
Cape Town chefs Andre Hill and Heinrich Koen dish out their Easter recipes
Easter isn't Easter in the Western Cape without pickled fish (also known as ingelegde vis or Kaapse kerrievis). Although the history of this aromatic, tasty and refreshing fish dish is unclear, it is as old as Cape Town itself.
This Easter, with the country under lockdown to curb the spread of the coronavirus, we've all got plenty of time on our hands. And what better way to celebrate Easter than with traditional, homemade pickled fish?
A BLEND OF CAPE MALAY AND CHRISTIAN TRADITIONS
"It seems to be one of those traditions that has roots within both Cape Malay (Muslim) households and in traditional NG Kerk (Christian) households that have intermingled over hundreds of years," says veteran chef Heinrich Koen. "I grew up with my mom always making pickled fish for Easter, so it is one of those childhood staples that makes one feel warm and fuzzy," says Heinrich.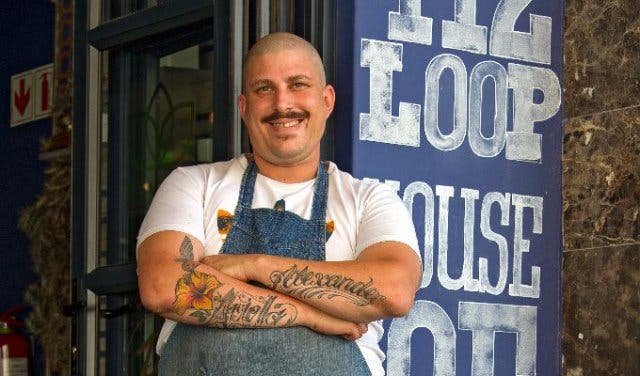 Owner of Upper Bloem, chef Andre Hill, grew up in Bo Kaap. He agrees: "Pickled fish is a dish that transcends cultures, as it's rooted in Cape Malay food origins, yet is served at Easter, which is typically a Christian holiday."
Pickled fish recipes are handed down generations so tend to differ from family to family. Heinrich shares his traditional Malay pickled recipe below, and Andre has a surprising twist on his (spoiler alert: there's no fish in it). Plus, where to get spices and fish and how to eat this local pickled fish.
TRADITIONAL PICKLED FISH RECIPE BY CHEF HEINRICH KOEN
Ingredients
For the hake:
2kg fresh hake
Flour for dusting
Oil for frying
For the sauce:
2Tbs paprika
2Tbs garam masala
1Tbs turmeric
1Tbs smoked paprika
2 fresh chilies, chopped
2 cloves garlic, crushed
2 onions, chopped
100ml White spirit vinegar
3Tbs Brown sugar
Cup of water
Method
Start by preparing the hake. Place a saucepan on high heat with a good coating of oil. While it heats, lightly dust the hake pieces in flour and gently shake off any excess flour. Drop the pieces into the oil and fry until golden. Remove once golden in colour and set aside.
Next, prepare the sauce. Start by putting a pan over a medium heat with a dash of oil, and fry the onions, garlic, and chilli in a pan until caramelised. Add the paprika, smoked paprika, masala, and turmeric and fry for 5 minutes until fragrant. Sprinkle in the brown sugar and stir until it's dissolved. Finally, deglaze the pan with the water and vinegar and simmer on low heat for 25 min.
After 25 minutes, remove the pan from the heat and allow it to cool completely. Once cool, add the fish, mix to combine, and refrigerate. It needs at least 24 hours so the fish can soak up the sauce, but you can keep it for up to two days.
VEGETARIAN PICKLED "FISH" (WITH AUBERGINE) BY CHEF ANDRE HILL
"We wanted to give Upper Bloem Restaurant diners who didn't or couldn't eat fish the chance to taste something similar, so we tried it with aubergine and it was served as one of our snacks," says Andre.
There are three main elements you need to make: curried aubergine, caramelised onion petals, and seasoned goat's milk yoghurt. The dish is garnished with pomegranate kernels, coriander, and mint.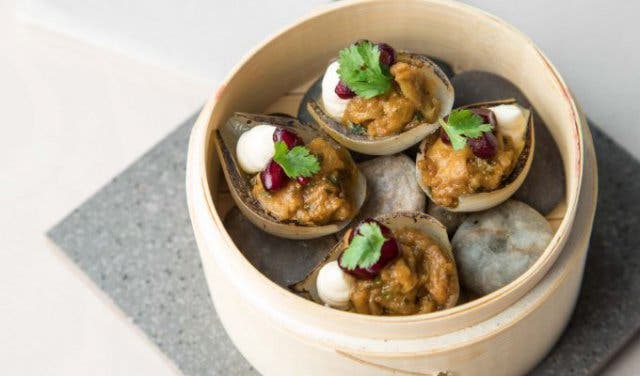 CARAMELISED ONION PETALS
Ingredients
For the onion petals:
5 baby onions
For the curry base:
2 onions, diced
3 cm piece of ginger, finely diced
4 garlic cloves, finely diced
1 stick lemongrass, bruised
2 lime leaves
1 tsp whole cumin
½ tsp cardamom
1 Tbsp coriander seeds, toasted and crushed
1 bay leaf
2 tsp turmeric
7 tsp mild curry powder
3 tsp garam masala
½ small tin whole peeled tomatoes
1.5L vegetable stock or water
For the curried aubergine
1kg aubergine peeled and cut in 1.2cm cubes
300g rice flour
Sunflower oil (enough to 'deep fry' depending on the size of your pot.)
For the pickling liquid:
250ml white wine vinegar
250ml white balsamic vinegar
150g sugar
For the whipped goats milk yoghurt:
250g goat's milk yoghurt (place yoghurt in cheesecloth and colander overnight over a bowl, this will catch the whey from the yoghurt leaving a more intensely flavoured yoghurt).
250g whipped cream (whipped to soft peaks)
1/2 clove garlic grated (on a micro plane)
10g mint
½ tsp white balsamic vinegar
Juice of half a lemon
1 tsp salt
Method
Start with the onion petals. Peel the onions but keep them whole, and keep a bit of the bottom to hold the onion together. Bring salted water to a simmer. Once simmering, add the onions and blanch for 4 minutes. Remove the onions with a slotted spoon, and place in iced water to stop the cooking process. Pat them dry, and slice them in half lengthwise, then season with salt and a sprinkling of castor sugar.
Heat some oil in a pan over high heat. Place onions in a pan cut-side down for a few minutes until they get some good colour. Allow to cool completely and then pull apart the "petals". When you get to the smaller ones inside, set them aside to add to the curry sauce.
Next, start on the curry base. Sweat the onions, ginger, and garlic in a saucepan for a few minutes until translucent. Add the lemongrass, bay, and lime leaves and sweat for another minute. Then, add all the spices and cook until fragrant. Add the tomatoes and cook for one minute. Add the stock and let simmer.
While you wait for your sauce, grab your aubergine cubes and coat them fully in the rice flour. (Tip: you can also add the onion off-cuts into similar sized pieces and fry so there's no waste). Pour a good amount of oil into a pan on high heat and deep fry the aubergine cubes in small batches at 160 degrees, or on medium heat until they're golden on the outside. Drain and place the aubergine pieces on a paper towel.
Next, start the pickling liquid. Grab a pan and mix together white wine vinegar, white balsamic vinegar, and sugar and let simmer for a few minutes. Remove from the heat.
Add 300g of the pickling liquid to the curry base, place the pan back
on the heat and stir in corn flour to thicken. Let the sauce cool completely.
Finally, mix in the aubergine to the sauce. Use equal amounts of aubergine and curry. Allow to marinate for a day before using.
Before serving, stir fresh coriander through the pickled curried aubergine. In a small bowl mix together goat milk yoghurt, grated garlic clove, mint, balsamic vinegar, lemon and salt. Once the mixture has come together gently fold in the whipped cream and place in a piping bag.
Time to assemble! Use a tablespoon to scoop curry into the onion petals. Pipe a small dollop of the goats' milk yogurt onto the top, and sprinkle with pomegranate kernels and herbs. Upper Bloem serves it on beach stone, with a smoked spice mix below which is burnt to give the dish a spicy aroma when it reaches the table.
GET INGREDIENTS DELIVERED DURING LOCKDOWN
Both chefs recommend using yellowtail, a firm white fish with loads of flavour. Hake: the flaky white flesh is good for absorbing the pickle. ABALOBI is an app that connects local fishermen with buyers, and they are an official CIPC-registered provider of essential services during lockdown, including food production and delivery. Get your fresh fish delivered through the ABALOBI app.
For cupboard staples like spices, get them delivered via Yuppiechef.
WHAT DO YOU SERVE WITH PICKLED FISH?
Pickled fish is typically served cold, with a good loaf of freshly baked bread and butter. Over Easter time, says Heinrich, eat "cold pickled fish with warm hot cross buns and a brick of butter. That's all, then you're good to go."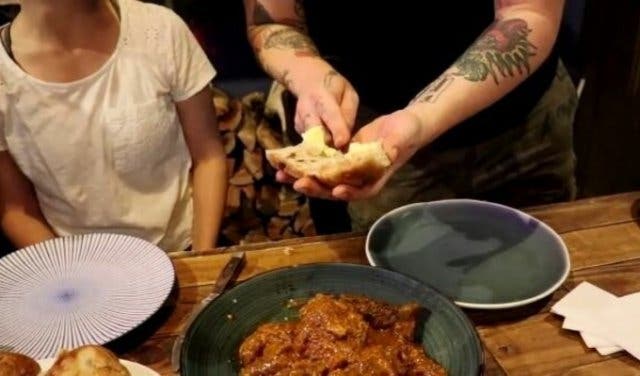 ---
In search of more Easter-themed recipes? Look no further than our snoek braai and Hot Cross Buns recipes. Or, learn to make Cape Malay sago pudding and an egg-free alternative with this sago pudding recipe. Learn how to make 3 traditional Cape Town Easter recipes.
--
Use our events section for an up-to-date overview of what's happening in the city, suburbs and dorpies. Join our newsletter and add us to your mobile home screen for the ultimate guide to discoveries in Cape Town.

Follow and like us on Twitter ❤ Facebook ❤ LinkedIn ❤ Instagram ❤ Pinterest for updates.