High-Tech, High-Fun Team-Building with The Gallivanting Goose
Enjoy a wild goose chase on this app-driven scavenger hunt
So you think know your colleagues? Like Sarah, the quiet office mouse or Janice, the pushy manager? After 90 minutes chasing challenges in and around Cape Town or Stellenbosch with an app-driven scavenger hunt, you'll think again. That's because a game with The Gallivanting Goose has a way of turning office stereotypes on their head. Suddenly you'll see the gregarious side of Sarah and you'll discover that the boss can be sensitive.



"Teams often start off unsure, quiet and withdrawn, only to come back laughing, full of energy and gees," says founder Larissa Sparg.

HOW FAR IS YOUR TEAM IS WILLING TO GO?
The game is designed to be easy to play, but challenging to win. It's a scavenger hunt for adults. A group is divided into teams, and each team is given a smartphone pre-loaded with data and the game app. Once you open the app, there's a list of challenges, along with a live leaderboard and feed to keep track of the other teams.



The game starts and off you go. Team members must work together to solve challenges and take a photo that best captures each exercise, which must be completed within a time limit. Sounds easy right? That depends on how quickly you can find a way to get all your team members to, for example, jump over a narrow aqueduct and snap the action to prove it.

Each challenge is allocated points, which the team gets upon submitting the correct answer. Points are deducted for wrong answers. Bonus points are added for creativity, innovation and other set criteria, which are explained before the game. It's amazing how ingenious you can get when there's only one challenge left, and you see your rivals pass you on the leaderboard. Many teams push the boundaries. For instance, one team even convinced a real-life policeman to be part of its picture hoping it would earn extra points with the facilitator. So expect those last photo submissions to be worthy of their own Instagram feed.



BUILDING TEAM SPIRIT ONE CHALLENGE AND PHOTO AT A TIME
What would you do if you had to touch the top of a street sign without a ladder? Would you think to stand on someone's shoulders? Or if you had to find non-African curios in an African curios market? Exactly, the more creative the ideas, the better. Every challenge has been created to make teams think and work together to come up with the best solution, which is often the funniest one.



The tighter the team, the higher the score. The more creative the team, the funnier the game. What you end up with is an encounter that allows you to explore your own creativity, learn things about your team-mates, as well as test your team's ability to strategically plan the best course of action. It also challenges the team's communication skills. Plus, you get to learn more about the city, sights and streets you live on but don't always explore.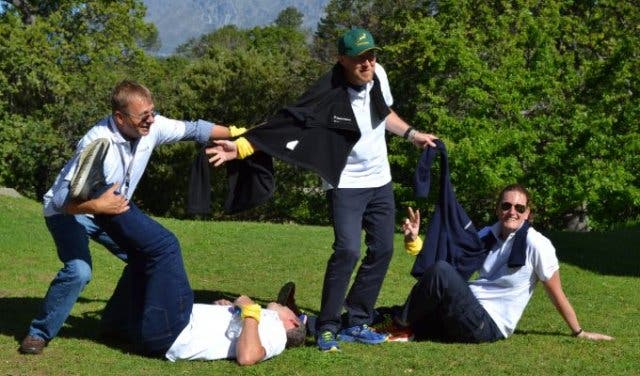 All games only take place during the day and are done on foot. As of May 2019, a wheelchair-friendly version of the game has been made available. If you opt for a driving game, expect to find yourself winding your way through the beautiful Winelands rather than the city centre, with just as many adventures and challenges en-route.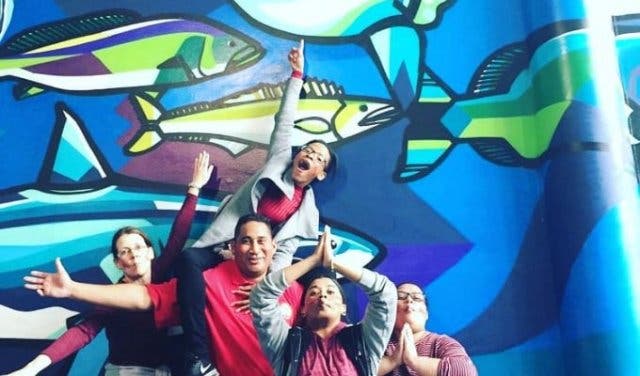 FOR BIG COMPANIES, SMALL GROUPS, BIRTHDAY PARTIES AND MORE
"We used The Gallivanting Goose for our end-of-year function. It was a fantastic team-building exercise and seamlessly administered by Larissa. It was huge fun. Certainly a team-building activity to recommend to other corporates," says the Site Director of Glaxo Smith Kline (Middle East and Africa).

Larissa is known for making everyone feel right at home, from the initial briefing of the teams to the post-match debriefing, when everyone shares their tales and laughs at the photos of the challenges. It's no wonder The Gallivanting Goose is a firm favourite with corporate team-building events and year-end celebrations. But it also caters to any group of 15 or more people, looking for a fun and interactive experience. From an office of 90 to a bachelorette or birthday party of 20, all you need is a sense of adventure.



The game is designed to encourage creativity and fun. So, by all means, dress up in fancy dress or team colours, create your own war cry or just go wild with the photo challenges. Team spirit and participation is what makes this game special. What's more, all the game photos are sent to every participant to laugh and enjoy the memories (and lessons) long after the game is over.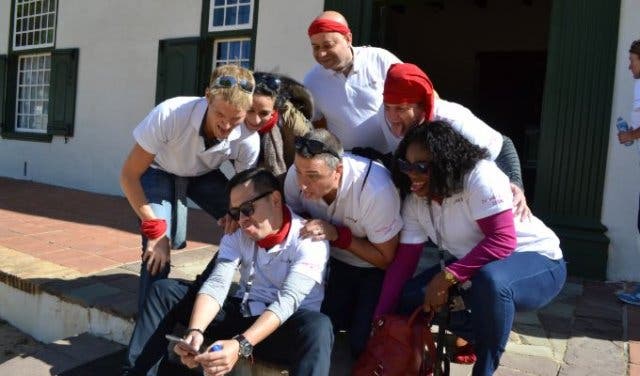 A wild-goose chase game can be customised, so if you are a corporate wanting to bring in your brand story, Larissa will expertly weave your brand's identity and messaging into your choice of venues along with your company's requirements. And in case of rain, one can always choose the game that has been designed indoors and explore the wild underwater world of the Two Oceans Aquarium.

WHAT'S THE COST?
Pricing works on a scaling system. The bigger the group, or the more times you play, the less you pay. Prices start at R6750 for 15 participants and from there, the price drops per person for 21 participants. Contact The Gallivanting Goose to get more details. Games are catered for up to 100 participants taking part.



---

Check out these super unique things to do.

Boost creativity and productivity with these team-building activities.

Don't let that end-of-year slump catch you. Check out this collection of year-end party ideas.

Make this birthday special with these special party places.

Don't leave Cape Town before you've ticked off every item on this ultimate bucket list.

Ready? Get set. Go on a scavenger hunt across the South Peninsula on the Fish Hoek 100 And Beyond Scavenger Hunt.

---

Supercharge your event? Our Events Support Programme gets results. Contact support@capetownmagazine.com or +27 (0)21 565 0415.

Use our events section for an up-to-date overview of what's happening in the city, suburbs and dorpies. Join our newsletter and add us to your mobile home screen for the ultimate guide to discoveries in Cape Town.

Follow and like us on Twitter ❤ Facebook ❤ LinkedIn ❤ Instagram ❤ Pinterest for updates.