NEW: Steenberg's Old Fave Gets A Hot Makeover (and Menu)
Asian and Middle Eastern flavours with South African chutneys and syrups
Catharina's Restaurant on Steenberg Farm has had a revamp: Now called Tryn, it's a fresh, contemporary space with a leisurely charm and new fine-dining menu, matched with an excellent wine list.
Tryn is dedicated to the 17th-century founder of Steenberg, Catharina Ras, or Tryn as her friends and family called her. It encapsulates her persona, says Steenberg's executive chef Kerry Kilpin, a Silwood School of Cookery graduate.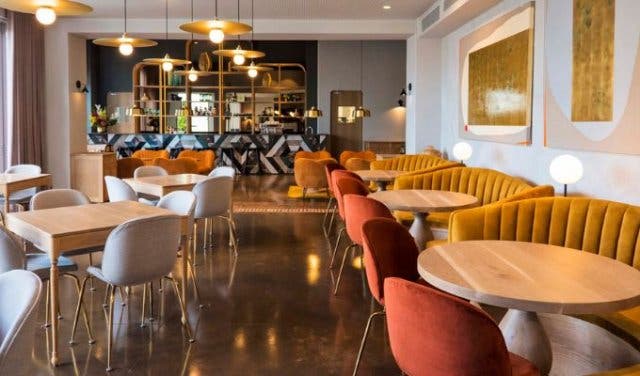 THE STORY AND SPIRIT OF TRYN AND STEENBERG FARM
"My team and I are excited about bringing Catharina into the 21st century with the opening of Tryn, and creating a dining experience that is more connected to her free and feisty spirit," she says. Kerry headed up Catharina's Restaurant, and will continue leading the team at Tryn.
Tryn transformed the land beneath the Stone Mountain (Steenberg) that she rented in 1682 and founded a flourishing farm. The land is now owned by the Beck family, who continue Graham Beck's legacy. Today, the Steenberg Farm honours Catharina with two signature wines – the flagship red blend, Catharina, and the prestige cuvée, Lady R MCC – and, of course, Tryn At Steenberg.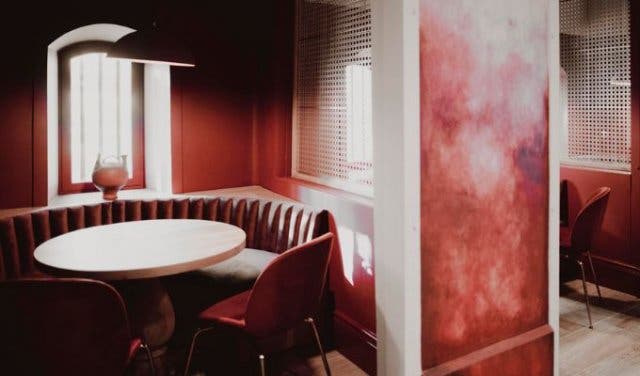 ASIAN, MIDDLE EASTERN AND SOUTH AFRICAN MENU
Chef Kerry's menu of classically-prepared food has her signature Asian and Middle Eastern flair. Dishes play with flavours of Eastern edamame, ponzu, daikon and Sriracha, as well as North African harissa, sumac and cumin. South Africa also features through chutneys and syrups, and heritage ingredients such as rooibos and spekboom.
Starters include ash-crusted chevin served with compressed pear galette, mint, tender greens, toasted pumpkin seeds, lemon verbena and a chilli vinaigrette; and calamari with red cabbage salad, sumac mayo, green apple gel and sunflower seeds (starters: R115–R185).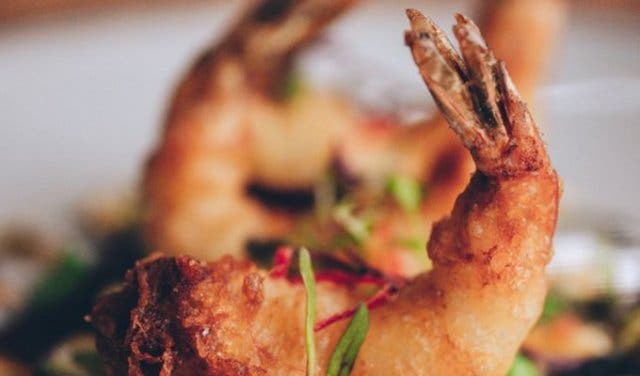 ETHICALLY SOURCED FISH AND VEGAN OPTIONS
Meat lovers will be impressed with the selection of cuts available. Examples of mains include fish (all fish is ethically sourced) with an aubergine parcel including butternut and coriander with harissa and rose petal flavours, and venison with a pomme purée, baby beets, fine beans, blueberry gastric and chevin crumble (mains: R165–R285)
There are vegetarian options, too, such as shimeji mushrooms with tender greens, beetroot, pak choi, toasted pine nuts, and fontina cream.
The dessert menu is equally interesting, with 'burnt?' passionfruit namelaka consisting of coriander yoghurt mousse, mango sorbet, passion gel, and honeycomb, and a vegan option of saffron-poached pineapple carpaccio with cardamom sponge, banana-and-coconut sorbet, and caramel coconut crunch (desserts: R85–R148).
PLUSH FURNISHINGS AND INTRIGUING DETAILS
Tryn is rich with colours and textures – tones of burnt orange and mustard as a reminder of Tryn's feisty character. The main dining area, which seats 40 has two private dining areas with ruby and jade walls matched with solid timber and stone. There's an excellent collection of art, some from the Beck Family's personal collection, and some of young, emerging artists.
Interestingly textured walls and fabrics add layers of depth. "The real impact of the walls is the artwork. The artwork in the Cuvée Room (which seats 40) for example on the green wall has green netting on the one artwork and what appears like ivy leaves on the other artwork, while the artwork in the main dining area has a metallic feel echoing the pendant lights and artefacts placed in the bar area," says Gudrun Clark, the PR representative. You see these interesting details everywhere, including the restrooms.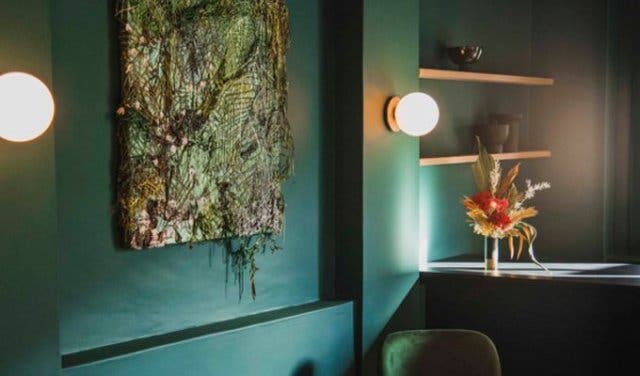 ALSO AT STEENBERG FARM
Steenberg Farm also has a tasting room area – the farm's wine and bubbly is excellent. It's attached to Bistro1682 eatery, which has a lovely, relaxed outdoor area. The property also has a golf course, as well as the Steenberg Hotel & Spa.
BOOKING AT TRYN
Reservations are open and the restaurant is open to the public as of Monday, 2 September.
Tryn is open seven days a week for breakfast, lunch and dinner. For bookings, contact +27 (0)21 713 7178 or info@tryn.co.za.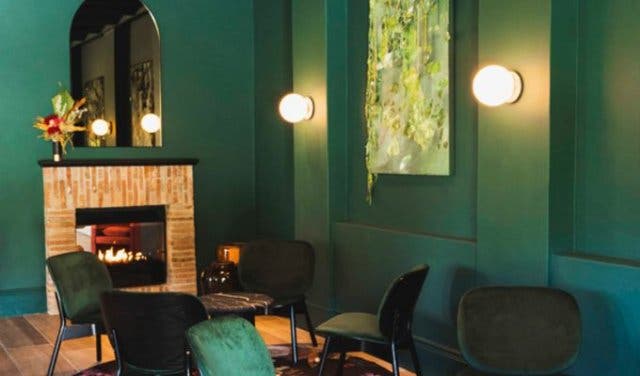 TRYN
Address: Steenberg Farm, Steenberg Road, Tokai, Cape Town
Contact: +27 (0)21 713 7178 or info@tryn.co.za, for private functions: julia.alleson@tryn.co.za. Visit the website or book on the DinePlan app
Hours: 7 days a week: breakfast: 7am–10:30am; lunch: 12 noon–3pm; dinner: 6pm–9:30pm. The bar area is open from 11am onwards.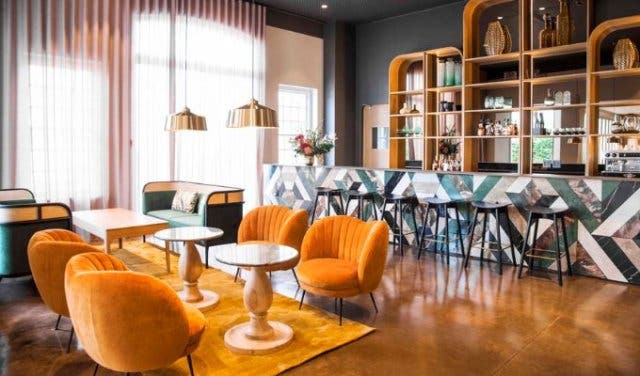 ---
ABOUT #CapeTownMagNew:
#CapeTownMagNew discovers exciting new places in and around Cape Town and the Western Cape. We celebrate entrepreneurship and we tell their unique stories.
Follow #CapeTownMagNew on Twitter and Facebook for the latest updates or read more here about new places in Cape Town.
PLUS: NOMINATE A FRIEND'S NEW BUSINESS
You never forget the people who supported you when you first started out. That's why we're giving you the chance to nominate your family member or friend's new business to win R60 000's worth of activations and the chance to win a Yoco starter pack. Just click to fill out a form (less than a minute) to nominate a new business.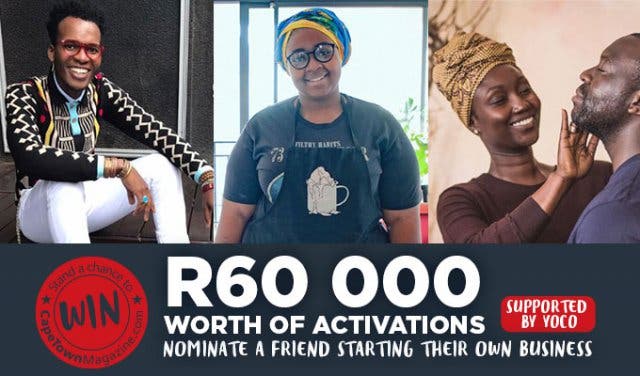 ---
While you're in the area, why not explore the Southern Suburbs.
If you love wine, try a winelands day tour and explore wine tastings and South Africa's best wine.
A taste for the finer things in life? Have a look at our section on fine dining in Cape Town.
---
Use our events section for an up-to-date overview of what's happening in the city, 'burbs and dorpies. Join our newsletter and get quick access on the go by adding us to your mobile home screen for the ultimate guide to discoveries in Cape Town.

Follow and like us on Twitter ❤ Facebook ❤ LinkedIn ❤ Instagram ❤ Pinterest for updates.