New Restaurants And Experiences to Discover and Share
Your new favourite spot is waiting to be discovered...
Last update: 18 February 2020
There's a discovery around every corner in Cape Town, just waiting to be found. New restaurants pop up every month, and some are truly special and unique. Who knows? You might even find your future favourite among our choice of new places to explore.
Did you know? We like to support new businesses in Cape Town. Nominate your friend's new place and it might be selected for activations every week to the value of R60,000. Make their day and nominate a new business now.
WANT TO SEE A GHOST RIDING A MOTORBIKE?
A resident ghost may drift past you as you appreciate life, custom motorcycles, surfing culture, art, food, beer, music, boards, tattoos and everything in between in a Cape Dutch building dating back to the 17th century at Hout Bay's Deus Ex Machina Homestead Of Perpetuity.
Opened: 13 December 2019
Must-try: Salmon poké bowl with salmon freshly-bought from the Hout Bay Harbour
Hours: Sunday to Wednesday: 7am–10pm; Thursday to Saturday 7am–12am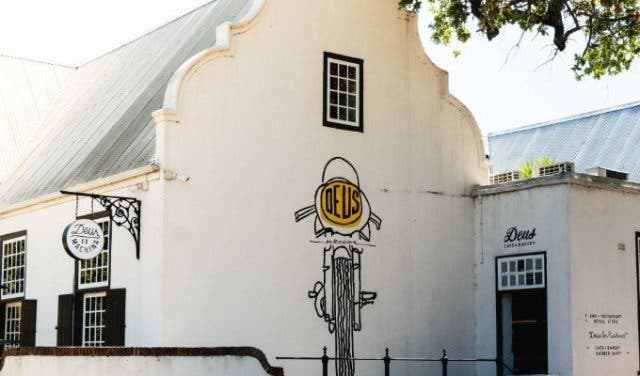 The Homestead Of Perpetuity: 140 Main Road, Hout Bay, +27(0)21 569 0625, africa@deuscustoms.com
ENJOY A CBD INFUSION EXPERIENCE ON LONG (CBD OPTIONAL)
Get buzzed with a delectable introduction to cannabidiol (CBD), the chemical found in the Cannabis sativa plant. A Cape Town first, Infusion on Long brings a menu filled with CBD-infused drinks and Meditteranean-style dishes. You can stop by for a quick lunchtime meal or unwind after a long day at Infusion On Long.
Opened: 31 January 2020
Must-try: CBD-infused calamari, coated in hemp flour with garlic crisps and coriander mayo
Opening hours: Monday to Saturday; 7am-10:30pm (kitchen closes 10:30pm; venue closes at midnight)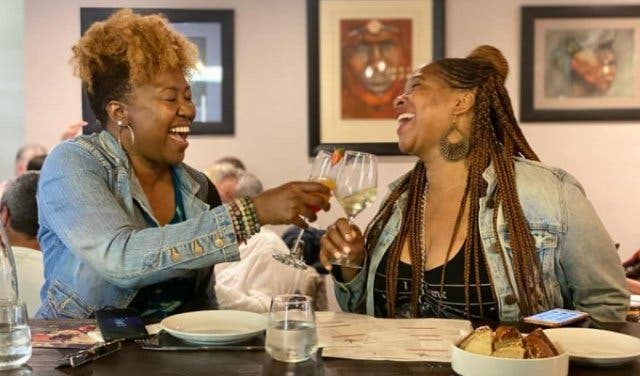 57 Long Street, Cape Town, info@infusiononlong.co.za, +27(0)83 377 7007
LA COLOMBE'S INDIAN-INSPIRED EATERY TO OPEN IN FRANSCHHOEK
La Colombe's new off-shoot, Epice (French for spice) is a warm and intimate 45-seater that has recently opened in Franschhoek. The restaurant was inspired after a recent trip to India by the owners and head chef. It's co-owned by Scot Kirton and James Gaag of La Colombe, and is headed up by La Colombe's former sous chef, Charné Sampson. The tasting menu focuses on bold flavors and is available with or without wine pairing at Epice in Franschhoek.
Opened: 19 December 2019
Must-try: Epice's seabass with Cape Malay curry chowder is made from the freshest of ingredients and sprinkled with crispy squid for a perfect balance of flavour and texture. Their pineapple, ginger, turmeric mojito is their new take on the classic mojito.
Opening hours: Lunch hours are Friday to Sunday, 12pm–1:30pm; Dinner hours are Monday to Sunday 6:30pm–8:30pm


9 Huguenot Street, Heritage Square| Franschhoek | +27 (0)21 492 4044 | epice.co.za
FAST AND HEALTHY PLANT-POWERED FOOD
The spacious and modern light and bright Bamboo Plant Power caters to grab 'n go customers, but comfortable seating, collections of hanging plants and pendant lights, and a cheeky neon sign invite groups to sit down and linger longer. Log into the Wi-Fi and grab something to drink at the coffee, smoothie and juice bar as you check out the plant-powered menu at Bamboo Plant Power in Loop Street.
Opened: 9 December 2019
Must-try: Bamboo Plant's most popular dish is their Classic Burger, a Beyond Beef burger made from pea protein and a side serving of air-fried chips with homemade beetroot ketchup. Grab yourself a freshly made green or red juice to wash it down.
Opening hours: Monday to Saturday, 8am-9pm; Sunday 9am-6pm

210 Loop Street, Cape Town | info@bambooplantpower.co.za | +27(0)62 969 5566 | bambooplantpower.co.za
FICKS: HERMANUS' NEW IDYLLIC SUMMER HANGOUT
Just in time for summer swims and sociable living, a sun-drenched bar and restaurant launches in Hermanus. Ficks is an outdoor eatery right on the sea, overlooking the 1930s tidal pool by the same name, and reimagined beautifully by Netherlands' trio Joke, Just and Daan Gongrijp, who're behind the success of Dutchies on Grotto Beach. Snack on pintxos and sip on wine at Hermanus's open-air restaurant, Ficks.
Opened: 6 December 2019
Must-try: Fick's vegetarian Flammkuchen topped with crème fraiche, onions, peppers, mushrooms, and avocado is their delicious take on a lighter, fresher and healthier pizza.
Opening hours: Monday to Sunday, 11am – 9pm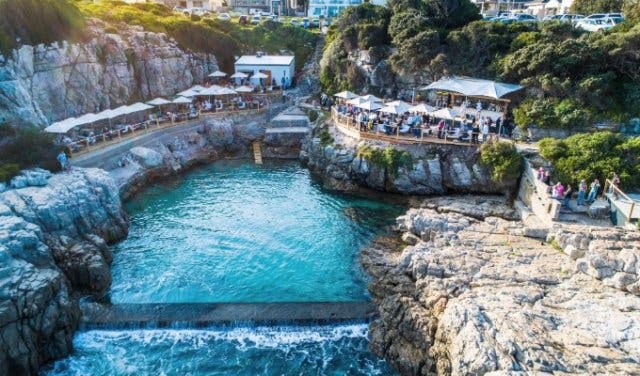 Ficks, Marine Drive, Westcliff, Hermanus | info@ficks.co.za | +27 (0)28 312 4082 | ficks.co.za
LIGHT AND BRIGHT OASIS TO RELAX AND LEARN ART SKILLS IN THE CITY
An art gallery, a kids corner designed by a 4-year-old, pink babycinos, and First Thursdays celebrations is what you will find at The Ladder on 136 Bree Street. The name is inspired by a book from antiquity called the Ladder of Divine Ascent, which speaks of a path of growth and ascent towards perfection. At The Ladder on 136 on Bree Street, husband and wife team, Nicholas and Anastasia Esterhuizen, hope to imitate this desire for constant growth in their art and offerings at the gallery, coffee shop, and artist-led workshops at The Ladder on 136 Bree Street.
Opened: 4 December 2019
Must-try: The chicken mayo and avo is a crowd favourite, as well as their fresh rooibos ice tea (especially during the hot summer days). Both are freshly made on-site and available to go.
Opening hours: Monday to Friday, 7:30am-4pm

136 Bree Street, CapeTown CBD | theladderon136@gmail.com | +27(0)82 451 1572 | theladderon136.com
THE TASTE OF PORTUGUESE PREGOS IN SEA POINT
You know what to expect from this quaint eatery with a name that roughly translates to "Prego Factory". "It's the pursuit of preparing a consistently great prego inspired by our love of all things Portuguese," says Orlanda Simal, owner of Fabrica Do Prego. Visit to experience terracotta hues, interesting Portuguese ceramics, beautiful illustrations and fresh branding at Fabrica Do Prego.
Opened: November 2019
Must-try: Steak prego roll with tempura green beans
Opening hours: Monday – Sunday; 9am – 8:30pm

Artem Centre, 277 Main Road, Sea Point, +27(0)87 470 0259; Shop 1, Silwood Centre, Campground Road, Rondebosch, +27(0)21 686 0421
CHARM ALL FIVE SENSES AT MAAYA CAPE TOWN
Eating out at Maaya Cape Town promises to engage every single sense. First there's sight: the decor is Insta-worthy – textured walls covered with wall gardens of bright green, wooden table with velvet seating, which covers touch, too. Then there's taste and smell – the food takes care of that. Finally, sound: think the clinks and sizzles of a top-class kitchen, plus loungey music that steps up the beat later in the evening at Maaya Cape Town.
Opened: 13 November 2019
Must-try: Maaya's Japanese-Peruvian fusion Amazon sushi roll made with fresh mango, rice, salmon and avocado takes the prize as the crowd favourite. Pair it with their Paloma cocktail made with Paloma tequila, grapefruit, limes, sugar syrup, and triple sec.
Opening hours: Opening hours: Monday to Saturday, 9am-2am

168 Loop Street, Cape Town | info@maayacapetown.com |+27(0)82 500 5669 | maayacapetown.com
LISTEN TO VINYL, DRINK WINE AND SNACK ON PIZZA BAGELS
The Mother City is a world-class historic wine destination, but there are only a handful of wine bars. Matthew and Simon Freemantle are bringing another to our doorstep, where you can get serious wine in a carefree space while A11 founder, Andrew Aitchison, delights your earbuds with vinyl sets from Cape Town's best DJs. Sip on world-class wines with selections from Mullineux & Leeu, Crystallum, Scions of Sinai and Richard Kershaw at Leo's Wine Bar.
Opened: 7 November 2019
Must-try: The delicious pizza bagel with a Pomodoro sauce, mozzarella, basil, chilli oil and a sprinkle of parmesan cheese is a hot favourite. As a wine bar, Leo's serves the most exciting local wine, with a tendency towards natural and minimal intervention wines.
Opening hours: Thursday to Saturday, 5pm-11pm

120 Bree Street, Cape Town | mfreemantle@gmail.com | +27 (0)76 042 0224 | leoswinebar.com
WHY DOES EVERYONE LOVE THE DOUGH?
I Love The Dough? What's that all about? "Marco came up with the name from a Notorious BIG track, 'I Love the Dough,'" says co-owner Niki Bjorn Reschke. "It gives the double meaning of loving the pizza dough and the slang for money being dough". Whether it's money or pizza, there's a lot of dough to love between these pink walls and cheeky neon signs at I Love The Dough in Bree Street.
Opened: 15 October 2019
Must-try: The crowd favourite is the simple, classic pizza with a tomato base, buffalo mozzarella, basil leaves, extra virgin olive oil, and salt. Their signature cocktail, the Delila Delila, is also a hit: it's made with Jameson's whisky, pineapple, honey, mint, cucumber, and angostura bitters.
Opening hours: Monday to Saturday, 12:30pm-late

101 Bree Street, Cape Town CBD| hello@ilovethedough.co.za | +27(0)72 145 9988 | instagram.com/ilovethedoughct
FUN, WIT AND FOOD WITH A TWIST IN THE BARD'S NAME
Northern suburbs grown-ups rejoice: a treasure is about to enter the stage of Durbanville's culinary scene. Interiors are unique old furnishings and crockery brought in from all over the country. There's a 404-year-old bible, printed a year before the playwright's death, on display and a 90-year-old baby grand piano. It's going to be a place of wit and fun where artists will perform nightly at Shakespeare's in Durbanville.
Opened: 9 October 2019
Must-try: Shakespeare's confit pork belly with mustard potato pureé is rich and delicious, and the fruity rum-based Jabu Special is the perfect antidote to summer heat.
Opening hours: Tuesday to Saturday, 11:15am-3pm; Sunday 11:15am-3pm

Shop 9ab Heritage Square, Vrede Street, Durbanville | info@shakespeares.co.za | +27(0)21 569 0244, WhatsApp bookings +27(0)21 569 0244 | shakespeares.co.za
STRIKE WHILE THE IRON IS HOT
At Iron Steak and Bar on Bree Street, you can dig into a juicy steak or try the coal-grilled sea bass, or indulge in chips cooked with wagyu beef dripping. Then wash it all down with an Instagram-worthy cocktail like the Clover Club or the Hanky Panky, or with one of the on-tap beers. Enjoy a meal expertly made by veteran head chef Roche Rossouw in the glass, steel and leather setting of Iron Steak and Bar.
Opened: October 2019
Must-try: The flat iron steak, imported from Spain and grilled to your perfect temperature, easily tops their most popular picks. Wash all that meaty goodness down with their classic old fashioned.
Opening hours: Monday to Sunday, 11am-11pm

114 Bree Street, Cape Town CBD | capetown@ironsteak.co.za | +27 (0)21 422 1175 | ironsteak.co.za
STEENBERG'S OLD FAVE GETS A HOT MAKEOVER (AND MENU)
Catharina's Restaurant on Steenberg Farm has had a revamp: Now called Tryn, it's a fresh, contemporary space with a leisurely charm and new fine-dining menu, matched with an excellent wine list. Tryn is dedicated to the 17th-century founder of Steenberg, Catharina Ras, or Tryn as her friends and family called her. It encapsulates her persona, says Steenberg's executive chef Kerry Kilpin, a Silwood School of Cookery graduate. Read more about Tryn at Steenberg.
Opened: 2 September 2020
Must-try: Served with pickled daikon and cooked in a variety of Asian spices and sauces, Tryn's new take on a classic steak tartare with an Asian twist has quickly become a crowd favourite.
Opening hours: Monday to Sunday, breakfast 7am-10:30am; lunch 12-3pm; dinner 6pm-9:30pm

Steenberg Farm, Steenberg Rd, Tokai, Cape Town, 7945 | info@tryn.co.za, | +27 (0)21 713 7178 | steenbergfarm.com
IN KOREA YOU BRAAI AT THE TABLE
Korean cuisine is healthy, delicious, and sociable. Think piquant flavours, crunchy textures, and satisfying variety. A new place in town brings you the best of this East Asian nation's food, with friendly service. Peek into Korean culture at Chopsticks & Table restaurant.
Opened: September 2019
Must-try: Chopsticks & Table's unlimited Korean BBQ is their house favourite. This unique experience allows customers to grill their own meat and taste 12 different types of Korean dishes. If you haven't before, sample the Soju, a clear liquor made from distilled rice.
Opening hours: Monday to Saturday, 12-10:30pm

50 New Church Street, city centre | +27(0)21 422 1884 | chopsticksandtable.business.site
FOOD AND MASSAGES: WHAT'S BETTER?
Down Woodstock's Albert Road is a garage door with cool graffiti of Nelson Mandela's face. What lies behind the door is even cooler: Hong Da. Every Saturday night, you can dine at shared tables and enjoy a set menu of twice-cooked crispy duck and other Asian meals. There's live music, and you can also get a shiatsu massage on-site. Make yourself at home at Hong Da Restaurant.
Opened: September 2019
Must-try: Hong Da Restaurants' speciality dish is their Duck, which is served in many ways and can come with your choice of either a rice or noodle side.
Opening hours: Monday to Friday, 11am-7pm; Saturday, 10am-4pm

357 Albert Road, Woodstock, Cape Town| hongdaeatery@gmail.com | +27 (0)65 006 3867 | facebook.com/HONasianEatery
CABBAGE TO THE RESCUE OF YOUR HEALTH AND THE ENVIRONMENT
Who needs a bowl (especially a non-environmentally-friendly one) when you can load a cabbage leaf with a colourful mix of vegetables, top it with meat or fish – or vegan options – and eat the whole thing? Now you can with carb, gluten, and plastic-free catering company and soon-to-be market stall, McKay Cabbage Bowls.
Opened: 3 August 2019
Must-try: Try their Oh So Earthy vegan bowl, their It Looks a Bit Fishy fish bowl and their The Original Coleslaw Bowl with chicken.
Opening hours: Monday to Sunday, 10am-10pm

30 Regent Rd, Sea Point, Cape Town, 8060 | mckaycabbagebowls@gmail.com | +27(0)83 653 0680 | instagram.com/mckaybowls
COUNTRY-STYLE NOSE-TO-TAIL DINING AT VIANDE
TV celebrity chef Pete Goffe-Wood joins The Grande Roche's new restaurant, Viande. Highlights on the menu include the 30-day dry-aged bistecca Fiorentina, as well as the 1kg T-bone steak with a rocket salad and chips as well as a creamy Béarnaise sauce. Dine beneath an elaborate chandelier or by the fireplace at Viande.
Opened: 1 July 2019
Must-try: You can wash that all down with their signature cocktail, the Viandier, a barrel-aged mixture of maker's mark bourbon, Galliano Apperitivo and Martini Rosso.
Opening hours: Monday to Sunday, lunch 12-2:30pm; dinner 6pm-9:30pm

Grande Roche Hotel, 1 Plantasie Street, Paarl |restaurantbookings@granderoche.co.za | +27 (0)21 863 5100 | granderoche.com/viande-restaurant
ANOTHER GOOD REASON FOR A ROAD TRIP TO SWELLENDAM
If you're looking for a cosy weekend getaway (or wedding venue), the rustic Rotterdam Boutique Hotel in Swellendam is an incredible location, especially now that they have a revamped restaurant. This is where chef Josh Conradie (2014 finalist kykNET's popular cooking show Kokkedoor) and his French wife, Christelle, make country-style food to complement the rustic setting of lush grounds, majestic oak trees and dreamy mountains views at Rotterdam Restaurant.
Opened: 30 June 2019
Must-try: For breakfast try Rotterdams signature Boere Benedict which is a freshly baked croissant topped with garden greens, tomato, cheese, bacon, two soft poached eggs and hollandaise sauce with biltong powder. For dinner, their slow-braised lamb shank with red wine sauce most definitely outshines the rest.
Opening hours: Tuesday to Thursday, 9am-9pm; Friday to Saturday, 9am-10pm; Sunday, 9am-5pm

Rotterdam Boutique Hotel, Olivedale Rd | Buffeljags River Swellendam | dine@therotterdam.co.za | +27(0)67 383 4664 | therotterdam.co.za
THE RESTAURANT MADE FROM A CONVERTED SHIPPING CONTAINER
Along a pretty, pot-lined garden pathway leading through a business park in the Strand, there's a small haven of green tranquility housed in a well-designed, converted ship container. The steel box is now a hip matt-black and wooden space, with a rustic laser-cut screen and long trough filled with succulents. Plants decorate the walls and hang from the ceilings, and there are tables and chairs inside the space and at the coffee bar at Garden Cafe.
Opened: 28 June 2019
Must-try: Treat yourself to a warm cup of coffee and to their signature vetkoek stuffed with curried mince.
Opening hours: Monday to Friday, 7:30am-2:30pm; Saturday, 8am-12:30pm

8 Henry Vos Close, Asla Park, Strand | hellogardencafe@gmail.com| +27(0)82 783 7207 | facebook.com/hellogardencafe
A COFFEE SHOP WHERE YOU CAN ORDER THE VELVET BEAN
The walls are lined with the flags of Africa's 54 countries, and the soundtrack is African jazz. It's also a museum of sorts, with artefacts from various liberation struggles in Southern Africa, framed posters and scans of historical documents, such as the first legal press release from the South African Communist Party. Get Burundian coffee and mucuna (the velvet bean) at The African Way coffee shop in Obs.
Opened: 10 June 2019
Must-try: Along with their best selling coffee, The African Way coffee house provides a unique take on the classic cheese toastie. The beef and cheese toastie is a favourite too, with the meat marinated in a mixture of Cape Malay spices.
Opening hours: Monday to Sunday, 8am-4pm

441 Main Road, Observatory | 16junemovement@gmail.com | +27(0)87 808 6176 | facebook.com/africanwaycoffee
COMING IN JUNE: TURKISH FOOD, DRINKS AND DECOR AT EATSTANBUL
In Istanbul, the iconic Turkish city with a mix of ancient cultures and heritage connecting Europe and Asia, a foodie and a serial entrepreneur met at a restaurant called Saray (palace in Turkish). It inspired them to open a restaurant of the same name when they moved to Cape Town. On 7 June 2019 they are opening a second Halaal restaurant, called EatStanbul based on a personal joke, "... because when we visit Istanbul, all we do is eat." Read more about EatStanbul.
Opened: 7 June 2019
Must-try: A real crowd entertainer is their flaming kebab platter, which arrives on your table flames and all. To drink, you can buy their traditional Turkish drink called the Elma Cay (pronounced chai) which is a deliciously sweet apple tea.
Opening hours: Monday to Sunday, 11am-11pm

64 Kloof Street, Gardens | +27(0)214221989 | facebook.com/Eatstanbul
COOKING SERVICE FOR TIME-STRAPPED FAMILIES
"There is a difference between wanting to cook and having to cook," says Nadia Slamang, owner of home-based cooking service Let Me Cook For You, which saves you the hassle of making home-cooked food, when all you want to do after a busy day is get home and onto the couch. Read more about the homemade, Halaal magic of think lobster sliders, beef fillet and tandoori chicken from Let Me Cook For You.
Opened: June 2018
Must-try: Nadia's tandoori chicken served with a side salad and roti is a favourite, as is her butternut couscous with a smokey butter chicken.
Opening hours: Monday to Sunday, 9am-6pm

64 Pluto Road Surrey Estate, Athlone Cape Town | letmecookyoursupper@gmail.com | +27(0)83 551 1552 | letmecookforyou.co.za
ALL ABOUT THE BOERIE AND THE TECH
"My wife made me a boerewors roll and it was so delicious, I knew I had to open a boerewors roll shop," muses Canadian Boerewors King owner, Nicholas VTroll. The woman who can be attributed with starting it all, Nicholas' wife, Saadiqah Omar, is from Cape Town. Honour one of South Africa's favourite foods at Boerewors King.
Opened: May 2019
Must-try: The House Boerewors is their classic boerie roll that is grilled to perfection and served on a light bread roll with iceberg lettuce and caramelised onion.
Opening hours: Monday to Saturday, 9:30am-6pm

3 Island Club Walkway, Century City |+27(0)67 850 8495 | facebook.com/BoereworsKing
WINE EVERY NIGHT
Wine Tonight? Yes, of course. Pick your perfect wine for every night of the week at this boutique wine store with a special weekly selection of wines to try. Located at Belvedere Square in Claremont since May 2019, there's a second store on Mains Avenue in Kenilworth. Make sure you're stocked up at Wine Tonight?
Opened: May 2019
Must-try: Although they do serve delicious food, Wine Tonight's speciality is their wine which they love so much they've dedicated an entire wall to their top panel picks to help make your decision a lot easier.
Opening hours: Monday to Saturday, 10am-6pm

Shop 1, Belvedere Square, Corner Keurboom and Belvedere Road, Claremont | info@winetonight.co.za | +27 (0)87 898 7342 | winetonight.co.za
A KLOOF STREET PASSION PROJECT
What was once the rustic, worn-in space of auto workshop Fiorini Motors in Kloof Street, has come under the wing of people who are passionate about plants, antiques, interiors and food. Daniel Holland, the local owner of the Yours Truly group, has had his eye on the space at 117 Kloof Street for years. When it became available, he knew it would be perfect for his passion project. The group is known for the greenery that adorns its existing establishments and it made sense to amalgamate that with the passion for antiques and interiors into a single space. On Friday 3 May, it blossomed into an antique store, nursery, and coffee hatch where you can get Deluxe coffee and croissants, with a chef's table coming near the end of May at 117Kloof.
Opened: May 2019
Must-try: Our Local's weekday favourite is their classic smashed avo on sourdough bread topped with a side of hummus and roasted chickpeas. Pair your meal with a healthy Culture Lab kombucha.
Opening hours: Tuesday to Sunday, 9am-2pm

117 Kloof Street, Cape Town CBD | eat@ourlocal.co.zaa | +27 (0)64 642 5004 | ourlocal.co.za
INSPIRING DREAMS AT HOME BRU CAFÉ
Home Bru Café loves people – not just its paying customers – and is all about supporting small local suppliers. They also love the environment (all takeaway packaging is biodegradable), so you can feel good about soaking up the warmth of Obs' latest local hangout. Read more about Home Bru Cafe.
Opened: 8 April 2019
Must-try: Home Bru knows that local is always lekker, which is why their local biltong salad with a chutney dressing is a winner.
Opening hours: Tuesday to Wednesday, 9am-7pm; Thursday to Saturday, 9am-10pm

First Floor, Gateway to Obz Building, Corner of Cranko Road and Lower Main Road, Observatory | info@homebrucafe.co.za | +27(0)87 073 9464 | homebrucafe.wixsite.com/homebrucafe
STRICTLY AFRICAN FOOD AND THAT FEELING OF HOME ON LONG
"Cape Town hasn't been paying enough attention to township cuisine," says Pitso Monate, whose restaurant Afrobar & Pitso's Kitchen opened in early April on Long Street. Monate, originally from Limpopo, started selling mogodu, tripe, samp, trotters, "homely stews" and chakalaka because he was homesick. Find out more about Pitsos Kitchen.
Opened: 2 April 2019
Must-try: Pitso's Mogodu is a beef, chicken, or mutton tripe based dish that has become so popular he's made every Monday "Mogodu Mondays".
Opening hours: Monday to Sunday, 11:30am-2am

230 Long Street, Cape Town Central | reservations@afrobarandkitchen.co.za | +27 (0)67 272 1964 | afrolifeandpitsoskitchen.business.site
A NEW CLASSIC
From humble beginnings on upper Bree street to a bigger venture in Green Point, this popular Cape Town bakery is opening up their third store in Zonnebloem. Jason Bakery, known for their bread, decadent baked goods and legendary doughssant, hasn't announced when they'll be opening their doors on Buitenkant street, but we do know that it'll be next door to a weed shop and right around the corner from Swan Cafe.
Opened: 1 April 2011
Must-try: The Doughssant, a cross between a croissant and a doughnut, is made every Saturday and no flavour is ever repeated.
Opening hours: Monday to Friday, 7am-3:30pm; Saturday, 8am-2pm

Buitenkant Street |jason@captainbread.com |+27 (0)21 424 5644 | jasonbakery.co.za
SHISA NYAMA IN NYANGA THAT SERVES SOUL FOOD ON SATURDAYS
Mkhululi Nomganga and Veliswa Dywili are the couple whose names – and hearts – are behind MV Meat Lounge, the new shisa nyama on the bustling, shop-lined Sithathu Avenue in Nyanga East. Read more about the braai and soul food at MV Meat Lounge in Nyanga.
Opened: 30 March 2019
Must-try: The full snoek platter is one of Mkhululi Nomganga and Veliswa Dywili's delicious crowd-pleasers; it's unique and is entirely locally sourced from smaller restaurants in the location.
Opening hours: Saturday to Sunday, 11am-11pm

2nd Avenue, Cala Dairy Shops, Sithathu Avenue, Nyanga East | +27(0)76 467 6565 | facebook.com/MV-Meat-Lounge
A CUT ABOVE THE REST: THE DOWNTOWN BARBER WITH AN ATM INSIDE
Located in the Cape Town CBD at the Portside Towers, Downtown Barbers opened their doors on 1 March 2019. This studio offers a modern, affordable one-stop shop for all grooming and soon, tattoo services too. Hailing from Joburg, owner Jorge Fernandes has been managing various businesses in Cape Town since 2007 with the help of his local partner Lorn Reynders. Fernandes says: "Male grooming has always been a big part of my life and opening a shop that caters for that and serves as a networking hub was at the forefront of my idea. Being covered with tattoos, I naturally wanted to incorporate that service too." Read more about Downtown Barbers.
Opened: 1 March 2019
Must-try: Their most popular service is what they call the Full House, a mighty package that includes everything from a wash, cut, beard trim/shave, an ear and nose thread/wax to a calming collagen face mask treatment for your beautifully groomed face.
Opening hours: Monday to Friday, 8am-6pm; Saturday, 9am-1pm

Shop 4, Portside Towers, Bree Street, Cape Town | info@downtownbarbers.co.za | +27 (0)10 035 6076 | downtownbarbers.co.za
WINGERD VISTA: BUILT ON BEER AND ICE-CREAM
When it comes to local taste adventures, little beats the Cape Winelands. The light and airy Wingerd Vista bistro with impressive vistas overlooking a sculpture garden serves easy, comforting meals, alongside their specialty beer and ice-cream. Read more about Wingerd Vista.
Opened: 1 March 2019
Must-try: Wingerd's freshly baked rolls with boerewors, marinated chicken, and a lamb chop are a real crowd-pleaser. For the kids, they have a simple but classic boerewors roll with a traditional smoor.
Opening hours: Monday to Sunday, 8am-5pm

Wingerd Vista Bistro, Delvera Farm, c/o R44 and Muldersvlei Rd (halfway between Stellenbosch and Paarl) | wingerdvista@gmail.com| +27(0)827778818 | facebook.com/wingerdvista
THE ONE DISH, SERVED ONE DAY A WEEK THAT FEEDS WHOLE FAMILIES
Under the iconic pink arches in the Bo-Kaap where historical images of the first mosque, teachers, tailors, tradesmen and slaves are painted, Tauriq Essop makes and serves two 80-litre pots of the halaal dish whose main components are as simple as the four-letter name – protein, basmati rice, potato, spices… and love. Every Sunday morning from 10am he sets up his table and bench to serve Akni in the Bo-Kaap.
Opened: March 2019
Must-try: During the winter months, Tauriq's rooibos chai tea with sweet reduced milk is a crowd winner.
Opening hours: Every Sunday, 10am-2:30pm

95 Wale Street, Bo-Kaap| Tauriq212@gmail.com | +27(0)83 258 7804
A TRIBUTE TO THE AUNTY WHO MADE MAGIC BEHIND THE STOVE
"My mom was a humble, kind, giving and compassionate soul who was loved by many. I think it is fitting that I continue her legacy by offering unpretentious and tasty meals in a relaxed environment," says Glenn Muller, the son of Aunty Zor. Find out how aunty Zor's home cooking would go on to inspire Glenn's business goals at Café Zor in the Bo-Kaap.
Opened: February 2019
Must-try: Cafe Zor's slow-cooked Cape Malay spiced lamb madras curry is easily one of their customer's most beloved dishes.
Opening hours: Monday to Friday, 7am-5pm; Saturday, 8am-4pm; Sunday, 8am-2pm

160 Upper Buitengracht street, Bo-Kaap |info@cafezor.co.za | +27(0)82 997 3252 | cafezor.co.za
PLUS: NOMINATE A FRIEND'S NEW BUSINESS
You never forget the people who supported you when you first started out. That's why we're giving you the chance to nominate your family member or friend's new business to win R60 000's worth of activations. Just click to fill out a form (less than a minute) to nominate a new business.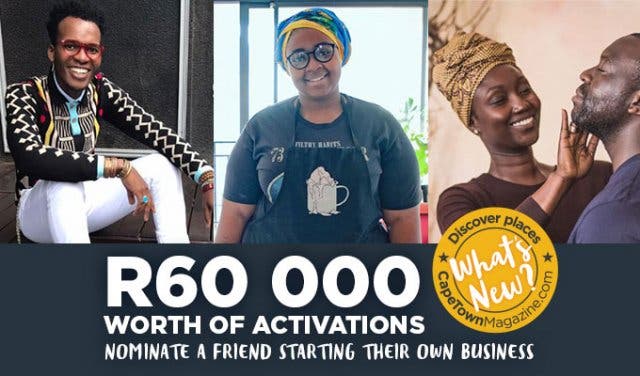 ---


For your next date, check out these romantic restaurants.
Discover a fusion of flavours at The Melting Pot.
Get your guide to tipping In South Africa.
Special, unique and unexpected function venues in Cape Town.
Love the vibrancy of the inner city? Here are 17 things to (re)discover Bree Street in Cape Town.
You might also enjoy our hand-picked selection of budget restaurants to enjoy in Cape Town. We've rounded up a few new experiences in these trendy places and areas worth exploring, as well as cool places to dance the night away in the city.
For more one-of-a-kind experiences, check out these super unique things to do in the Mother City and, when you have the time and opportunity, tick of some of your biggest dream experiences on our ultimate Cape Town bucket list and then also check out the off-the-beaten-track adventures in our alternative bucket list.
---
Use our events section for an up-to-date overview of what's happening in the city, 'burbs and dorpies. Join our newsletter and get quick access on the go by adding us to your mobile home screen for the ultimate guide to discoveries in Cape Town.

Follow and like us on Twitter ❤ Facebook ❤ LinkedIn ❤ Instagram ❤ Pinterest for updates.