Spend a Day in: Gardens
Activities to do when you are in the heart of The Mother City
Whether you are in the area on holiday, or taking a friend around the city, it's always ideal to have a few things to do in Gardens. The Gardens area is home to some stunning restaurants and filled with activities to do. You are sure to find a few breakfast places, mid-morning activities, lunches, afternoon activities and evening activities to keep you busy for a whole day.
We've gone around Gardens and found some exciting things for you to do in the area. Take us along on your trip and let us know if your day was a fab as ours was in Gardens, Cape Town.
Lazari Coffee Shop
In the heart of Gardens, tucked away between the suburban roads, lies a perfect spot for breakfast. An off-the-wall trendy establishment that feels like That 70's Show, with a retro yellow couch in the corner that can seat a couple for a bite to eat. The friendly, casual atmosphere makes it a comfortable place to park off in, with beautiful natural light beaming in from the large glass windows encasing the restaurant. The waiters are not in uniform, which is a refreshing change from other establishments. It feels as if they should be wearing roller blades because of the quirky vibe they have going.
If the vibe isn't enough to get you completely hooked, the food will - YUM! Visit the eatery at anytime for lunch or breakfast; if you're going for breakfast try the latkes, salmon, poached eggs and cream cheese dish. The latkes is a potato speciality that bursts with a hash brown type of flavour - only better! The salmon is plated up beautifully and the eggs are cooked to perfection. Add a flat white to the equation and you have yourself a delicious breakfast to get your day of activities started.
Opening Times: Monday - Friday: 8.30am - 5pm; Saturday - Sunday: 7.30am - 4pm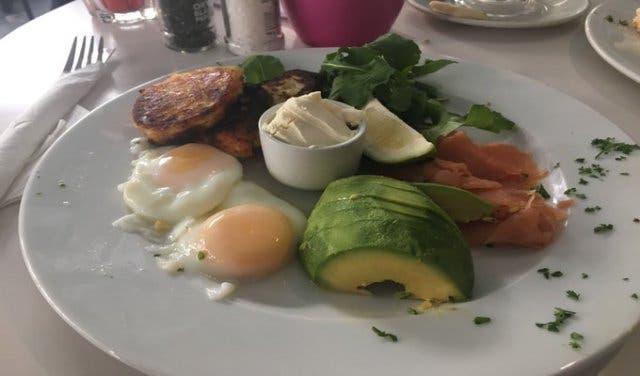 Cnr Upper Maynard and Vredehoek Ave | Vredehoek
Will's Café and Deli
If you're looking for a casual lunch spot visit after a morning activity around Gardens, you will want to stop by Will's Café and Deli. The inviting energy of the blue entrance creates a familiar feeling to the establishment. Outside there are white wooden benches which makes it ideal for sunny days with friends and family. The interior is filled with red and yellow colouring which makes you feel cosy whilst consuming your meal. Inside you can help yourself to a divine selection of eats from the sandwich bar which are freshly made along with other meals.
Opposite the road there is a park which makes this venue perfect for families with kids. Kids can go across to the park whilst you enjoy some good old fashioned adult conversation for a short while. You'll be sure to enjoy the friendly staff and beautiful scenery as you look onto the quaint colourful houses of the area around you. Grab yourself something fresh from the bar and enjoy at your leisure!
Opening Times: Monday - Sunday; 7am - 8pm

22 Upper Orange Street | Gardens
Deer Park
One of Cape Town's hidden gems, this beautifully serene park is tucked away amongst quaint houses which is beloved by the locals in the area. The park is perfect for a mid morning yoga session, or an afternoon picnic with your family or friends. With an abundant amount of shady trees, you can pick a divine spot to sit and relax, especially if it is a lovely warm day! The park also has some unique features which you can enjoy even more; there is a tranquil river flowing towards the back of the park- the sound of the water trickling down is perfect for a romantic atmosphere for you and a loved one.
The highlight of the park is definitely the BMX track that is at the top of the garden. Bring along your bikes and enjoy a couple hours of fun in the outdoors! If you are without bike, or you don't particularly feel like biking for the day, why not stroll up along the river, because sneaking around the corner at the back is a fabulous hiking trail that leads up Devil's Peak and Table Mountain. You are bound to get onto the trail called the Cape Epic Tape Route.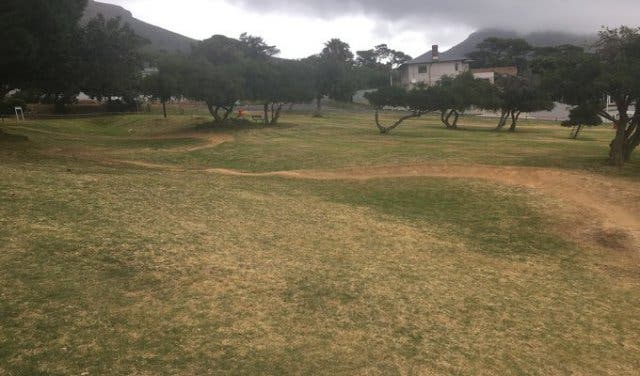 Sidmouth and Lincoln | Homeleigh Road | Gardens
Company's Garden
While in the Gardens area, you might as well visit the beautiful gardens in the area… take full advantage of the name. Company's Garden is home to the most pristine and cultivated pear tree in South Africa since 1965. The initial purpose for the Gardens area here was to produce vegetables and fruit for ships sailing along the coast. This is an ideal activity that might not occupy your whole day but that is perfect for a late afternoon relaxing hour or two. The hustle and bustle in the gardens adds such a fun lively atmosphere that will have you perched under a tree enjoying a delicious snack or two with friends or family.
One of the signature traits of this spot is the adorable squirrels and birds that will most definitely make their presence known to you. Take a book and blanket and enjoy the serenity of this green gem, within the inner city.
Opening Times: Monday - Sunday: 7am - 7pm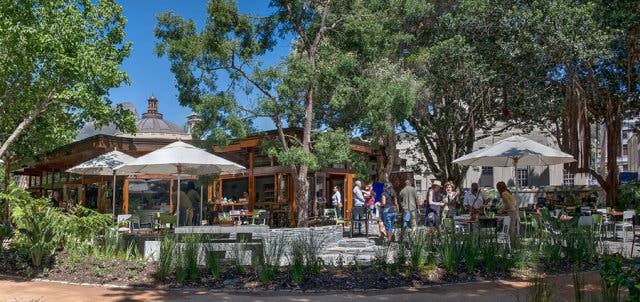 19 Queen Victoria Street | +27(0)21 426 1357
Belmond Mount Nelson Hotel High Tea
The exquisitely renowned Belmond Mount Nelson Hotel offers an unforgettable afternoon tea, which is beloved by all who have stayed in the hotel and those who have treated themselves for an afternoon delight. Begin with the variety of delicate finger sandwiches on offer, think smoked salmon, egg and mayonnaise, cucumber and rare roast beef. Follow the savoury with a divine selection of delectable cakes, scones, meringues and preserves with cream.
The signature Mount Nelson Tea gives patrons a delicately blended selection from six teas: Kenya, Darjeeling, Keemun, Assam, Yunnan, Ceylon and rose petals from their very own garden. Make this a special treat by dressing in your smartest, smart casual outfit and take some stunning photo's for your empty photo frames lying around at home! Morning, afternoon, and evening teas are served in the lounge, on the terrace or around the garden fountain.
Opening Times: Morning Tea: 9.30am - 12pm; Afternoon Tea: 1.30pm - 5.30pm; Evening Tea: 6pm - 8.30pm

76 Orange Street | Gardens | +27(0)21 483 1000
Belmond Mount Nelson Hotel Librisa Spa
Sometimes all you need is a rejuvenating treatment to make your whole day better. Why not schedule your afternoon with a relaxing massage or signature Mount Nelson treatment to rebalance your energy for the rest of your day.
Your visit will begin with a consultation which will help the treatment therapists to determine your individual needs and give you treatment options accordingly. The spa works with skincare companies such as Africology and Kalahari which is renowned for their natural ingredients. Clients can choose from a range of face and body treatments in one of the eight spacious rooms in the late-Victorian buildings.
Librisa Spa offers visitors the opportunity to relax before or after your treatment in the Finish Sauna, steam bath or plunge pool. The calming surroundings of the conservatory can be enjoyed along with a selection of herbal tea's. Further, you don't need to worry about where your kids will be when you are trying to relax, but rather feel as ease that they will be safe and sound in the fully supervised children's club, on offer at no extra charge.
Opening Times: Monday - Sunday: 9am – 7pm

76 Orange Street | Gardens | +27(0)21 483 1550
Bombay Bicycle Club
You won't go wrong with making Bombay your evening's activity in the Gardens area. This wonderfully wacky bohemian styled love den is where everything and anything always ensues. The establishment is inspired and headed up by Madame Zingara and Jonny Cavanaugh. The moment you walk inside you will be engulfed by the eclectic energy and the representation of South Africa's colourful history. The venue will get you to let loose a little and stay out past your bedtime. Have a delicious dinner there with an edgy vibe and embrace the local borough traders.
Opening Times: Monday - Saturday: 4pm - 6pm (Drinks); 6pm - 11pm (Kitchen)

158 Kloof Street | Gardens | +27(0)21 423 6805
Perseverance Tavern
South Africa's oldest pub is a definite must-visit for all Capetonians and travellers alike. From 1808, travelers who disembarked from ships at the Cape Castle stayed at the Perseverance Tavern in Slaves Walk (which is now Buitenkant Street).
The fine history behind the pub is overwhelming - so treat this as both a historical adventure and possibly evening activity. The oldest vine in South Africa - which was planted in the 1830's – predating the Drostdy-Vine in Graaff-Reinet by at least 30 years, grew in the Garden of the Perseverance until the early 1900's.
Persies has the Cape's earliest electric street lamps and historic portraits of the Mother City on its walls. An original tavern menu is one of the exhibits, and you can expect classic pub food from 12pm.
Opening Times: Monday - Sunday: 12pm - 9pm (kitchen closes) Drinks served until much later.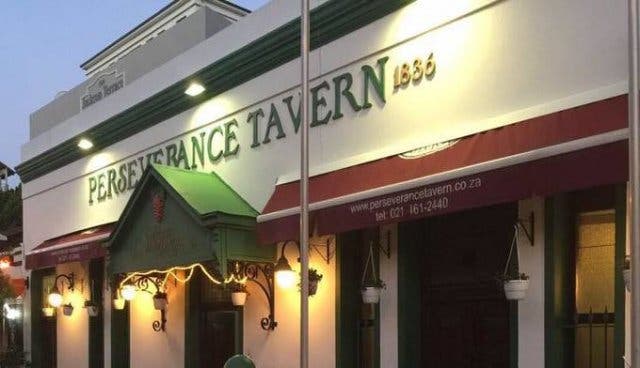 83 Buitenkant Street | Gardens | +27(0)21 461 2440
The Dogs' Bollocks
Yes, that is really its name! Make your way to this unique and eccentric little establishment for a bite to eat and something yummy to drink. The Dog's Bollocks is the perfect spot to have a couple drinks while catching up with friends and enjoying the vibrant energy of this quirky restaurant. Try their beers on tap, or a yummy cocktail - either choice will leave you completely satisfied!

6 Roodehek Street | Gardens | +27(0)83 440 7843 | +27(0)82 885 5719
The Labia
Originally an Italian embassy ballroom, this charming old-style movie theatre is recognised as the oldest independent art-repertory cinema in South Africa. It was opened by Princess Labia in 1949 as a theatre for the staging of live performances. For the past four decades it has served as a cinema on the alternative circuit appealing mainly to the more discerning viewer who is interested in quality products.
You could turn this into a fun-filled evening out for the family, or just with a loved one. Enjoy the charm and finesse of this unique cinematic experience. There are bar, terrace and catering facilities which make this venue perfect for a range of different tastes and people. There are diverse eating and drinking options to make the experience an overall enjoyable one for all.

68 Orange Street | Gardens
Written by Tarina Meiring
---

Discover a bevvy of meat-lover and vegan burger options at Robin Hood Burger & Grill.

Let loose your inner green thumb at the False Bay Gardening Expo.
Healthy lunch? Check new concept warm bowls and salad bar TOSSD in Gardens.
Learn how to do the Angolan Lambada or just go for the party at the Intensive Kizomba Weekend.
STAY TUNED AND SUBSCRIBE TO OUR NEWSLETTER FOR MORE INFORMATION
---
South Africa's next TV star? Kids learn new acting and modelling skills at this on-camera workshop.
Discover the magic of this hidden market in Constantia – the Secret Garden Market.
The Mother City is fast developing so to keep you clued up; we've rounded up some of the hottest latest additions to Cape Town in our New Restaurants and Hot Spots overview. Discover it
---
Use our events section for an up-to-date overview of happenings in Cape Town. Also, don't forget to subscribe to our newsletter and if you have a smartphone, add m.capetownmagazine.com to your home screen for quick access on the go! Follow us on Twitter, like us on Facebook, join our Google+ circle, connect with us on LinkedIn, check out our photos on Instagram and follow our Pinterest boards for updates on what's happening in and around the Mother City