An Explorer's Guide to Khayelitsha
A trendy township that's well worth a visit… or two
Cape Town is a calabash of culture. There is so much history, art, food and fun to enjoy in the region and a great deal of it is often overlooked. Khayelitsha, a bustling, partially informal, settlement, is one such area. Khayelitsha is bursting with exciting and innovative new businesses and activities for locals and tourists to enjoy. We spent a day in the trendy township and we're delighted to share some of the highlights from our visit.
WHAT TO EXPECT FROM A DAY IN KHAYELITSHA:
Brews who can do it
Fitting into the general aesthetic of the area, with its corrugated iron walls and repurposed beer crates for seats – a neighbourhood norm here – Department of Coffee is changing the coffee culture in the township. The three owners, Wongama Bateni, Vusumzi Mamile and Vuyile Msaku, have been brewing some strong beans for residents since 2012. Located at the Khayelitsha train station, the coffee spot always has a winding line of caffeine-crazed customers keen to get their fix of cappuccino, caffeé mocha, espresso or plain old Americano. Today is no different; I pop by the remarkably cosmopolitan café for a java rush that will carry me through my busy day. I've spent less than R30 and have managed to inhale a muffin and washed it down with the most reasonably priced coffee I've had in Cape Town. Rite of passage completed, I grab a bunch of bananas with the loose change that's made a playground in my purse. Now I have snacks to tide me over until my next meal, which means I am ready to head out.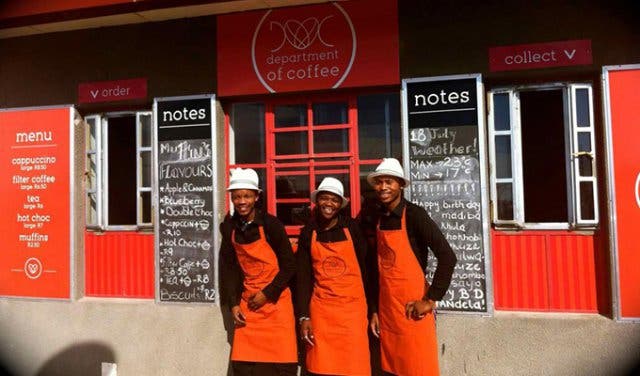 Thug life
I pull up to an overgrown yard. Two majitas (males) are poured over a checkers board, wiping their palms against the smooth surface, strategically claiming each other's chips as they go. A third outie (man) is watching them, playing commentator for the slick, quick game. When they notice my presence I'm tapped in and, after a brief explanation of the kasi adaptation, I am moving my bottletop chips across the board.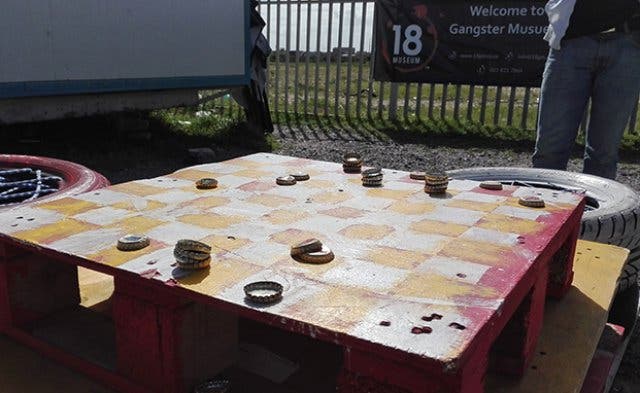 The 18 Gangsters Museum on Dullah Omar Street is the first interactive museum of its kind in Cape Town. "We want visitors, both locals and tourists, to experience the subject matter in the area it actually happens in. Gangsterism is a problem here in Khayelitsha so it must be addressed, discussed and interrogated here, not in an isolated, out-of-touch office space elsewhere," Siyabulela (Siya) Daweti, marketing officer and co-founder of the museum, says. As I'm taken through the museum, young boys from the neighbourhood pile into the rooms with us. Interacting with the kids is as part of the experience as viewing the models, exhibits and replicas is. Siya and the other tour guides explain that the museum is not a static, one-dimensional experience. "The boys come here all the time and we offer them this space. We know that if they're spending their days here they're not exposing themselves to the risk of bad influences," Wandisile Nxeketo, co-founder of the museum begins, "If they're here they're staying out of trouble," he reassures me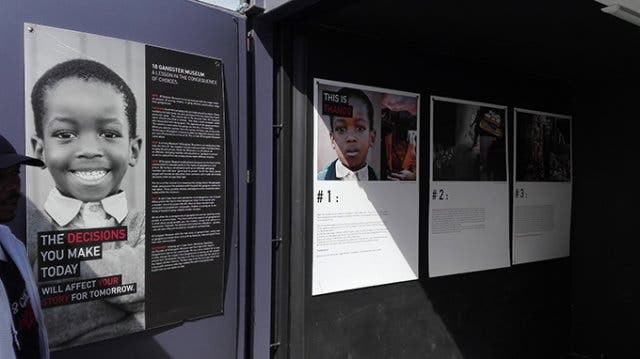 After an insightful morning, and spending some time in a replica room of a prison cell with authentic artefacts from Pollsmoor Prison, I take a gallery of selfies with the kids and 18 Gangsters Museum staff and move to my next activity for the day.
Flora fabulous
Only a few people take full advantage of Khayelitsha's untouched natural scenery. Not only does this promising township boast a beautiful coastline but there is a gorgeous nature reserve 3.5kms from the train station that is well worth a visit. Wolfgat Nature Reserve is 248 hectares of magnificence. The beauty of this natural environment is best appreciated in person. The lush landscape is rich with animal and floral life, especially during the warmer seasons. I spend two hours enveloped in the beauty; the cool coastal breeze chilling my bones but the 360-degree view warming my soul. Visitors will be delighted to know that you can picnic, swim and fish (in designated areas and with a permit) along the beach of this secluded nature reserve. The setting sun, providing the perfect lighting, glitters atop the petals of the flowers and shrubs.
Tastes like home
Khayelitsha offers a feast for the eyes but my stomach hasn't been getting as much attention. Arriving at 4Roomed Foods hungry enough to eat a horse, Abigail Mbalo, or Sis' Abi as she affectionately prefers to be called, rushes to seat me and fix me a plate of deliciousness. This modest looking restaurant with a maternal heart gives me everything I've missed about home, on a plate. The top 12 MasterChef SA finalist serves every traditional favourite from bunny chow, stiff pap and umngqusho (samp and beans) to umleqwa (runaway/free-range chicken) and umvubo (toasted 'kremmel' papa and sour milk). For eating all my food, veggies included, I am rewarded with a chilli chocolate mousse with orange flavoured crumble and berry coulis. As if that isn't enough, there is a spicy warm chocolate cake with white chocolate fondant drizzle on the plate too. Belly and spirit full, the sun sets on this sunny Friday in Khayelitsha.
Party like a Rands star
If the day's festivities were any indication of what to expect of Khayelitsha's nightlife, I underestimated this township. Throughout the day I had whispered my plans to attend a party hosted at Rands with apprehension. All the vendors, shop owners and passers-by I encountered assured me that it would be ipotsoyi (a groovy event) and that I would definitely enjoy myself. They were right because in the end; I had a little bit too much fun – which isn't necessarily a bad thing!
The venue, situated at the Khaya Bazaar Business Complex, is a multi-purpose, open-air lounge. Party-goers, from all corners of the city, gather at this haven for good music and great company. Brothers and co-founders, Mfundo and Mshayi Mbeki, recently celebrated Rands' second anniversary and this popular hangout has the potential to become a local institution. On this particular night gqom, deep house, local hip hop and kwaito pour out the speakers onto a packed dancefloor. Everyone in attendance is dressed to impress, Belvedere vodka and Moet & Chandon champagne flow freely as twerkers pop, lock and jam to the music. As quickly as the night began it ends and as the city lights blur by, I am whisked home with a boerewors, and my pair of heels, in hand.
Khayelitsha is a demanding mistress. You can't expect to drive by and get your fancy's full, this township deserves a day (or more) of your time. There are stunning gems and spectacular discoveries on every corner, just waiting to be enjoyed. Spend some time sitting with the sisis braiding clients' hair on the side of the street, or ask the entrepreneur washing cars on an abandoned field where you can find the cheapest ngud'. It's all about stepping out of your comfort zone to experience a different side of Cape Town.
Words by Inga Sibiya
---
Featuring Black Coffee, Zonke and many more, this event is The Ultimate Weekender.
Are you ready for the epic re-launch of KwaAce in Khayelitsha?
If you're interested in other Area Spotlight guides, have a look at Kalk Bay, Hout Bay, Langebaan, Bloubergstrand, and Kirstenbosch National Botanical Gardens for a little inspiration!
---
Use our events section for an up-to-date overview of what's happening in the city, 'burbs and dorpies. Join our newsletter and get quick access on the go by adding us to your mobile home screen for the ultimate guide to discoveries in Cape Town.
Follow and like us on Twitter ❤ Facebook ❤ LinkedIn ❤ Instagram ❤ Pinterest for updates.