Host A Nerf Battle For A Party Your Kids Will Never Forget
There's a range of games, from strategic to free play
Host the children's party that they'll be talking about for years with a Nerf battle, an outdoor, action-packed alternative to the run-of-the-mill kid's party, where the organisers, Scout Smart Ideas, come to you. They bring everything including a game marshall.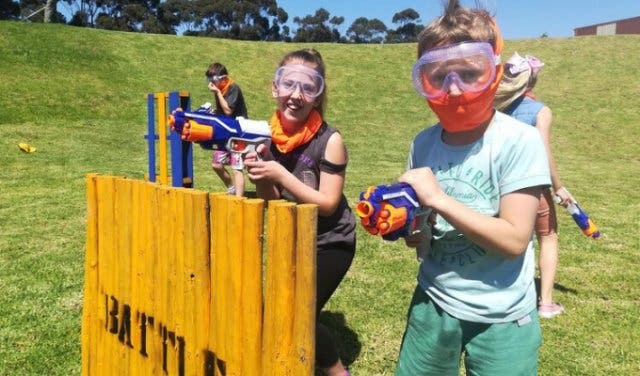 HOW THEY SET THE BATTLE SCENE
Nerf battles, using toy guns that shoot foam darts, are played in your garden, in forests, parks, or really anywhere you like! The Scout Smart Ideas crew transforms your space into a battle arena with props such as tyres, barrels, crates, fences and more. Players can dart and dive between obstacles, teaming up to defeat their opponents, for up to two hours under the watchful eye of an experienced game marshall.
Each child gets an easy-to-reload Nerf gun and Nerf darts, safety goggles to protect eyes and ears, team bandanas, face paint, and battle music. The Scout Smart Ideas crew comes to you and does all the work from setup to breakdown.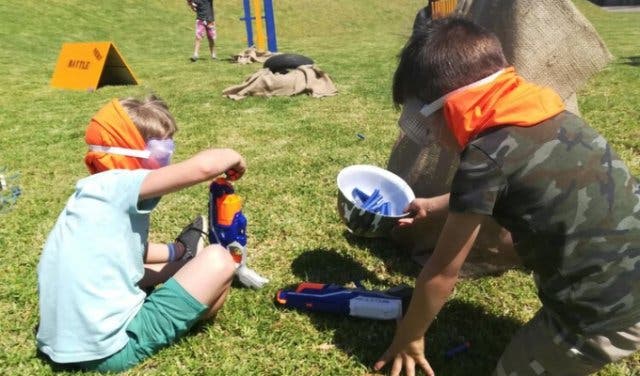 RANGE OF GAMES: STRATEGIC TO FREE PLAY
King of the hill: One player from each team is on the field. If you're hit you're replaced by the next team member. The winning team has the most players remaining.

Capture the flag: Each team gets a flag. Teams need to get their opponents' flag without being hit and return it to their "base."

Elimination: Two full teams on the field. If you are hit, you come off the range. The first team with no members left on the field loses.

Sniper shootout: Each player gets a turn to shoot 6 shots at a target. The highest number of hits wins.

Gun run: The birthday boy/girl has to run the gauntlet while all their friends stand at a reasonable distance and fire at him/her as they run through the entire range

Free play: A controlled Nerf battle with no rules or specific game elements
PLAN THE PARTY
This game is suitable for ages from six to 14 and the ideal group size is eight to 15. The smallest group Scout Smart Ideas can accommodate is four and the largest 35. Bookings are essential and can be made online.
Scout Smart Ideas will try to facilitate any booking, and are currently running a weekday special. The pricing is as follows:
Weekday special 45-minute after-school battle: R99 per child (weekdays only, excluding school holidays or public holidays)

1-hour battle: R149 per child

2-hour battle R199 per child
For their birthday, organise your kids a nerf battle in Cape Town.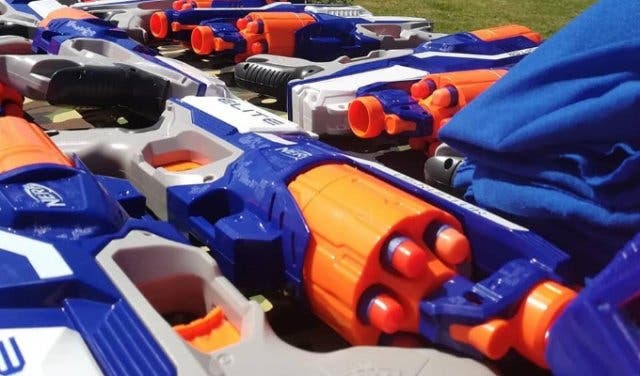 ---
Keep them entertained with free and cheap things to do with kids and teens.
Check out our list of super unique things to do and play paintball in Philadelphia.
---
Supercharge your event? Our Events Support Programme gets results. Contact support@capetownmagazine.com or +27 (0)21 565 0415.
Use our events section for an up-to-date overview of what's happening in the city, 'burbs and dorpies. Join our newsletter and get quick access on the go by adding us to your mobile home screen for the ultimate guide to discoveries in Cape Town.

Follow and like us on Twitter ❤ Facebook ❤ LinkedIn ❤ Instagram ❤ Pinterest for updates.