15 Reasons to Visit the Two Oceans Aquarium
Factual Fun for Everyone
Update: 20 December 2018
Big news: You now get free entry to the Two Oceans Aquarium on your birthday. The aquarium is celebrating its 23rd birthday by giving you free access on yours. Get all the info on the Two Oceans Aquarium birthday experience.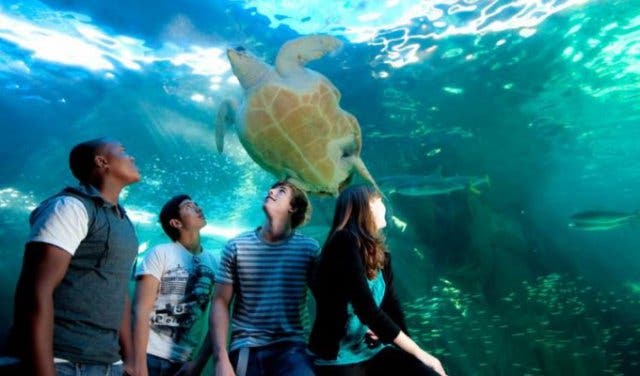 Whether you're a small fry or a big fish, an escape into the enchanting world of the Two Oceans Aquarium is bound to be an unforgettable experience.
Home to more than 8000 creatures and 288 species, the aquatic entertainment and educational centre gives both adults and little ones the chance to come face-to-face with parts of the ecosystems found in the Atlantic and Indian Ocean. Waiting for you to visit are predators of the deep, fish as multi-coloured as the most vibrant rainbow, crabs the size of toddlers, and feathered friends so lovable they don't mind a soft pat on the head
The award-winning aquarium boasts breathtaking exhibits, but is equally committed to educating visitors about the marine environments on our doorstep, and how to protect them. If you're still not convinced this V&A Waterfront wonderland is worth a visit, here are 15 reasons to dive in and see what's in the sea.
Note: Two Oceans Aquarium is open 365 days a year, and if you become a member, you get free entrance into the venue for 12 months!
15 REASONS TO VISIT THE TWO OCEANS AQUARIUM AT THE V&A WATERFRONT
1. Explore the vibrant and colourful Atlantic and Indian Oceans without ever having to get wet! Marine life from both water masses can be seen at the aquarium.
2. See species that can't be found in any other aquarium. For example, the strange and somewhat grotesque hagfish – it produces up to 5L of slime when it gets scared – is an ancient fish without jaws, eyes, fins or scales that can only be viewed at the Two Oceans Aquarium.
3. Touch and feel an assortment of marine creatures. Affording visitors an up-close-and-personal, hands-on experience, the Two Oceans Aquarium's interactive Touch Pool invites both adults and children to handle kelp, starfish, anemones and hermit crabs.
4. Bask in the glory of the stunning I&J Ocean Exhibit. The first display of its kind in South Africa to feature a 10-metre tunnel; the exhibit is undoubtedly a must-visit. Watch magnificent turtles and gentle stingrays from the viewing window of the tank that is filled with 1.6 million litres of seawater!
5. Experience an other-worldly Jelly Gallery. Watch these extra terrestrial-like creatures perform like the blobs in a lava lamp. Displayed with a glow-in-the-dark effect; it truly gives visitors an other-worldly deep sea experience.
6. See species completely unique to our local coastline. The proudly South African galjoen (also known as the black fish) may not be the prettiest fish in the sea, but it only makes its home near our shores, so we love it for that.
7. Wonder at one of the only living kelp forests in the world. By far one of the most enchanting exhibits at the Two Oceans Aquarium, the tranquil kelp forest features countless curious fish swimming around sea bamboo as tall as trees.
8. Watch the animals get fed. No matter which day you visit, there will be a chance to see some of the penguins enjoying a meal. Both the African and rockhopper penguins like to have guests to "lunch" at 11:30am and again at 2:30pm every day. Pop past the I&J Ocean Exhibit every day at 12pm and 2pm to see the turtles and stingrays tuck in. The majestic ragged-tooth sharks feed at 3pm on Sundays. The Kelp Forest Exhibit feeds happen on Wednesdays at 1pm (with talks at this exhibit every day at 1pm).
9. Meet some fascinating aquarium animals. Those who want to connect with the aquarium's rockhopper penguins (the birds with the crazy yellow rock 'n' roll hairdos) can book a Penguin Experience. Meet, feed and interact with the flightless birds in an informative and fun way. Or, you can find out more about the aquarium's turtle rescue with through an Ocean Experience and get a fish's-eye view of the I&J Ocean Exhibit with mask and snorkel. Do note, these experiences come at an extra cost and no more than two people can join the experience at a time.
10. Dive with creatures of the deep. If you have a Discover Scuba qualification (or higher) you can scuba dive in the I&J Ocean Exhibition. If you have a minimum Open Water 1 qualification, you can dive with the ragged-tooth sharks in the Predator Exhibit (no cage required). This comes at an extra cost and booking is required. If they don't have a qualification, the aquarium gives diving lessons.
11. Support an aquarium that rehabilitates creatures. Many of the Two Oceans Aquarium's ambassadors are animals that were rescued and can either no longer live in the wild due to their injuries or need time to recuperate. Any donations or form of sponsorship is always greatly appreciated, and effectively utilised, by the aquarium.
12. Dine on something delicious at the restaurant. Visitors can dive into Vista Marina. The sleek, chic and sophisticated eatery has a gorgeous terrace that looks out onto the V&A Marina.
13. Rain, shine or public holiday, the Two Oceans Aquarium is always open. Whether it's pouring outside or it's Christmas Day, the V&A Waterfront's marine world awaits eager visitors. More specifically, the entertainment centre is open 365 days a year from 9:30am until 6pm with extended hours from 17 December 2018 to 6 January 2019, when they are open from 9am to 7pm.
14. Educate yourself to be kinder to our Earth. While the aquarium is all about fun and entertainment, it's also devoted to educating visitors. Display boards can be found next to most exhibitions and installations with comprehensive and educational information on the animals and efforts to protect them. Take time to learn the story behind many of the creatures' existences and develop a greater appreciation for their fragile being.
15. Support an organisation that puts conservation first. By visiting the aquarium, you're supporting the staff's efforts to free seals entangled in litter, assist injured or stranded sunfish, rehabilitate turtles, conduct research on harmful fish parasites, and a great variety of other health and environmental concerns affecting aquatic animals.
Where: Dock Road | V&A Waterfront | Cape Town
Opening Times: 9:30am–6pm | 365 days a year
Price: depends on age and time of year. Check out the aquarium's rates on their website.
---

Help Friends of the Liesbeek clean up the river at T.R.A.S.H..
Don't break the bank with these free and cheap things to do with kids.
Read more about hosting a Function at the Two Oceans Aquarium and find out about all sorts of awesome function venues in Cape Town and great places to host your end-of-year function.
There are many things to do at the V&A Waterfront including having a laugh five days a week at the Waterfront's Cape Town Comedy Club. If you're looking for Cape Town water adventures everyone can join in on, check out these ultimate ocean experiences to tick off your bucket list.
Everyone loves animal experiences and here are some awesome adventures for kids and things to do indoors for kids in Cape Town. If you're looking for more, check out our list of things to do with kids and things to do when the weather is bad.
Also, if you're interested in learning more about celebrated landmarks in the Mother City, be sure to check out 15 Things You Didn't Know About Table Mountain.
---
Use our events section for an up-to-date overview of what's happening in the city, 'burbs and dorpies. Join our newsletter and get quick access on the go by adding us to your mobile home screen for the ultimate guide to discoveries in Cape Town.

Follow and like us on Twitter ❤ Facebook ❤ LinkedIn ❤ Instagram ❤ Pinterest for updates.